Climate change has been all over the news in recent months, and moms are leading the charge. This summer, Moms Clean Air Force, the country's largest group of moms working on climate change with over 400,000 members, organized a play-in on the Capitol in early July and later that month brought the same energy to a rally supporting the EPA's Clean Power Plan.
Recently, the Keystone XL Pipeline failed in the US Senate. This is good news, says MCAF. If passed, the Keystone XL Pipeline would have dramatically increased production of Canadian tar sands oil, one of the dirtiest fuels on the planet. MCAF argues that approval of the pipeline would have endangered our country, our children's health, and the lives of many, all while worsening our dependance on fossil fuels and accelerating climate change. The issue is now to be decided by the Obama administration.
But the fight continues. On Monday, December 1, Moms Clean Air Force staff and volunteers, including local mom Jessica Hunt, delivered 175,000 comments to the EPA to ask for the strongest possible regulations on carbon pollution under the Clean Power Plan. Right now, there are no limits on the amount of carbon that can be released from coal fired plants. Our children's health is depending on us to protect them from carbon emissions that pollute the air they breathe and lead to our warming planet.
But the Clean Power Plan is under attack in most every state legislature next year with model legislation designed to kill or gut the carbon rules. MCAF is calling on its members to join the group in demanding that states work to protect our children and communities from toxic air pollution and climate change.
An easy way to learn about local events and actions on climate change and clean air is to request to join the Facebook group for Moms Clean Air Force DC, the Facebook group for the Maryland MCAF chapter, and the Facebook group for the Virginia MCAF chapter.
Local organizations like Bethesda Green and Arlingtonians for a Clean Environment provide education and information and host events related to climate change and a healthy environment. This week in Arlington, Potomac Overlook regional park is showing Switch, a film on 6:00-8:00 p.m. Thursday evening, December 4 about the past and future of energy. Click here for more info.
There are also plenty of actions happening nationwide and internationally on the topic of climate change. On September 21, hundreds of members and staff from Moms Clean Air Force joined with 400,000 other concerned citizens from across the country to march through the streets of New York City at the People's March for Climate Action. They aimed to draw attention to the climate crisis and to urge our leaders to find solutions to end climate change. The march took place just days before world leaders came together at the United Nations Climate Summit in NYC to discuss action on climate change.
Moms Clean Air Force led the contingent, a group of hundreds of parents and children, in a group yoga session while everyone was gathering prior to the march.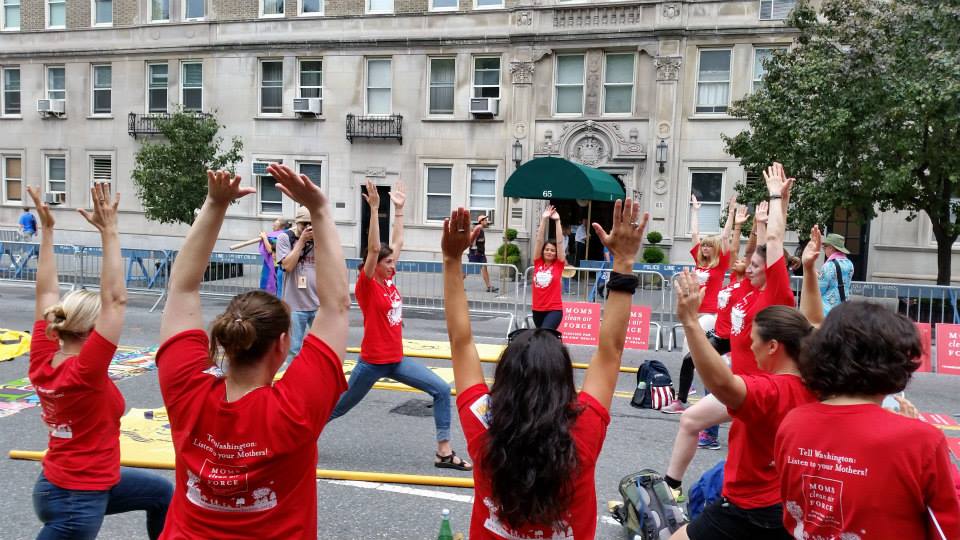 Families came to grab their red "Why I am Marching" Moms Clean Air Force signs and used markers to draw pictures and write about their reasons for marching. There were pins, signs, and bright red Moms Clean Air Force t-shirts for everyone who marched with the three-year-old non-profit organization that day.
"For me," said Trisha Sheehan, Regional Field Manager for Moms Clean Air Force, "the People's Climate March was a way for us to take action and to show our support for protecting our children from harmful air pollution. I wanted to be at the People's Climate March for my children and all of our children. Years from now, I want to be able to say to my future grandchildren that I marched for them; that I did everything in my power to ensure they are given a clean and healthy future."
"The March was an emotional overload of love, inspiration, and awe!" stated Terra Pascarosa, Regional Field Manager for Moms Clean Air Force. Based in Virginia Beach, Pascarora travels frequently to DC and throughout Virginia in addition to bigger actions like the one in New York City.
"Marching without my two-year-old son, Brady was a tough choice, but the right one given the fact that I was working while I was at the March and I would not have been able to devote the necessary time to Brady that he deserves," Pascarosa said. "I do, however, feel like Brady was with me in every sense of the spiritual word, as I marched every last step of the over two-mile journey for him and every child on this earth!  I was blessed to have my brother, Jack Pascarosa, a New York resident, join Moms Clean Air Force at the march.  He represented one of the many dads who marched with us!"
For Pascarora, the People's Climate March was about more than climate change: "it was about making a major global change to clean up this planet for today and all of our tomorrows!  We are making a difference by letting our voices be heard and the world is starting to listen." She continued, "Many of the Moms who marched with us, came from all over the country – Virginia, Illinois, Indiana, North Carolina, DC, California, and New Jersey to name a few states! To travel to New York, arrange for childcare, march, work, and enjoy every last minute is not a simple task, but we all pulled it off like clockwork."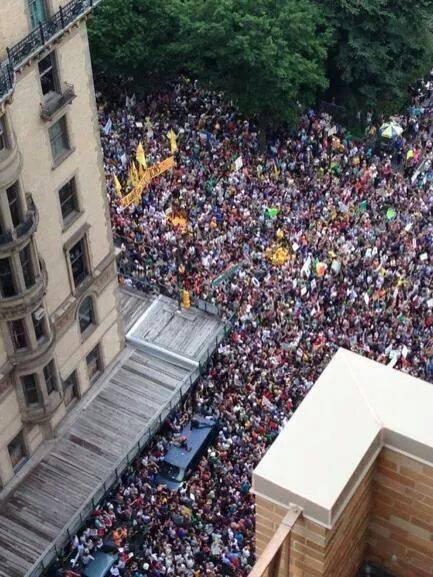 Sheehan, who is based in New Jersey, said it was invigorating and inspiring to be at the march. She said, "To see so many people, from all different areas and interests, come together to march in New York City in support of protecting our environment from a changing climate was at times overwhelming. Never before have we come together, in such large numbers, in support of climate action. It gives purpose to the everyday work that we are doing. We are all fighting for clean air. Knowing that there are so many people willing to stand up for our children's futures definitely helps inspire me to continue this fight."
Pascarosa added, "I was inspired to work even harder to protect Brady (and all children's) health and future after the March. I look forward to many more marches in the future!"
Mindful Healthy Life thanks Trisha Sheehan and Terra Pascarosa of Moms Clean Air Force for collaborating on this piece!
MCAF also has full coverage of the July 9, 2014 Play-In  here, here and here and coverage of the EPA hearings and the testimony later that month.