The growing Mindful Healthy Life team is pleased to welcome wellness coach Cynthia Henry Thurlow of CHT Wellness to our group of contributors. Cynthia's first post was about mindful holiday eating, and she'll be sharing additional insights about food and health. Here's a chance to get to know her!
Jessica: First tell us about the ages of your children.
Cynthia: My boys are 8 and 10 years old now. It's hard to believe how quickly they grow up! They are active, healthy and happy….truly all my husband and I can ask for.
Jessica: Tell us about what you do now and how you got into it.
Cynthia: When our oldest son was four months old, he developed eczema. It was so severe, our pediatrician prescribed high potency topical steroids. When I asked if diet played a role in his skin issues, my question was dismissed. After a full year of issues with eczema, I demanded that we have my son's allergies tested. We were stunned to learn that he had peanut and treenut allergies. We were told to "avoid" these foods. I became a prodigious food label reader. I got paranoid about eating out, and worried about cross contamination. 
My youngest son is highly susceptible to food dyes, preservatives and artificial colors. His behavior goes from calm and well-behaved to hyper and destructive within 15 minutes of ingestion. I started reading blogs that supported the relationship between artificial foods and behavior.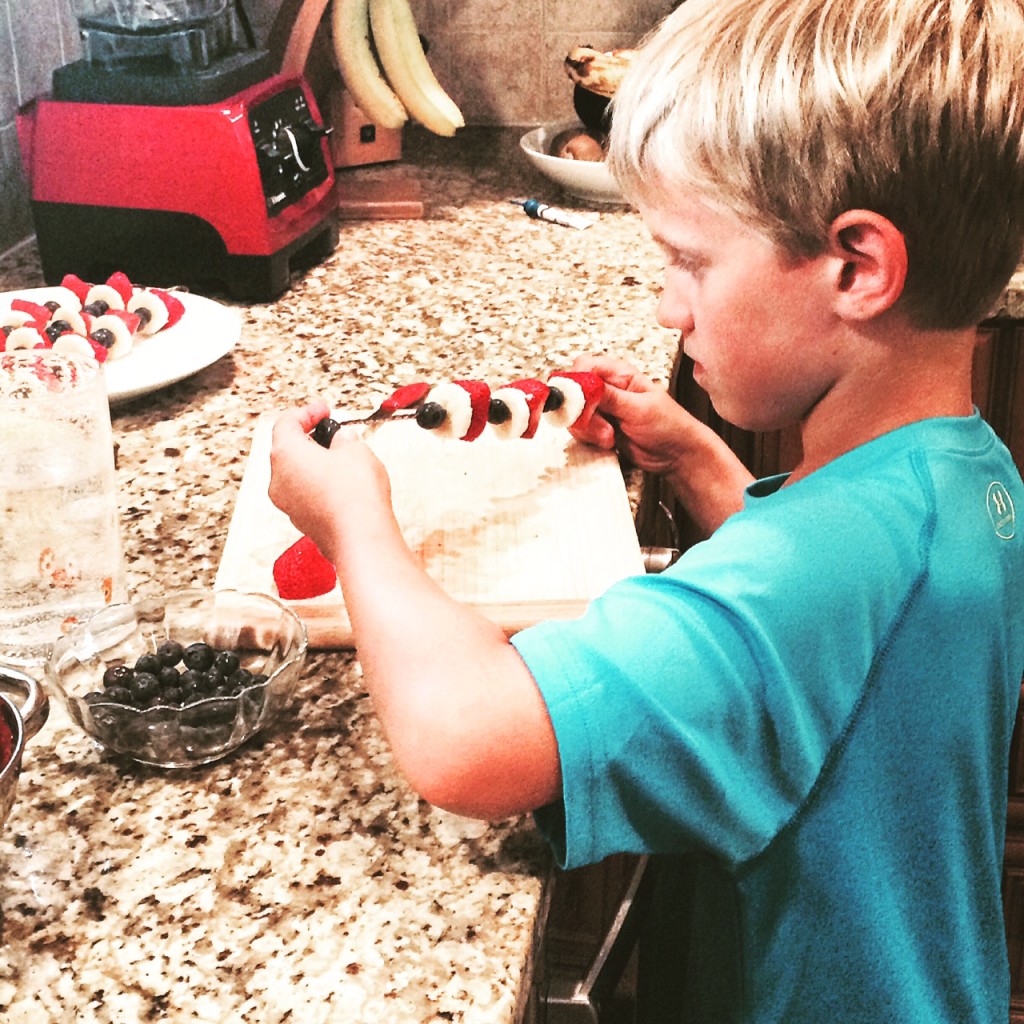 These circumstances with my children raised my level of suspicion and concern about the role of nutrition, health and wellness. I became involved with a petition that was being circulated within our county to help improve the quality of food offered to our children in the public schools. I became the Co-Director of the Real Food for Kids Loudoun County chapter and then ultimately the Director. I wanted to help educate families about the importance of eating locally, supporting local farmers, and the inter-relationship between diet and health. I felt that our schools could offer better options for our children that didn't involve such highly processed potentially toxic foods.
I started getting very restless in my Nurse Practitioner (NP) role, as I felt really constrained in my beliefs. Even after 15 years in this role it became challenging. I applied to a doctoral program, took one lecture of one class and hated it. I went to a coach and she suggested considering becoming a wellness coach since it would "marry" so many of my interests and compliment my NP background. I certified with Wellcoaches, and CHT Wellness was born!
But I still felt that I wanted to learn more. I started researching nutritional programs, but knew that I did not have any interest in doing more graduate work; it just wasn't necessary. I found a wonderful holistic nutrition certification program through the Nutritional Therapy Association and completed my certification in 2015. What I learned in this program was completely aligned with my personal belief system and validated all the research I had done.  For the first time in 15 years, I was practicing as the kind of coach, nurse practitioner and healthcare provider I wanted to be!
Jessica: What do you like about living in D.C.? How do you manage the parts that you find challenging? Any great tips you want to share with our readers?
Cynthia: As far as what I love about being in the DC area….well, I"m grateful that we live so close to so many farmers and communities that share our same interests, as well as many like minded women and families to share and learn from.  I also love how historically significant this area is…you can just so much time soaking up the rich culture and events.
I think it can be challenging to "find your tribe." It is such a transient environment and location that people sometimes are not as apt to make an effort to become connected with one another, so I have found through my children's school, our church and through my foodie community a great niche to call "home."
For newcomer parents…trust your instincts. If something empirically and intrinsically doesn't feel right, speak up…there is so much bio-individuality in our children and bodies, I always encourage and help empower women to support their needs of their families. Also, with each stage in your child's life, there will be struggles..just trust the process. I look back and know that I enjoyed all of the stages my kiddos have been through and I look forward to the future memories we will share together.
Jessica: How have you grown as a parent since the birth of your first child? What has become more or less important to you?
Cynthia: Oh gosh, I have grown exponentially. I just think becoming a parent makes you more in-tune, more sensitive, more in touch with the world…you recognize that everyone is a child of someone. I feel like I'm a kinder, more gentle, more thoughtful person now. I try to connect with anyone I interact with….whether they be a patient, client, friend or family member. I care less about silly stuff….I care less about the house being perfect, me being perfect and more about relishing time spent with my loved ones….life is just much more substantive and rich.
When you asked for a more active photo of me, my sons requested this one with a toucan from our trip to Costa Rica!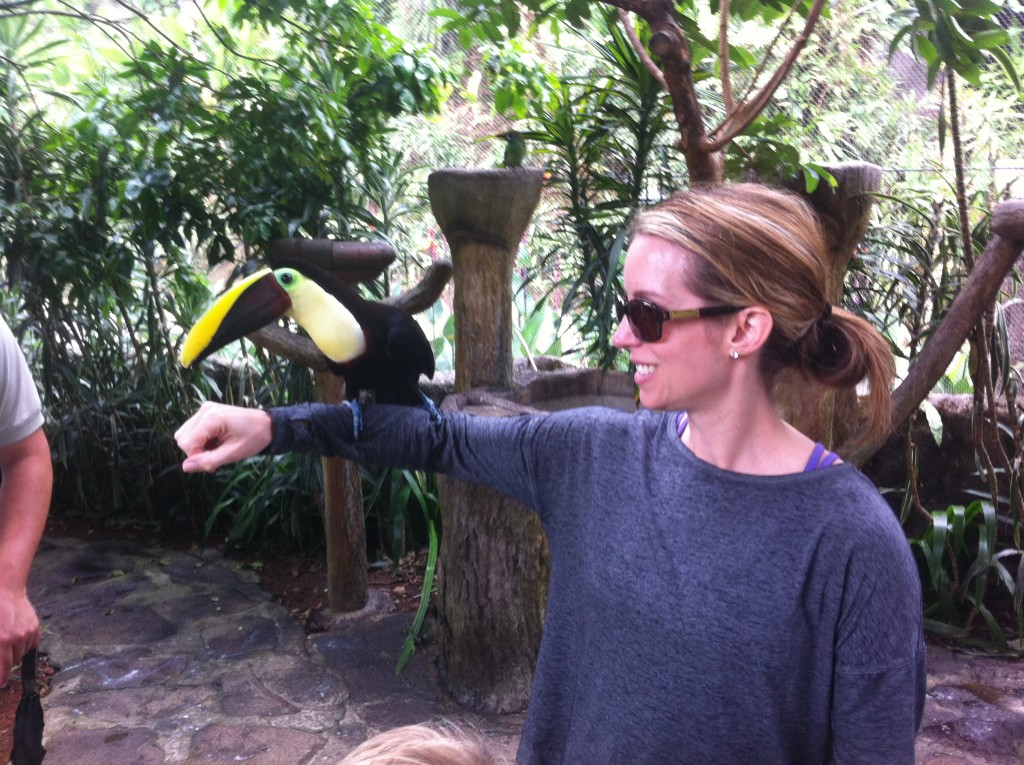 Jessica: What inspired you to join the Mindful Healthy Life team? What are your hopes for this website?
Cynthia: I was humbled when approached to join the MHL team. It was a nice acknowledgment of the positive personal and professional changes I had made over the past ten years…I hope to see the community grow and support women that are looking for resources to help their families or garner information about food, nutrition and wellness. 

Jessica Claire Haney is the founder, publisher and editor of Mindful Healthy Life. She is a writer and editor and a co-leader for the Arlington/Alexandria chapter of Holistic Moms Network. Her personal blog is Crunchy-Chewy Mama and her writer's site is JessicaClaireHaney.com. See the Contributors page and Jessica's Mindful Healthy Life Q&A for more on Jessica.