The National Kids Yoga Conference is a terrific opportunity to learn about teaching yoga and mindfulness to children and to connect with wonderful people who have dedicated their lives to the cause of raising calm, centered, confident youth. Organized by Alexandria-based YoKid, a nonprofit organization bringing yoga to underserved youth, NKYC 2017 will take place in Old Town Alexandria, October 13-15. At the 2016 conference, we connected with several creative folks whose books and products help support children's connection to their inner yogi.
This pre-conference giveaway includes three books and a stuffed pillow created by people who are passionate about helping children cultivate inner peace and thus create more peace in the world.
Lucinda's Magical Adventure
Betty Larrea of Be Yoga Be Love is a yoga teacher, mentor, coach and children's book author based in New Jersey. A devoted aunt, she wrote Lucinda's Magical Adventure with her niece in mind. The main character goes on an imaginative journey that leads her to several yoga poses and gives her many opportunity to experience the wonder of nature and to connect to her inner beauty.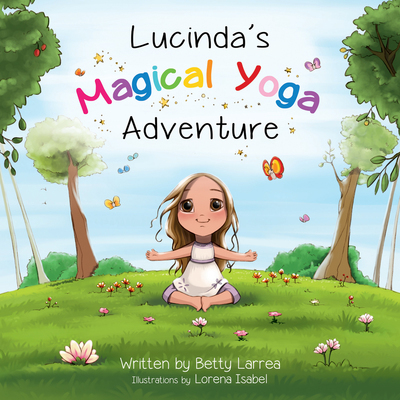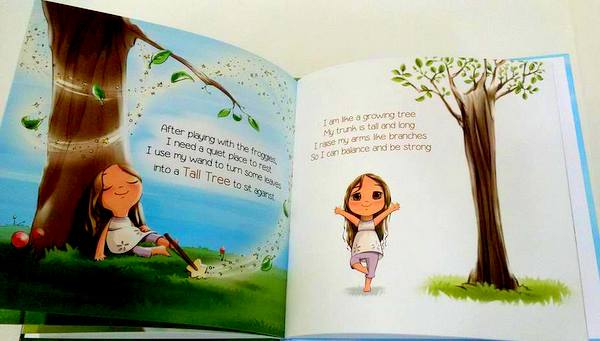 Learn more at www.beyogabelove.com and follow Be Yoga Be Love on Facebook, Instagram, Twitter and Pinterest.
Seven Little Monkeys
Joanie Woodward of Monkey Mind Belly Breath has been practicing yoga for over 40 years and teaching children for over 35 years. A resident of Boston, she was inspired by her stepchildren and many nieces and nephews to write and illustrate Seven Little Monkeys. With colorful and rhyming pages describing monkeys jumping "in my head," a parent calls the yogi "…and the yogi said…" to take a deep belly breath! With each inhale and exhale, the book teaches children how to quiet their minds.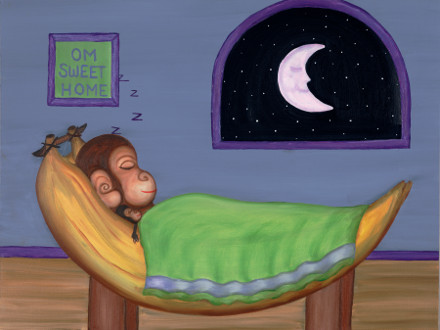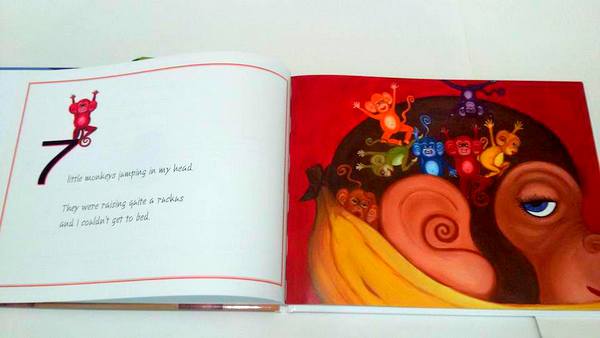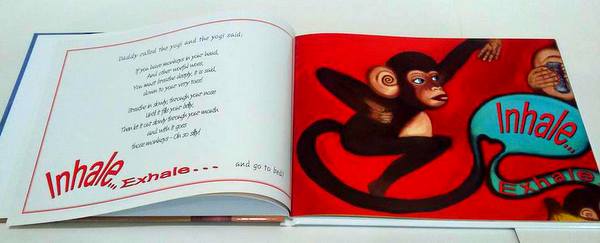 Learn more at monkeymindbellybreath.com, follow Monkey Mind Belly Breath on Facebook, and watch Joanie reading the book on YouTube.
Finding Calm in a Moment
Calming Kids is a non-profit organization that aims to reduce bullying and violence among children and teens and to increase concentration. With the tagline "Creating a Non-Violent World," Calming Kids  has been providing training for yoga and mindfulness education since 2004. Written by Calming Kids team members – founder Dee Marie and Board Member Gina Kane – Finding Calm in a Moment is a compact and accessible book that provides 108 practices in movement, mindfulness and meditation for all ages.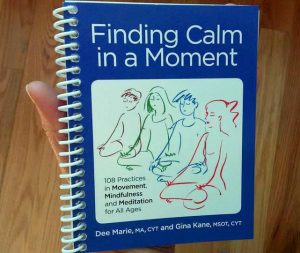 Learn more at calmingkids.org and follow Calming Kids on Facebook and Twitter.
Zoomorphik Pillows and Downward Dog with Diego
Designer Pamela Prichett is the founder of Zoomorphik, a New York-based company that makes playful, colorful pillows of animals and children in yoga poses. They are produced in the U.S. using an eco-friendly process. In the book Downward Dog with Diego, Diego meets 10 different animals and experiences their poses. The book uses the same whimsical designs that children love in the pillows. A page at the back provides an overview of the different stretches and benefits.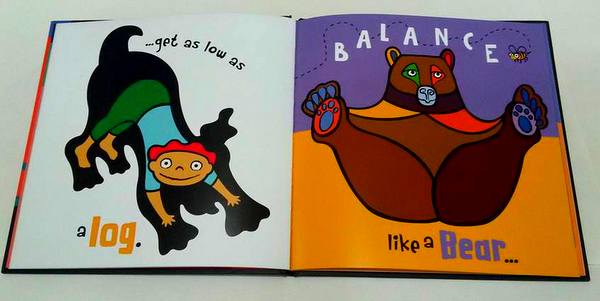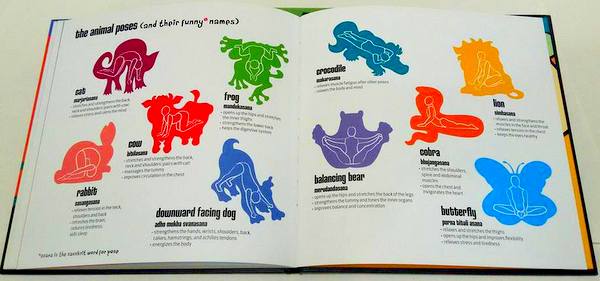 Learn more at zoomorphik.com and follow Zoomorphik on Facebook.
Thank you to the giveaway donors for making their products available to parents, educators and children!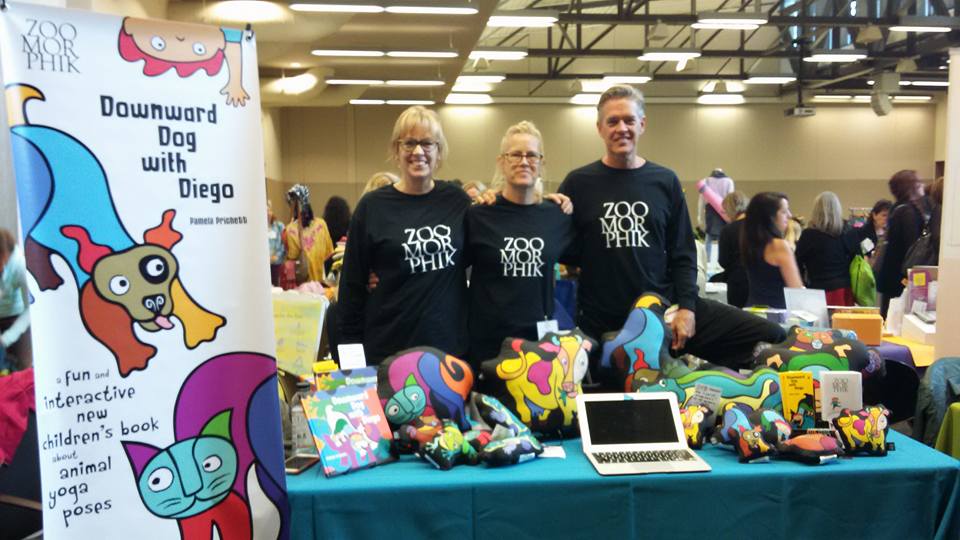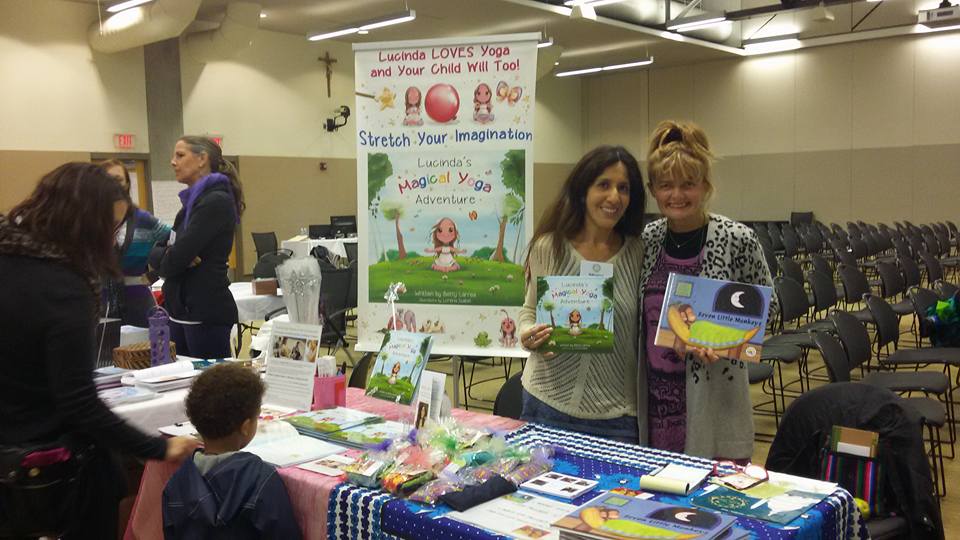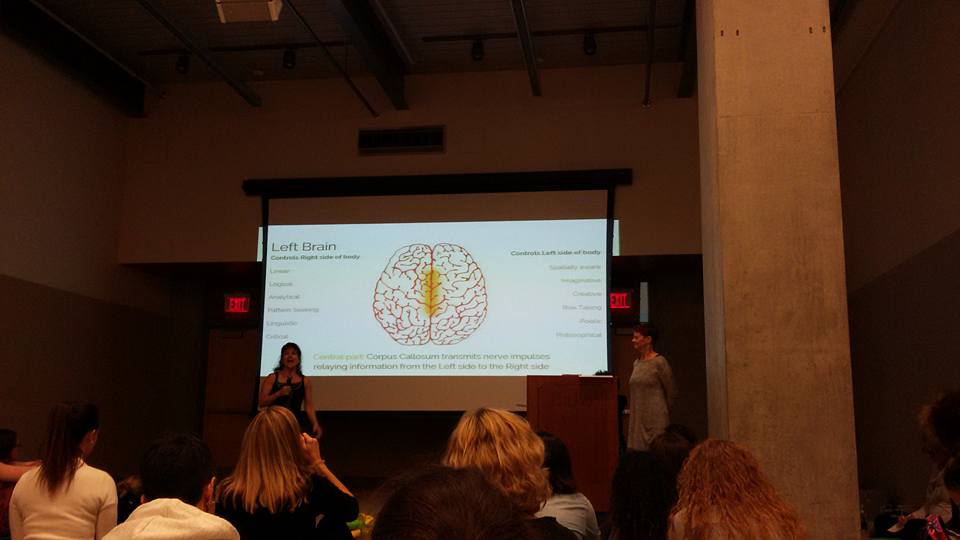 Meet some of these vendors and many more in October at the fourth annual National Kids Yoga Conference. Register by July 10 for early bird pricing. The conference website is conference.yokid.org
To learn more about the conference, see our 2016 NKYC recap, our 2015 NKYC recap and our 2014 NKYC recap.

Enter our giveaway below by 11:59 p.m. on Thursday, June 15 to win all four books plus a small Zoomorphik Downward Facing Dog pillow and limited edition travel-sized version of the Cat Pose pillow.

Jessica Claire Haney is the founder, publisher and editor of Mindful Healthy Life and was the founder and a longtime leader of the Arlington/Alexandria Chapter of Holistic Moms Network. Jessica is a writer who is working on her first novel. She also offers copywriting, editing, writing coaching and holistic business consulting services. Learn more at JessicaClaireHaney.com. Jessica volunteers on issues related to wellness in public schools, as described in her Mindful Healthy Life Q&A. Follow her on Facebook at on Facebook at MindfulHealthyLife, on @Twitter @MindfulHealthy and on Instagram at @mindfulhealthy. Her personal blog is Crunchy-Chewy Mama, on Facebook at CrunchyChewyMama and tweeting @CrunchyChewy.