Sleep is always important but is an especially vital component of a healthy lifestyle during the dark, cold days of winter.
Local mom, health coach and eco-designer Amy Thomas had the opportunity to sit down and talk with HGTV's Leanne Ford about creating a bedroom sanctuary for optimal sleep performance and about Leanne's new collaboration with Leesa, mattress manufacturer, to introduce the first ever dual hybrid mattress.
Leanne has been getting a lot of buzz these days in the design world, both as a star of the hit HGTV show Restored by the Fords as well as for her featured work in Architectural Digest, Domino, and Elle Decor. See what Leanne has to say about optimizing the bedroom space in Amy's guest post interview!
As an eco-designer, I speak a lot to the importance of the bedroom and how it should be a calm, healthy environment that promotes well-being through a good night rest. Bedroom design plays a crucial role in our ability to unwind and restore our bodies for the next day. Paint colors such as white, grays or pastels, non-toxic furnishings and a healthy mattress or all part of what I look at when designing a bedroom.
I was excited to hear that Leanne shared many of the same views as I do and asked what else she considers essential for a bedroom sanctuary.
Leanne said, "People often leave their master bedroom to the end when designing their home when really it should be one of the first rooms they design." They forget to take care of themselves by not taking into account the design of the master bedroom. We sometimes forget that the amount of sleep we get is vital to our physical health and emotional well-being.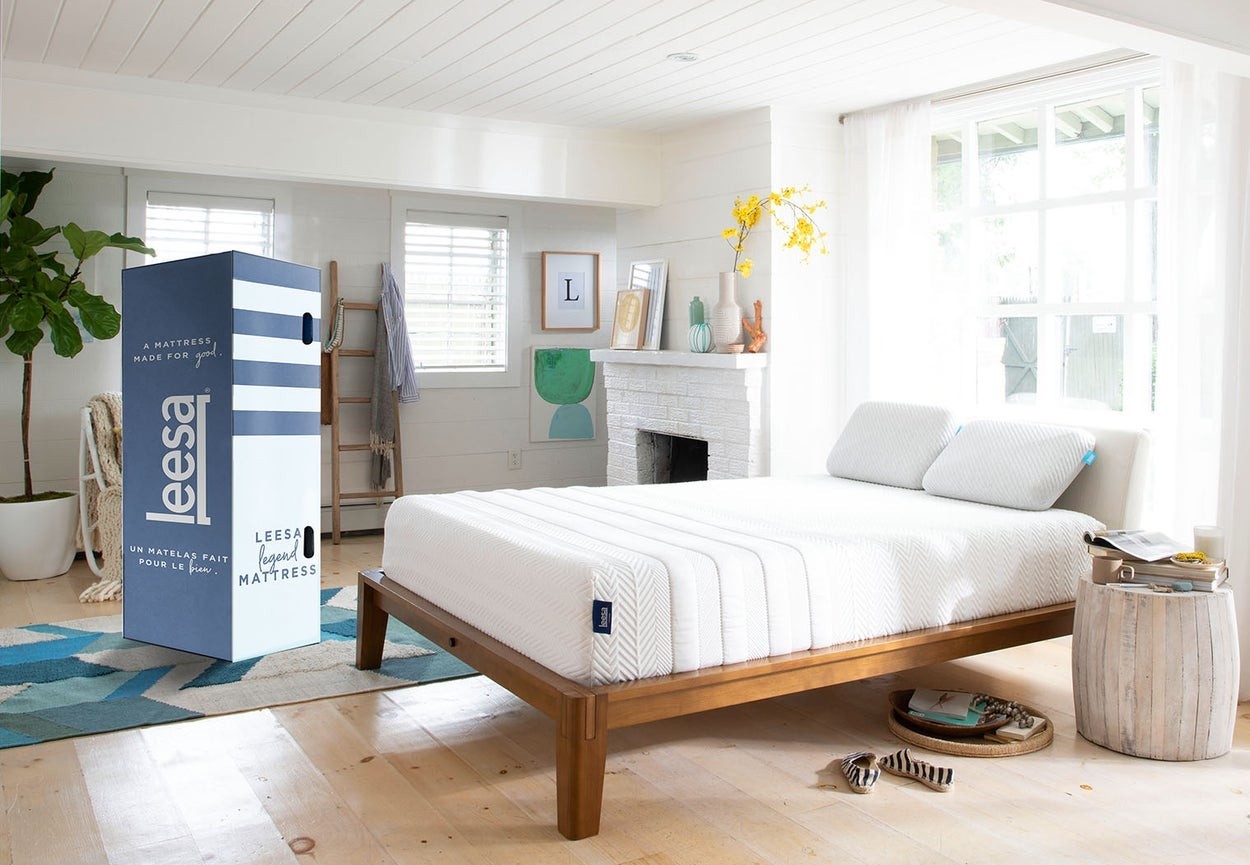 What do we need to achieve a sanctuary for our bedrooms? Leanne believes in keeping the room clean and minimalistic which goes along with her well known design look of white walls. Following that, there are three main essentials:
A good mattress such as a Leesa mattress which she personally sleeps on for an exceptional night sleep! If your mattress is over seven years old and you are waking up with aches and pains, it may be time for a new mattress.
Great sheets are essential – you should love your sheets and feel comfortable in them. Pair them with a plush comforter and plenty of pillows for an inviting bedroom.
Lighting should be designed to allow for bright and cheery in the morning and calm and relaxed in the evening. Putting all the lights on a dimmer especially the overhead lights can give you this effect. Overhead chandeliers work nicely but make sure they are beautiful, according to Leanne, since "it will be the first thing you look at when you wake up in the morning!"
Leanne supports the concept of mindful and healthy living. "I set out to make a beautiful, serene, calm home," She said. "My goal was to want to move in when I was done and I was able to accomplish that."
She's also excited by the industry's increased focus on sustainability, which led her to partner with Leesa, citing  the company's dedication to sustainability and to giving back to the community. For every mattress purchased, Leesa is currently donating a mattress to someone in need, ensuring families everywhere get a better night sleep.
Leanne has a new book, Work in Progress: Unconvetional Thoughts on Designing an Extraordinary Life, which she co-authored with her brother Steve Ford.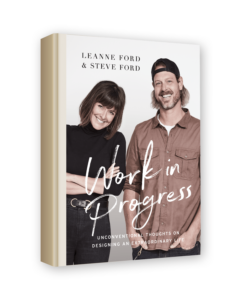 When asked what drove the title, Leanne stated, "I wanted to encourage people to being okay with being a work in progress and to not be afraid to fail." Creative people and people in general learn and grow by failing and taking chances. They share how to turn dreams into reality and how to never let fear get in the way of a great idea.
Leanne also briefly touched on her new HGTV Series, Rock the Block, where she teams up with other designers to renovate homes to see who can get the most value out of the home. The show premiered Monday, October 21.
This is not a sponsored post.
About Leanne Ford
In addition to starring in the popular home renovation series, Restored by the Fords, interior designer Leanne Ford has teamed up with other top designers for another HGTV series, Rock the Block, and has also just launched her new book, "Work in Progress: Unconventional Thoughts on Designing an Extraordinary Life" which she co-authored with her brother Steve Ford. Leanne has a partnership with PPG paint brand and has had her work featured in Architectural Digest, Country Living, Domino, and Elle Decor just to name a few. You can follow Leanne via Instagram at @leannefordinteriors or on her website at www.leanneford.com.
About Guest Blogger Amy Thomas
Amy Thomas is an Interior Designer and Realtor in the Washington, DC and Northern Virginia area. She focuses on creating a healthy living environment for her clients through the use of eco-friendly and sustainable products without sacrificing quality and style. She is also a certified GREEN AP through the Sustainable Furnishings Council (SFC) and holds a certificate from the Institute for Integrative Nutrition. Amy volunteers for the SFC Education Committee as well as various other eco-conscious organizations in the Washington, DC area. Visit her website and Facebook page and follow Amy on Instagram @amythomasdesign.