Yoga-loving families in Metro D.C. learned on Monday that Tenleytown's lil omm yoga studio is closing its doors at the end of the year, but owner Pleasance Silicki does not want them to have heavy hearts. She is, in fact, really exited about the next phase of life for the community she founded in 2009.
In an email to students sent Monday, Pleasance wrote:
"Oh beautiful, amazing community- this is such a hard letter to write!
The first thing I want to say is THANK YOU. This community IS an amazing gift to my life in ways I cannot even begin to express. The teachers and students of LO are the most beautiful, kind, loving and thoughtful people in DC!
lil omm studio and community  give me a sense of connection and purpose in all areas of my life.  I am beyond grateful for the opportunities I have to lead and create in so many interesting ways, and with so many AMAZING partners.
At the end of this year we are going to close the studio space that we have. We have a new lease for Feb 2016 which will just be too expensive. This, along with many other factors involved with the finances, politics and dynamics of new landlords led to my very difficult decision.  Over the past few months I have worked with attorneys, commercial real estate brokers and biz advisors trying to make the right decision. I have analyzed the data, while looking for other spaces but, I've come to realize it's just not feasible to keep our own studio space for lil omm at this time.
I am sad about leaving our wonderful little studio but I am EXCITED to tell you about how we'll be keeping our community alive and vibrant in many ways. Right in alignment with LO Core Values, we created dynamic, innovative new partnerships with other local studios… We are excited about the wonderful collaborations between the neighborhood studios [Washington Yoga Center and City Dance Pop] and are planning for a smooth transition…
Simply put, lil omm will not end as we leave our physical studio space. Our lil omm community will continue to grow and thrive as we find new opportunities. lil omm will continue to engage, inspire and connect students who value health, wellness & community."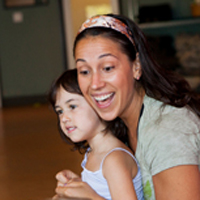 Pleasance, who has been a great supporter of Mindful Healthy Life and a personal inspiration to me, took the time to talk with me to share with our readers how she arrived at this decision and to share her thoughts and her enthusiasm about next steps.
Jessica of Mindful Healthy Life: I was so surprised when I learned at the National Kids Yoga Conference about your decision to close the studio, but I was heartened by how excited you seemed about the next phase of lil omm. Before we talk about how you made this decision, can you share a little bit about what this time has been like for you?
Pleasance: It's hard to let go of something that was working well and has been so meaningful to my life. I've been getting so many emails and calls, and seeing people on the street who come up to me crying,  very emotional. They are all sharing stories with me about their time at LO, the babies classes, prenatal classes, coming in after a hard time or a beautiful time in their lives. It's incredible .
We built such deep relationships at lil omm. It wasn't about coming in for your one-hour class and leaving. There were so many emotional experiences, so many connections and relationships made. We joked that there were fluids everywhere – from breastfeeding to tears, the pee and poo. It has been hard to carry this around for the past few weeks, and I feel lighter now that I have been able to tell people and share with them my memories and joys and emotions about this loss as well.
And speaking at the conference in a session called "Purpose, Planning and Passion" helped me get back into my own deepest passions and work. I want to, and now will be able to, strip away the parts that have been pulling me away from the things that I really want to be doing. I actually love learning about all aspects of running the business from finances to leadership to planning, but it's just too much given family, my own health, and the kind of human being I want to be. There were just too many very important things tugging at my all the time, so now I will be able to step back and let part of that go.
It was great to connect with people I met last year when I was planning the conference. I also was on a panel for studio owners and it was awesome to talk to people who are thinking about opening studios about what it really takes to make that work. They asked great questions. Planning to talk at the conference gave me a chance to reflect on our journey as a studio, so that was really meaningful as well.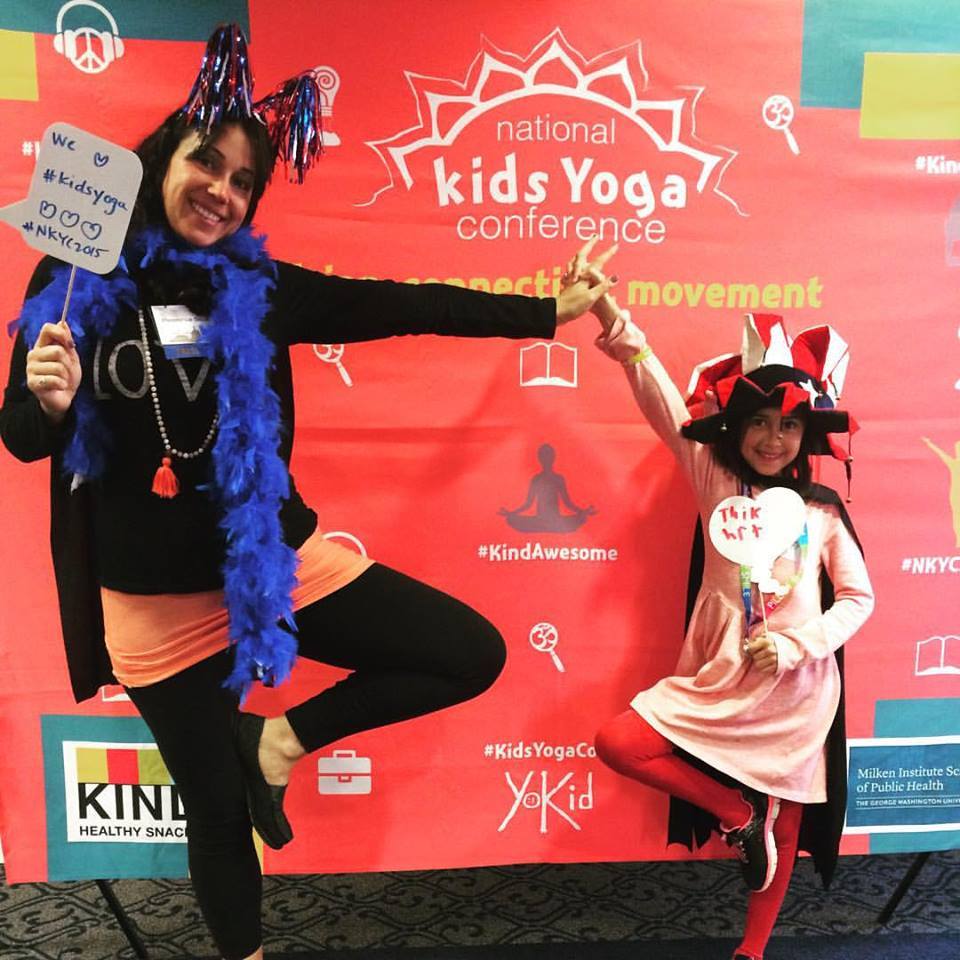 Jessica: So if things were going well, how did the decision to close the studio come about? I know you lost your lease at your first location in the Palisades. Did something similar happen again?
Pleasance: It's great for small businesses to find spaces in privately-owned buildings because they have much more affordable rents than larger buildings under bigger management. However, these spaces are usually short leases of one, two or three years. Since it can take at least $30-50,000 – I have heard of one studio spending closet to $100,000 – to transform a space into a yoga studio, it's a huge hardship to have to pick up and move and start over in a new spot.
Not long after we moved to Tenleytown, the owner of our building told us they were going to put the building for sale. Once that happened, we never knew if someone would come into our space to check it out while considering buying the building. We didn't know if a new owner would honor our lease or raise the rent or what would happen to us. The current owner renewed us one year at a time until last Jan/Feb when the building was sold and we were offered a near-identical lease with only a small rise in rent. But then what followed was a tough winter during which we had a few broken doors, a broken toilet, and problems with water leaks in the bathroom that led to water and mold in the hallway and studio closet. Eventually they had to break through the dry wall in the studio. They left a big hole in the wall for over three weeks.We had a hard time getting our issues resolved in a timely manner.
In August, I approached the new landlords about our next lease. When provided the new 2016 lease, it was overwhelmingly confusing with seemingly contradictory information from one paragraph to the next about what we as tenants were responsible for. There was a raise in rent and additional expenses/responsibilities for  taxes and utilities, but what was really untenable was the prospect of the unpredictable expenses we could be hit with at any time. If, say, the A/C stopped functioning in the building and had to be replaced, we might be told we had to contribute $10,000 that we didn't have.
And how long was the lease they were offering? Two years! I needed to replace the studio windows but couldn't invest in that if I had to go back to negotiating eighteen months later. Listen, I understand that when they bought the building, they may not have known all the issues our unit would have, and they are just doing what's best for them. I don't hold any ill regards to them; they have to make it work for their own finances. I get it. I just can't take on the financial risk and responsibility for a quite old, outdated building.
Over the past few months, I have spent a huge amount of time and money consulting with business advisors and lawyers. The property owners were open to negotiations but not on the responsibility and additional costs of taxes, utilities and anything that broke in our unit. I knew I needed to make a decision so that I could move forward.
Jessica: So when did you decide? And how did you deal with telling or not telling people while you figured it all out?
Pleasance: I made the decision the week before Halloween weekend. I finally sat down with my husband, showed him everything we were facing in numbers, and decided to let it go.  Leading up to the decision, I did a lot of crying, questioning, and talking to my beloved advisors and friends, but I also didn't want to put the burden of my decision on my students and teachers. It was not appropriate to bog them down with my stress. These were my decisions as an owner to make; it was my responsibility to deal with them.
And yet, because my practice and my business are so integrated, it was really hard not to be totally forthcoming right away. The decision became a beast, and it was really challenging because I am a very straightforward person. There is no other way I can be. There's no pretense with me. So during this time, if people asked me how I was doing, I tried to say things like, "I'm okay; lots of tough decisions to make."
So I just went inward. I spent a lot of time alone, journaling, reading, walking  and trying to really move through the decision so that I would know I had exhausted all options.
Jessica: How did all of this affect your parenting? Your children are how old now? What did they think about it all?
Pleasance: Saylor is 7, in second grade, and Milo is 4, in full-time preK at the same school right in the lil omm neighborhood.  They have always been such a part of the lil omm community in terms of the creative side. A lot of the ideas for the creative classes have come from my relationship and experience with them. They used to hang around the studio a lot. When Milo was in half-day school, I would bring the kids to the afternoon class I taught. I loved that.
But once he started going to school full-day, he was too tired for that class. I had to pay attention to what was working for them, and I gave up teaching that class. So they haven't been around the studio as much this past year.
When we got the new lease and things started getting really stressful, I was very on edge. I was at the computer while the kids were having tutoring or playing. I was letting them watch TV while I made phone calls. I moved away from the parent I wanted to be. That changed things a lot. I was so tense and scared and anxious.
And then, when I made the decision to close the studio, I started crying a lot. Milo would come over to hug and console me. Saylor had a more complex response with real questions. But she was also very sad. "Lil omm is me," she said, "you thought of it while you were pregnant with me." It was really part of her identity, her sense of self.
So we just talk about it. I say, "It's sad and it's also going to be good because Mommy won't have to work every weekend." Usually I set aside one weekend a month for family time, but all the other weekends – since my children were born – I have been doing classes, workshops or trainings and I am in and out the whole weekend. My husband has been responsible for both of them on the weekend for their whole lives. So now our life will be different. My daughter is excited to have me around more.
During the times I was sad, it was a real question of how do you be sad as a parent? You don't want to be Debbie Downer, you still have to cook dinner, to show up at school. I felt my way through it. The kids saw my process and understood. I would say, "I'm going to be okay. I'm just sad because I am letting go of something I love."
The first week I made the decision, I thought the direction of LO would go one way and now that I have had some time to reflect and get some clarity, I see it moving a bit differently. So that took some time. When I first decided to close LO, I did not think I would have our own programs, but once we started working with CityDance, I realized we needed to keep our core/signature classes under the lil omm brand and name. And so right now, the entire business is evolving into something slightly different, which is all very interesting to figure out! I love this kind of flowy planning, logistics and creating.
Jessica: And yet, amid that sadness, it sounds from your emails and when we spoke last weekend at conference that you are in a really good place about what lies ahead.
Pleasance: Yes, I am! What I'm really excited about is getting back to what is truly my passion, and that is connection as a form of transformation. Building meaningful relationships is what I love. Letting go of the studio helps me release some of the energy that kept me from really pursuing my passion.
Also, I haven't become tougher or harder as a businesswoman. I've gotten softer and more loving. It's taken a lot of energy to run the space when what I really want to be doing is connecting with people. I'm all about the people. It's good that I realized that before I signed another lease!
Jessica: So you didn't really consider trying to find another space? How did you come to choose Washington Yoga Center and City Dance Pop as your partners?
Pleasance: I have been looking into other properties in Tenley over the past two years while the previous owner was trying to sell the building and giving us one-year extensions. I developed a very good read on what was going on in the Tenley area and what was available to us. I looked for spaces over the summer as well and again once I saw the new 2016 lease. I also joined the board of Tenley Main Street about three months ago and have actively been trying to help the community  improve and help small biz in the hood!. This is my neighborhood. We live four blocks away. My kids go to school here. My neighbors are my students. I am and have always been a community activist, and Tenley needs service-based businesses for our residents. Part of the mission of the MainStreets Program is to provide mentorship and counseling to our businesses to be able to stay and help them with challenges that arise.
When I got clear that I would need to close the studio, I contacted Washington Yoga Center and CityDance Pop. They were so welcoming. And they are right up the street from us! Though the address of WYC is 4000 Ablemarle St. NW and the CDP address is 4435 Wisconsin Ave. NW, they are located in the same building, which is owned by another member of the Tenley Main Street board. I love working on collaborative models to help businesses thrive.
Jessica: So how will it work for current lil omm students? Where will they be able to take classes?
Pleasance: Many of our adult classes and teachers will be moving to Washington Yoga Center. LO class passes will be accepted there starting January 1, 2016, and memberships will transfer over at a lower rate. Folks can check out the Washington Yoga Center space and greet staff at an open house on December 5, 12 to 3 p.m., the same day as Tenley Winterfest Celebrations all around the neighborhood!
Our signature prenatal, playtime, postnatal, baby & me, and family classes will be offered through a partnership between lil omm yoga and CityDance Pop. These classes will be session-based only. We have sent out a survey about preferred class times to our email list subscribers and are open to suggestions at info@lilomm.com.
Jessica: What about retreats and other special classes and workshops? I'm going to share some info below, and we will continue to include your special classes and workshops in our Mindful Healthy Life calendar, but how can people keep informed?
Pleasance: Stay tuned! We are working right now on our 2016 calendar. As I mentioned in the transition email, our newsletter, e-mails, website, and social media outlets will be the best source for this information and will allow us to keep engaged, inspired, and connected with our community and one another. We will maintain our various online presences, only paring back. The app will no longer be active for signing into daily classes (which we won't have), but everything else will stay live.
Jessica: Any thoughts you want to share on the future of yoga studios? In addition to the passion & planning session at the second National Kids Yoga Conference, which you founded last year with Michelle Kelsey Mitchell of YoKid, I know you also participated in a session specifically about opening a kids' yoga studio. What did you tell the people in that session?
Pleasance: Yoga studios open and close all the time. I have talked with lots of people around the country and just got back from a National Studio Conference in California sponsored by MindBody Online.  I will continue to do professional coaching to help people think through their process if they are looking to start a studio space. You really have to consider if something is a good fit and if you  have the energy AND support for it. If the answer is no, then how do you find partnerships? Having your own business can increase your stress 2000%, and that's not good for your family or your life. So, I love to find creative ways to do our own thing and intentionally plan our lives around the work we want to do and make sure that we make money to contribute to our families, and that we are realists about what it takes.
So I think in general, studios and teachers and wellness professionals are going to have to find ways to partner with like-minded organizations. Many of these places are going to make enough money to support real estate increases, and if they do the amount of work they must do to keep it going is so much and over time, that high stress deeply affects us as human beings. Illness, disease, anxiety, depression, insomnia, digestion… I could go on and on!  I think people are going to be looking more for places where they can get all of their services in one spot – yoga, wellness, naturopathy.
Jessica: I'll include here some of your upcoming special events, but can you give any peeks about other things on the horizon? I missed your fall half-day retreat. Was it the last one?
Pleasance: I think we will probably have another in February. I am working on that scheduling today and will be for the next few weeks!  I'd like to do one day-long yoga and meditation retreat per season. The Insight Meditation Community of Washington has its lease in our current building through August 2016, so I will continue to use their space in addition to CityDance Pop and Washington Yoga Center. And we will probably plan a vision board party at my house or at the studio, something I like to do every January.
I'm keeping the lil omm website and the Mind-Body sign-up, so everyone can use the workshops/ sessions/ events tab to join in on the fun. I'm also in the process of finalizing the dates for the  2016 Mother/Daughter Retreat, Prenatal Retreat and MOMS UP retreat. All of these are partnerships with amazing women in my life – Meghan Leahy, Alexandra Hughes, Michelle Cohen and Jodi Balis – along with half-day retreats for younger moms/daughters and of course, all our signature family workshops: Family Partner yoga,  Star Wars Yoga, Downward Doll Yoga and Tea Party, Seasonal Women's Nights and more. We are thinking up lots more for 2016!
Jessica: I'd like to close with something you posted on your personal Facebook page if that's okay. You assured your friends that you were not going anywhere: you are not returning to teach in DCPS or to work at Urban Outfitter or any of the other jobs you held before launching lil omm. You linked to 20 Things You Gradually Learn as You Let Go of the Uncontrollable from Marc and Angel Hack Life and told your friends, who had been emailing and calling and messaging to check in on you:
"I'm going to be DOING a lot less than I have the past 6-7 years and I'm going to BE with folks a wee bit more – my family, myself, teaching a few classes, leading a few workshops , ya know- what I do now- just WITHOUT running the WHOLE studio daily. I'll be creating a NEW version of LO- with session based classes for our families and mamas! Going back to what this was all about. lilomm2.0
IT'S ALL SO GOOD. I had a rough patch over the past few weeks, deeply feeling the loss, the grief and now it has passed. I'm READY and EXCITED."
Pleasance, thank you for sharing your vision and your passion with the community, and thank you for taking the time to talk with me about lilomm2.0. Best wishes in this endeavor!

Upcoming opportunities with lil omm:

For more information, visit lil omm's website a lilomm.com and the lil omm Facebook page at facebook.com/lilommyoga

Jessica Claire Haney is the founder, publisher and editor of Mindful Healthy Life. She is a writer and editor and a co-leader for the Arlington/Alexandria chapter of Holistic Moms Network. Her personal blog is Crunchy-Chewy Mama and her writer's site is JessicaClaireHaney.com. See the Contributors page and Jessica's Mindful Healthy Life Q&A for more on Jessica.