This morning, the new Arlington location of MOM's Organic Market opened to a great crowd. If you haven't made it there yet, take our virtual tour in this photoblog!
Also be sure to check out our preview piece for a $15 off coupon for this weekend's grand opening and also enter our giveaway for a $50 gift card for any MOM's location, no expiration date.
Outside the store this opening weekend were four information tables. MOM's had car magnets and stickers and was offering a gift basket to those signing up for the store email list. Arlingtonians for a Clean Environment and Accokeek Foundation shared information about sustainability programs and education. Moms Clean Air Force is receiving 5% of opening weekend sales and was on hand to share information about its clean air and climate change advocacy.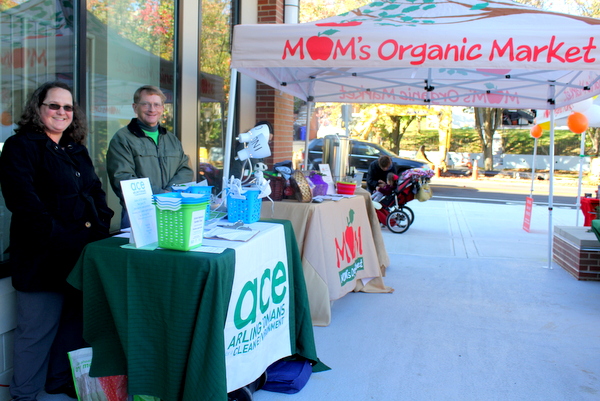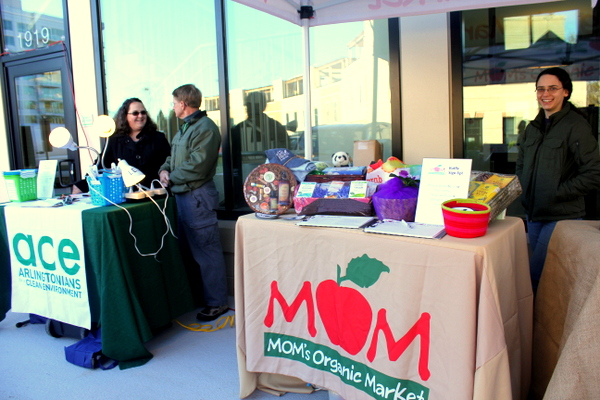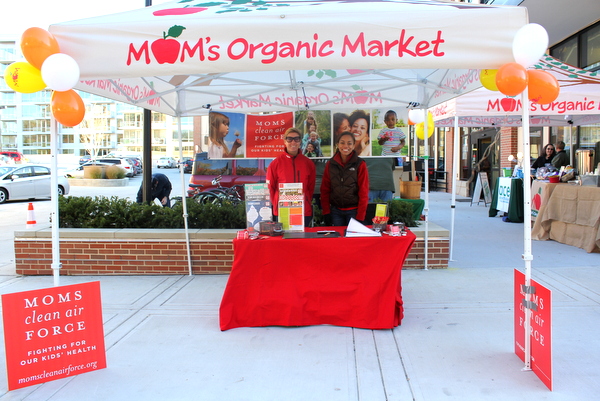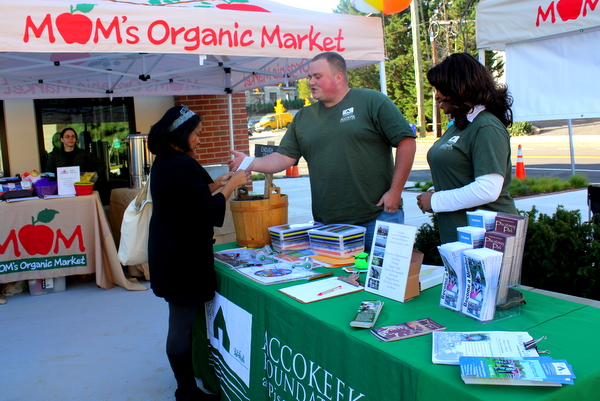 There will be meet & greets throughout the weekend with these folks and Northern Virginia Conservation Trust (NVCT), Arlington Regional Master Naturalists, Plant NOVA Natives, the Children's Environmental Health Network as well as local Arlington musician Calista Garcia Saturday and Sunday afternoon. I entered the store ahead of a scheduled 10:00 tour with owner and founder Scott Nash. I got started shopping and joined the tour in progress. For more about Scott and the values he instilled in MOM's, see this post.
The Arlington store is gorgeous, with high ceilings and wide aisles. There were all the products MOM's customers have come to know and some additional variety beyond what my usual haunt, the smaller Alexandria store, is able to offer. The parking deck and the corner entrance both open to the produce section, with bulk foods near the parking deck entrance.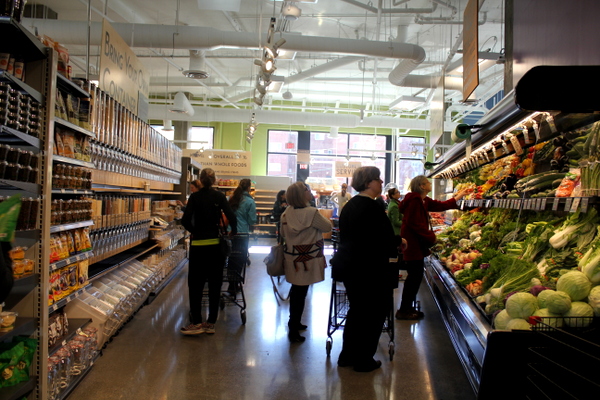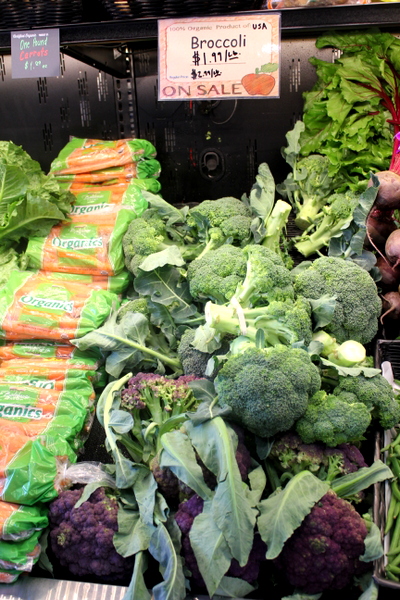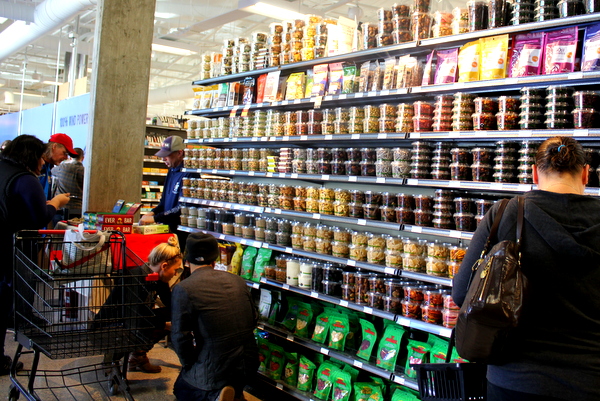 The store has lots of short aisles, including one that is gluten-free on one side and and a large wine section.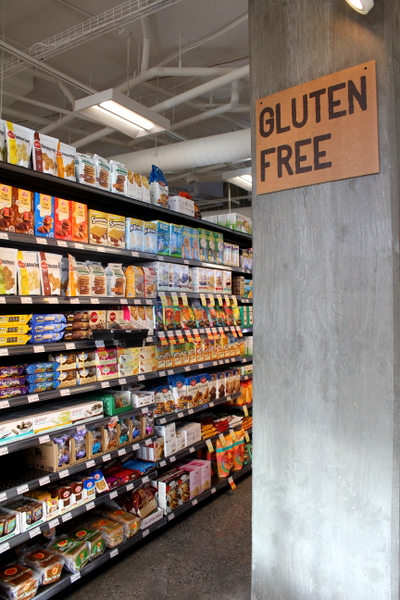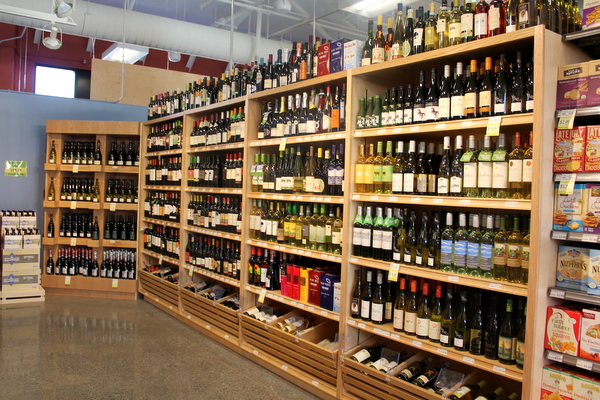 Along almost the whole Lee Highway wall of the store – underneath windows that flood the place with natural light – are refrigerated and frozen cases.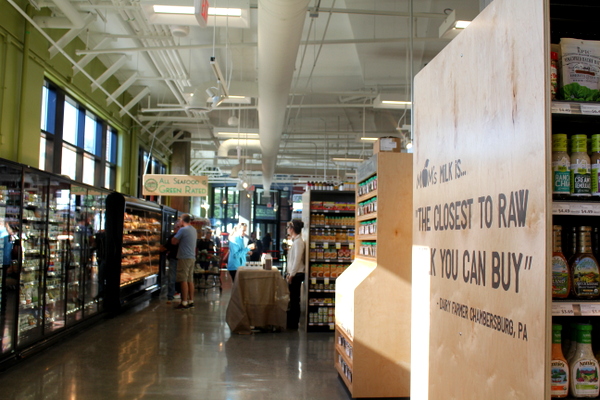 This long aisle culminates in probiotics and then turning left to a many-aisled wellness section with body care, vitamins and remedies as well as organic cotton clothing.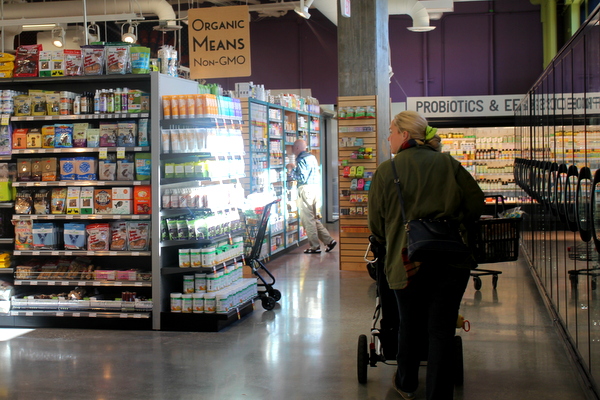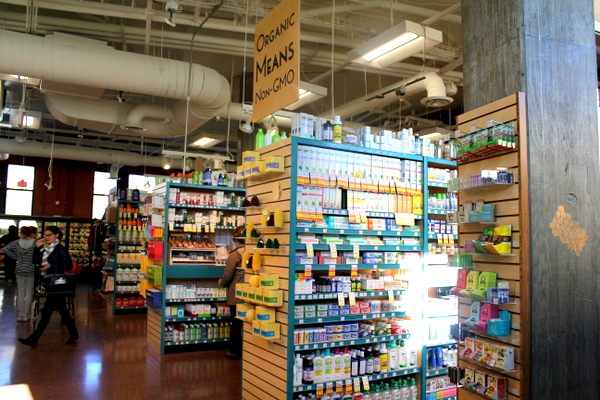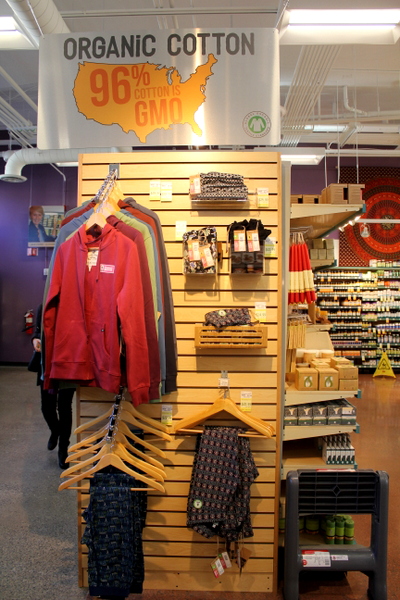 If you turn right, you'll find some more frozen foods and the restrooms. Go left toward more frozen foods on the right and bat houses and other home items on the left, followed by the Naked Lunch menu. I will check to see if you can order off the menu and pay at the register.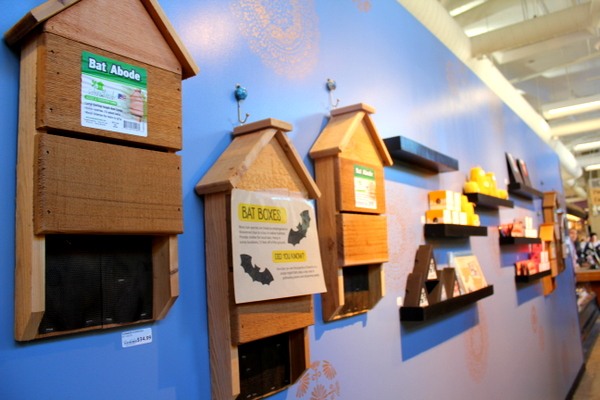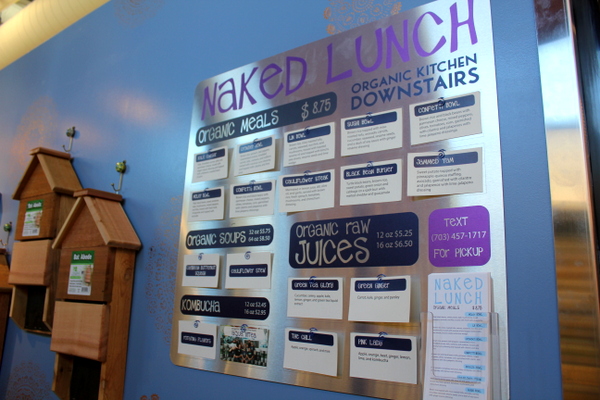 Just before you get to the cash registers are the cases with beverages including kombucha and other fermented drinks and juices.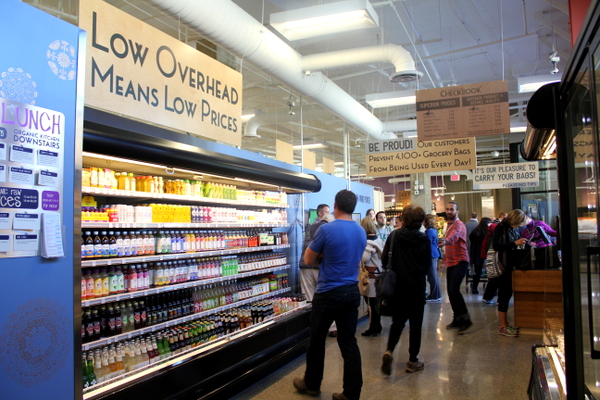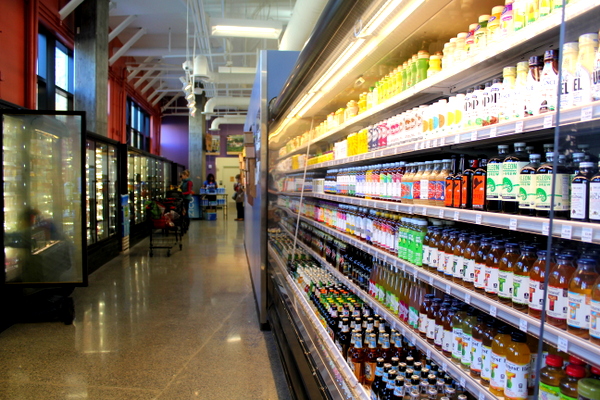 Today, there were several tastings throughout the store, including the handcrafted-in-Maryland Ever Bar, Trickling Springs Creamery and Zico Coconut Water, among others.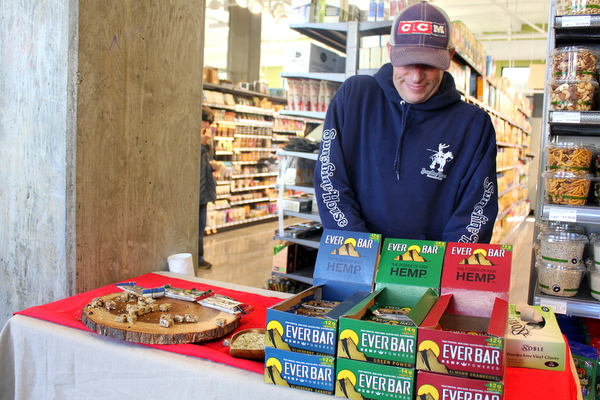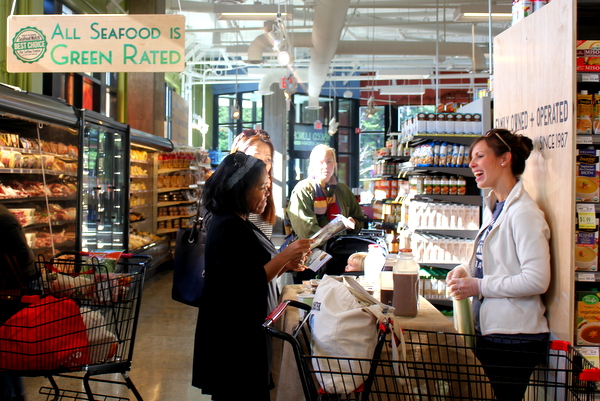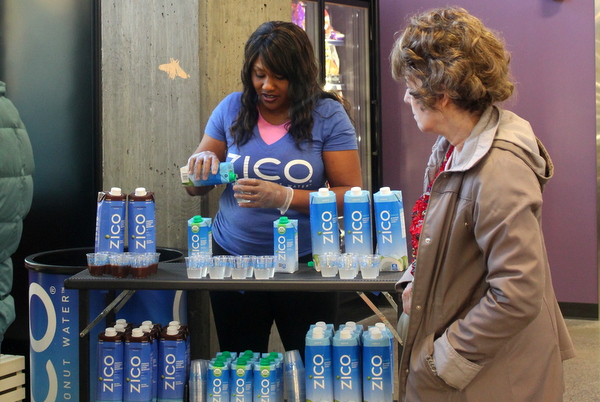 Location, Logistics and Lunch
The building is on the corner of N. Veitch Street at Lee Highway. I was surprised how close the location is to the Courthouse area, just north of it; if you turn from N. Courthouse road onto 15th Street, it becomes Veitch and takes you right to the store, not far past Key Elementary.
The part of Lee along which the store immediately sits is one-way going east to west. Enter the parking deck from Veitch.
From the surface lot, there's a ramp down to additional parking down a ramp. It had its arm up today; I'll have to ask if that will ever cost, but I bet not as there are MOM's-identified spots in the lot.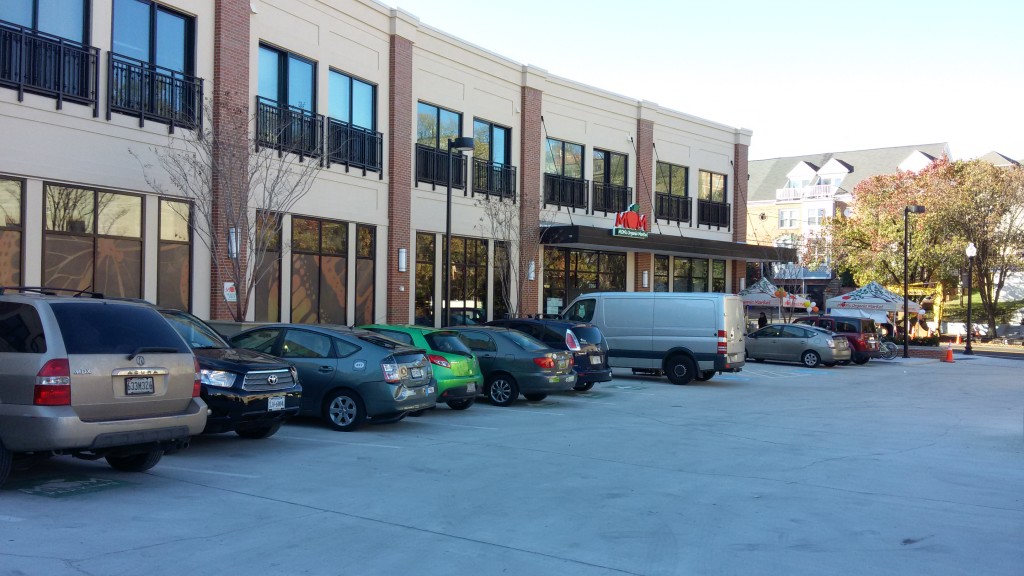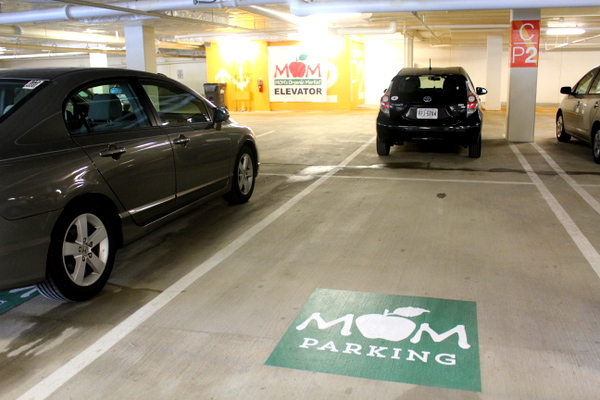 The Arlington location has a Naked Lunch eatery and juice bar. But unlike the Naked Lunch I'm familiar with from the Merrifield store, this one is separate, apart from the store. It's got a separate entrance around the corner from the main entrance. I was on a media tour with owner Scott Nash and so went through the back room and down the stairs, but the only public entrance at this time is from the outside, on a new street with think is N. Uhle.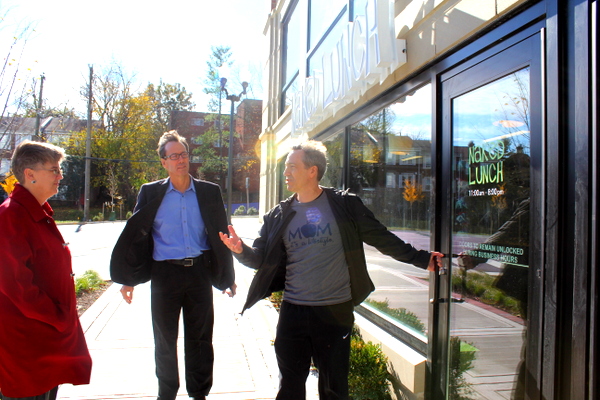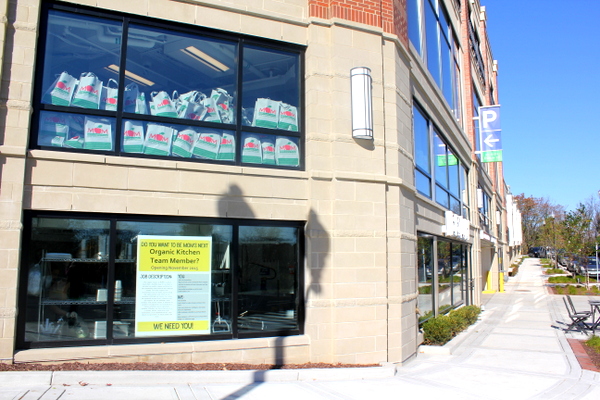 The eatery has four chairs, a case of drinks, an a vegetarian menu of salad and grain bowls, soups and fresh juices. Everything is organic!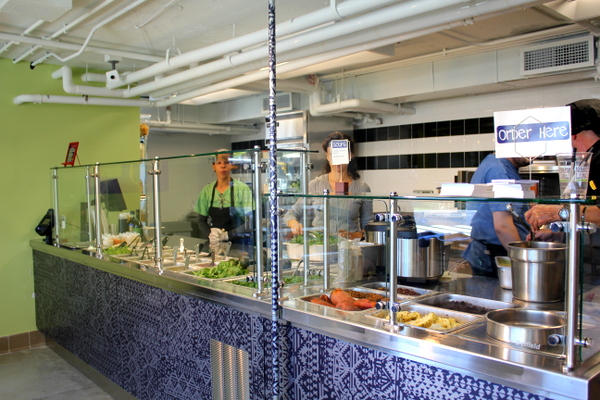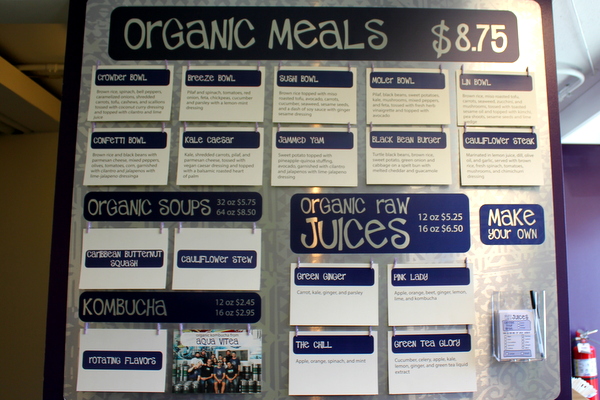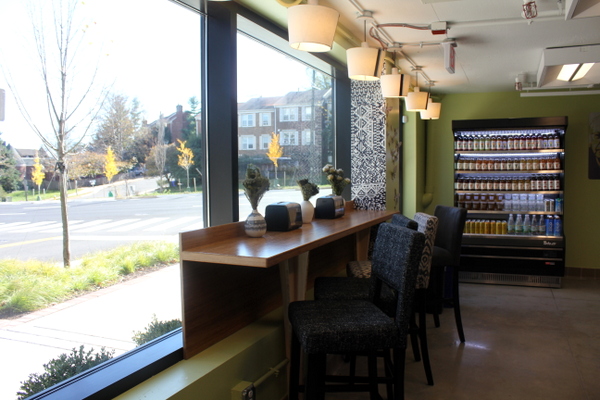 I returned to the store with the tour by walking back up Lee Highway, along the part that is one-way and feels more like a service drive before it joins the rest of the divided road.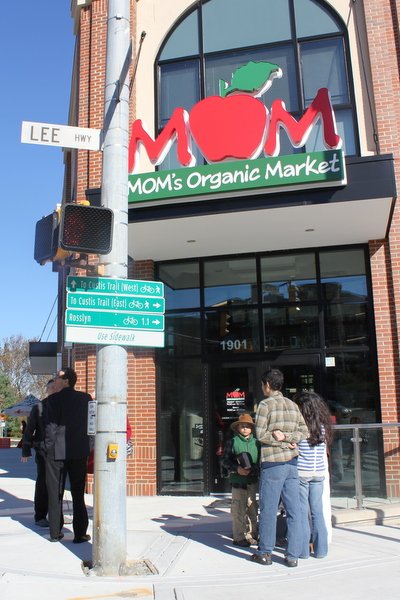 When I was done shopping I drove down to the garage to see if I could exit to Naked Lunch from there. I wanted to pick up the juice I had ordered while on the tour after Scott Nash offered complimentary lunches to the tour-takers (thanks, Scott!). I went down a flight of stairs that took me to the Naked Lunch entrance. I probably could have pulled around and taken a right and then another right out of the surface parking lot to get here, but there's no parking on the new N. Uhle. The thing to do is probably to just walk from the front entrance after you've put your groceries in your car, or to go before you shop.
It's very exciting to see a local chain with such great values doing so well. I'm thrilled for this new expansion into Arlington.
Disclosure: I was not offered any financial compensation for this post or any other previous posts about MOM's Organic Market. However, I did accept a free fresh juice from Naked Lunch when lunch was offered to participants on the media tour.
All opinions are my own.

Jessica Claire Haney is the founder, publisher and editor of Mindful Healthy Life. She is a writer and editor and a co-leader for the Arlington/Alexandria chapter of Holistic Moms Network. Her personal blog is Crunchy-Chewy Mama and her writer's site is JessicaClaireHaney.com. See the Contributors page and Jessica's Mindful Healthy Life Q&A for more on Jessica.