Spirit Camp returns to Arlington this summer – and winter!
After its first summer in Arlington, Maine-based Spirit Camp led by Dancing Jaguar Inspirations will return in July 2018 and is bringing a sampler program to the area for parents and children to attend together on Sunday, January 7 at the Unitarian Universalist Church of Arlington (UUCA).
The Sunday sampler will be led by Spirit Camp and Dancing Jaguar Inspirations founder Eva Goulette. Eva founded Spirit Camp five years ago. This unique one-week program introduces children to the teachings from ancient wisdom practices. Hundreds of children have participated in Spirit Camp and have integrated the teachings into their lives nurturing their mind, body, and spirit.
The January 7 Spirit Camp sampler is geared toward children in 2nd through 4th grades and their caregivers. The sampler class – titled "Breathing Techniques for Self-Regulation" – is designed to help children build a toolbox of useful breathing techniques they can utilize when dealing with challenging situations.
Each child will create their own breathing book of 10 methods which they will take home with them.  Some breathing techniques have a calming effect while others help increase energy for when children are tired or feeling sad.  Children will identify the breathing methods they will use in various situations, empowering them with the knowledge they need to help them self-nurture in the future.
UUCA services begin at 9:15 and 11:15. Children will begin the service in the sanctuary and will come downstairs after the Story for All Ages. The sampler program and all Religious Education (RE) classes conclude at 10:30 and 12:30 after a short snack period. Parents and caregivers are encouraged to attend this special sampler program with their children.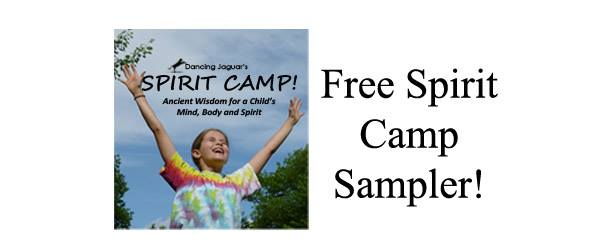 Children with food restrictions are welcome to bring their own snack. UUCA is a nut-free zone.
A former Director of Religious Education from the Unitarian Universalist Church in Waterville, Maine, Eva will be available during snack time and after each Sampler program to answer parent questions about Spirit Camp and to share some of her favorite resources.
Last year, I reached out Eva after seeing a Spirit Camp flyer at UUCA. I then had the chance to interview her and write this post about Spirit Camp. My younger child enrolled in Spirit Camp. I attended one full day and was able to bring my older child to two half-days of the camp.
Every day started with sage smudging and calling to the four directions.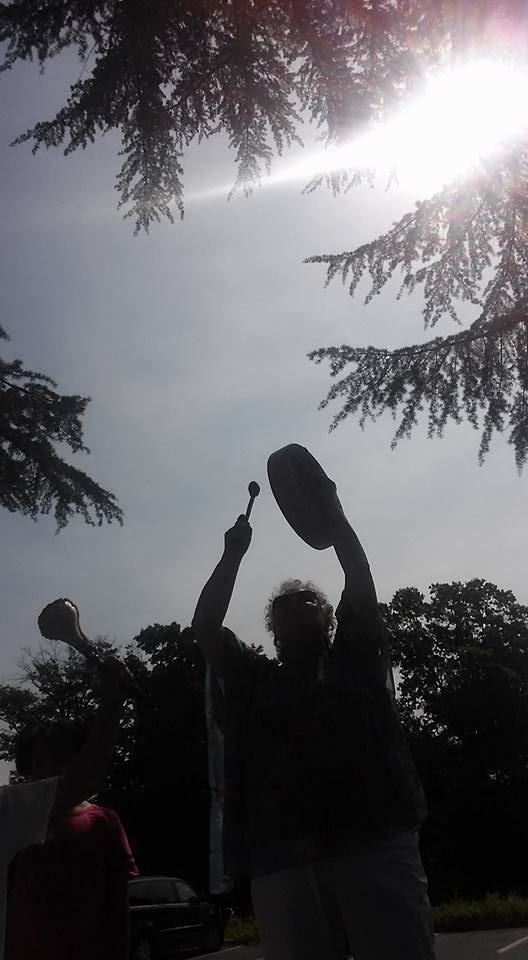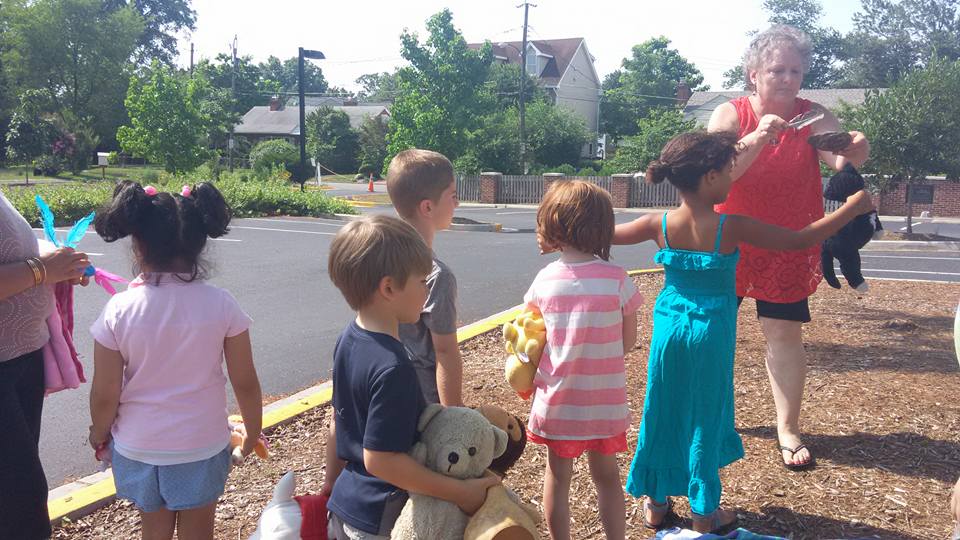 The children learned how to safely use the sage stick. They enjoyed participating in the invocation with drums and other instruments.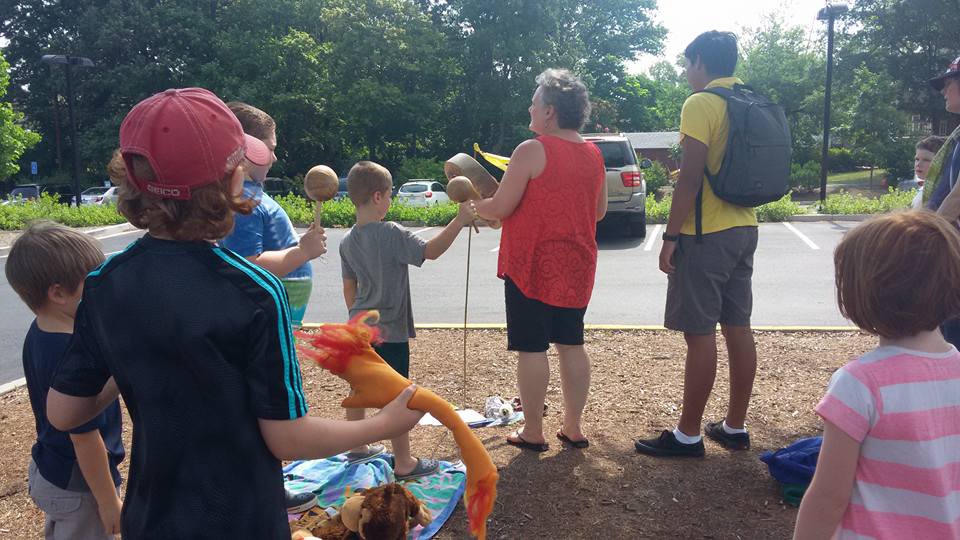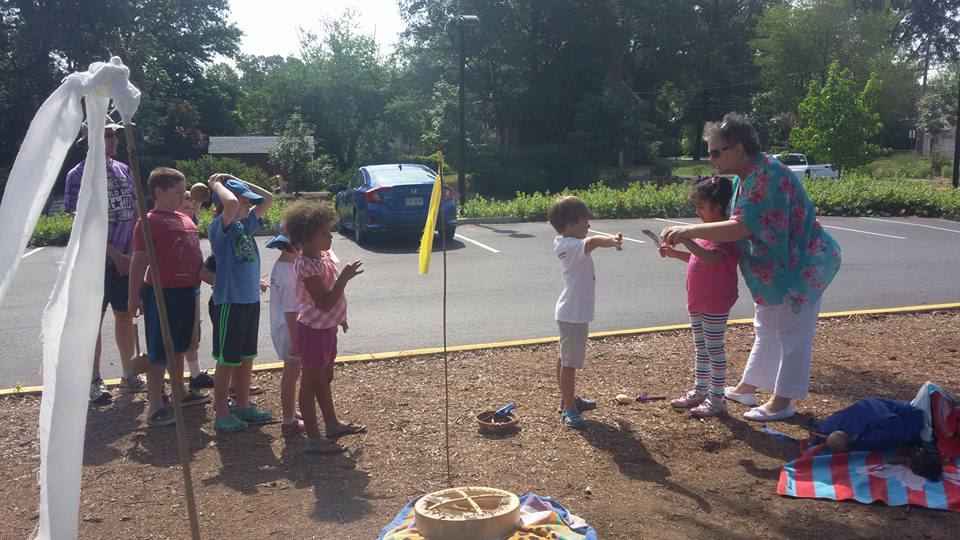 My child loved learning about the chakras. Eva taught about these energy centers and the colors and gems that correspond to them through instruction and play.
Each child brought home a satchel with gems and a guide sheet and rainbow pendulums they had made. It is pretty magical to have your seven-year-old hold a pendulum over your energy centers and watch it swing if it's open or circle if it's closed! And then to help you open the centers that were closed!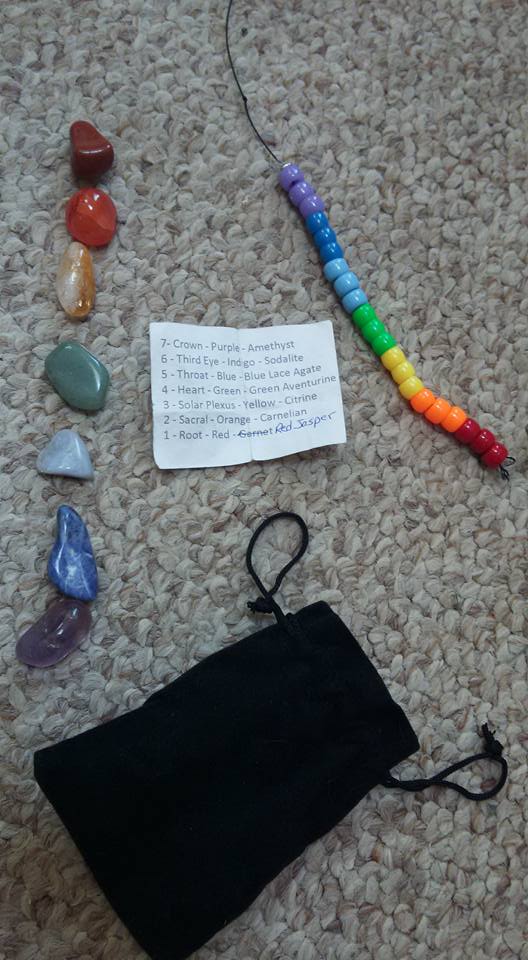 Everyone in our family has had their chakras checked multiple times in the ensuing months. I have felt a profound difference each time it's been done to me. And it's truly amazing to see how it works when I do it on my children!
Eva led children in an exercise to "zip up their chakras" and create a safe bubble for themselves. She draw on culture examples including Glinda the Good Witch from The Wizard of Oz and the invisibility cloak from Harry Potter. This practice can be helpful for children in protecting themselves against hurtful words and actions by others.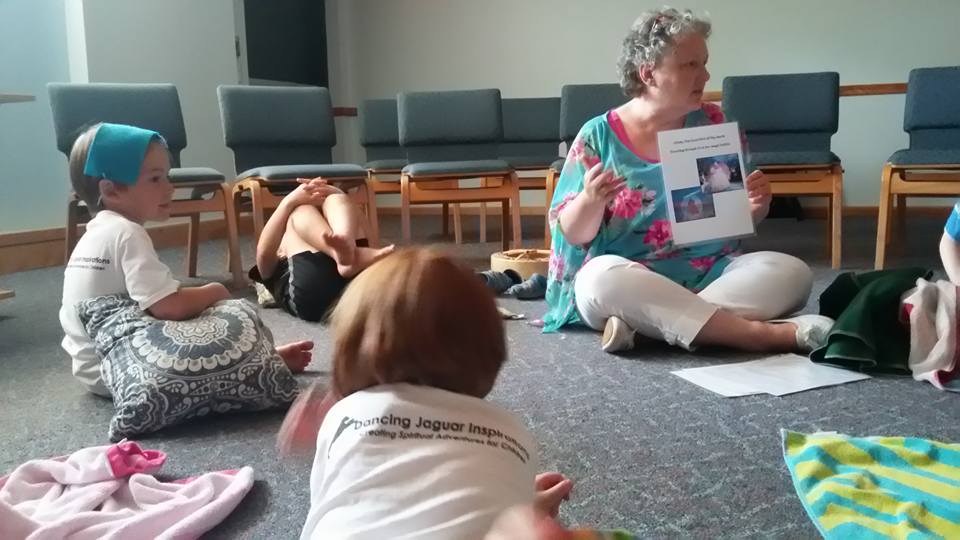 Eva led us all on a shamanic journey the third day of Spirit Camp. She described how we would go down under the earth in our imaginations to find our spirit animal. We all shared our experiences after our "journeys." The children all let themselves be carried along, and almost everyone found their spirit animal. Mine took a while, with many passageways, but once I met the spider, I knew she was the one. What a surprise!
The following day, Eva invited us to go back to find our spirit animals and ask them what gift they had to give us.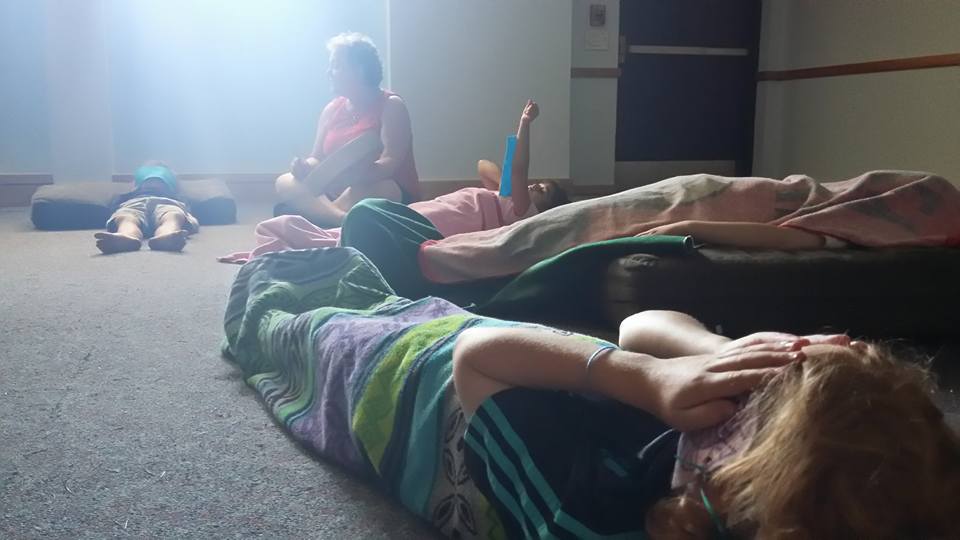 Later, the children drew about their experience and made spirit animal masks that they wore at the end of camp, after all the children smudged the parents.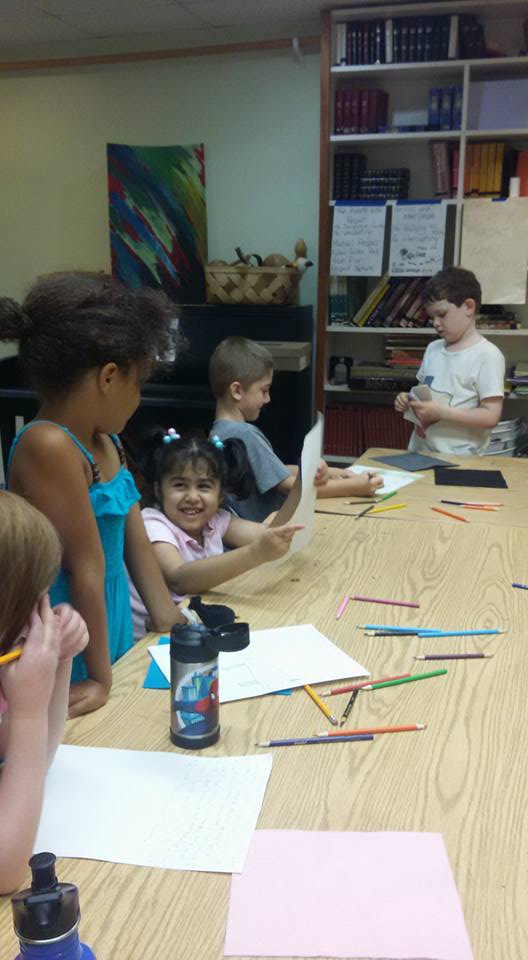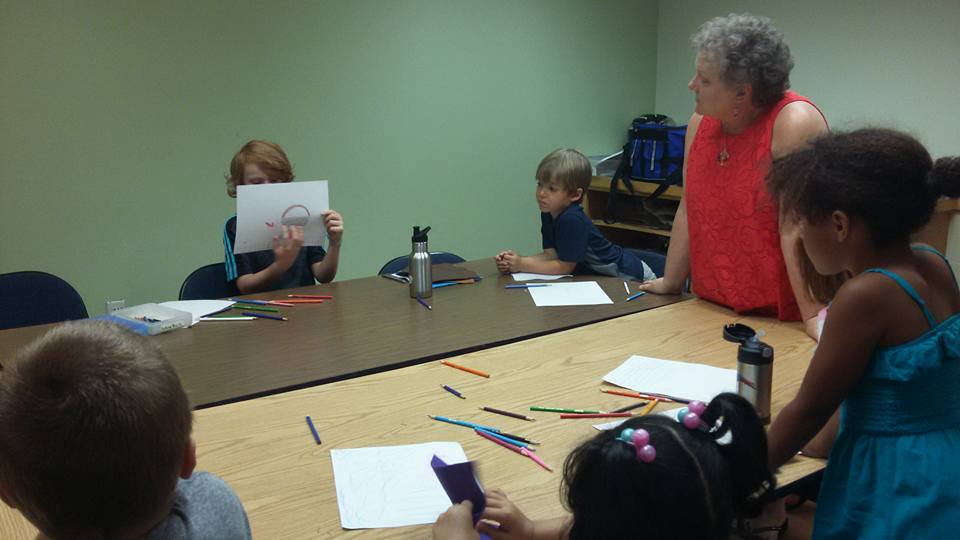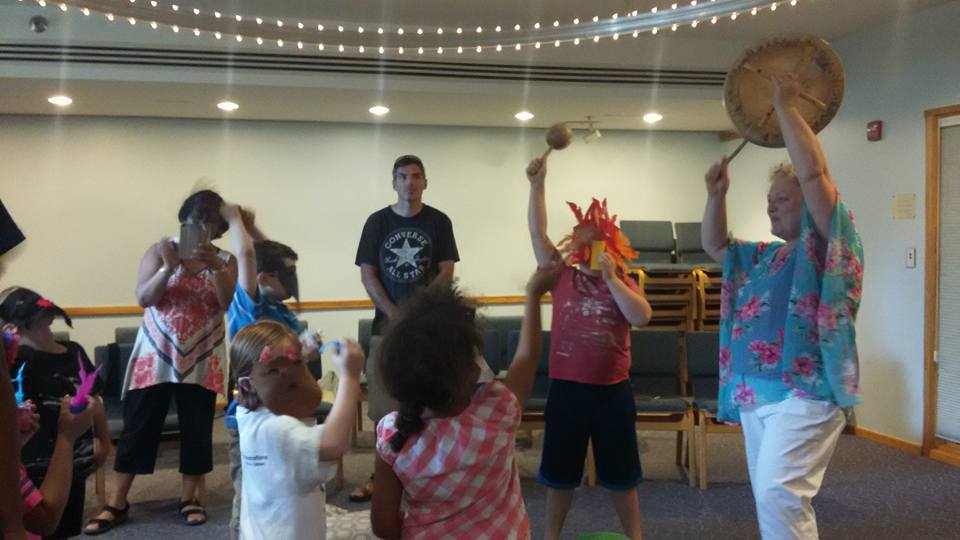 On the final day of camp, all the children came into the space as their spirit animals for a closing ceremony.
The last day of camp also included children smudging parents, a discussion about cleansing with water and rose quartz, and conversation about taking what we learned forward.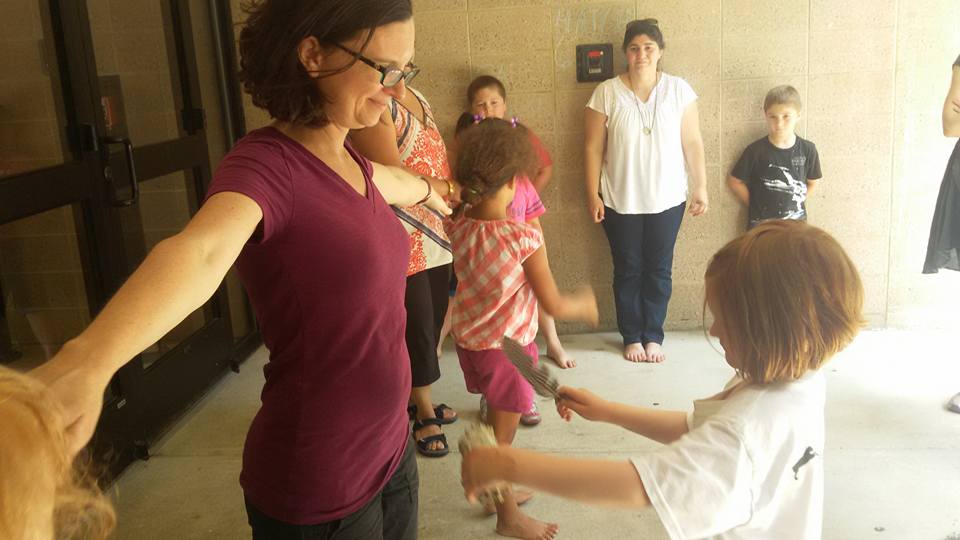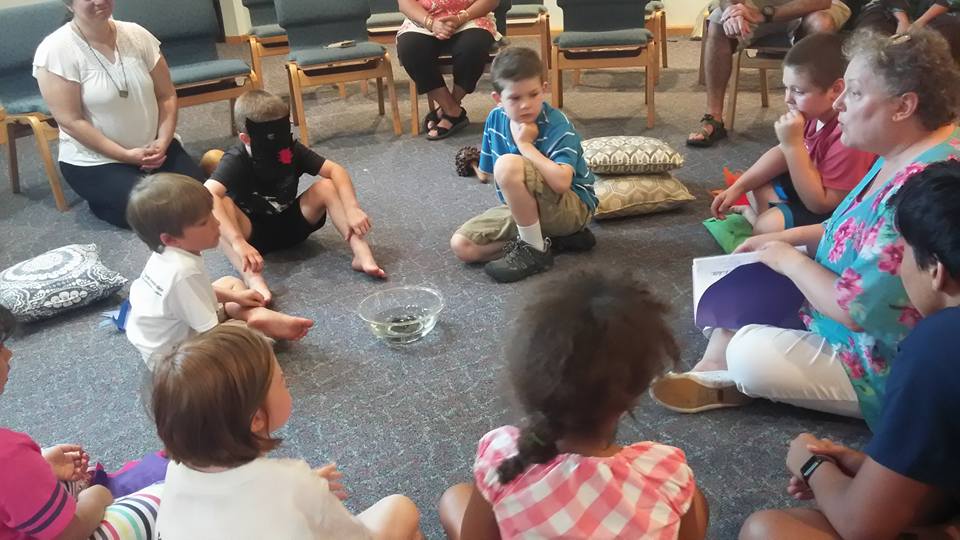 I truly felt like I had been cleansed each morning I joined the Spirit Camp opening circle and after the closing ceremony on the final day. Spirit Camp was a terrific foundation for me and my children, and I look forward to continuing to bring the wisdom gained their into our family life.
Having not grown up with any religious tradition, I have felt more grounded at at home in the church since attending Spirit Camp. After getting married at the UUCA in 2002, I attended only sporadically and then not at all for several years. Recently I began feeling I  "should" go more and give the children some experience in what I knew was a welcoming community, but I somehow resisted making a commitment.
I have felt so much more comfortable since Spirit Camp. Making the commitment to attend church every week has finally felt not only possible but enjoyable. I feel more at home in my spiritual center.  It's a process that is ever evolving, certainly, but it seems like the camp was the start of a clearing away of some profound ambivalence for me. I told Eva, "You really ought to offer this for adults as well!"
Our paths are always circular and complex, but I'm grateful for the help of Spirit Camp in making mine more mindful, and for making me more open to its twists and turns.
I am excited for Spirit Camp to return this year and to reach more families here in Metro DC. Spirit Camp will be at UUCA July 2-6 (no camp 7/4) and July 9-13, 2018.  Eva's summer camp schedule is filling up with camps in Charlottesville and Roanoke in addition to Arlington and the camps in Maine, but she does still have a few open weeks to bring the camp to other locations in Virginia.
For more information about this unique program for children, please visit dancingjaguarinspirations.com/spirit-camp. Registration is open!
Details about the January 7 Spirit Camp sampler are at bit.ly/SpiritCampSampler. RSVPs are helpful but not required.
All images except for the image on featured image and sampler ad copyright Jessica Claire Haney for Mindful Healthy Life.
The interview I did last spring with Eva was a sponsored post. This is not a sponsored post. All opinions are my own.
Jessica Claire Haney is the founder, publisher and editor of Mindful Healthy Life and the author of its Guide to Holistic Family Living in Metro DC. Jessica volunteers on issues related to wellness in public schools and was the founder of the Arlington/Alexandria Chapter of Holistic Moms Network. A writer working on her first novel, Jessica offers writing, editing, and consulting services.  Learn more at JessicaClaireHaney.com and in Jessica's Mindful Healthy Life Q&A. Follow Jessica on Facebook at MindfulHealthyLife, on @Twitter @MindfulHealthy and on Instagram at @mindfulhealthy. Jessica's personal blog is Crunchy-Chewy Mama, on Facebook at CrunchyChewyMama and on Twitter @CrunchyChewy.