Pregnancy books can sometimes be overwhelming and not all that helpful, with advice and opinions that might not resonate with natural-minded moms. By contrast, local mom and postpartum support coach Kristy Rodriguez has come out with a helpful and supportive new book, Pure Nurture: A Holistic Guide to a Healthy Baby
. The guide provides wisdom and guidance for expectant moms with an eye toward self-care for a healthy pregnancy and beyond to set the stage for a healthy recovery and healthy parenting for years to come.
Kristy's Pure Nurture coaching practice supports women through pregnancy and beyond. Her background as a health coach and yoga teacher gives her a unique insight into successful strategies for navigating the exciting but exhausting time that is pregnancy and postpartum.
Kristy has put together much of the wisdom she has gained from years of practice and experience and put them together in a practical and approachable book that supports women who want to feel good, grow healthy babies and foster healthy relationships with themselves and their growing family.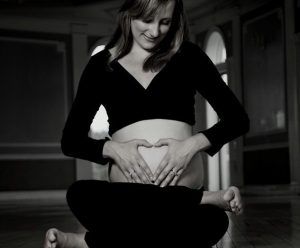 The Pure Nurture book is a slim volume that, in just 100 pages, manages to share a wealth of information, strategies and techniques and presents them in a way that makes it feel possible to integrate these ways of being into daily life. It's a great primer on holistic family living for new parents and folks new to natural living and holistic health, but it's also a terrific resource guide and practical tool for anyone, even repeat moms with years of holistic parenting experience.
The book came out on March 20 and the following week, Kristy held a book launch party at East Meets West Yoga Center in Vienna, Virginia.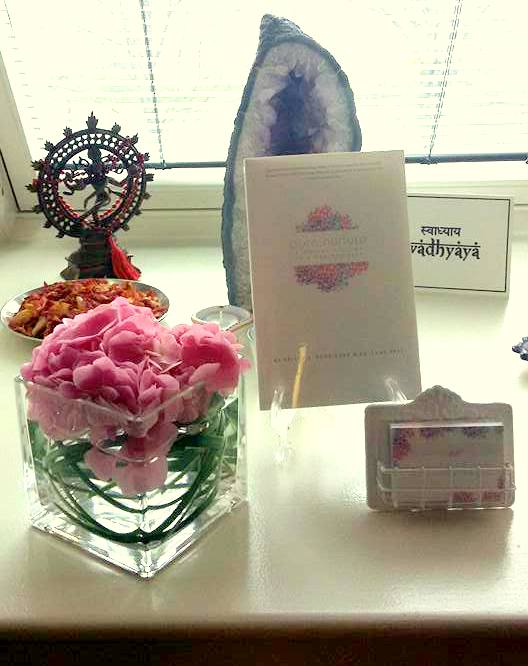 Kristy spoke to a room packed with parents ready to hear her wisdom from years spent as a health coach and prenatal yoga teacher who has recently come to focus her efforts on working with women before and after they become mothers.
Nicole Dash, owner of nearby co-working and childcare facility Play, Work or Dash, engaged Kristy in a Q&A about parenting and being present and about her experience as a mom and working with new mothers.
Kristy read from her book an talked about the importance of self-care for moms. Attendees also got to sample some of the nutrient-dense snacks whose recipes are featured in the book.
The book's chapters include:
why self-care is important
nutrition & nourishment
mindfulness & meditation
yoga & movement
more ways to nurture yourself
your pregnancy tribe
pulling it all together
recipes
After the reading and Q&A, Kristy signed books and talked with dozens of local parents.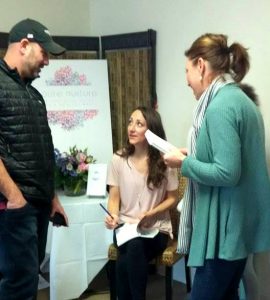 Then she taught a yoga class to moms and their little ones. Kristy's two young daughters were right there with her, wanting to be close to their mama. Kristy got to put into practice the kinds of patient and mindful approach she talks about in her book. She handled both parenting and leading others in a yoga practice with grace and poise.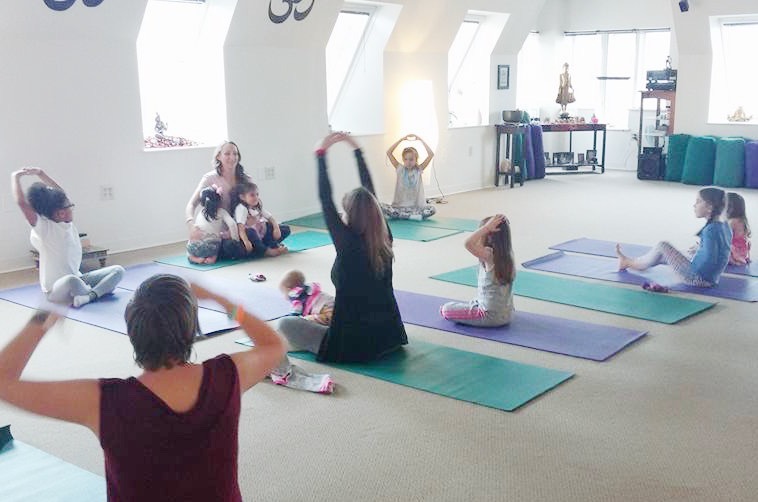 I asked Kristy to share with us a little about how the book came to be. Here's what she had to say:
"Pure Nurture: A Holistic Guide to a Healthy Baby was very much a labor of love. It's a gift, with my blessings, to pregnant women everywhere and to all mothers. And it is brimming with simple, actionable tips and strategies that any mother or mother-to-be can use to nurture both herself and her baby.
Self-care is incredibly important for all of us, but it far too often is the very last thing that we prioritize amid hectic schedules and busy lives—parents especially, which is so backwards: parents need to practice self-care more than anyone, because our children depend on us, on our physical and mental wellbeing, to thrive. And at no time during motherhood is the direct relationship between a mother's wellbeing and her child's health quite so evident as during pregnancy. As such, the first, and perhaps greatest, act of love a mother can show toward her growing baby is to nurture herself.
Sometimes people, women especially, feel guilty about putting time and other resources toward self-care. They might feel it is selfish.
But I'm here to change that narrative. My journey, and my motivation to study at the Institute of Integrative Nutrition and become a Holistic Health Coach, has its roots in my disordered relationship with food as a young woman. Without embracing the need for self-care, without slowly letting go of the guilt and learning to be kinder to myself, I would not have been able to rise above those self-limiting tendencies, and I would not be where I am today.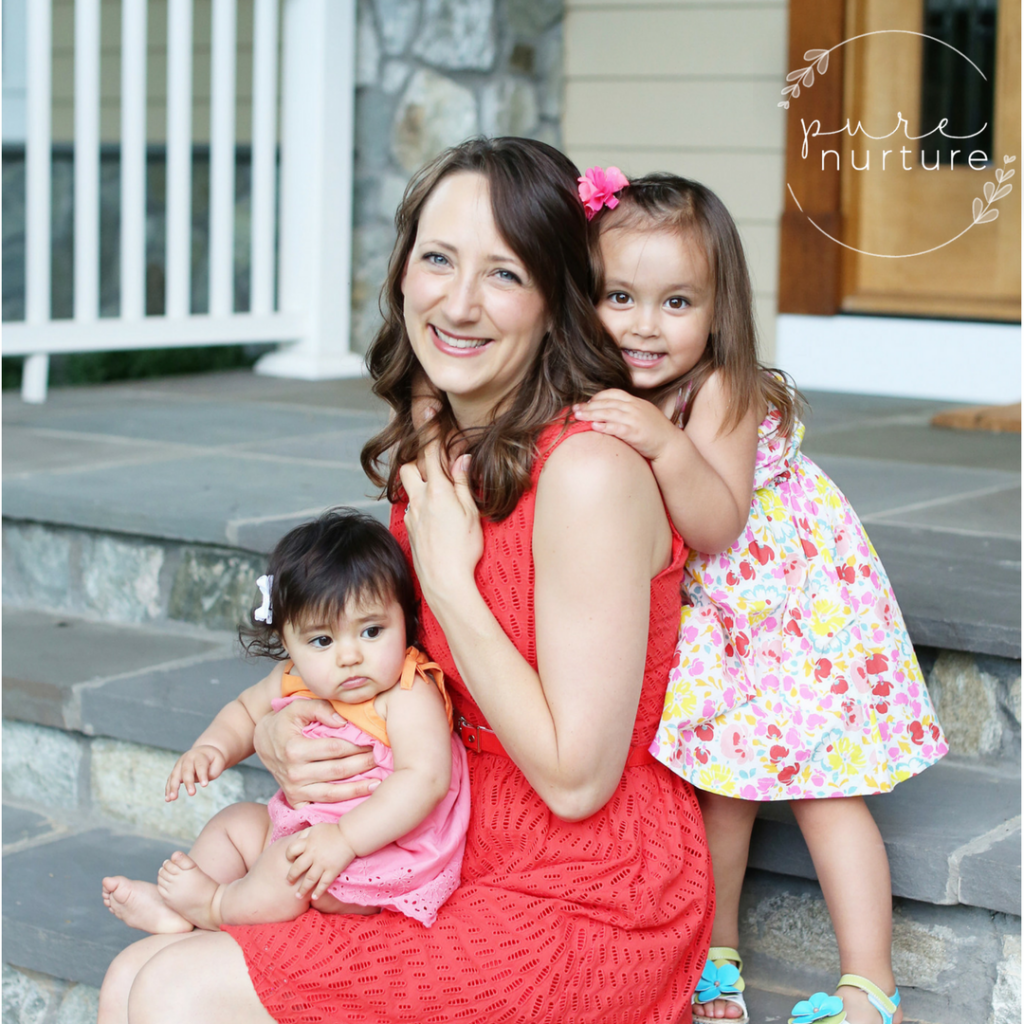 When I became a mother myself, I was inspired to dedicate my work to supporting women who are pregnant or trying to get pregnant, as well as mothers of newborns. In my career – I am also a certified yoga instructor – I see the practice of self-care positively impacting women every day, sometimes in amazing and transformative ways.
This book is the culmination of my experiences in this field. It is a gentle, non-judgmental guide to help you find and implement the self-care practices that will work for you and your unique needs during pregnancy (and beyond!), and to inspire you to treat yourself with the care and respect you deserve."
Mindful Healthy Life is proud to count Pure Nurture among its partners.
This page has affiliate links.
Kristy has generously offered a copy of her Pure Nurture book for a giveaway. What a terrific Mother's Day gift! Enter below!