Wednesday's Play-In for Climate Action organized by Moms Clean Air Force was a great example of parenting meets civic engagement. The message the group wanted to deliver to Congress about climate change was: "Use your power to clean up our power!"
As the morning drizzle faded into a pleasant morning in Upper Senate park at 10:00 a.m., children and their parents donned red t-shirts that read, "Fighting pollution with mother love" on the front and "Tell Washington: Listen to your mothers!" on the back, picked up Moms Clean Air Force "MOMpartisan" buttons and Klean Kanteen stainless water bottles, and registered to win an organic mattress or pillow from Naturepedic. Children practiced yoga courtesy of lil omm yoga studio, enjoyed the healthiest snacks you've ever seen at a mass event like this, played with a parachute and with pinwheels, and worked on posters to carry for the march portion of the event.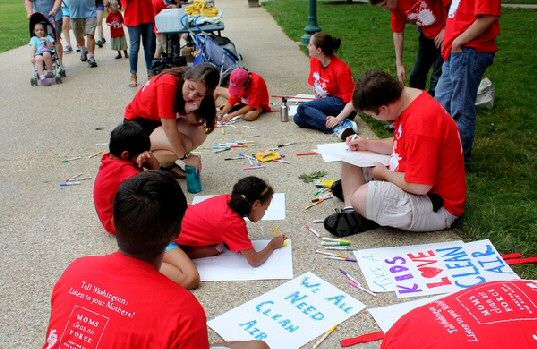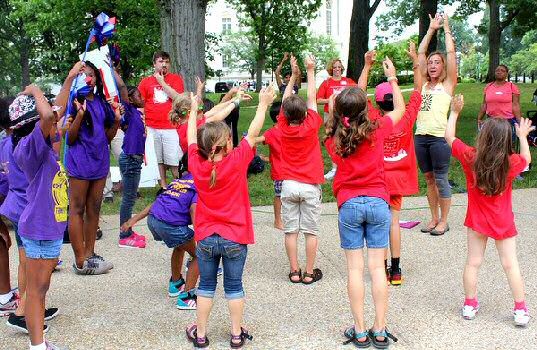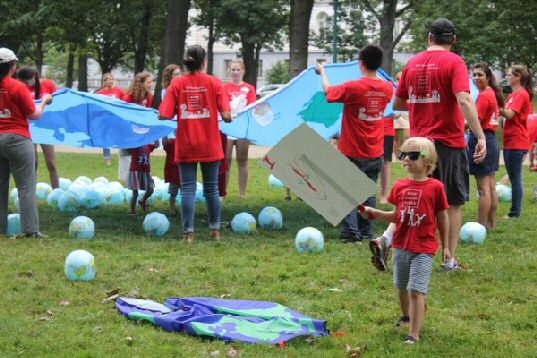 I had the chance to talk to a few of the moms who turned out for the event, which was conceived of by Biome Studio principal and NoVA mom of two Heather Clark, who shared more with us about her vision before the event in this interview.
Two of the attendees I spoke to were originally from the West Coast and had moved to Northern Virginia within the last two years. Elizabeth Epstein of Fairfax said she felt the "urgency of the moment," especially as she prepares to welcome her second baby in September. After she learned of the event through an online forum, she thought, "How could we not attend?" It felt good, she said, for her and three-year-old Deena to be visible supporters of the effort.
Phoebe R. of Arlington, who has worked as a sustainability consultant, said she came because she didn't want the generation of her daughters, aged two and a half and 4 months, to look at her generation and think it let the opportunity slip by.  "Let's let our generation be the one to act rather than kick the can down the road. It's not fair to our have it be our children's problem," Phoebe said.
At 11:00, children from around the country formed a semi-circle for the press conference, during which they held giant signs that would be delivered later that day to individual Senators to ask them to support the Environmental Protection Agency's Clean Power Plan announced in June.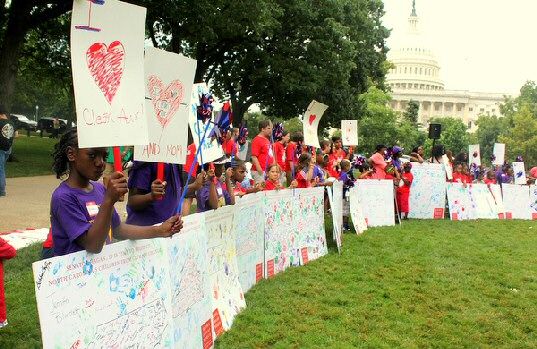 Moms Clean Air Force's Gretchen Dahlkemper-Alfonso emceed the event, opening with the hope that politicians would put aside partisan bickering so that her three children would be "gifted a world that is healthier than the one they were given." With her message of hope and love – including the reminder, "Guess what? Love always wins" – Gretchen set the stage for an event that stuck to positive energy in the face of some scary possible futures that the sponsoring groups hope to keep from happening. The partnering groups for the event were Alliance of Nurses for Healthy Environment,  Climate Parents, Healthy Child Healthy World, and The Mothers Project United for Sustainability.
Heather Clark shared the prediction that her children will see 12 times as many heat record days per year but offered that "visionary changes are here today" and called Congress to stand behind those promoting innovations that can address climate change.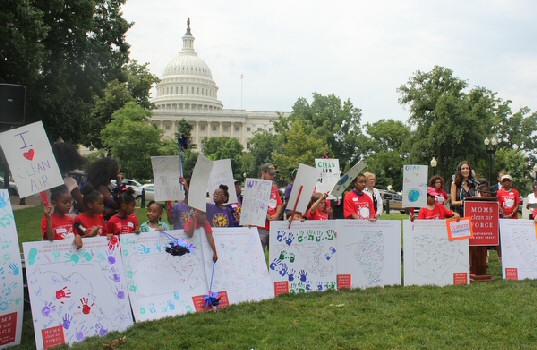 Senator Barbara Boxer (D-CA) opened by asking for a show of hands of how many people had or knew someone who had asthma. It was tough to spy any hands that weren't raised. She introduced Senator Shelton Whitehouse (D-RI) who told the crowd, which numbered upwards of 200, that "nothing has the power to stop an idea whose time as come." He optimistically spoke of gaining momentum for the understanding that you "can't recklessly pollute air and water."
When Danielle Hilton of Charlotte, North Carolina came to the podium, she spoke of having done "all the little things" one person can to limit her family's carbon footprint but that, as the EPA tells us, it's not individuals like her who are the major source of the problem: it's the power plants. If regulation is not going to come from the states, as it likely won't in North Carolina where Danielle lives in the 8th most polluted city in the country, we "need Congress to take the lead." Danielle, who sits on the Board of Clean Air Carolina and is involved with Charlotte Environmental Action, called on Congress to put public health over private interest.
Director of Programs for the Alliance of Nurses for Healthy Environments Katie Huffling, RN, CNM, spoke of the harm polluted air can cause to a child's developing young lungs, noting that ozone inflames the lungs like a sunburn hurts skin. Ozone levels in the metro DC area are high with the District and counties in Virginia and Maryland all receiving grades of F from the American Lung Association in its State of the Air report.
First-time expectant mom Leah Qusba is involved with Climate Parents and, in her work with the Alliance for Climate Education, has tried to "change the face of who cares about climate change" by activating and inspiring youth and helping lawmakers see that the issues of air quality and climate change are important to their constituents. "Climate change is apple pie and baseball," Leah said; it's not something apart from our reality.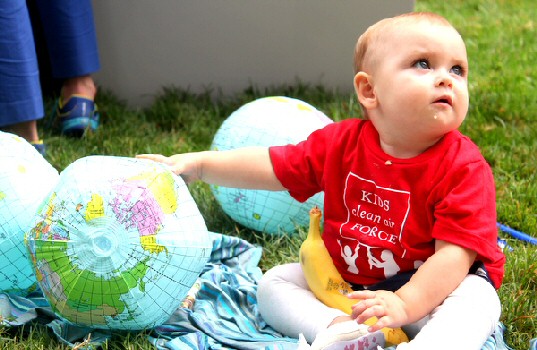 Keya Chatterjee explained how the issue of climate change hit her "like a ton of bricks" in 2010 when she was expecting her first child. Senior Director of International Climate Policy at the World Wildlife Fund, Keya is the author of Zero Footprint Baby. She expressed optimism that "we are going to win," in part because renewable energy is getting cheaper than "dirty energy" and also because of people power, as evidenced by the Play-In.
After the press conference concluded, attendees gathered signs and marched across the street to the front of the Capitol building chanting, "Clean air for kids!" "Our children get sicker, their pockets get bigger," and "What do we want? Clean Air! When do we want it? Now!"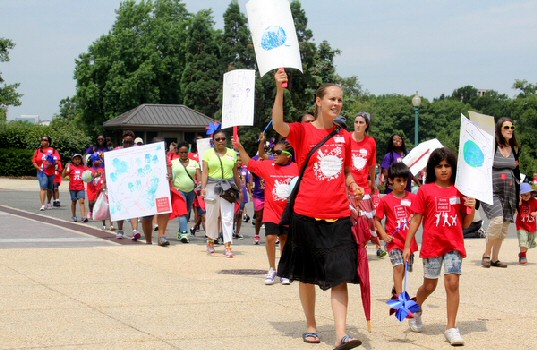 A group photo taken in front of the Capitol showed the event's strength in numbers.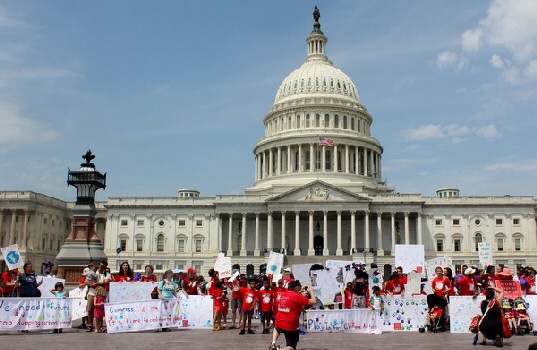 Heather Clark closed the official event at 12 noon and invited interested attendees to stay to deliver messages to some 40 senators' offices. A group of parents and children went door to door in the Russell Senate Office Building to deliver state-specific signs with children's signatures and hand prints along with a letter calling on the senators to act on climate change.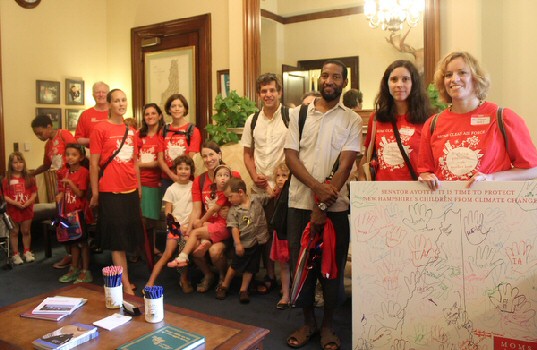 Visit http://www.momscleanairforce.org for more information and opportunities to take action.