When an email from lil omm yoga studio recently landed in my In box listing its upcoming family-friendly classes, my jaw dropped at all the offerings! I promptly asked if I could steal the info and post it all here!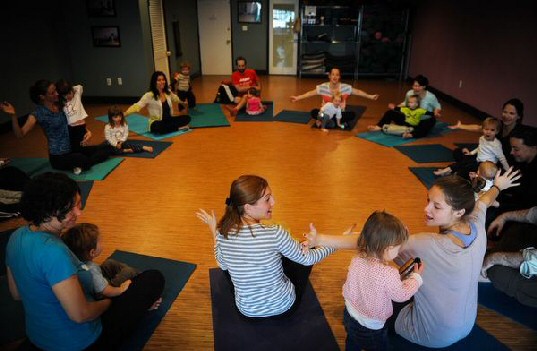 If you've never been to lil omm, north of Tenleytown and south of Friendship Heights on Wisconsin Ave. in NW DC, it's a truly beautiful place. There are great classes and workshops that can be enjoyed by anyone as well as classes that cater to families with young children and opportunities for mothers to refresh and renew.
Even though I have a hard time even making it to a studio a few miles from me, lil omm got me out last January to see author Katrina Kenison, in April to journal with Abundant Mama Shawn Fink, and last month to sit and practice with Zen Buddhist priest and author Karen Maezen Miller.
During the weeks my kids are not in camp this summer, I'm also hoping to get to studio for a class by myself while they are in childcare (limit of 5 kids and offered for select classes, as seen on the lil omm schedule) or for a "Yoga Flow/Playtime" class when my kids can participate or play. There are also Saturday Family Yoga classes (ages 3-8) and a new "Backyard Bootcamp" that studio owner Pleasance Silicki is hosting out of her NW home on Thursday mornings (kids welcome). We have aged out of the Baby & Me and Movers & Tots classes, but check out the Class Description page to see all those offerings and more, including prenatal and postnatal.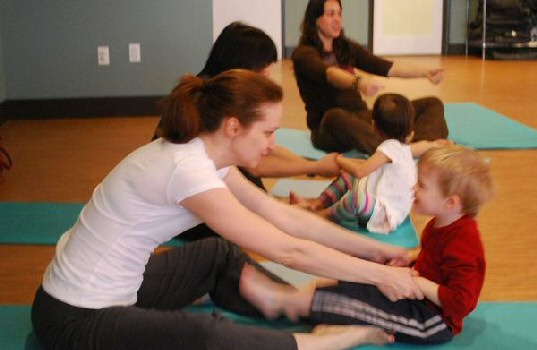 In addition to these regular offerings, here is what else is coming up at lil omm this summer and fall!
Family Partner Yoga
 (all ages)- Sun 7/27 @ 1pm.  Pleasance leads families with children of all ages in a playful class that  incorporates breathing, movement, creativity, and flexibility AND family connection.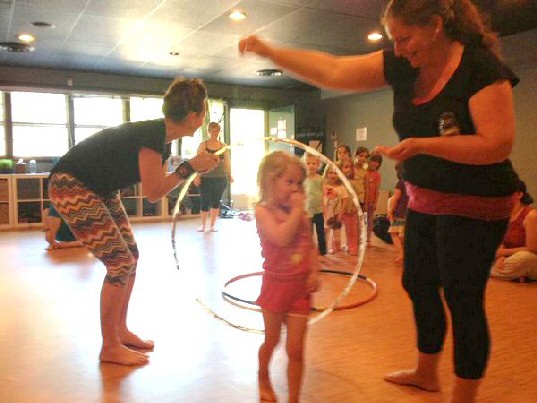 Let it Go: Frozen-inspired Yoga
(families with children 3-8 years)- Sat 8/9 @ 5:30pm.  Yoga, dance, crafts, and glitter! Costumes welcome as we celebrate the music and themes from Frozen.
Circus Inspired Family Yoga
 (families with children 5+)- Sun 8/17 @ 2:30pm.  Explore circus and acro-yoga poses, mindfulness, and team work!  Also offered on Sat 9/13 @ 2:30pm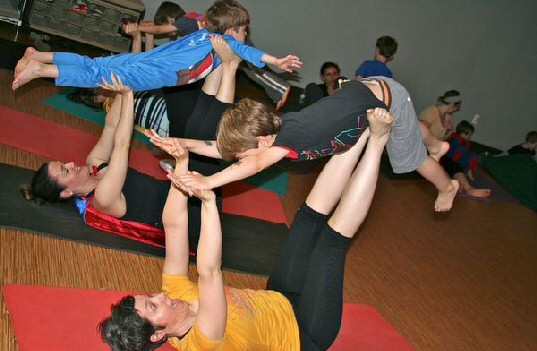 Downward Doll Yoga (ages 3-6) – Sat 10/18 @ 2:30-3:30. Drop off your kiddo and his/her favorite doll or stuffed animal for a fun-filled, spirited yoga class followed by tea and cookies!
Lil omm is also teaming up with YoKid to put on the first National Kids Yoga Conference on Saturday, September 27, 2014. Read more about the conference here on the lil omm blog and check out this opportunity to sponsor a teen to attend!