Some of the best summer options for kids are the ones planned by passionate people in the promising weeks of spring, long after special issues of camp round-ups have gone to press and summer fairs have introduced hopeful parents to what seem like the only options. Not so, as I learned when I put together a list of unique camps and yoga camps for the summer, a compendium I hope to grow next year.
Last week I learned that 532Yoga in north Old Town Alexandria was offering a Kids Corner yoga camp.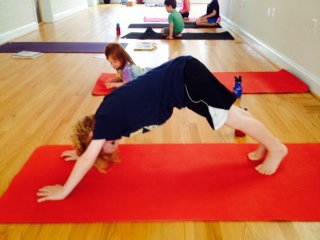 It had been a while since I had seen owner Suzanne Leitner-Wise, the leader of a fabulous yoga retreat I went on when I was seventh months pregnant in 2010, and I hadn't yet made it to her gorgeous new studio. Talk about light and airy! And its front room contains two beautiful couches and a lovely array of clothing, books, jewelry and art.
The camp was planned as a weeklong experience but also offered a drop-in daily option, which worked great for us since we had other afternoon commitments a few of the days this week. It's important to me that my kids learn to see yoga as a fun and healthy way to feel centered and grounded. And sometimes, they need to see that from another person! (I hope to learn more and get inspired to integrate yoga into our home life more this fall at the first National Kids Yoga Conference on September 27).
My children attended 532's Kids Corner yoga camp on Monday and had a great time. When I arrived early for pick-up, energetic and bubbly teacher Lisa Sonntag — a special education teacher in Fairfax County, a certified yoga teacher, and an experienced camp counselor — said she could not believe how quickly the time flew. "Miss Lisa" shared that the children did an early savasana after a first half of class full of active asanas, or poses,
They then moved on to snack and crafts, including braiding yarn and making and coloring a "You Can Do Yoga" booklet and an accompanying coloring book/journal to be used through the week.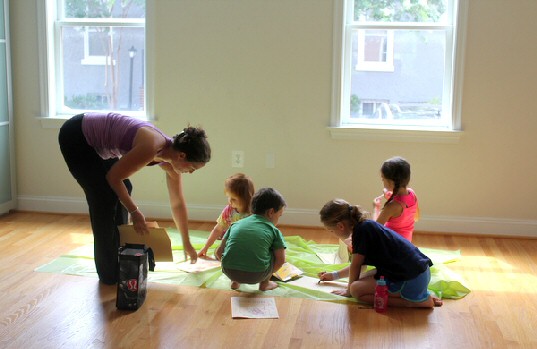 I sat with the class as Lisa closed that first day with a reading (peppered by lively discussion) of the Dr. Seuss book, My Many-Colored Days, which associates different emotions with different colors.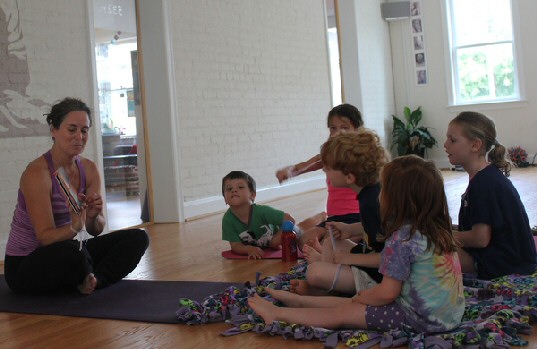 During the class, while I enjoyed some kid-free time at the Starbucks across the street, I sent Lisa some questions for further reflection.
Mindful Healthy Life: What was your favorite thing about the first day at yoga camp?
Lisa Sonntag: 
I loved having the children feel comfortable and active at the studio. They talked a lot and showed me what yoga poses they could do already.
MHL: What made you want to teach a kids camp this summer?
Lisa: 

I have always been excited to be babysitting and teaching children either over the summer in a camp environment or during school. After getting my 200-hour yoga teacher certification this year, I just knew I would incorporate my love of yoga with my love of children!!
MHL: What are your goals for the campers?
Lisa: 

My main goal for the campers is to enjoy yoga and have a great time learning new things that they can do with their bodies and minds. The campers will be listening and visualizing during meditation activities, communicating their thoughts and feelings, playing games and hearing stories that promote movement with yoga poses.
MHL: What are your goals for yourself as a teacher of young children?
Lisa: 

My personal goal, as with all teaching that I do, is to instruct the child where they are at and help them learn to be the best that they can be. It is okay being different!

MHL: What made you decide to pursue yoga teacher training after working for so long as a special education teacher?
Lisa: 

I have always wanted to be a yoga teacher and as I continue to work as a special education teacher, I realized yoga would be beneficial to my students as well as for me personally. 
In addition to accepting drop-ins through this session's final day, July 18, 532Yoga will repeat this kids camp with Lisa Sonntag the week of August 4-8. Interested parties can contact the studio to inquire about a sibling discount or register through the workshops page on its scheduling site.
Disclosure: I received a discount on drop-in tuition for my two children in exchange for writing this post and sharing information about the camp.