For anyone looking to start or expand a school gardening or nutrition program, the Growing Green Schools event at Fairlington Community Center was the place to be Monday afternoon. Aimed at providing parents and school staff in Arlington with the necessary resources to promote gardening and nutrition education, the event was a treasure trove for anyone in Northern Virginia.
The room was abuzz with excitement as attendees shared their successes and challenges with one another and learned about ways to make their dreams a reality.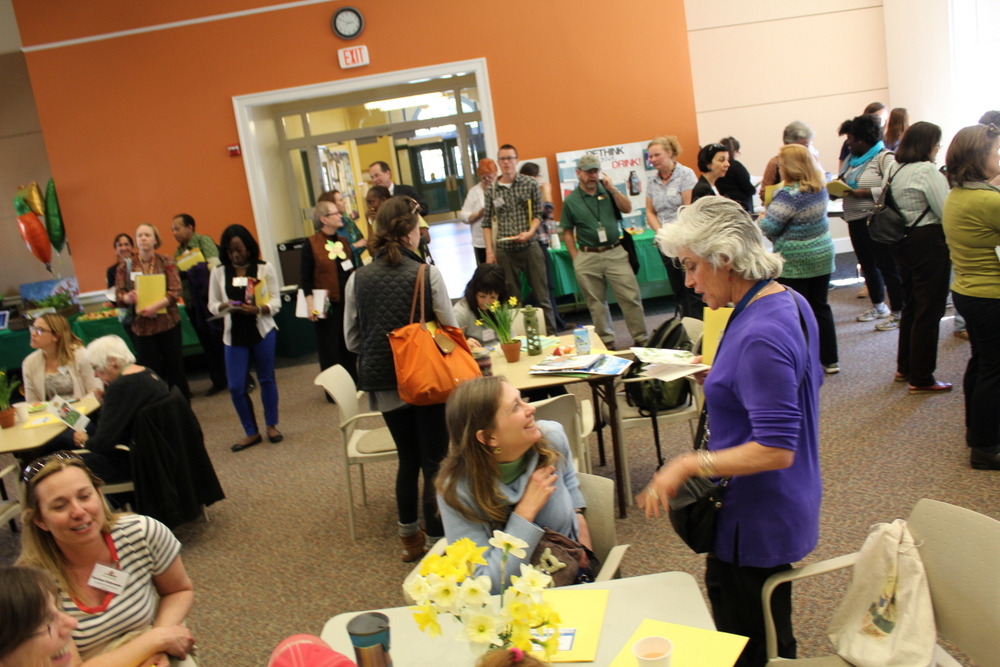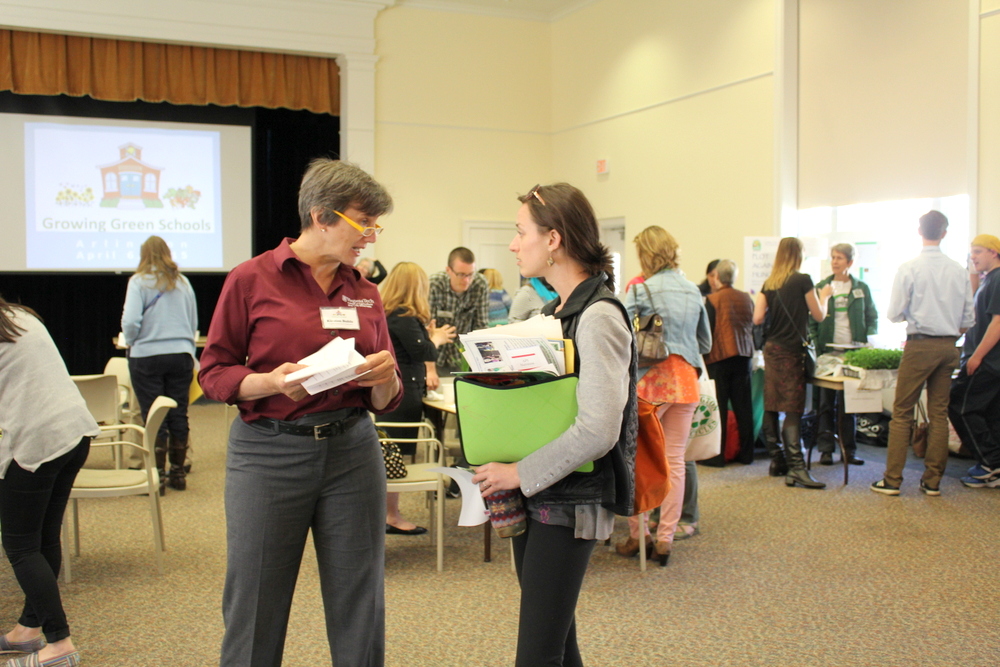 Participants left with a packet of brochures from local agencies like the Virginia Cooperative Extension and a detailed handout of Frequently Asked Questions with Arlington-specific resources. As the event planning committee members reached out to schools to participate in the event, they realized the need for one central place of information. The document is available on the website of the Virginia Foundation for Healthy Youth–funded FitArlington Healthy Community Action Team (HCAT), one of the sponsors of the event with the APS Superintendent's Advisory Committee on Sustainability.
Event planning began in the fall starting in the school gardens subcommittee of HCAT and was led by Virginia Cooperative Extension's Kirsten Buhls with support from FitArlington's Erica Krepp, who is also a member of the APS School Health Advisory Board (SHAB).
Kirsten Buhls opened the program portion of the event. Then Elenor Hodges from Arlingtonians for a Clean Environment introduced Dr. Patrick Murphy, who, she noted, is a beekeeper.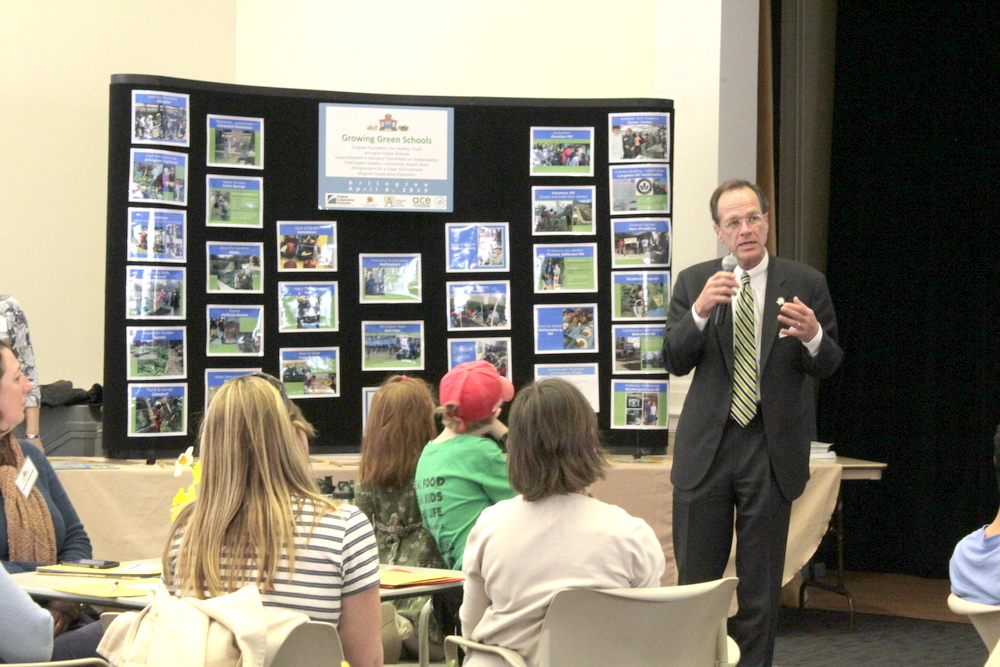 Dr. Murphy thanked the Sustainability Committee for its work the past three years since its founding in 2012 and noted the presence of several key APS staff who are committed to green efforts, including APS Energy Manager Cathy Lin who serves as the Sustainability Committee's staff liason. Dr. Murphy called Growing Green Schools the kick-off to a bigger initiative that will in future years invite schools to promote their green initiatives more widely.
This year, all schools in attendance at the event were recognized as Green Schools Champions and called up to certificates and a group photo.
In the months leading up to the event, which was planned in large part by a committee of volunteers, all schools and out-of-school-time programs in Arlington were invited to submit photos of their gardening and nutrition programs. Those photos were loaded into a slideshow compiled by Mary Van Dyke of Green STEM Learning and others. The slideshow played throughout the event and will be available for sharing across APS. There was also a large display board featuring one photo from each school.
Participating schools and programs included the following elementary schools: Abingdon, Arlington Traditional School, Ashlawn, Barrett, Barcroft, Campbell, Carlin Springs, Claremont, Drew, Glebe, Patrick Henry, Hoffman-Boston, Long Branch, Jamestown, Key, Oakridge, Nottingham, Taylor, Tuckahoe
These secondary and afterschool programs also submitted photos: Arlington Career Center, Drew Community Center, Gunston MS, Gunston Teens Afterschool, Thomas Jefferson MS, Kenmore MS, Langston HS Continuation, New Directions, Stratford Program, Wakefield HS, Walter Reed Center, Washington-Lee HS, Williamsburg MS.
After Dr. Murphy spoke, Elenor introduced the additional speakers. Representing a teacher perspective was K-1 teacher Gail Ammons of Campbell Elementary. Gail gave a heartfelt testimony to the transformative power of time spent outside, sharing the joys of witnessing children make startling observations about the natural world that lead to important curricular connections.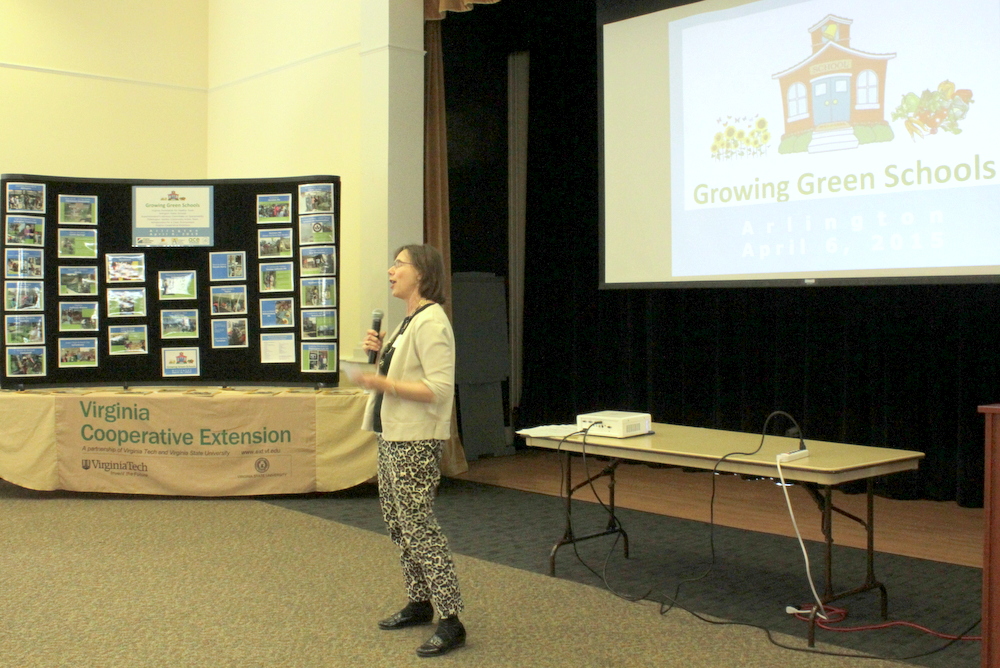 Gail was followed by a community perspective offered by Joan Horwitt of the Reevesland Learning Center. Joan shared how she engaged the community to grow lettuce for the first Lawns2Lettuce4Lunch program, which now happens twice a year and has led to many more community connections and programs.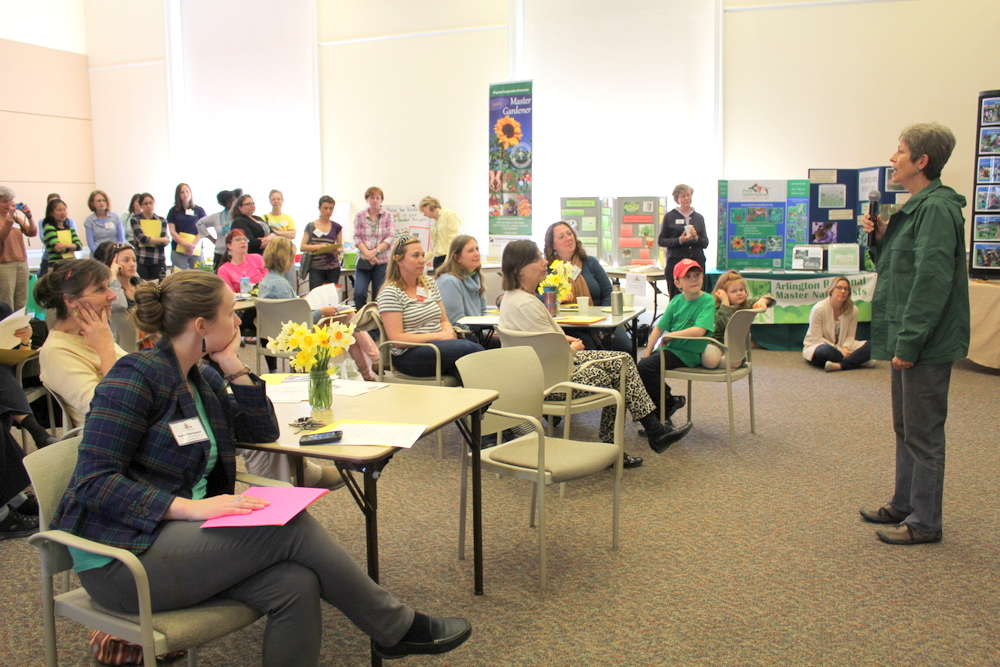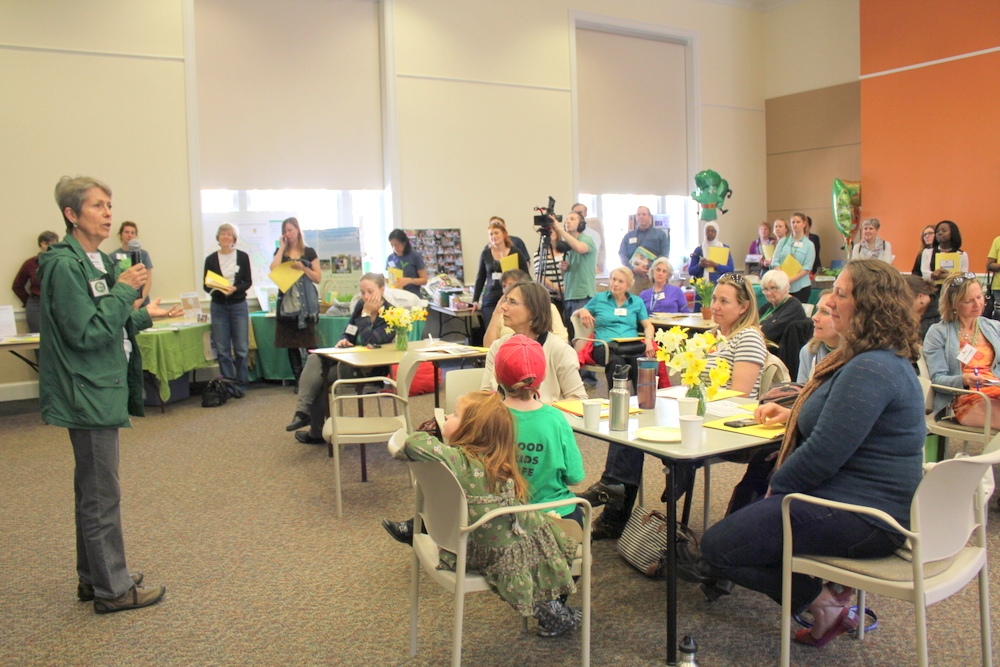 Finally, students from Thomas Jefferson Middle School described their involvement in the development and maintenance of the school's large and intricate garden as well as their vision for the future.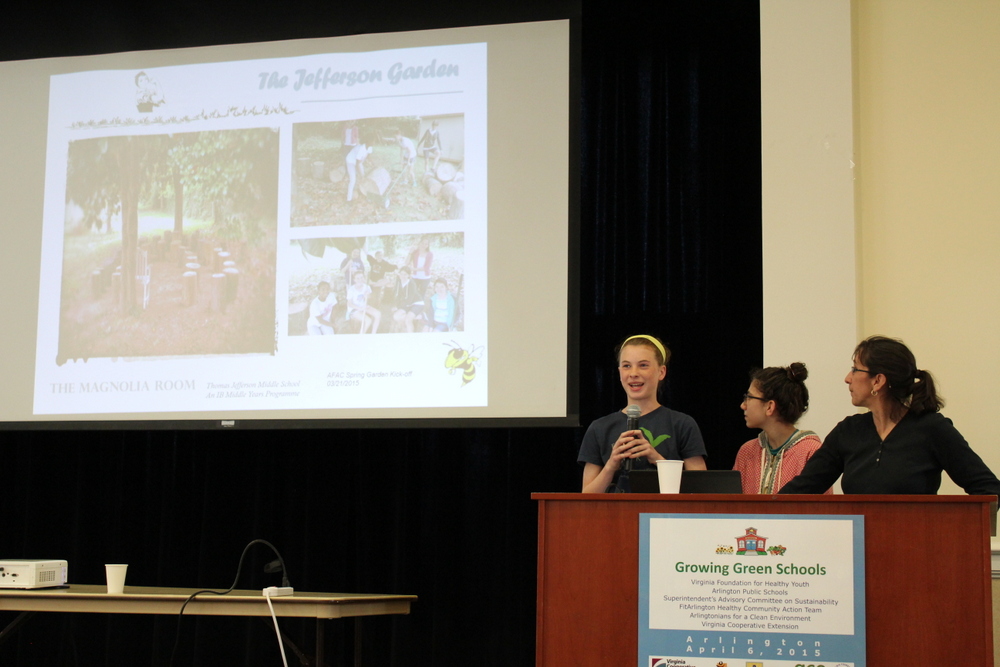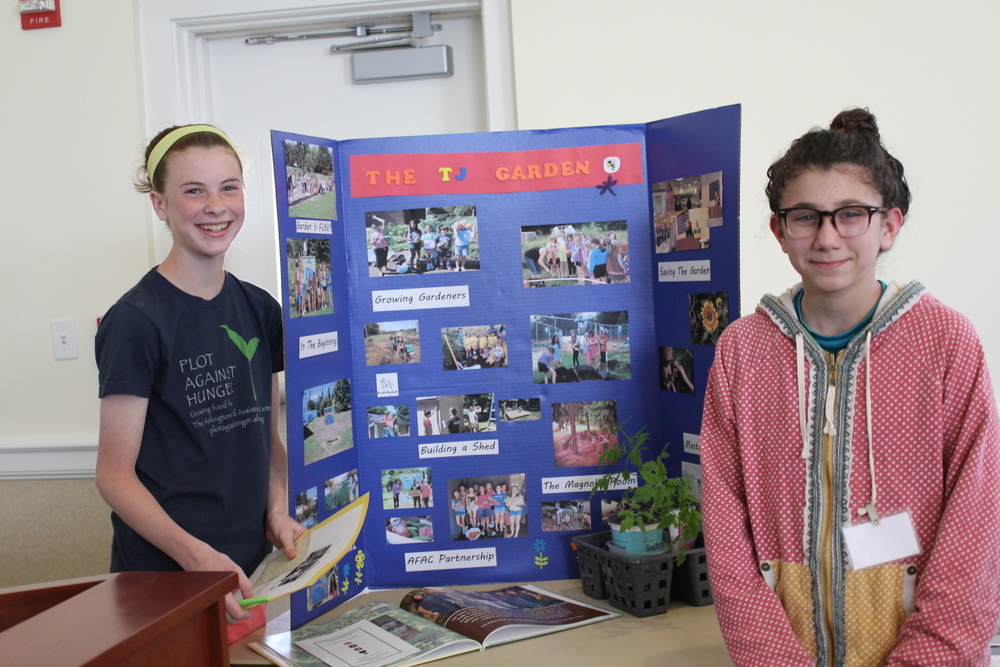 For the remainder of the time, attendees were invited to talk with one another to share ideas and to network with the many organizations and agencies who were exhibiting.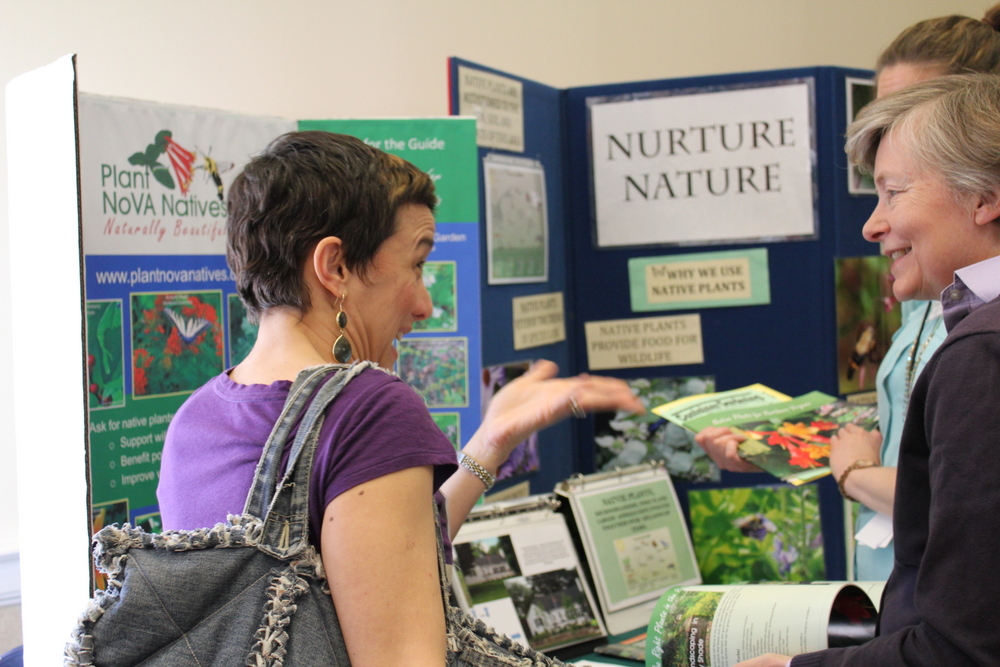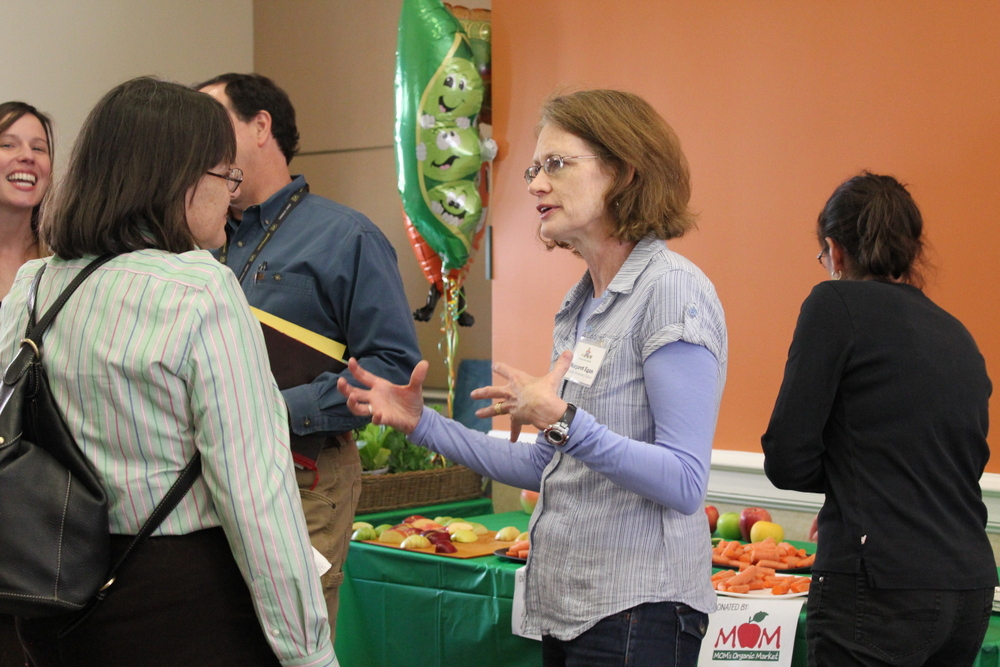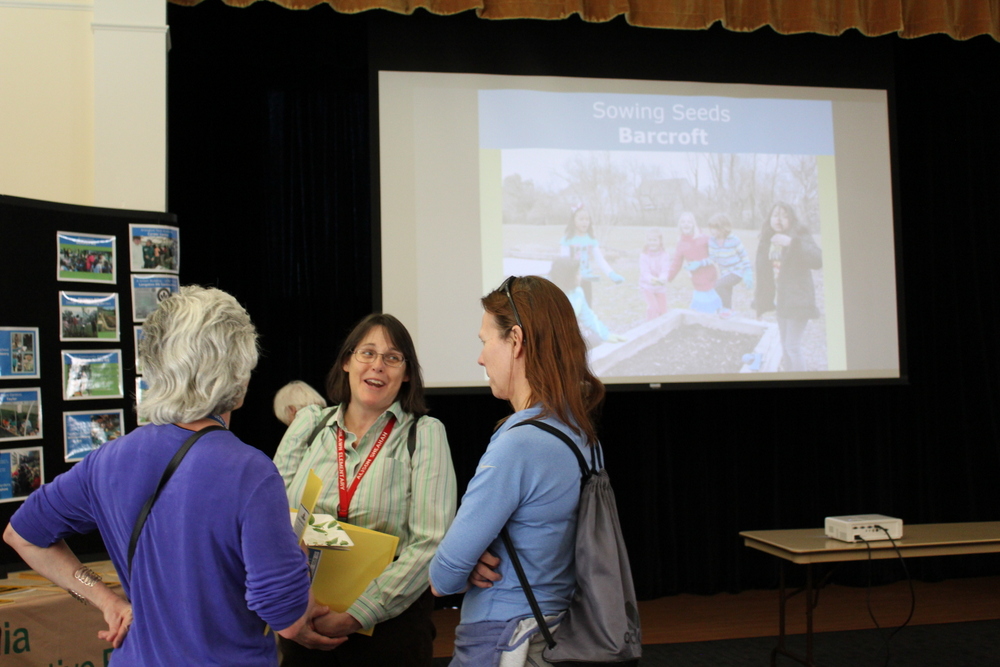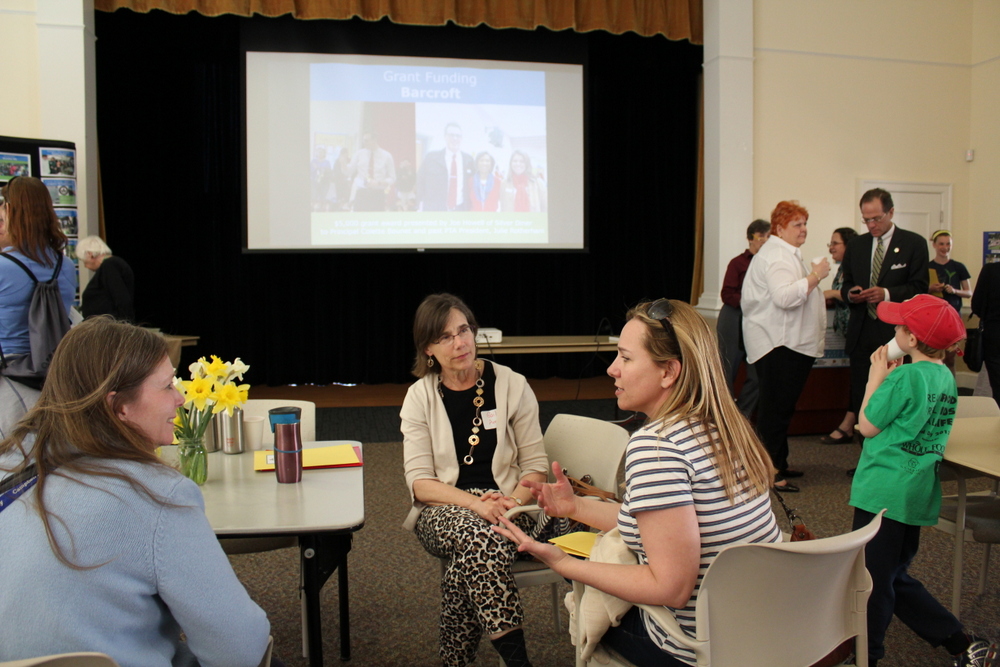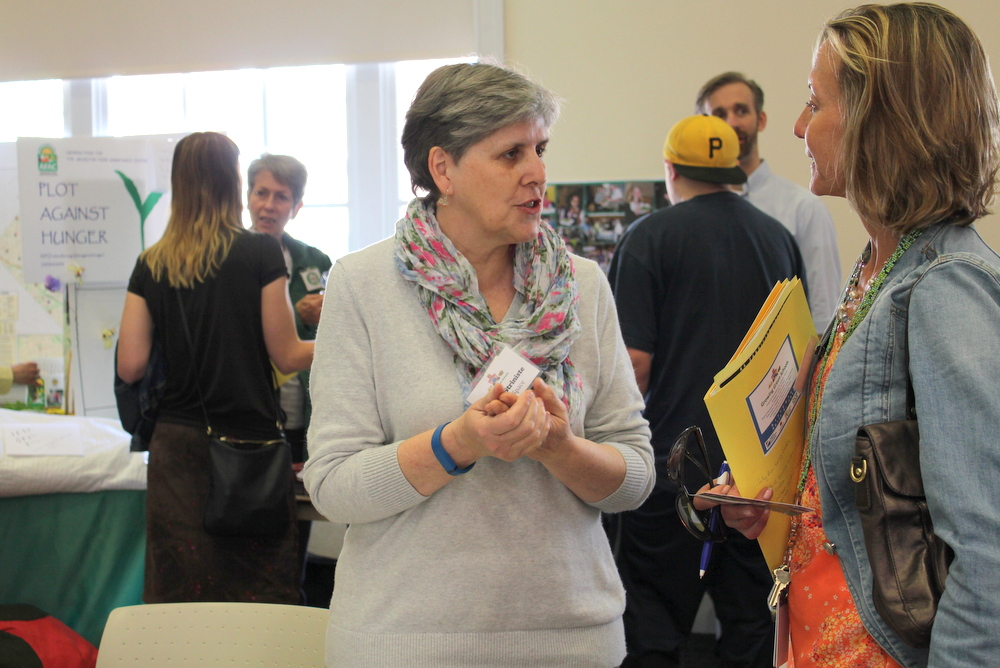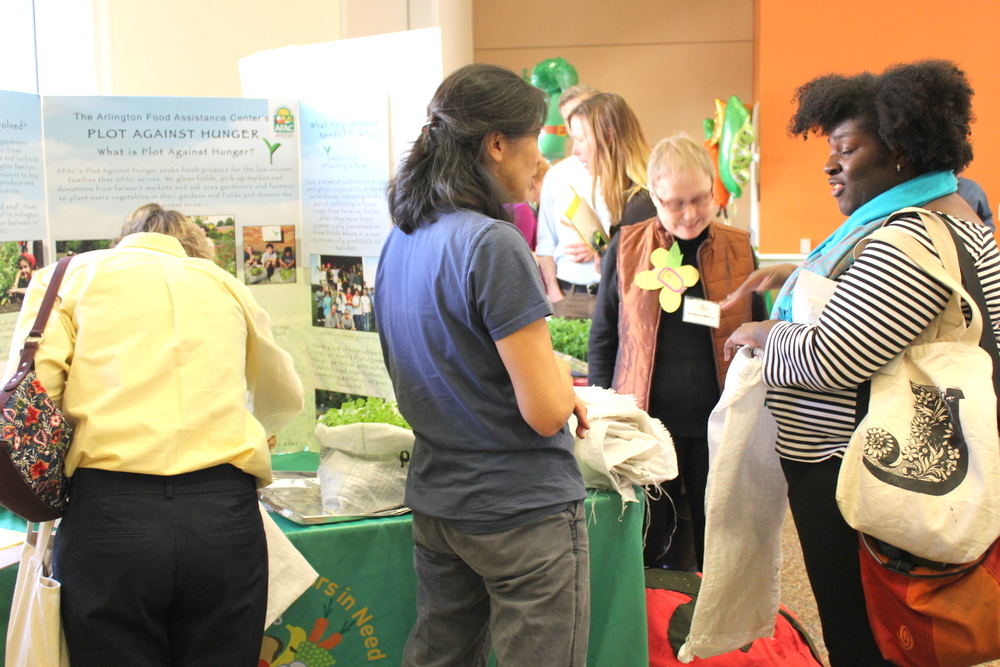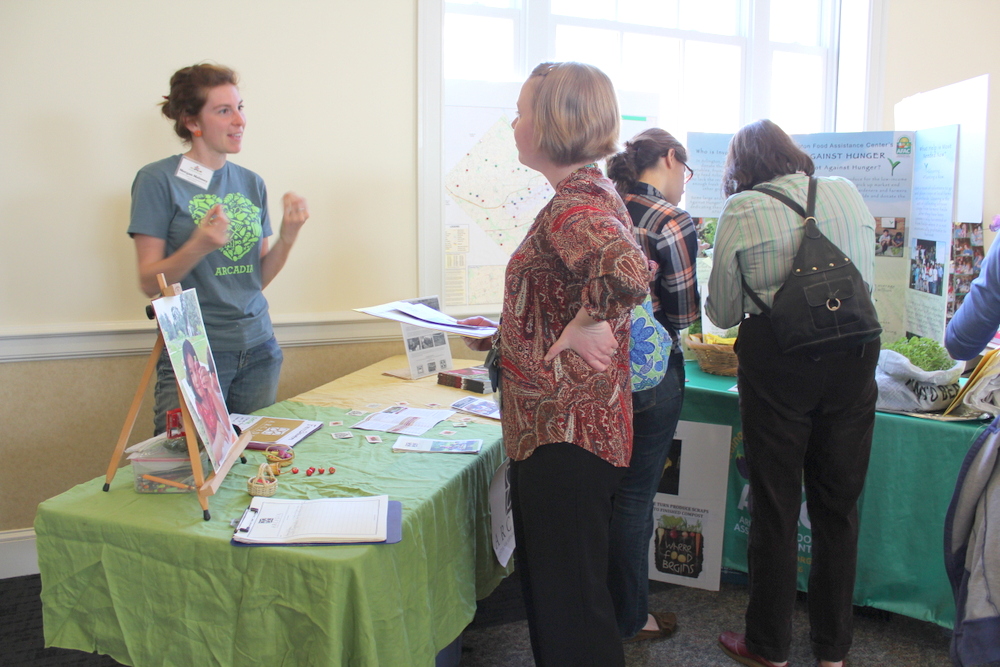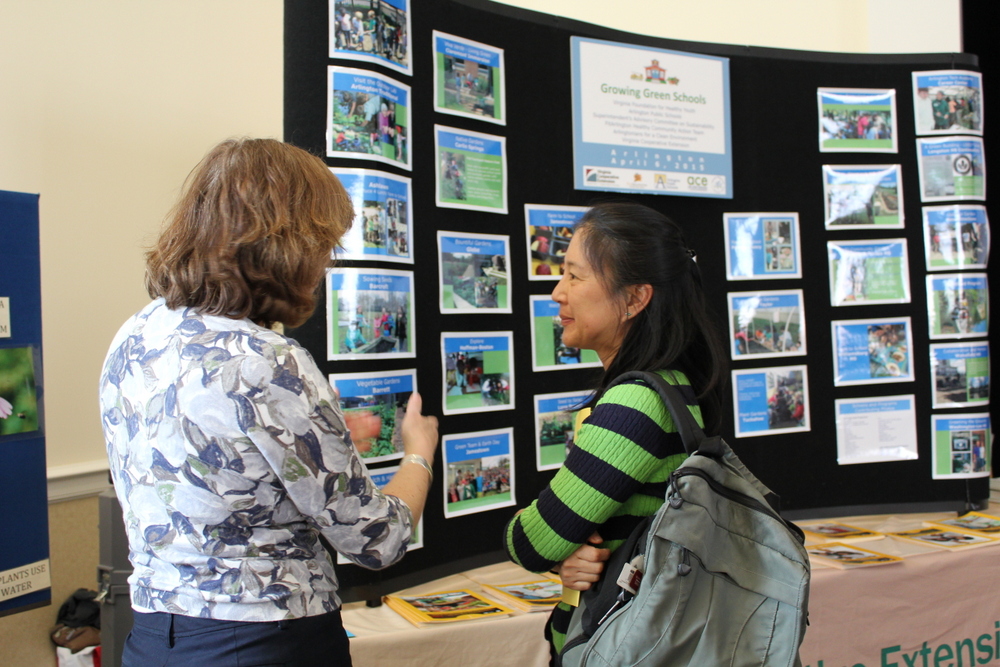 They also got to enjoy organic fruits and veggies donated by MOM's Organic Market and by the Virginia Healthy Youth grant,
pea shoots from the Reevesland Center and Arlington Career Center greenhouse,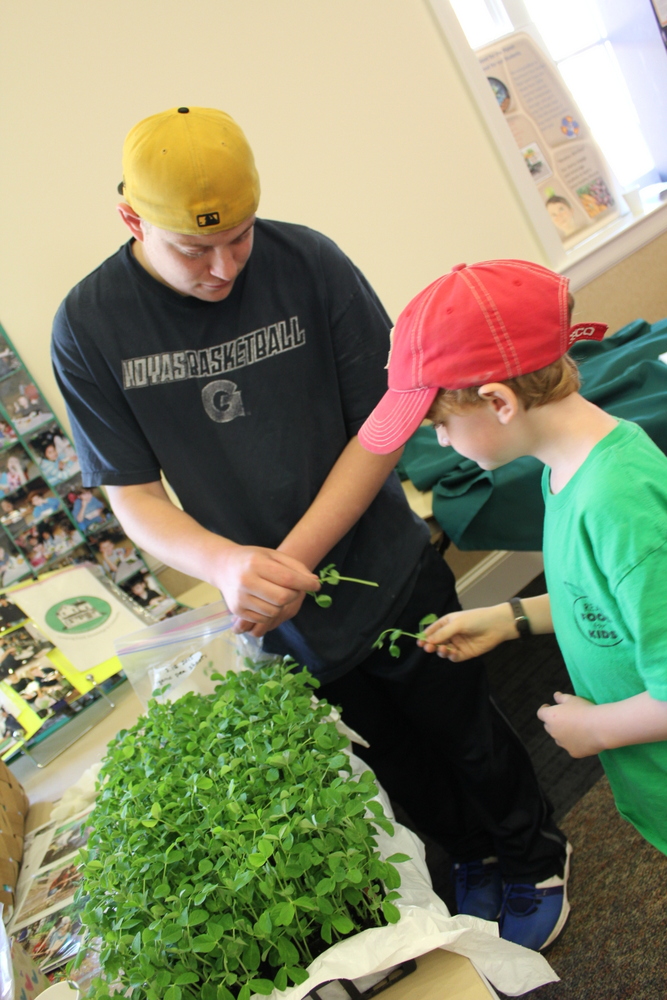 and kale salad prepared by APS Food and Nutrition Services.
Exhibitors shared with attendees what they had to offer schools, parents and the community with respect to gardening and nutrition. They included:
Arlington Public Schools (APS) Food and Nutrition Services, APS Farm-to-School Program and Maple Avenue Farm, TJ Middle School Community Garden, Campbell Elementary School, Virginia Cooperative Extension programs, Master Gardeners of Northern Virginia, 4-H, Master Food Volunteers, Arlington Regional Master Naturalists, Plant NoVA Natives, Reevesland Learning Center, Arcadia Center for Sustainable Agriculture and Arlington Food Assistance Center.
Information tables were also open to others to share information and included brochures and flyers from Arlingtonians for a Clean Environment, Holistic Moms Network Arlington/Alexandria chapter, Love & Carrots Organic Home Garden Service, www.youngvoicesfortheplanet.com, National Wildlife Federation, EarlySpace, NoVA Outside, Mindful Healthy Life, Green STEM Learning, and more.
At the end of the day, participants left inspired to know about the positive things happening in Arlington and empowered to take knowledge back to their schools. "It was exciting to hear how outdoor, experiential education is inspiring Arlington students of all ages to learn about math, science and language arts," said Joan Horwitt, president of the Reevesland Learning Center. "There are wonderful, important experimental models that can be used effectively in the K-12 curriculum."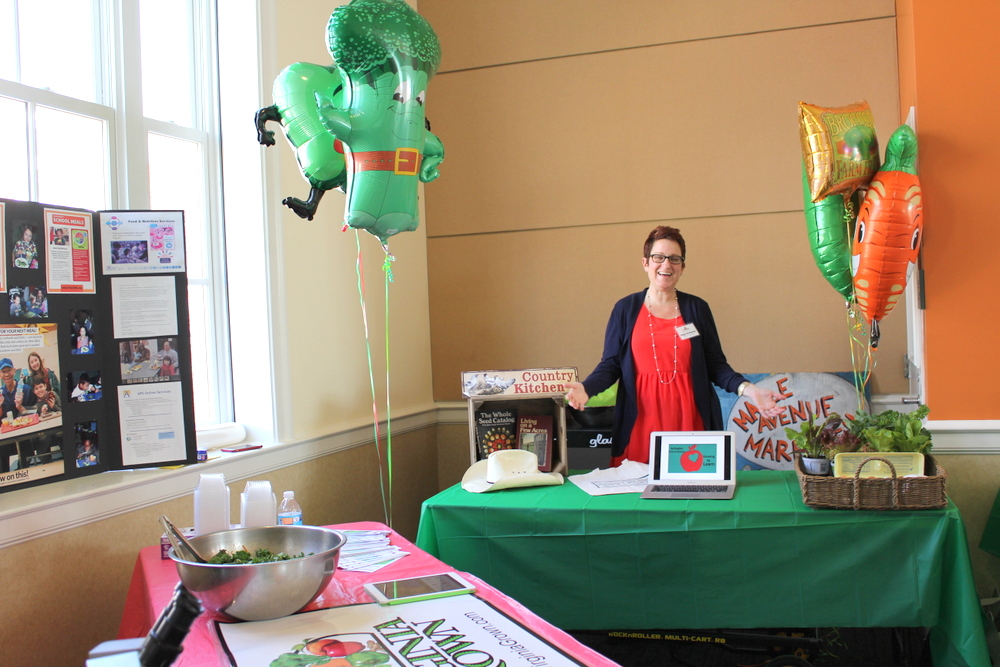 APS Green Scene was on hand to document the event. A link to the video will be posted here when it's available.
Details are forthcoming on a potential follow-up event and will be shared with participants and posted on the APS Green Schools Yahoo Group. APS Green Schools is a group of parents, teachers, students, and citizens who are interested in helping each other educate APS students on green issues. The group's mission is to foster environmental education throughout the school year, encourage meaningful and multi-disciplinary experiences in outdoor education, and decrease the environmental footprint of schools in Arlington, Virginia. APS Green Schools hopes to make a positive difference by reducing waste, engaging the students in active projects to protect and enhance the environment, and imbuing a life-long sense of stewardship for our natural resources. The group members shares successes and challenges in implementing green activities and programs in their respective schools. To join, email APSGreenSchools-subscribe (at) yahoogroups (dot) com or visit the APS Green Schools Yahoo Group and request to join online.
See also this event recap from Jamestown Elementary visiting horticulturalist Mary Van Dyke at Green STEM Learning.