The pollen is a-fallin' here in DC Metro, causing sniffles and congestion for lots of folks, some who regularly suffer seasonal allergies and some children who might be having their first bout of itchy eyes and drippy noses. To find out what's blowing around today in our area, check out Pollen.com and Weather.com's Pollen Forecast. And read on to find out how to naturally mitigate allergy symptoms and strengthen the body for next season!
There are lots of tips sheets for dealing with allergies, like this and this and each medical tradition, like Ayurveda, has its own thinking about allergies. Our list offers some simple practical advice that can apply to anyone seeking natural treatment for allergies, and it also includes local DC-area resources. We welcome additional suggestions. Share in the comments anyone or anything we need to add for next time!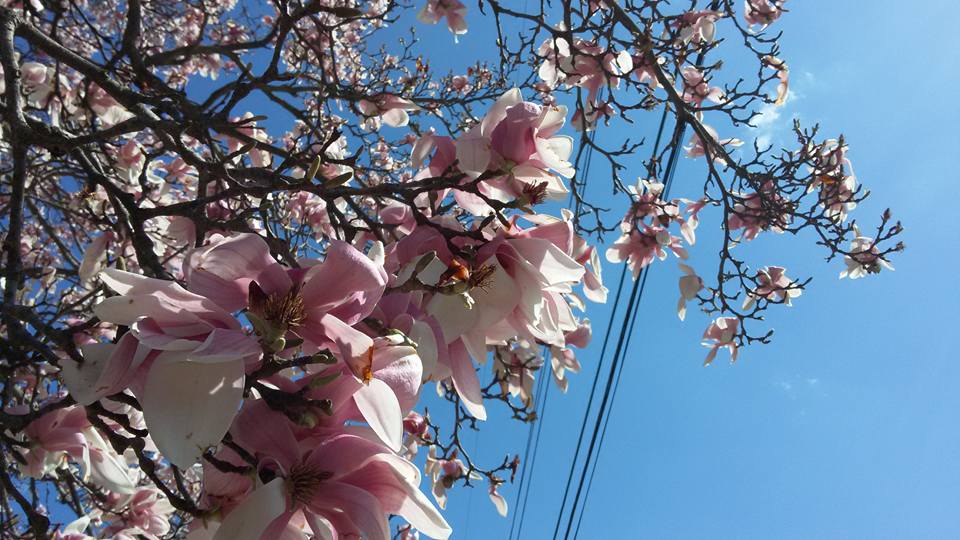 Remember that allergy reactions are exacerbated by other toxins and particles prevalent at this time of year from road construction, mold, synthetic fragrances, and landscaping treatments. The cleaner you can eat and breathe, especially at this time of year, the better!
Some approaches are relatively cheap and easy solutions, and others are more involved.
Keep the Outdoors Out!
It's always a good idea to take shoes off when you enter a home so that you don't track petroleum residues, lawn sprays and other nasty stuff in your living space. At this time of year, consider leaving shoes outside if you can or wiping them down as soon as you take them off.
Everyone in the home should wash their hair at the end of the day when folks have been outside. Wearing hats outdoors can help, but still, there's no reason to take any pollen residue to your pillow. Shower! Bathe! Remove clothing outside of your bedroom and do laundry often.
And when necessary, pursue indoor activities.
Even though indoor air quality has its own issues, during allergy season, leave the windows closed! And consider an air purifier, like the IQ Air.
Eat Well & Clean Out Your System
Ditch the refined sugar and anything else that seems to cause an inflammatory response. For lots of people, this includes dairy and gluten, but each person has her own triggers. Broth and warming foods are good. Fermented foods and beverages might help unless you react them.
Some people swear by local honey for allergies.
Gentle ways to help a child clear out his or her system include:
Starting the day with warm water and lemon, or warm water and a few drops of unfiltered, raw apple cider vinegar
Baths with Epsom salt and dead sea salts (use a chlorine filter for the water)
Neti pots nasal rinses or nasal sprays
Supplements
Probiotics are your friends. Healthy gut flora is important. See your healthcare practitioner for one that suits you.
Some other supplements that might help boost the immune system and/or address inflammation
Buffered Vitamin C
Vitamin B5 (pantothetic acid)
Vitamin D
Elderberry
Quercitin
Cod Liver Oil
Turmeric
Magnesium is also helpful for calming and for elimination, both of which are important when facing any acute illness.
Many vitamin and natural foods stores, like MOM's Organic Market, sell these and other supplements. The compounding pharmacy Village Green Apothecary in Chevy Chase, Maryland carries a wide variety of brands. Also check out Golden Health Pharmacy in Sterling, Virginia.
Homeopathy
There are lots of combination remedies and targeted homeopathic remedies for allergies that you can try to take internally. Individual remedies should be matched up to very specific symptoms. You can find the Boiron blue tubes at most natural foods stores and vitamin stores, and Washington Homeopathic in West Virginia sells kits. There are also homeopathic eye drops and nasal sprays. Homeopathy works with the body by helping it move toward healing.
Consulting with a classical homeopath about a constitutional remedy months ahead of allergy season might help move the body to a stronger place that is less reactive. Andrea Kraft at the Cardinal Center for Healing in Fairfax works with children and adults.
Herbs
Herbs for acute issues often work more on the symptoms than the causes. Some popular choices for allergy time include Nettle and Eyebright.
Locally, natural food grocery stores like MOM's Organic Market carry the Herb Pharm brand.
For locally crafted herbs, see Virginia's Subherban Roots. Herbal education is available in Maryland through Centro Ashe.
Essential oils
There are lots of oils that can help with seasonal allergies. 
A top allergy season favorite is a blend of lavender, lemon, and peppermint.
Eucalyptus also helps with breathing.
Oils are available at natural foods stores and the like, but they may have fillers and not be therapeutic grade.
Some practitioners – including Chrysalis Chiropractic in Alexandria and Seleme Health in Fairfax – use Young Living Oils. I am an independent wellness advocate with doTERRA.
Bodywork
You may know that you feel better after a massage, or that it makes a cold come on more intensely but leave quickly (as long as you drink a lot of water!), but maybe you don't think if it for your kids. Children can indeed benefit from massage, reflexology, chiropractic, craniosacral work, osteopathy, and even acupuncture. All these modalities assist the body in its structural and energetic alignment. They can help in an acute way, but they are also great to frontload a few months before allergies typically come on to get everything flowing. If the liver is congested, the whole system won't work as well.
Many chiropractors in the area see children.
Local practitioners who do pediatric craniosacral therapy include:
Acupuncturists who work with children — sometimes with tools other than needles — include:
There are lots of instructors for infant massage in the area, including services and classes with:
Parents can teach themselves some basics of reflexology and acupressure for babies and children.
I recently learned about a type of reflexology called Foot Zoning through Cozywoggle founder & Alexandria mom of two Cheryln Jenkins, who has just started up her practice.
Cherlyn will be writing a guest post soon about how foot zoning has helped her family in advance of the August training she's leading in Springfield.
Energy Work
There are lots of healing modalities that can shift things in the body without medication. Dr. Margaret Gennaro in Fairfax and Dr. Hai Jin Kim at HealthBuilders in Annandale are two local practitioners who use applied kinesiology, or muscle-testing, to determine the best course of remedies, modalities or protocols for an individual.
Some other practitioners use muscle-testing or energetic means and incorporate healing protocols, including the following approaches:
If allergies hit hard this year, consider starting some of the more involved modalities next January. Holistic health is best practiced over time. Here's hoping you can breathe easy soon!

See our 2014 post treating allergies naturally

Jessica Claire Haney is the founder, publisher and editor of Mindful Healthy Life. She is a writer and editor and a co-leader for the Arlington/Alexandria chapter of Holistic Moms Network. Her personal blog is Crunchy-Chewy Mama and her writer's site is JessicaClaireHaney.com. See the Contributors page and Jessica's Mindful Healthy Life Q&A for more on Jessica.