When my daughter was three years old, she asked me at least a few times a day: "Wanna see my yoga, momma?"
"Of course I do!" I would answer while washing dishes, making lunch, or whatever other chore was sharing my attention.
Now that she is almost seven, my daughter still asks me regularly if I want to see her yoga, and of course, the answer is always an emphatic yes! Some days, she even disappears to her room and keeps her yoga all to herself.
My daughter may not think about why she likes doing yoga, or why it's good for her. She just knows that it's fun and she likes the feeling of exploring the contortions her body is capable of doing, and the impact of her breath. It's also obvious that she feels a great sense of pride when I commend her on her three-legged dog or holding her balance pose for several whole breaths!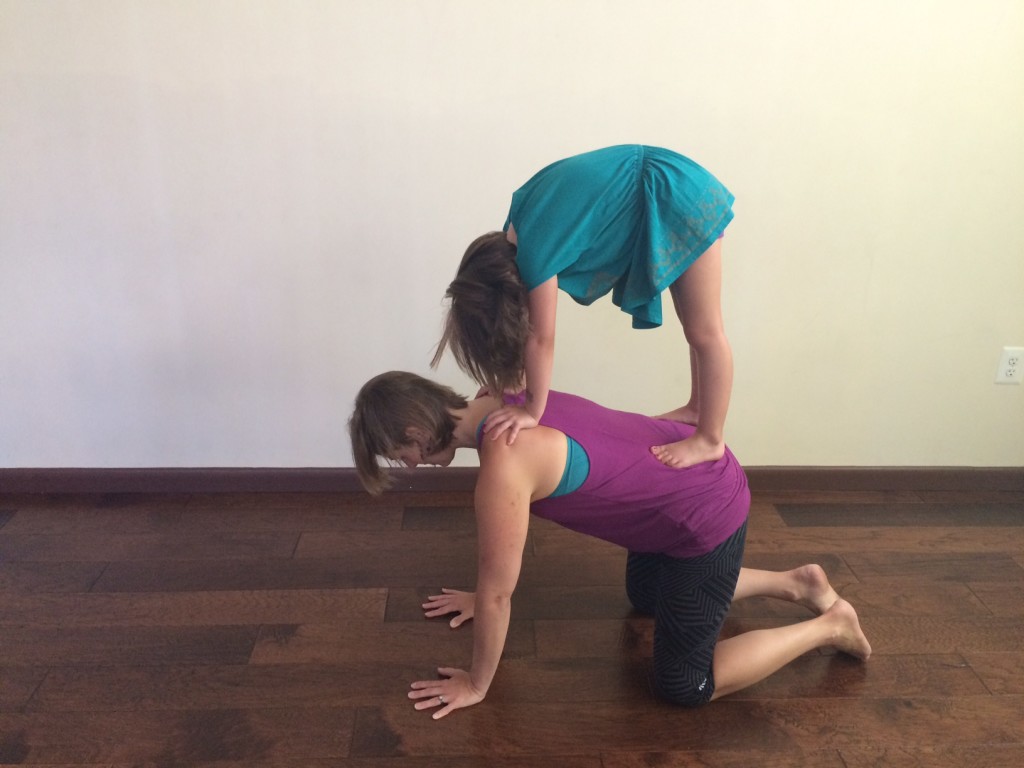 When she is upset, we take a deep breath together – she thinks it's just for her, but it really helps me too! – and then we go about the business of figuring what she's feeling and why she's feeling that way.
It's tough work to be a kid!  Yoga has lots of practical and just plain fun applications for all ages to help sort out the feelings and stresses that come up in everyday life.
On the second Sunday of each month, I host a Family Yoga class at JOURNEYoga in Arlington for children ages 3-9 with an adult. It's just a little time to set aside where we can laugh, play and Om in a yoga way…and figure out together – as child and adult – how we can use yoga to learn, calm, connect and grow. Our next class is this Sunday, December 13, and if you have children ages 2-5, try this younger family yoga class on Wednesday, January 13 at 1:15 pm at Ease Yoga & Cafe in Del Ray Alexandria.
I hope to see you on your mat soon!
What can you expect in a Family Yoga class?
Yoga Games to help us warm and find comfort in our bodies and among our community
Learning about our crowns, tails and hearts and the impact of our breath
Acting out a yoga adventure
Teaching each other how to do yoga
Dancing and feeling our bodies move
Yoga-Related Crafts
Laughing, breathing, hugging, sharing, chanting and more!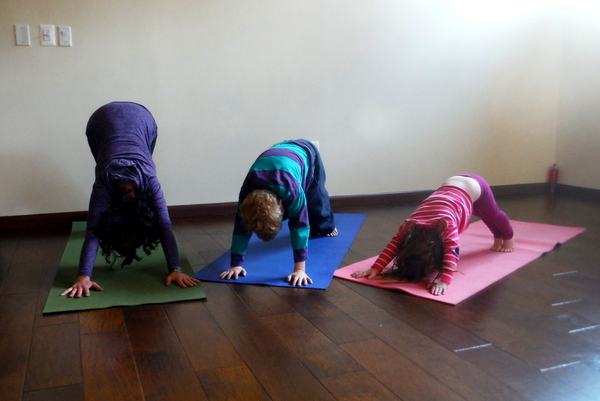 There are several other studios around the D.C. area that offer family yoga and kids' yoga, which can also sometimes be found through county and city recreation offices. As reported recently here, Tenley's lil omm yoga studio, long a haven for families, is closing its doors but has partnered with CityDance Pop to continuing to offer kids and family yoga opportunities in Tenley.
We looked around for more kids and family yoga in Metro DC and present this list for your winter family zen!
Have more suggestions to add? Leave them in the comments or on this thread on the Mindful Healthy Life Facebook page. Or Tweet them to Mindful Healthy Life at @MindfulHealthy
December-January Family Yoga Opportunities
Virginia
Beloved Yoga in Reston offers kids classes. Check here for upcoming schedule.
Ease Yoga & Café in Alexandria:
Family Yoga (ages 2-5 with adult) at Ease Yoga & Cafe with Cathy Burke, E-RYT – Wednesday, January 13th, 1:15-2:00. This is a FREE class to gauge interest from families who might be interested in sharing yoga with their younger children!  (Look for Family Yoga – Free Trial Class on 1/13! in the MindBodyOnline scheduler)
Kids Yoga every Saturday morning at 9:30-10:30am for ages 4-7 with Becky Sutton. Kids only. Adult vinyasa class offered at the same time in another room.
JOURNEYoga Family Yoga in Arlington. A class with a new theme is held on the 2nd Sunday of each month at 1:45-2:45pm! Ages 3-9 with adult with Cathy Burke, E-RYT
Local Motion Studio in Alexandria. Next family yoga is Sunday, January 13, 1:15-2:15pm. Ages 3-7. Also offering children's dance classes. Click here for more information.
Sun & Moon: Arlington location offers Family Yoga every 1st Friday  of the month @ 5 pm.
Honest Soul Yoga in Alexandria offers kids classes. Check here for upcoming schedule.
D.C.
Breathing Space on Capitol Hill:
Preschooler Yoga (21 mo-4 yrs with parent)
Sunday @ 10 am with Jen Mueller
Tuesday @ 10:30 am with Rebecca Gitter
Thursday @ 4 pm  with Moriah Childers
Saturday @ 9:30 am with Jen Mueller
Family Yoga (4 yrs+)
Saturday @ 10:30 am with Jen Mueller. Next sessions begin Jan 9 and run through March.
CityDance Pop/lil omm in Tenley will be offering regular kids yoga classes plus these special holiday offerings
Maryland
Willow Street Yoga: Little Families Classes in Takoma Park. Ages 2-4 with caregiver – Sundays at 3-3:45pm
Simon Says Yoga in Bethesda. Family Yoga, 5-11 yr olds. Monthly. Next class is Sunday, Jan. 31, 11:45am-12:30pm. Kids yoga offerings ongoing.

Cathy Burke, E-RYT has a degree in Nutrition and Wellness and has been practicing yoga for the past 20 years. She teaches yoga, wellness and self-care to children and adults throughout Northern VA. Find her teaching at JOURNEYoga in Arlington or Ease Yoga & Cafe in Del Ray, Alexandria and at many local preschools and homes throughout the area! Learn more about Cathy and her teaching at www.evolvebeyondthemat.com. Follow her on Twitter (@EvolveYogaVA) or Facebook (Facebook.com/EvolveYogaVA) to learn about upcoming Adult and Family Yoga events!