If ever you wanted to have the chance to fill your day trying out more yoga classes than you can count on your hand, The Yoga Expo is the place to be! The event, which travels to cities around the country, returned to DC for its second year on August 20 and presented a packed schedule of classes for hundreds of yogis to enjoy.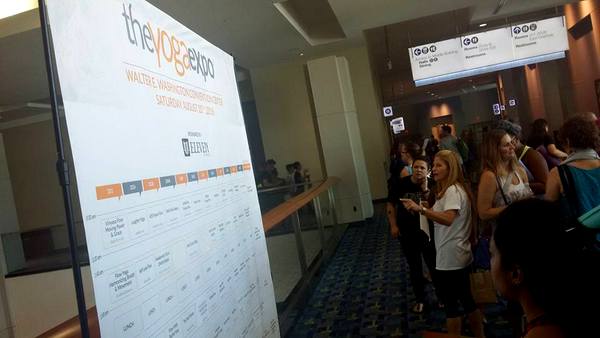 For each of the seven 50-minute sessions presented throughout the 10-6 day at the DC Convention Center, there were at least eight different classes to choose from, sometimes twelve. The expo presented a wide range of traditions. I was granted a media pass to check out the event, and I brought my daughter to the YoKid Kids' Yoga session.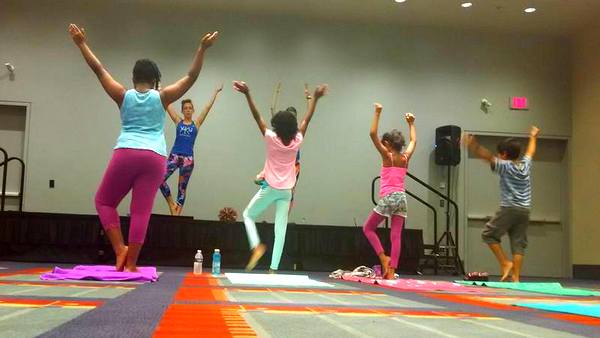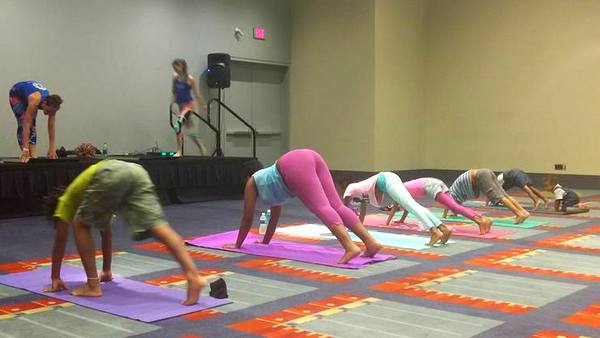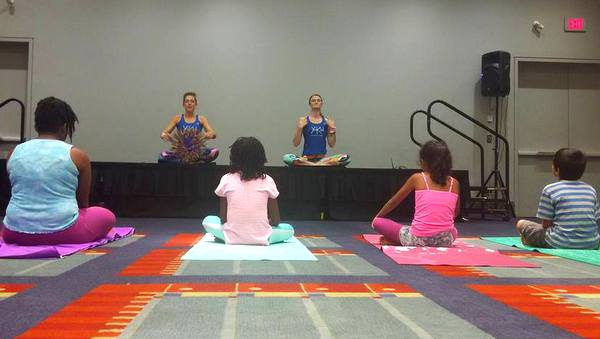 After that, a friend and her daughter joined us and we all enjoyed the "Awakened Life with Drishti Beats" session. Before we entered, we inquired about the nature of the class and were told it was "all about the music," which we thought sounded like a good plan for keeping our girls engaged during a 50-minute adult class.
We were right! The girls participated for a lot of the class – even though they are only five and six and there were probably nearly 100 adults in the room! – and the rest of the time they grooved to the music and colored while my friend and I also grooved to the music and participated in the movement.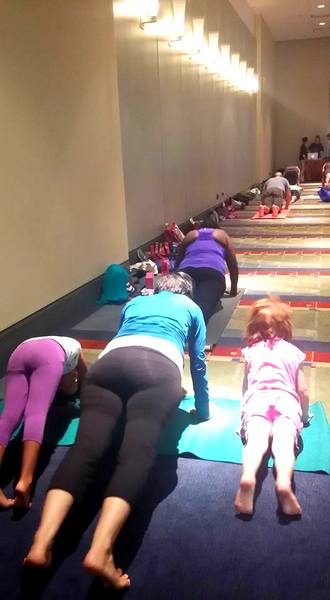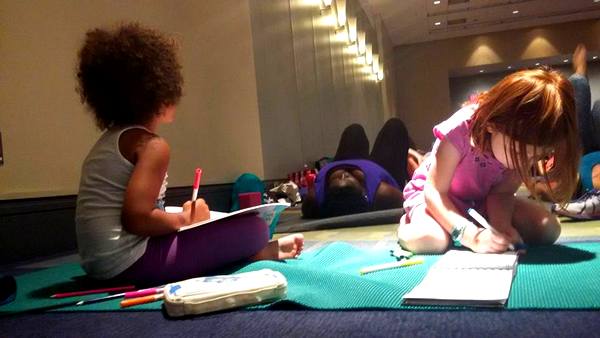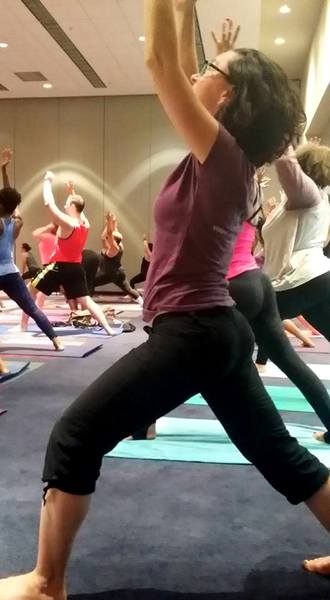 We all loved the live singing and rapping of Drishti Beats and really felt part of something unique and, well, alive! It was such a wonderful experience for our children to see so many people so profoundly present in their practice and enjoying the music that was clearly performed with great joy by the artists. I really enjoyed the class and was so happy that my daughter was there to experience it on her own level.
After the two morning sessions, our youngsters were hungry, so we four headed up to the exhibit hall where there was live music and vegan food options. My friend stayed with the girls while I got a chance to chat with some of the terrific vendors, including YoKid, which is putting on its third annual National Kids Yoga Conference this September at Catholic University.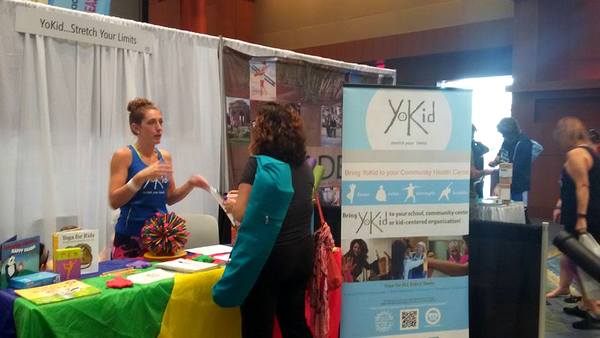 One of the exhibitors from the health world included National Integrated Health Associates, which has just welcomed a new holistic pediatrician, Dr. Lorelle Bradley to its group practice in NW DC.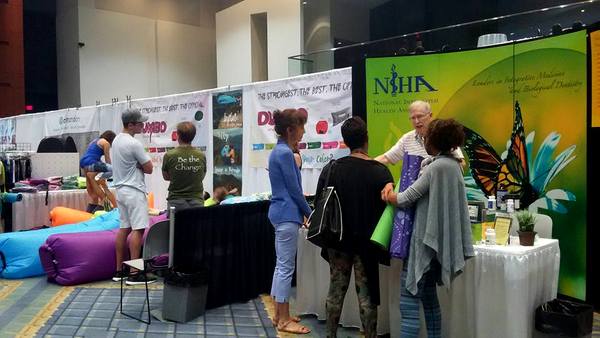 I also enjoyed chatting with the folks from Boiron USA, a world leader in homeopathy. Boiron is a proud sponsor of Holistic Moms Network and is a great company for safe holistic healthcare products to keep in your medicine chest and first aid bag.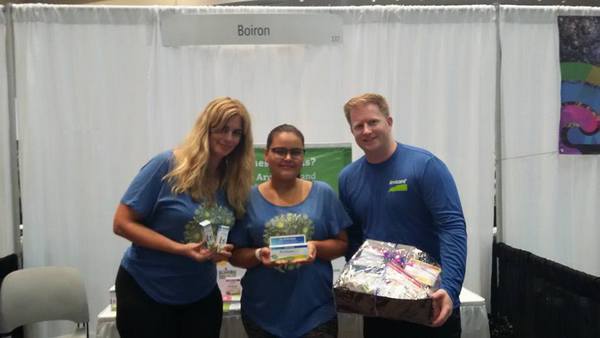 I rarely leave the house without a blue tube of Boiron's Arnica Montana, which I give to my kids after falls or bruises (and to myself if I overexert!). I was thrilled to take one home along with a tube of Arnicare gel for sore muscles and swelling, Calendula Cream for skin conditions, and Arnicare Arthritis for joint pain.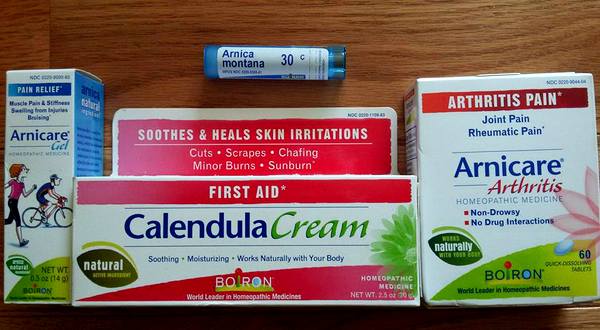 Boiron was offering a terrific gift basket to one lucky winner. Check the Boiron website for coupons and special offers. Stay tuned to Mindful Healthy Life for a possible future special offer from Boiron.
When it comes to drinks, ZICO coconut water is one of my family's favorite ways to stay hydrated and replace electrolytes! I was thrilled to get coupons for our next purchase and hope we can share some ZICO with readers in the future!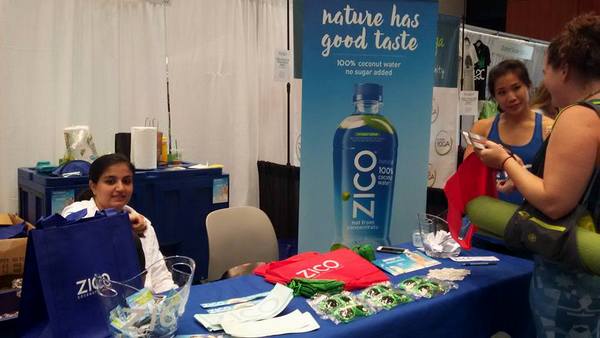 The folks behind My Area Yoga have done a great job of connecting yogis in Chicago, Philadelphia and DC to local studios and wellness resources. If you aren't already following DC Area Yoga, check it out!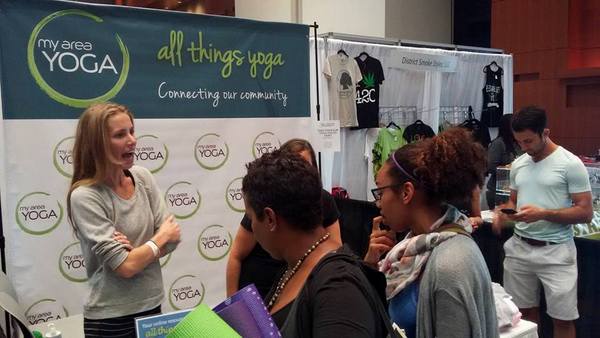 There was a lot of cool yoga gear, including these beautiful t-shirts and super-cute onesies from Wishflower Co., a mom-owned business founded by sisters who live in Philadelphia and in Roanoke, Virginia.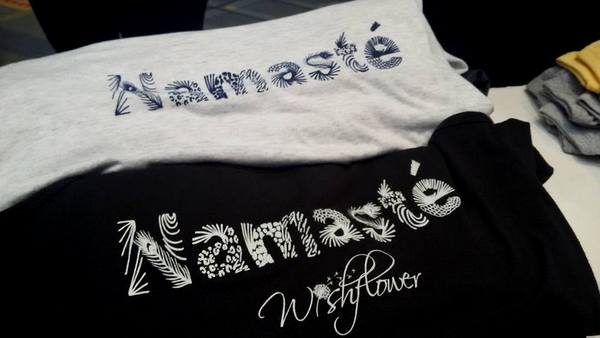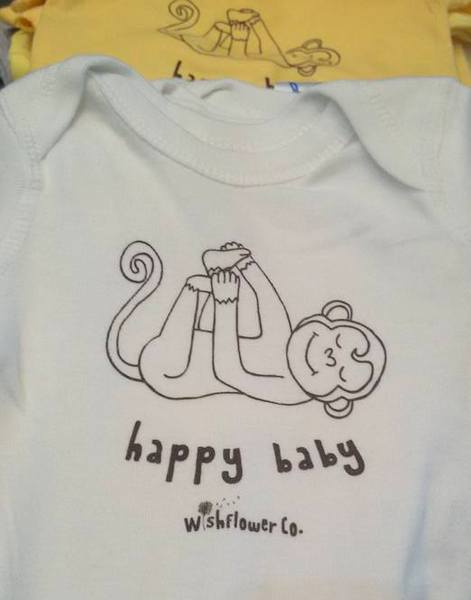 Also exhibiting was almondon, a new company based in Chantilly, Virginia that creates quality yoga gear as comfy and durable as it is fashionable.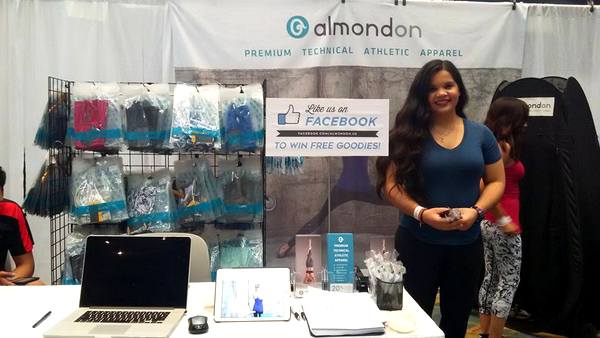 And the winner of the fun award in my book would be Dumbo Lounge Sacks. The nylon, air-filled sacks may normally be for relaxing, but these yogis found a way to make them active, too!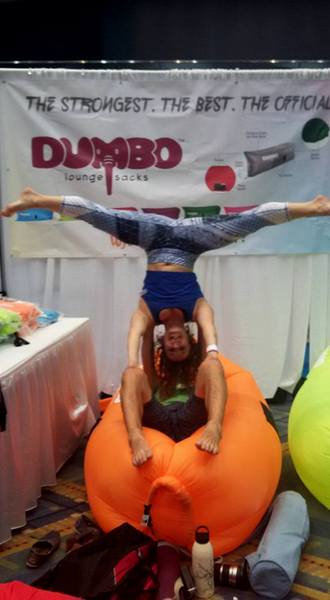 Check out this video that shows how Dumbo sacks inflate simply using air harnessed in the nylon sacks to create a comfy spot for lounging anywhere!
I wish I could have spent more time in the exhibit hall talking to vendors and hope to connect with more of them!
To make the most of the day, Expo-goers had advance access to the matrix of classes online ahead of the event, and there was also a huge display on-site. Quite an impressive schedule!
Registration was only $35 and included unlimited classes, though some did fill up so arriving early was a good idea. Children 12 and under were free.
I was given a media pass to attend the event and was granted five free tickets for a flash giveaway on the Mindful Healthy Life Facebook page. One of the winners was the one who joined us in the Drishti Beats session. Another winner joined the children's class toward the end and then enjoyed taking her two young daughters to Acro Yoga, where all three of them tried some of the adventurous poses.
A third winner was Laurie Conner, a mom of two, a doula and one of the co-leaders of the Burke/Springfield chapter of Holistic Moms Network. Laurie brought her older son to a breathing and meditation class and said, "The Expo was an inspiring celebration of many different aspects and styles of yoga all in one place. I left feeling completely centered, positive and relaxed after spending the  day with so many like-minded neighbors and local professionals."
The Yoga Expo plans to return to DC next year and already has its Philadelphia 2017 date set for July 22. Check out the full schedule of cities here. Be sure you're following The Yoga Expo on Facebook. When we learn about DC dates, we'll be sure to share on the Mindful Healthy Life Facebook page as well.
For more of a flavor of The Yoga Expo's day in DC, check out this  short video:

Disclosure: I was given a free ticket to attend the event and to run a giveaway for five winners to attend. All opinions are my own.

Jessica Claire Haney is the founder, publisher and editor of Mindful Healthy Life. She is a writer, editor, emerging novelist, and the founder of the Arlington/Alexandria chapter of Holistic Moms Network. Her personal blog is Crunchy-Chewy Mama and her writer's site is JessicaClaireHaney.com. See the Contributors page and Jessica's Mindful Healthy Life Q&A for more on Jessica.