Students from around Fairfax County rose early on Saturday morning to prepare their culinary masterpieces for judges and for the public to taste at the Real Food for Kids Culinary Challenge and Wellness Expo. After the competition was completed, these middle and high school students and other attendees got to participate in two workshop sessions before prizes and awards were handed out. My children are only in elementary school, but our whole family had a lot of fun and learned a great deal about food and about cooking at the event.
It's always rewarding for young children to see older children participating in real world events. So much the better when kids of all ages all get to hear from adults who work in the field! At Saturday's event the competing students talked to judges, and the judges talked to the kids and to the public, educating them about technique, nutrition, presentation and more. The event brought together more than 100 people for the cause of healthy food made from scratch.
Judges began tasting the entries and interviewing participants at 10:00. At 10:30 all attendees were invited to roam, taste, and talk to the teams. Students gave polished answers to questions about ingredients and preparation.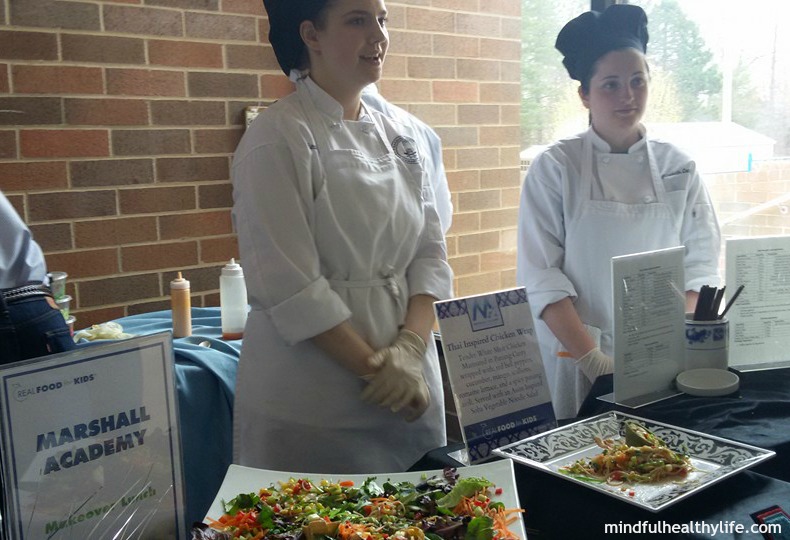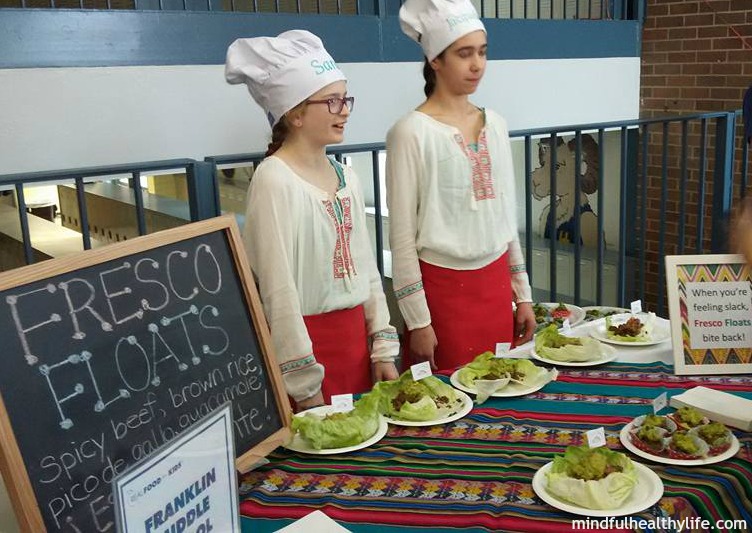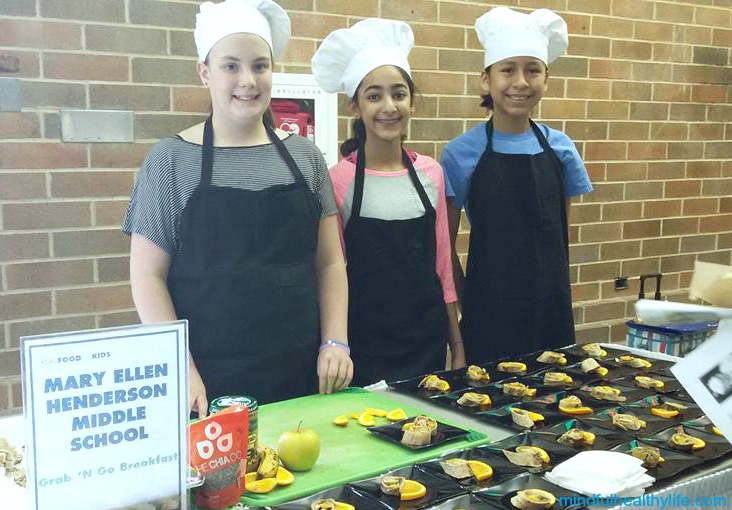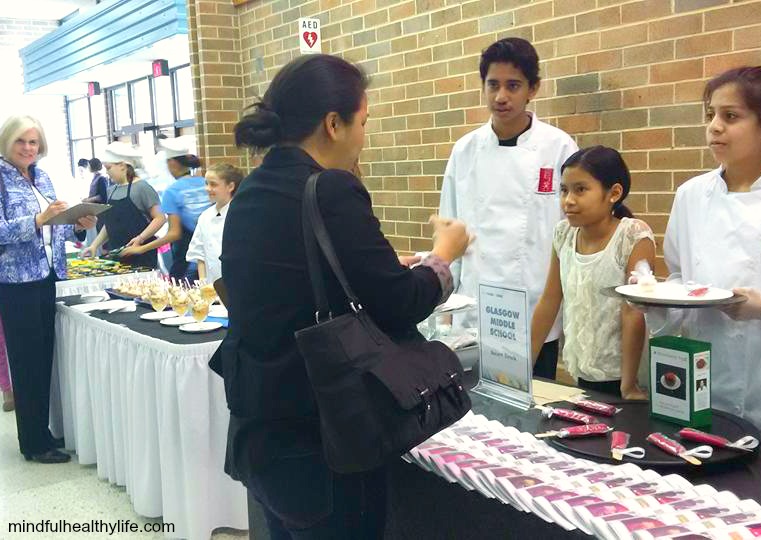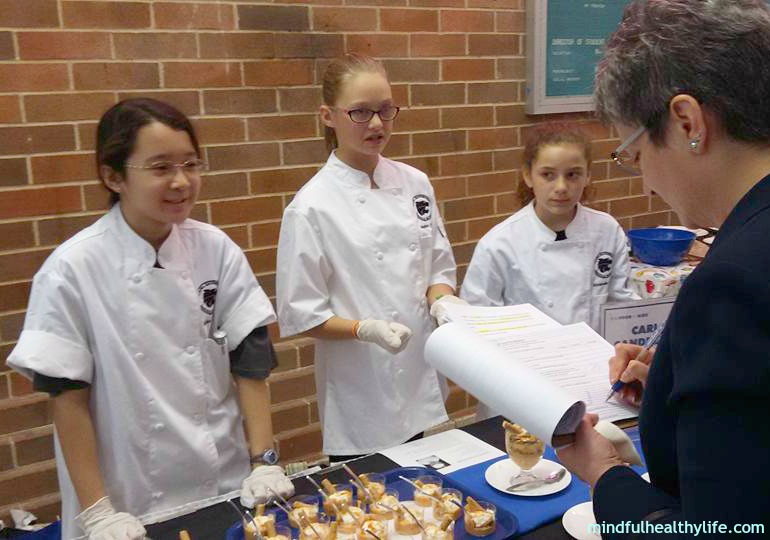 The event promoted healthy lifestyle habits beyond the kitchen. Graduate students from George Mason University were on hand to engage children in conversations about diet and exercise and to perform Body-Mass Index analyses.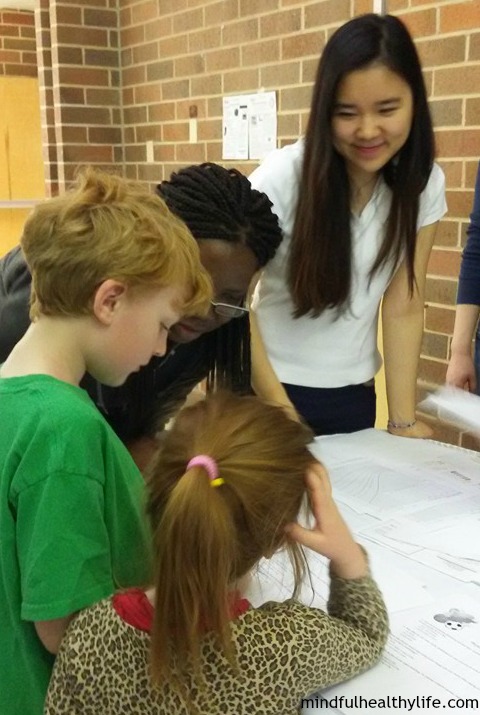 My two kids came with me, my husband, and his mom to the Mind/Body session workshop. There, Julianne Misra of OM Yoga Center in Ashburn led us through a lovely yoga class during which she shared some inspiring information about yoga and health in a super accessible way. She did such a terrific job at leading folks of all ages through poses while also imparting wisdom.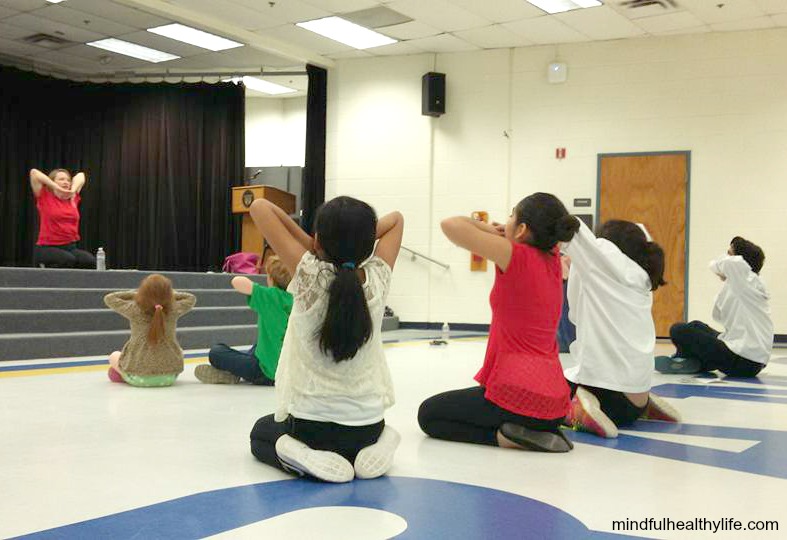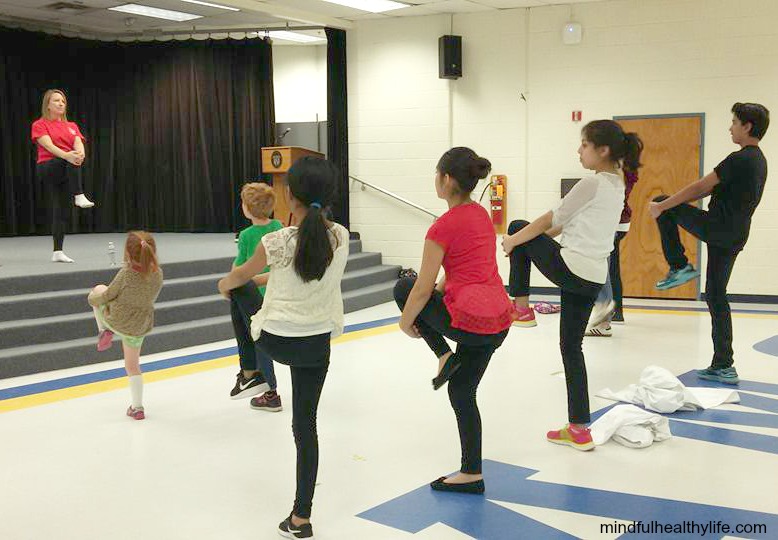 Julianne talked about the origins of yoga as support for meditation and a form of moving meditation, she discussed its health benefits, including massaging organs and supporting digestive processes; she described the work of cerebral-spinal fluid to act as "oil" for the body; she explained the importance of breath and oxygenating the blood, especially for focusing and for handling stress; and she even touched on the concept of earthing and how getting literally grounded to the earth can help with anxiety or feeling off-kilter. All in about 20 minutes!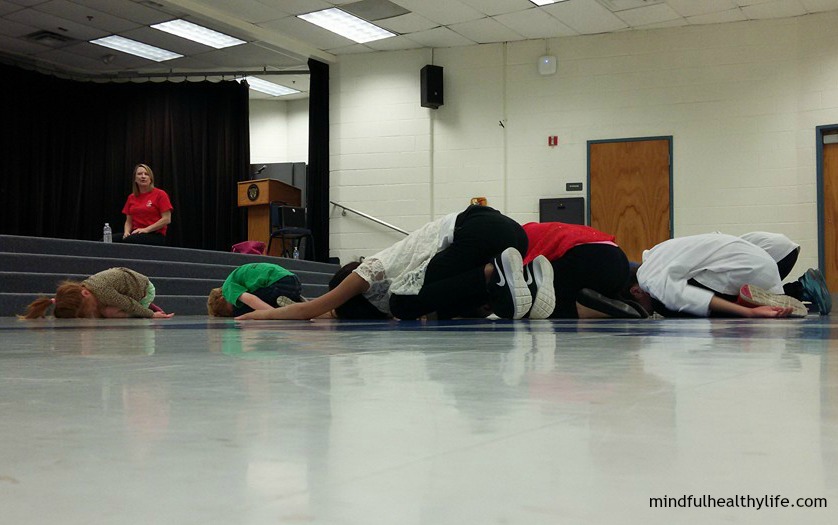 After the first half of the mind/body class, we were warmed up in our bodies and confident in our minds to try Zumba with instructor Irene Saucedo. This was all about the movement. My daughter is only 5.5 and previously had felt frustrated in another Zumba class we tried. But after the yoga, we all approached the Zumba with an open heart and had a terrific time, even if the moves were so fast I couldn't capture them on camera!
The second session my family and I attended was "What's a Chicken Nugget?" with Mike Snow of Willowsford Farm in Ashburn. My kids had previously visited this farm and had enjoyed walking among and even picking up the chickens. It's important to me that they get to see and actually experience what a sustainable farm looks like. And then, to hear the farmer present to a room full of would-be chefs and their parents was a real treat! I love that the class discussed the parts of a chicken, making stock, and simple ingredients vs. unpronounceable words in packaged foods. And we got to see the egg the chicken laid during the first session!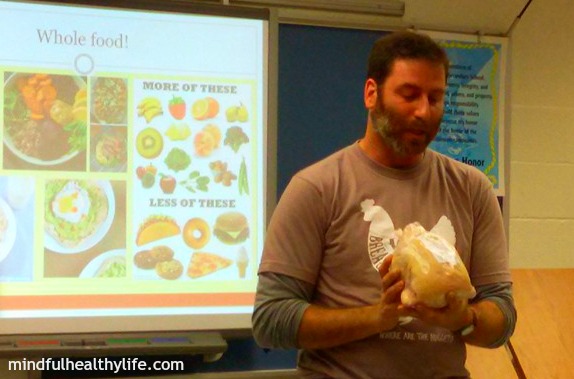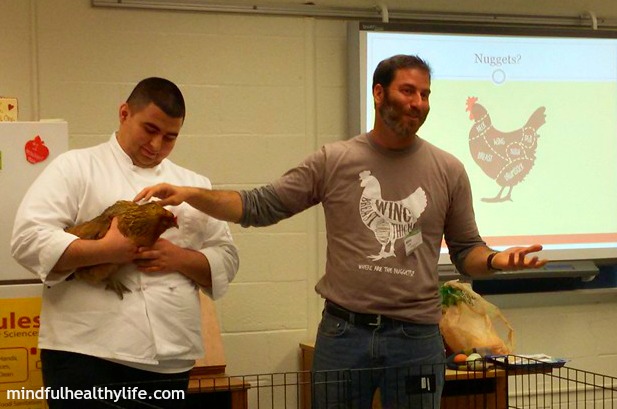 Among the other food choices were The Washington Post Deputy Food Editor Bonnie S. Benwick and Renee Comet of Renee Comet Photography sharing ideas about food writing and photography; Six O'Clock Scramble's Aviva Goldfarb providing tips on family meal planning; Sarah Holway, founder of DC Greens, addressing the topic of school gardens, and Mr. Taylor discussing  FCPS' meal and snack programs.
After the two workshops, we all headed upstairs where emcee Kate Sherwood, Executive Chef for Center for Science in the Public Interest, Real Food for Kids Director Jenny Hein, and judges, including Top Chef Contestant and Ripple and Roofers Union Executive Chef Marjorie Meek-Bradley, gave positive feedback and certificates of participation to each school team.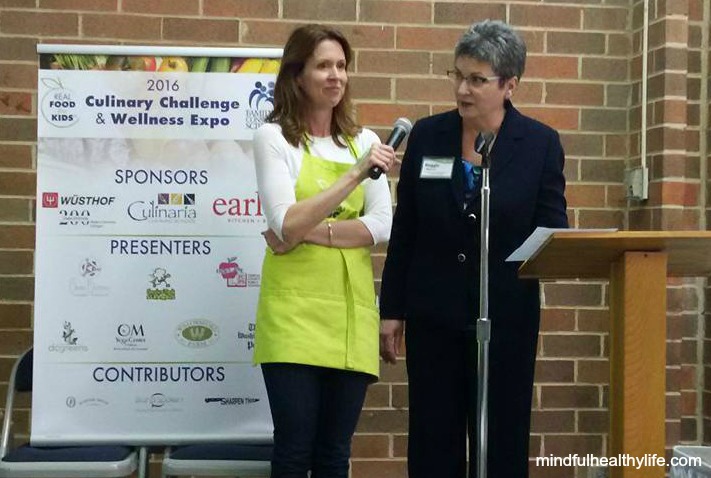 Winning the competition for the second year in a row was Marshall Academy's Culinary Team with a Thai-Inspired Chicken Wrap served with a soba noodle and vegetable salad.
Marshall's Culinary Academy team was one of four high schools or secondary schools that were challenged to create a more delicious and nutritious version of a typical school lunch entree that could be adapted for use on the Fairfax County Public School (FCPS) menu. Marjorie Meek-Bradley called the Marshall team's effort "more like a restaurant presentation."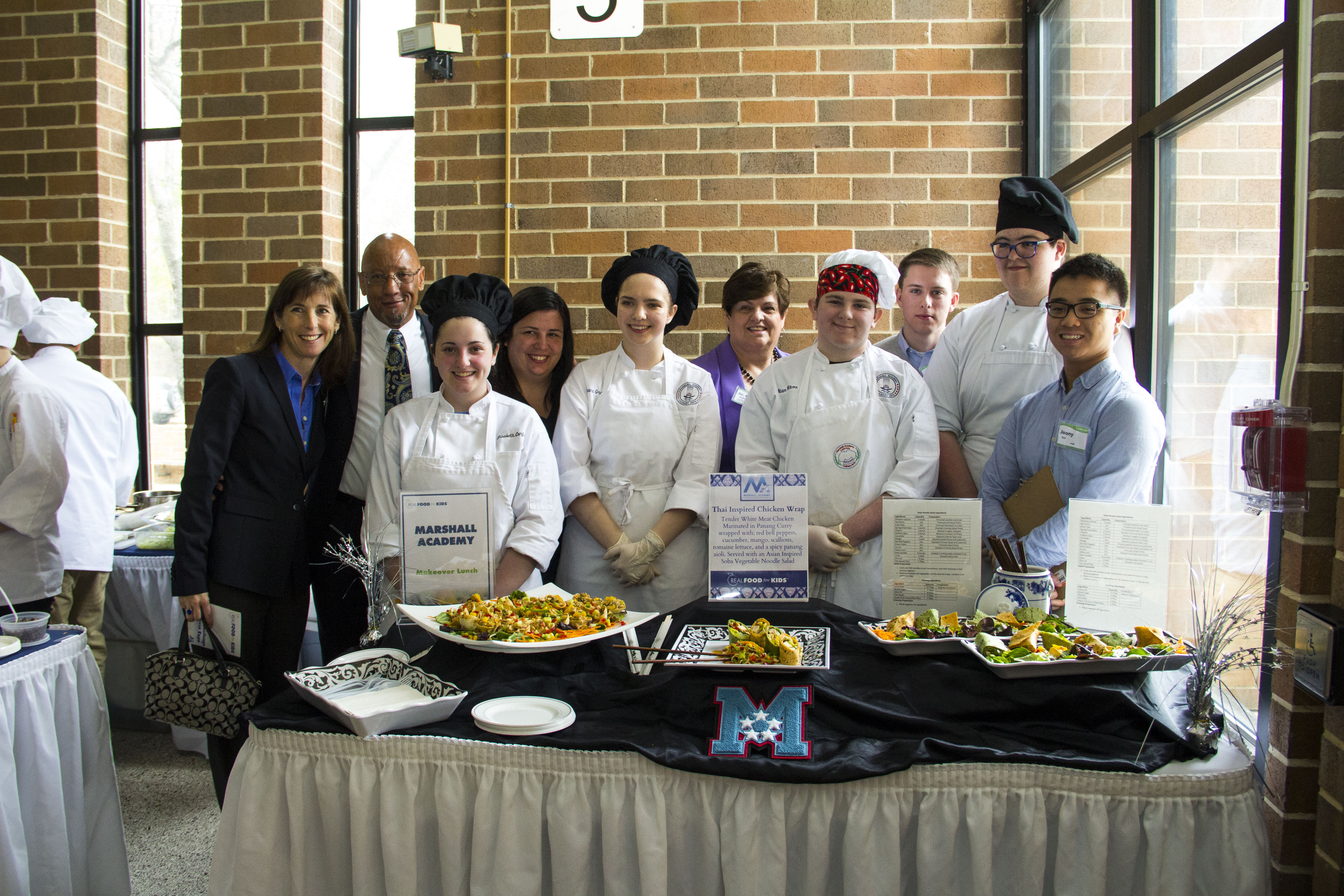 Chantilly took second place with its Asian and Mexican Fish Tacos. Tied for third place were Edison's Orange Beef and South Lakes' Orange Chicken.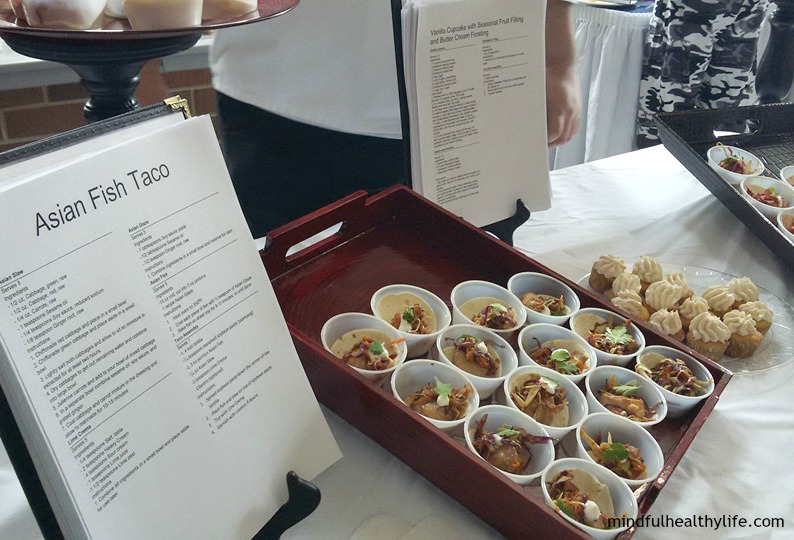 Franklin, Sandburg, Irving, Stone and Glasgow middle schools presented in the snack category, and Mary Ellen Henderson Middle School and West Potomac High made grab-and-go breakfasts. Each student was awarded a participation certificate.
Judges included FCPS Food Service and Nutrition (FNS) director Rodney Taylor and Dr. Becky Bays, Loudoun County Public Schools' FNS supervisor. Taylor said, "This kind of input serves our goal to ensure students have access to nutritious meals that promote life-long healthy eating behavior."
Following the awards and presentation of gifts to the top teams was the presentation of several raffle prizes. Each child and each adult attendee had received a raffle ticket upon arrival and got another entry for filling out an event survey. There were loads of prizes!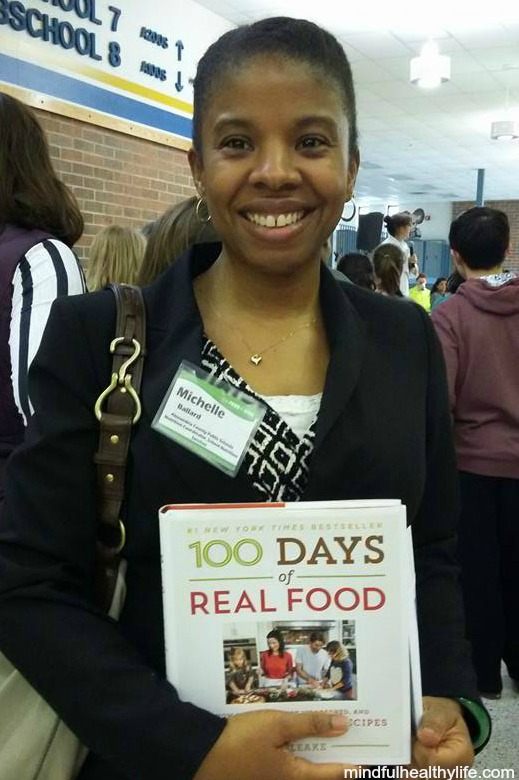 Wüsthof, the event's lead sponsor,  presented knives to all of the student culinary participants. Top raffle prizes included a chef's table dinner for six at Earls Kitchen + Bar in Tysons Corner, classes at Culinaria Cooking School in Vienna, and a $500 shopping spree at Williams-Sonoma .
As the local face of the national school wellness movement, Real Food for Kids is committed to working collaboratively to increase the quantities of healthy foods in public schools and supporting programs that educate students and their families to make healthier lifestyle choices. Real Food for Kids aims to find innovative ways to bring more fresh, less processed foods to students. Stay tuned for information on an upcoming recipe challenge.

For more information, see our post previewing the event, and visit realfoodforkids.org/expo.html
All images copyright Mindful Healthy Life except group photo of Marshall Academy, copyright Sean Hickey

Jessica Claire Haney is the founder, publisher and editor of Mindful Healthy Life. She is a writer and editor and a co-leader for the Arlington/Alexandria chapter of Holistic Moms Network. Her personal blog is Crunchy-Chewy Mama and her writer's site is JessicaClaireHaney.com. See the Contributors page and Jessica's Mindful Healthy Life Q&A for more on Jessica.