NoVA Outside's School Environmental Action Showcase (SEAS) is a one-day event held annually at George Mason University that offers students K-12 an opportunity to connect and share, to learn about careers in sustainable fields, and to participate in activities that teach them knowledge about their earth and valuable skills about public speaking and engagement. This year's event takes place April 10.
The event is open to students from Alexandria City, Arlington County, Fairfax City/County,  Falls Church City, Loudoun County, and Prince William County schools. Past SEAS have drawn 500 students from 40 area schools.
Schools should register by March 23 to bring an "Eco-Team," usually 5-8 students. Teachers and parents typically stay with the team for the duration of the day. The event begins at 9:00 and closes at 2:30 after the presentation of awards.
Elected officials, senior school personnel, corporations, state education officials, and others are invited to the event. NoVA Outside values collaborations that help youth and adults alike to become more aware of the importance of supporting youth environmental activism and to see a path to participation.
SEAS is held in partnership with George Mason University's Potomac Environmental Research and Education Center (PEREC) and with Earth Force, which annually hosts the Virginia Caring for Our Watersheds competition as part of the event.
Registered Eco-Teams will be given a schedule upon arrival for the different activities the day offers.
General Showcase
Students in grades K-12 can bring a 5-8 students with a tri-fold display highlighting the environmental stewardship efforts at their school. One of the day's rotations will have the students staffing the table and talking with people – other students, teachers, administrators – who come by to learn what they are doing.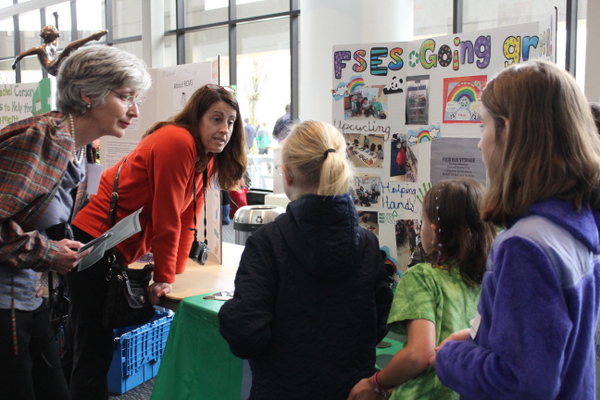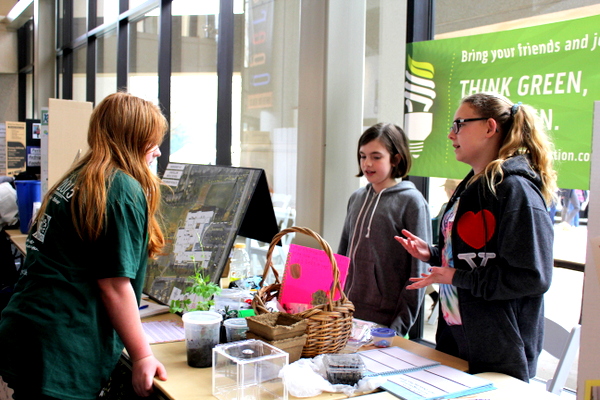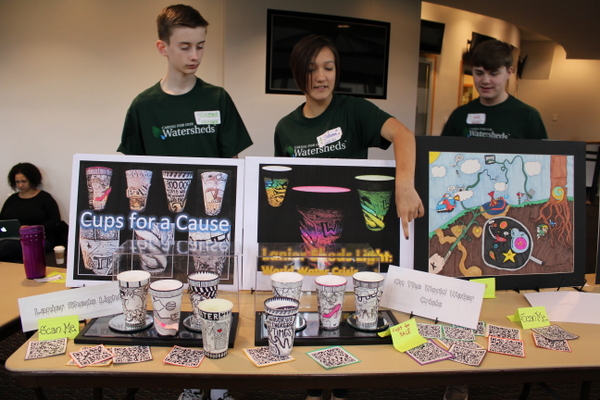 Most schools usually have half of the school's team staff the table for part of the rotation while the other half goes around to see other schools' displays and talk with other students. Then the staffers and roamers switch so that everyone goes home at the end of the day with a great appreciation for the diversity and innovation of students from across Northern Virginia.
Eco-Partner Village
All students spend one rotation of the day in the Eco-Partner village interacting with people who work in fields related to sustainability, outdoor education, and natural resources management. Some exhibitors have active experiments for children to try and all have lots of great information. It's a like a hands-on career fair!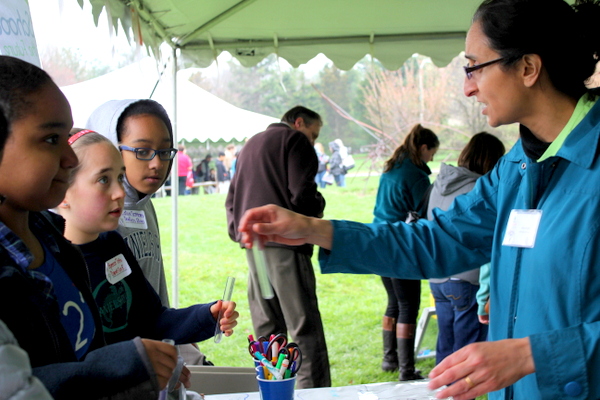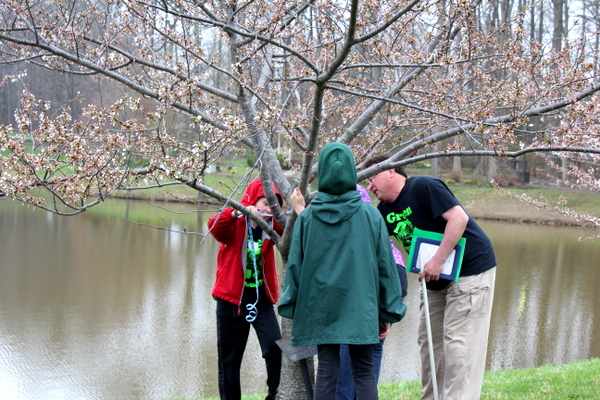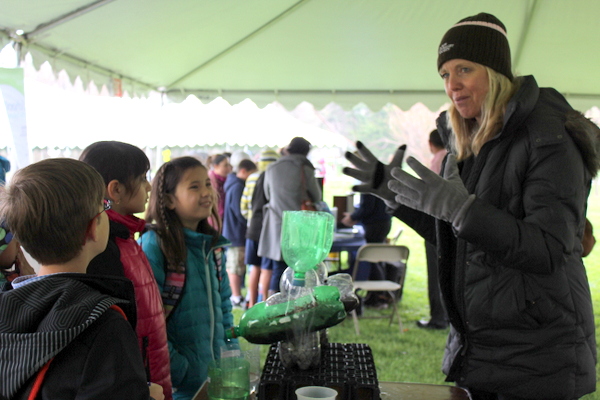 Caring for Our Watersheds
Students in grades 6-10 are invited to participate in  Caring for Our Watersheds. They must research a topic related to water safety and create a solution to a problem. They make a presentation to a panel of judges and then field questions. It's a little like Shark Tank selling a viable solution to an environmental problem!
SEAS attendees not participating in Caring for Our Watersheds may enjoy watching the presentations as audience members.
At the end of the day, awards are made and checks are presented to winning teams to put their plan into action.
Recycled Mascot Challenge
Every SEAS has some kind of creative art activity. Last year, students made instruments out of recycled materials and used them in to perform in a mini concert. This year, the Recycled Mascot Challenge has returned! Here are some of the 2015 entries.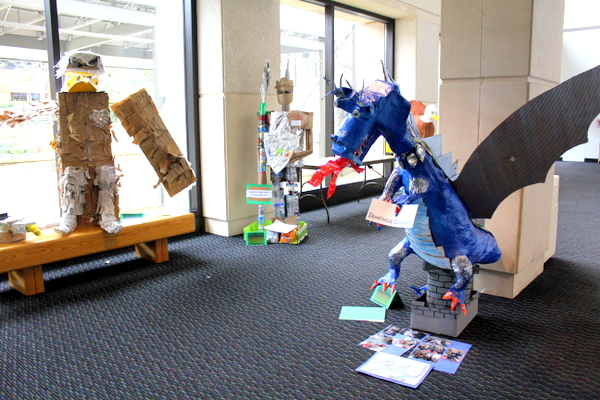 Click here for details about the Recycled Mascot Challenge.
Qualcomm® Thinkabit Lab™
A hands-on STEM program providing a creative makerspace/classroom, the Qualcomm® Thinkabit Lab™ is partnering this year with SEAS and offering students ways to think about using technology to collect environmental data.   
Learn more about the lab at thinkabitlab.com and see its Instagram feed @thinkabit_lab for loads of videos of the lab in action.
Attending SEAS
The SEAS website is novaoutside.org/events/school-environmental-action-showcase.
The April 10, 2018 SEAS will take place in the George Mason University Center for the Arts on its Fairfax campus and on the lawn across from the Center for the Arts. Visitors use the Mason Pond Parking Deck. Click here for maps.
Be sure to register your school team by March 23.
There is also a Facebook event for sharing.
Individual parents, teachers, school staff and administrators may register themselves at the door.
Participants are encouraged to bring their own lunches. SEAS will provide some fresh fruit.
To see more images and hear more about past SEAS, check out the Mindful Healthy Life 2016 SEAS recap and 2015 SEAS recap.
All images copyright Jessica Claire Haney for Mindful Healthy Life except for Caring for Our Watersheds award image used courtesy of Earth Force.

Jessica Claire Haney is the founder, publisher and editor of Mindful Healthy Life and the author of its Guide to Holistic Family Living in Metro DC. Jessica volunteers on issues related to wellness in public schools and was the founder of the Arlington/Alexandria Chapter of Holistic Moms Network. A writer working on her first novel, Jessica offers writing, editing, and consulting services.  Learn more at JessicaClaireHaney.com and in Jessica's Mindful Healthy Life Q&A. Follow Jessica on Facebook at MindfulHealthyLife, on @Twitter @MindfulHealthy and on Instagram at @mindfulhealthy. Jessica's personal blog is Crunchy-Chewy Mama, on Facebook at CrunchyChewyMama and on Twitter @CrunchyChewy.