Mindful Leader, the organization that puts on the Mindful Leadership Summit in November, held its first Mindful Life Conference last April and is putting on another, this time in National Harbor April 20-23.
The event calls itself "the annual gathering for all things mindful, where we explore how mindfulness and compassion can help us in our work life, home life, civic life, health & wellness and more." It is put on by local leaders Mo Edjlali and Eric Forbis, who have organized the November Mindful Leader Summit for years. The Mindful Life Conference was a new addition in 2016.
I was invited to attend the event last year and found it to be an inspiring weekend with lots of mindful practice, much wisdom, and some terrific connecting with other like-minded individuals. The weekend is a great opportunity both to practice mindfulness and to develop and deepen one's practice. Prices rise after March 31, so check out the details at allthingsmindful.org before then if you're considering attending.
The PTA at my children's school funded the registration for the school counselor to attend, so now she has a lot more tools as well. I highly recommend the event for parents and for school staff. Educators receive a discounted ticket of $249 for a Saturday conference day pass (Friday is not included) and the Sunday daylong intensive, "Teaching Mindfulness to Adolescents" with Trish Broderick. See allthingsmindful.org/educators for details.
So what is the event like? It is like many other conferences in that it has some large group plenary sessions, breakout sessions, and an exhibit area. It's unlike most other conferences I've attended, with the notable exception of the National Kids Yoga Conference, in that it's filled with opportunities to practice mindfulness and movement.
Last year's event drew more than 700 participants. Inspiring speakers shared their insights to the entire group and also led us in mindfulness practices. There is something very powerful about such a large room getting so quiet and grounded!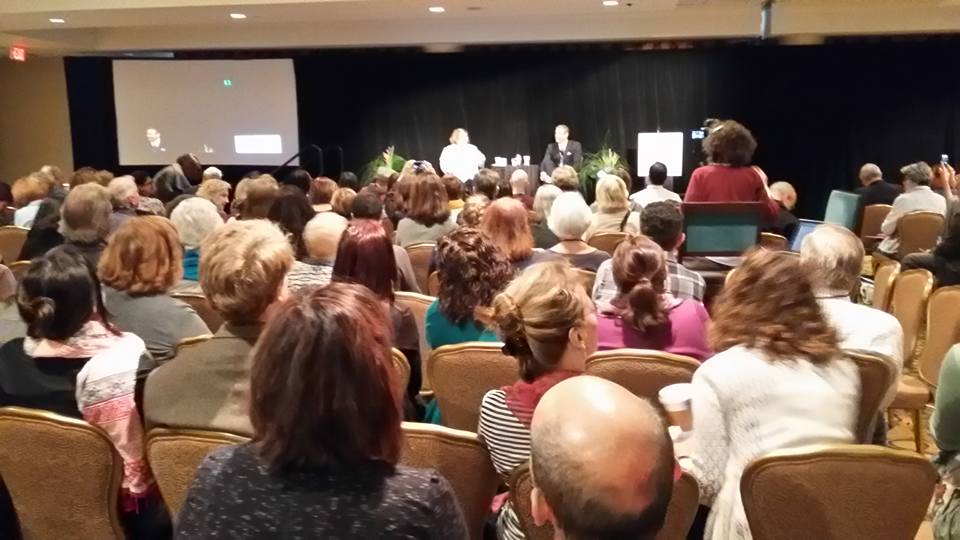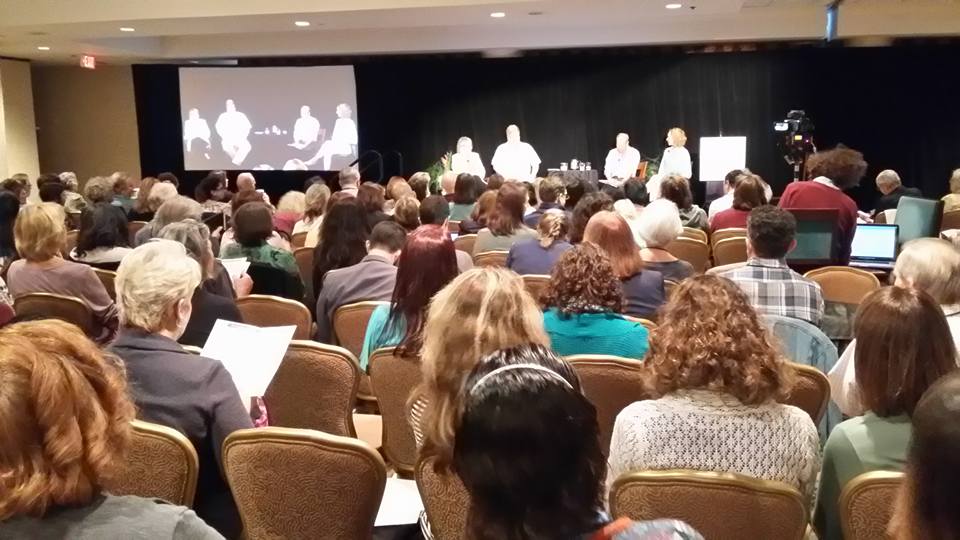 This year, among the large plenary sessions are "Mindfulness and the Practice of Inclusion" with Tanya Odom, Brenda Salgado, & Peter Weng at 11:00 on Friday, April 21 and "Real Love: The Art of Mindful Connection" with Sharon Salzberg at 9:00 on Saturday.
Friday and Saturday both start at 7:15 with yoga followed by meditation and then opening remarks at 8:30. In the afternoons, Cara Bradley will offer Mindful Movement Refresh breaks. Last year some were in the large plenary room and others took place in a smaller room.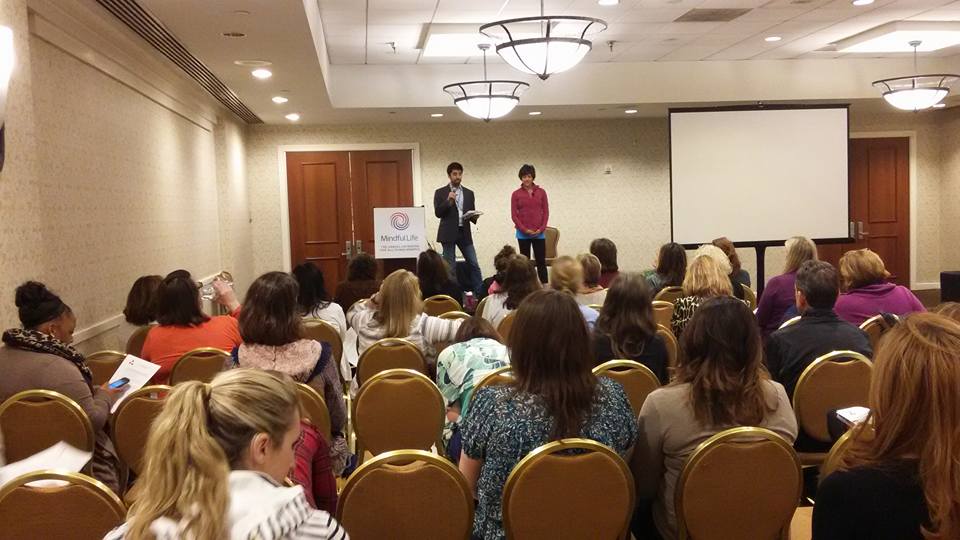 The schedule also offers for various breakout sessions. Some of this year's breakout sessions that might be of particular interest to Mindful Healthy Life readers include:
"Minding Mum – Why Self-care and Presence is the Key to Real Balance as a Mum" with Minding Mum author Alison Canavan at 1:30 on Friday, April 21
"The Future of Education: Transforming Children through Mindful Movement, Art and Nature" at 11:15 on Saturday with Hawah Kasat of One Common Unity
"Mindfulness Goes to School: Benefits and Challenges" at 1:30 on Saturday with Kim Schonert-Reichl & Trish Broderick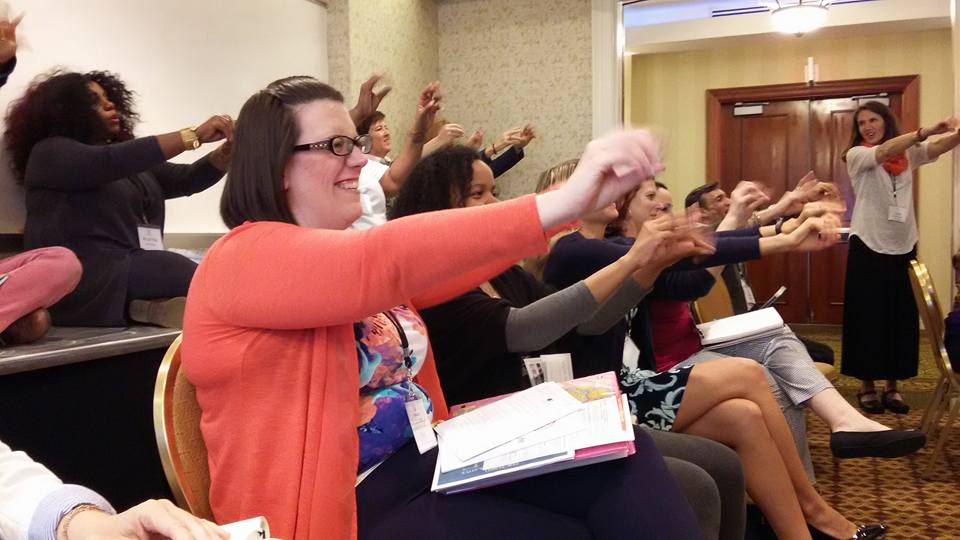 In the exhibit area, I got to try out Muse, a brain-sensing headband called your "personal meditation assistant." The device "gently guides your meditation through changing sounds of weather based on the real-time state of your brain." Muse is a sponsor of the 2017 event as well. Learn more about Muse at choosemuse.com.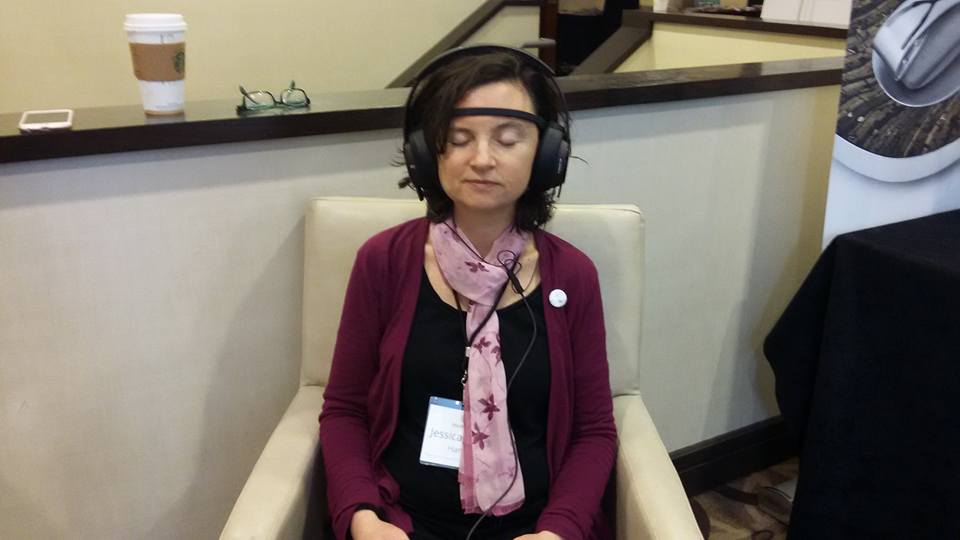 There were also lots of books for sale, materials to peruse for retreats and trainings, and copies of mindful magazine, one of the conference sponsors.
Whatever your learning modality, the Mindful Life Conference offers many paths to a mindful presence.
Register by March 31 to take advantage of current pricing. Details at allthingsmindful.org.
For details about the Mindful Leadership Summit taking place November 10-11, 2017, visit mindfulleader.org.
I received a media pass to attend the 2016 Mindful Life Conference. I was not required to write a post or to promote the event. All opinions are my own.
Despite the name similarities, this blog, Mindful Healthy Life, is not affiliated with the Mindful Life Conference.

Jessica Claire Haney is the founder, publisher and editor of Mindful Healthy Life and was the founder and a longtime leader of the Arlington/Alexandria Chapter of Holistic Moms Network. Jessica is a writer and editor who is working on her first novel. Find information about her writing and about the editing and business consulting services she offers at JessicaClaireHaney.com. She also volunteers on issues related to wellness in public schools. Jessica's personal blog is Crunchy-Chewy Mama, on Facebook at facebook.com/CrunchyChewyMama. For more information, see Jessica's Mindful Healthy Life Q&A.