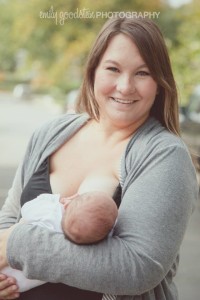 Joanna penned
our lovely Mother's Day post
about moms having patience with themselves and will be writing on a variety of topics, including breastfeeding. We're introducing her today to learn a little more about what she does professionally and as a mom.
Jessica: First tell us about the ages of your children and when you got started as a lactation consultant.
Joanna: I actually began my lactation journey before having children of my own. After serving as both a birth and postpartum doula, I recognized the need for offering more lactation based support. To better assist my clients, I wanted to learn all that I could about breastfeeding. In doing so, I not only uncovered my passion, but I truly feel that I have found the best way for me to support others within my community and beyond.
Shortly after becoming an IBCLC, I had my first daughter (now 3.5 years old). Immediately, we faced breastfeeding challenges when a hemorrhage left me without colostrum. Through the amazing support from husband, my LC sisters, and close friends and family, my daughter and I were able to overcome our issues and breastfeed until my next daughter was born almost three years later. She is 9 months olds and, again, we faced some breastfeeding issues and needed support. I think that my experiences only further validate how essential breastfeeding support is.
Jessica: What made you decide to pursue the path toward being a lactation consultant?
Joanna: I'll never forget being with a postpartum mom who was struggling with breastfeeding. She had some complex issues. I had offered her as much support as I could and I held her arm as she cried while attempting to comfortably latch her baby. I felt so helpless and so sad. I can only now, since becoming a breastfeeding mother myself, empathize with how she must have been feeling. I vowed to myself that day to learn more so that I could give more. Of course, I passed along local resources so that she could get the help she needed, but some spark within me knew that this was where I needed to be…where I needed to learn and grow so that I could get answers for that mother in need.  I still strive for that today. I want to learn more, to know more, and to offer current. factually based information to the parents I meet.
Jessica: What do you do that is beyond just helping mothers breastfeed? What else is important to you to provide for families?
Joanna: There are a few things that I hope to accomplish. The first is to always make sure that the parents are being heard. So much about birth and parenting needs to be vocalized and I want to have open ears. As a talker, this means work. A wise IBCLC mentor once told me to sit on my hands and listen. I try to make it a point to do that at the beginning of my consults. The second thing is to never make a mom or family feel as if they need to meet any preconceived expectations. As a care provider, I seek to help families meet THEIR goals. A consult won't lead to anywhere positive if families don't feel that I am providing a safe space for honesty. So I work hard at that, too.
Jessica: Tell us about the Holistic Mothering group and how you serve families. How did you get started as a group practice and how has it worked through the birth of your second child to keep working or scale back your hours?
Joanna: My dear friend Julie and I worked together at a local hospital. Through working together, we realized that we had very similar styles of care and that we hoped to be a more holistic option for local families searching for breastfeeding support. This means that we want to help families meet their breastfeeding goals through the most minimally invasive, natural ways possible. That doesn't mean that we can't offer suggestions or care plans that include intervention, as sometimes that is necessary, but we try to keep interventions to an as-needed basis. Julie and I began Holistic Mothering, LLC and we grew to include other extremely talented and holistically minded IBCLCs. Julie has since moved to Ohio and is offering similar services there. Since going on maternity leave, those talented IBCLCs are offering consults, classes and free support groups at Northern Virginia Lactation Center in Fairfax, VA. My mentor, Nancy Clark, took over the practice a year and half ago and is offering services much like those offered by Holistic Mothering, LLC. I have been so thankful for the center since I can be on maternity leave while still having a hand in the field by occasionally hosting a class or a support group. Now that my baby is a bit older, I am able to offer prenatal classes and consults to families close to me. Once our breastfeeding dyad can handle longer periods away, I'm hoping to expand my services.
Jessica: How have you grown as a parent since the birth of your first child? What has become more or less important to you?
Joanna: This journey is far from over. Even though my toddler is 3.5, I still feel very much like a beginner. Since becoming her mother, I have made major changes to ensure that her environment is a safer, healthier place. We have removed toxic ingredients from our home, eat local and organic foods and surround ourselves with people who can teach and help us grow in this lifestyle. There are also days, and sometimes weeks, where we can't always maintain some of my expectations. This has been humbling. I know what I want our lives to "look" like, but I realize that this is a journey and sometimes I have to make peace with where we are, what we eat and how we live. I do the best that I can, but I offer myself grace every, single day. One thing that I love about the holistically minded people that I have met in our community is that they often express something similar. I think the most important thing to me, and what I'd like to teach my girls, is to ensure that you are helping to build up those around you. We all have something to teach and more to learn. That's where I am on my parenting journey and my holistic living journey as well. I'm soaking up everything I can from those who are teaching me and I am hopeful that I am building up those who may be coming to me in hopes of learning something new.
Jessica: What are some of your favorite things about living in the DC area? What advice would you give a newcomer parent?
Joanna: Living in the DC area has so many wonderful benefits. We have art, theater, education, great food, music and so much more. A few things that we have loved are the museums, the free concerts at our local parks, farms within an hour drive, a fantastic homebirth community, events on the mall, baby wearing and cloth diapering groups, awesome restaurants for date nights, and the super fun splash parks that we can't get enough of this summer!
My advice to a new parent in DC would be to get out and connect! Join listservs, come to meetings, introduce yourself at a local coffee shop to another parent. The best part about this area is that so many parents are connected to groups, events, causes and that everyone functions under the premise, the more the merrier!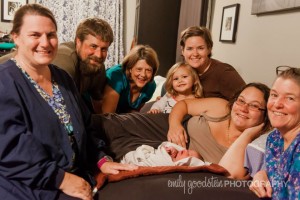 Here is my family at the home birth of our second daughter (an HBAC baby) with our awesome, local birth team. All photos in this post are taken by the DC based birth and family photographer, Emily from
Emily Goodstein Photography
. The birth scene here is really wonderful. Great midwives (both in hospital and out), doulas, chiropractors  and photographers are right at our fingertips. I feel lucky to have birthed in the DC area.
Jessica: I hear you just moved to a new home in Northern Virginia. Any tips for moving with small children?
Joanna: We did just move! The most helpful thing was to have something fun planned for the kids. We found that if we had something fun for them to look forward to each day, that they were much more laid back if we needed to pack for the rest of the day. Our toddler loves to geocache, so getting her out first thing in the morning made our hectic days run much smoother.
Jessica: What inspired you to join the Mindful Healthy Life team? What are your hopes for this website?
Joanna: I'm thrilled to be a part of this special community. My goals for the website are to continue to build a supportive community of people who are striving for a healthier lifestyle. I would like for my posts to make everyone feel included, no matter where they are in their journey. I hope that my contributions make people feel right at home, and that they are inspired to get involved in everything that our area has to offer. I hope to meet many of you for lunch at a local farm, for a glass of wine at a local winery or for a breastfeeding support group! I'm just really looking forward to meeting you.