Beloved Yoga in Reston is holding its second Love Your Baby Family Health & Wellness Fair on September 19 from 2:00 to 6:00 p.m.. A day of education and grounding for parents and parents-to-be, the fair offers workshops and the opportunity to meet with exhibitors who support mindful families.
Love Your Baby Family Health & Wellness Fair will feature sample classes, demonstrations,  massages, prenatal & postnatal nutrition, infant care as well as the opportunity to ask questions about alternative healing therapies such as Reiki, chiropractic, massage, and yoga therapy for pre- and post-natal. The day is designed to help new parents "learn how you can support & nurture yourself, your baby & your family with Northern Virginia's best yoga instructors and alternative health care providers offering fun and educational methods."
The event is free, with donations and proceeds from exhibitor tables going to Women, Infants & Children (WIC)

program, a federally funded supplemental food program for pregnant, postpartum or nursing women, infants, or children under five years of age.
Free registration is suggested on the Beloved Yoga site via its Workshops tab.
The large studio will have exhibits with the speakers and additional groups and vendors.  Tasty 6 juices will be exhibiting outside.
Here is the schedule of activities in the small studio (subject to change):
2:00 p.m.   Prenatal Yoga – Beloved Yoga – Eva & Gia
2:30 p.m.  Prenatal Roundtable – Labor Relaxation & Breathwork
3:00 p.m.   Nourishing the Prenatal & Postnatal Journey
3:30 p.m.    Parent & Baby Yoga – Vasanthi – Beloved Yoga
4:00 p.m.    Support with Breastfeeding
4:30 p.m.    Chiropractic Care for Mother & Baby
5:00 p.m.     Sign Language with Babies – Little Hands Speech Therapy – Kelli Atangan
5:30 p.m.     Non-Toxic Products for Babies & Families – Viva Non-Toxic – Aubrey Villalobos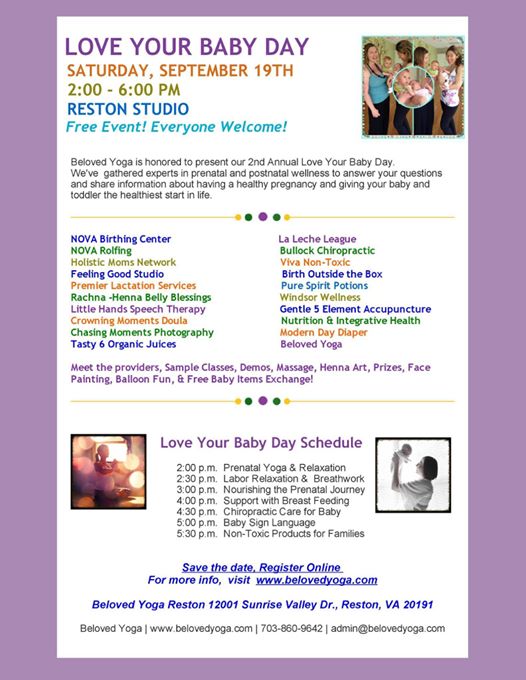 Beloved Yoga is located at 12001 Sunrise Valley Rd., Reston, VA 20191
For more information, contact Vasanthi@belovedyoga.com