Most parents want their children to feel calm, and the folks at Potomac Crescent Waldorf School have worked hard to create a peaceful, soothing environment in their new home at Fairlington Presbyterian with in Alexandria. Before the school moved into the space last fall, parents, staff and alumni transformed the classroom walls using a painting technique called lazure. Paired with the abundance of natural wood and textiles in Waldorf  classrooms, the skillfully painted soft peach walls help children and adults alike feel calm and grounded.
Lazure was first described by philosopher and anthroposophist Rudolf Steiner, the founder of Waldorf Schools, nearly 100 years ago in Germany. Lazure is a laborious process that creates a soft peach color similar in appearance to wet-on-wet watercolor paintings.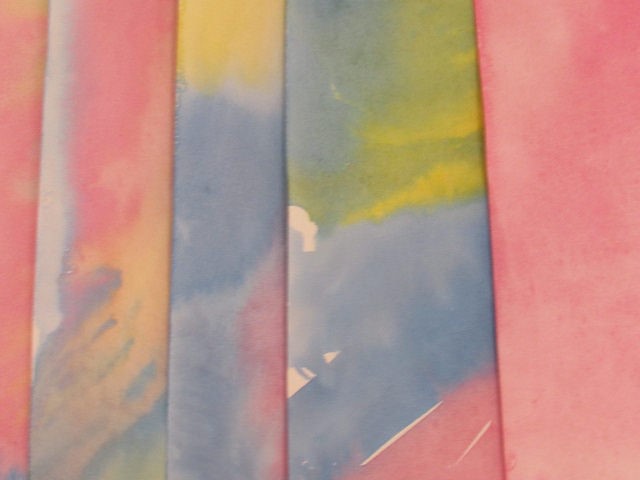 A very thin paint medium consisting of binder, pigment and water is prepared and applied to a white wall in several layers with large brushes using rhythmical movements. The end result is a luminous peach.
Traditionally the early childhood classrooms in Waldorf Schools are painted in a soft rosy peachy pink. Long before pink became associated with femininity, Rudolf Steiner referred to the color as peach blossom: color experience of looking up at a canopy of peach blossoms rather than the absolute color.
Lazuring can be found in Waldorf Schools and anthroposophical institutions as well as private residences around the world. It is not a technique for the solitude-loving painter, as it requires a team of ideally three to five people.
My son's school Potomac Crescent Waldorf School moved from Arlington to its new site in Alexandria at the end of October 2015. Construction work and classroom build-out took place throughout the summer, and all classrooms were prepared with a coat of white paint in eggshell finish, the ideal base for lazuring.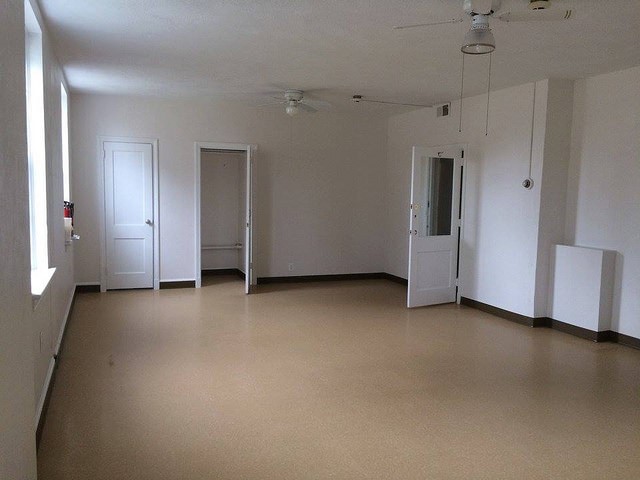 The three early childhood classrooms at the school were painted in a community effort using the lazure technique. My daughter's former Kindergarten teacher Pat Moss led the lazure classroom-painting project. Over a period of two weeks, Pat guided teams of three to five people, current and alumni parents, through the elaborate procedure, which was completed just in time for the school's annual Fall Festival.
The three steps in lazuring are:
1. Preparing the paint medium (binder, water and pigment).
2. Wet brushing.
3. Dry brushing.
To prepare the paint medium, Pat diluted the binder – in this case Benjamin Moore's Deep Base – with water and added some pigment to achieve the desired color. For the early childhood classrooms, Pat used magenta slightly muted with some gray. Artist acrylic and watercolor paints work well as pigment.
With each coat of lazure the medium gets successively stronger. We used three coats for each classroom, with water : binder ratios of 10:1, 7.5:1 and finally 5:1. To achieve best results one should apply up to five layers of paint medium, some people even do as many as ten. In our case time and volunteers were the two limiting factors and thus Pat settled on three layers per classroom. Special brushes are needed, which were purchased from the two leading lazure artists in the U.S.: Charles Andrade and Robert Logsdon.  At least two brushes per person on the team are needed plus a few extra and an abundance of cotton towels.
The two stages in the lazuring process are wet brushing and dry brushing. One person applies the paint medium with a lazure brush in a diagonal lemniscate from the top to bottom of the wall.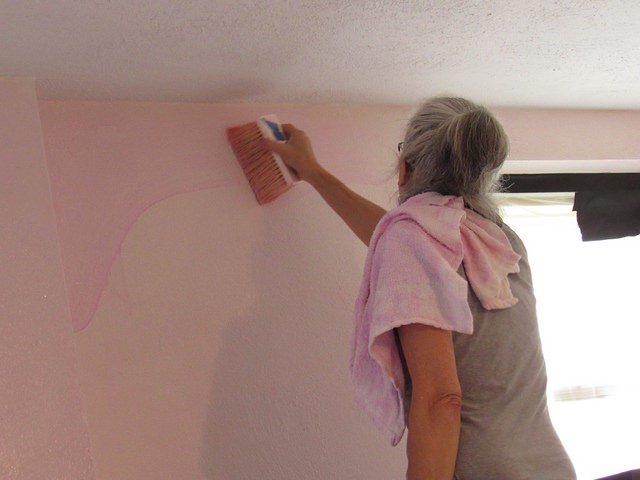 Two to three people follow with dry lazure brushes in the same movement pattern. It is crucial for the dry brush team to wipe their brushes frequently with the cotton rags. If the brushes get too wet, they will take paint off the wall rather than move it around the wall. Ideally there is an additional person on the team who can monitor the overall procedure, catch drips and spills and direct wet and dry brush carriers towards areas on the wall that need additional attention.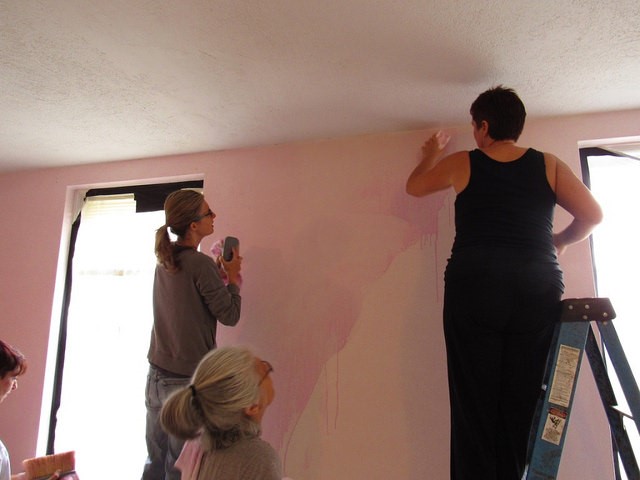 I came to observe a team of team of five volunteers who were working with Pat on one of the classrooms one morning. Pat directed the group with calm and consistent instructions, making sure everyone was comfortable and confident with their work. She regularly switched jobs around so that everybody had a chance to experience the wet and dry brushing. It took about half a wall for the team to be fully settled and in sync with the task ahead. It was quite amazing to watch how they moved forward wholly tuned into the workflow without getting in one another's way and collaboratively creating a beautiful wall coating.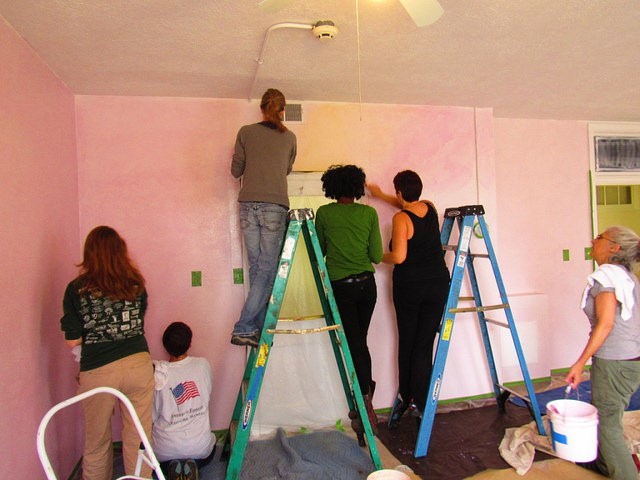 Around certain windows and doors Pat switched to a gold colored medium to subtly create the illusion of rays of light coming form these wall openings. Through the rhythmical wet and dry brush strokes, the two colors were blended in a beautiful continuous flow.
For my son's classroom we worked for two days in a team of four, including my son's teacher. Pretty soon we had figured out who on our team had a preference for dry or wet brushing. I felt definitely more comfortable with the dry brush and was surprised how vigorous the brushing at times actually has to be in order to move the paint quickly and in generous movements around the wall.
There was also a noticeable difference between the two different wall types we were dealing with, brick and drywall. The brick wall was very porous, and paint medium tended to collect in the pores, whereas the paint moved very smoothly over the drywall but also dried much faster, which kept us all on our toes to keep up with the brushing to avoid flaws. We were all quite proud of the result we achieved with our work.
Parents and children alike were excited to walk into the new classrooms that the teachers had so lovingly put together.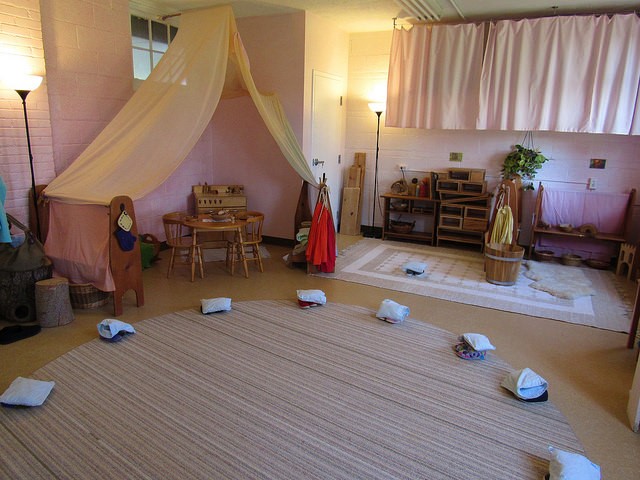 In my son's classroom, the snack-time tables are positioned in front of one of the dry walls. While lazure painting this wall, we had worked a streak of gold into it, which looks like a subtle ray of light.  The teachers love this wall so much, that they decided to leave it bare as the backdrop for food and conversation.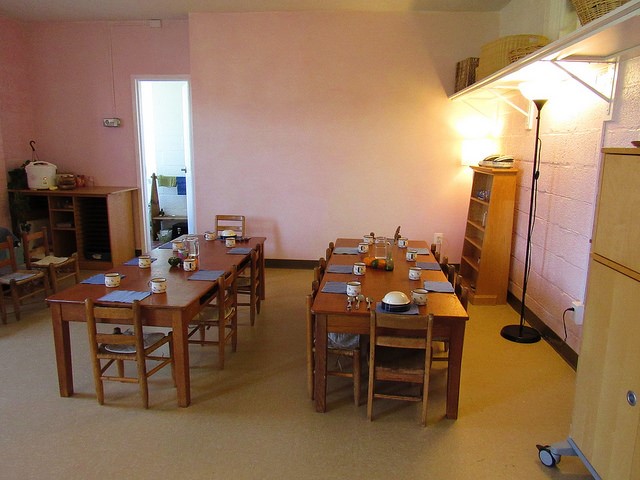 It was a very special experience to be part of a lazure team, learning the technique, understanding how much intuition and mindfulness is needed as you and your painting partners together put so much care into preparing the classroom for the children. I hope to try out lazure painting with a team of friends in my own home one day.

Kay Sidahmed is an alumni parent at Potomac Crescent Waldorf School. She is owner of Oikasa, a holistic interior design consultation service, and managing artistic director of the Del Ray Kinderchoir. Together with partners from DIY Del Ray and the Del Ray Business Association she has initiated Del Ray Aglow, an annual Lantern Walk. This year's lantern walk will be on Thursday, November 3 at 6:15pm, starting at Ease Yoga and Cafe. There will be a lantern-making workshop on Friday, October 28, 4:30-6:00pm at Bellies & Babies Consignment Boutique. Participants are asked to register ahead of time via Eventbrite and to bring their own glass jar.
Each fall, Potomac Crescent Waldorf School holds a Lantern Walk for its students and a Fall Festival that is open to the public. This year's Fall Festival will be 10 a.m. to 2 p.m. on Saturday, October 22. For more information on the Fall Festival and other events at Potomac Crescent, visit potomacwaldorf.org/events.