As if the July 9 Play-In for Climate Action on the Hill weren't enough to inspire an environmentalist parent, Moms Clean Air Force, along with a host of environmental and faith allies, organized another impressive event on July 29 during the EPA hearings on its Clean Power Plan.
Sure, one result may have been for parents like me to get religion on the importance of the plan, but of course the real goal of the July 29 Play-In at Federal Triangle was to show the government how much public support there is for action to clean up the air address climate change.
The Play-In brought out more than 300 people from all around the DC Metro area and many other states besides to call on the government to support limits on power plant emissions. The plan would cut carbon pollution from existing fossil-fuel power plants by 30 percent from 2005 levels by 2030.
At the press conference, the array of speakers addressing problems with human health and the health of sea life and forests was truly impressive and included several VIPs who had just testified or would be testifying later that day. These speakers included Delaware Governor Jack Markell; Senator Jeff Merkley (D-OR); Cindy Parker, MD, MPH, Board Member, Physicians for Social Responsibility and Professor, Johns Hopkins University; Senator Ed Markey (D-­MA); Cristóbal J. Alex, President, Latino Victory Project; Mark Magaña, President and Founder, Green Latinos; and Rev. Lennox Yearwood Jr., President and CEO of the Hip Hop Caucus. The event was emceed enthusiastically by Terra Pascarosa, Virginia field organizer for Moms Clean Air Force.
The closing speaker was New Jersey Moms Clean Air Force field organizer Trisha Sheehan with her 8-year-old son Logan, a duo that would be testifying later that day. Together, they asked, "What do we want?" to which the crowd answered, "Clean air!"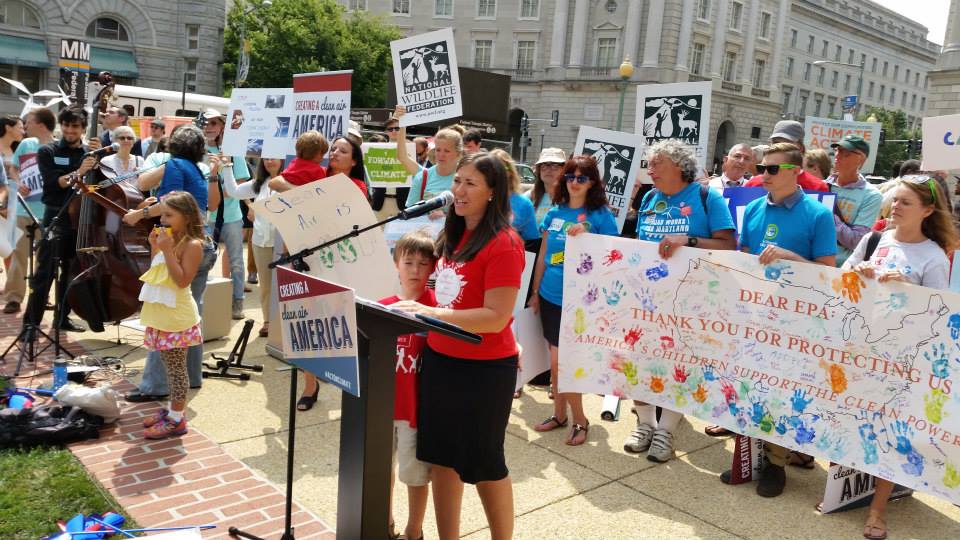 The bookend performances of the band Emma's Revolution ignited the crowd at the outset and, after the speeches had concluded, sent everyone off with hope and inspiration. And with a fabulous rendition of "This Land is Your Land!"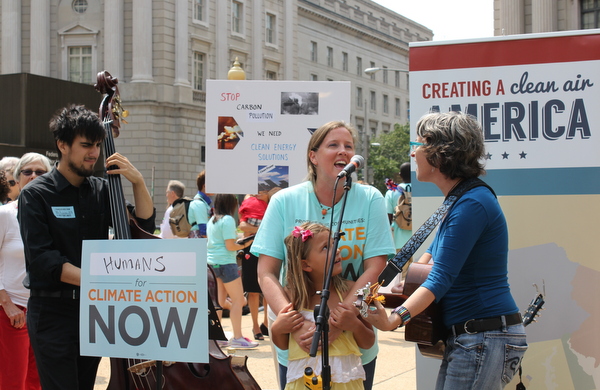 It was a morning to feel lucky to get to demonstrate and participate in democracy.
Trisha reports that, later that day, she delivered to the EPA the banner pictured above with another New Jersey family, Nancy Kunz-Merry and her son, Jack, and then she and Logan delivered their testimony.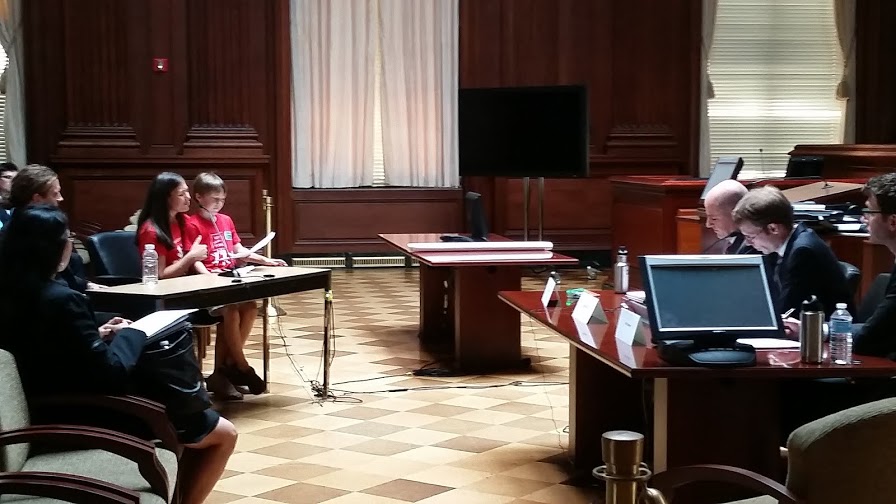 Logan had his own ask that he was adamant about adding at the end: "Please help Moms Clean Air Force and bring back clean air."
To view the hearings, go to http://www.c-span.org/video/?320725-1/epa-public-hearing-clean-power-proposal
For more on the July 29 rally, read my report on TheDCMoms.com.
I was also inspired to reflect on my own role as mother and activist on my personal blog, Crunchy-Chewy Mama, where you'll find more photos and some of the rally quotes that moved me the most.