With World Breastfeeding Week upon us, there are events aplenty here in the DC area to show your support for breastfeeding, to learn, and to win some great prizes as well!
The Breastfeeding Center of Greater Washington is hosting four events, described in detail at http://breastfeedingcenter.org/support-us/wbw2014/. They include the second annual Breastfival Friday, August 1, 2-6 p.m., The Big Latch-On Saturday at 10:30 a.m. (arrive at 10:00) and a screening of the new film, The Milky Way at 11:00
Be sure to register ahead for Friday's Breastival Festival, sponsored by Lansinoh. I was amazed at the turnout last year with over 100 mamas enjoying delicious snacks and soaking up the positive vibe of the renovated space, which, since I took my first child there, has dramatically expanded its store, upgraded its downstairs facilities and added another room upstairs, which is now hosting regular yoga classes.
The action will mostly be in the Center at 2141 K St NW, Washington, DC 20037. There will be food and fun, including baby footprints and handprints. Additionally, the waiting room at Children's Pediatrics will be used as a toddler playroom, and in nearby Washington Circle Park, participants can enjoy babywearing demos and Q&A with the Center's babywearing instructore Clare Branson between 3:00 and 5:00, prenatal yoga with Manisha Tare of Falling Leaf 2:30-3:30 and Mommy & Baby yoga with Alleah Clark of Embrace DC.
Raffle tickets are 3 for $5, 10 for $10 and 25 for $20. There are some amazing items including lots of nursing gear and clothing, photography sessions, massages and bodywork, and food. It's enough to make you want to get pregnant all over again if you're not already! Check the complete list of raffle items here. The drawing will happen at 5:30.
All the proceeds from the event will be used to create new free classes including a new support group and additional classes in other areas in the Metro DC area. They Center would like to duplicate the very popular Tuesday class for moms with babies 0-4 months, a class that has saved many a mama (including this one!) and spawned longtime friendships.
The Center was founded in 1997 by lactation consultant Pat Shelley. It moved to its current location in 2003 and expanded in 2012. Parking in the building garage is likely to fill, so, if you don't take Metro or find a metered spot on the street, consider the lot on L Street at 22nd (cash only) or the lot on 21st between K and Pennsylvania.
This is the Center's first year doing a Latch-On, during which moms will nurse for one minute at precisely 10:30 a.m. in locations around the world and be counted. Register for the event ahead and get your tickets for the 11:00 screening of new documentary The Milky Way at the nearby West End Cinemas. (If you miss the film this time, there's another screening in Alexandria the evening of August 14).
On Tuesday, August 5, head over (after the conclusion of 1:00 support group if you want to walk en masse) to a celebration 1:30-3:30 at the Pan American Health Organization/World Health Organization and enjoy snacks and swag!
If you're across the river in Virginia and further south, the second annual Big Latch-On in Woodbridge will also be on Saturday, August 2 at 10:30 (arrive at 10:00). The event is being organized by Anna Burmeister Rademaker, founder of Little Green Cabbages, a support community for "greenish" parents in Woodbridge. A lactation consultant and childbirth educator, Anna is passionate about sharing information, empowering parents, and spreading the word about breastfeeding.
There are several great vendors lined up for this event, taking place at Lake Ridge Park Marina, including The Farm Table, Whim Pops natural popsicles, BirthCare and Women's Health, and more. Proceeds from the vendor tables will benefit ACTS Emergency Shelter, and proceeds from raffle tickets will go to Gar-Field High School for its program that allows teen moms to complete their education with the help of an on-site nursery.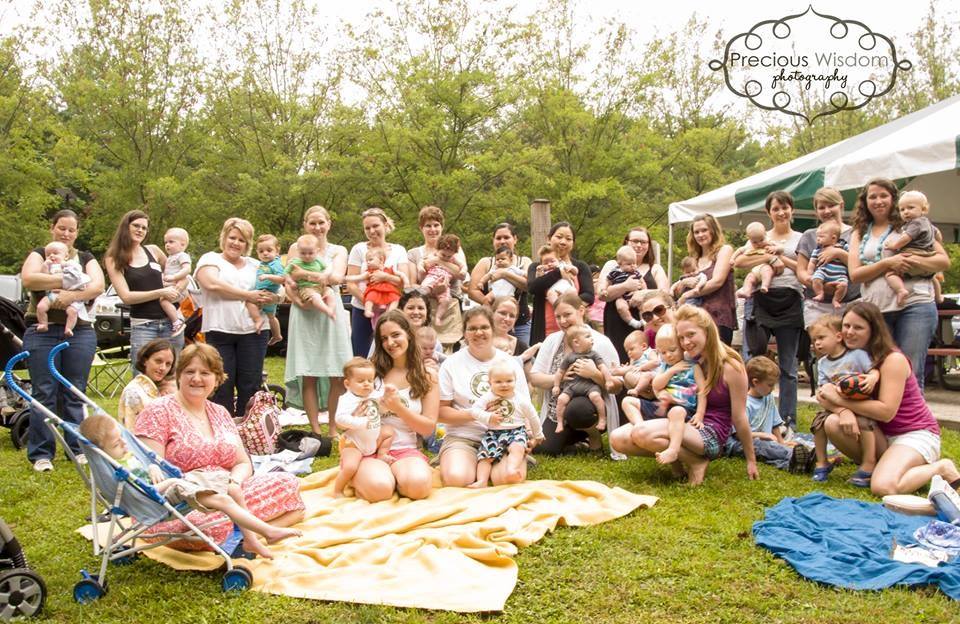 Preceding the official Latch-On on Saturday will be a "flash mob" Latch On Friday morning at 10:30 (arrive at 10:00) in the Potomac Mills Mall playground (in neighborhood 2, near TJ Maxx). For details on both events, see the event Facebook page and click "See More."
And if you're looking for a from-a-distance way to connect with your inner nursing goddess, or if you want a good laugh about other moms trials and tribulations with breastfeeding, enter the Goodreads giveaway for the anthology Have Milk, Will Travel: Adventures in Breastfeeding. I've got an essay in the collection about what my nearly three-year-old had to say about my breasts after jogging and another about my first (somewhat thwarted) attempt to for a retreat of just a few hours when he was a baby.
I'm so grateful to the Breastfeeding Center of Greater Washington for helping me get through those early nursing challenges so that I could go on to breastfeed my son for three years (see us illustrating the word "Toddler" on the wonderful "Nursing Our Future" video from Holistic Moms Network) and to then confidently nurse my daughter when she came along a year after that.