If you've noticed a challenge feeling balanced during these busy back-to-school fall months, the wisdom of the ancient healing science of Ayurveda might shed some light on the cause.
Today's guest post about fall, the vata season, comes from Ileana Gonzalez of Apurva Ayurveda Healing in Vienna, Virginia.
Although the seasonal change is subtle, it can have a big impact on the mind and body.
As the seasons transition, our mind and our body also experience a transition, as they adjust to the inevitable changes that nature brings with it. This adjustment period is normal, and vital, but it can also lead to certain imbalances if we don't manage and ease into the transition.
Autumn is known for the decreasing temperatures, the increasing winds, and the overall instability of the weather. Vata, the air and space energy (or dosha), intensifies during this time, leaving our mind and body dry, cold, and unstable.
In our culture, it is normal to start the bulk of our activities during these months. The kids go back to school, they have more activities (sports, schoolwork, and hobbies).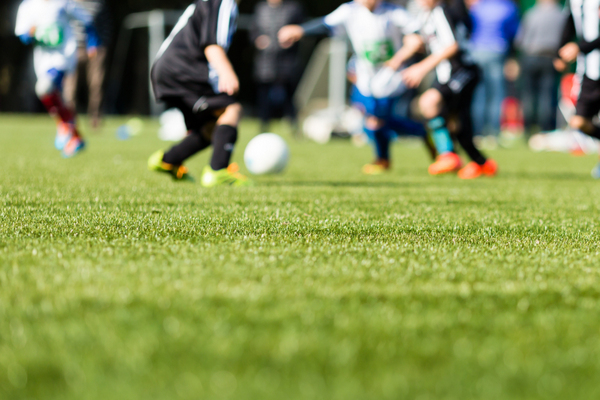 Your job becomes more demanding with deadlines and objectives. But if you observe nature, you will see that animals actually prepare to wind down and hibernate during the cold months. This anti-nature behavior we adopt actually leads to a lot of imbalances in our mind and body.
Perhaps you have the beginnings of a cold, or maybe you get more frequent headaches and are more moody during this time. Your skin becomes drier, your hand and toes are more sensitive to the cold. All of these things are just a way for your mind/body to adjust to the changing season. Even our cravings change. We crave "comfort" foods like soups, stews, and sweets.
The good news is that our mind and body were designed to adjust to these changes. We just need to "tune in" and manage the adjustment so that it is easy, smooth and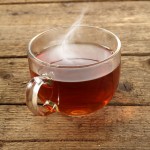 leads to balance. In ayurveda, this management is easy if you apply the simple rule of "like increases like."
Because vata is cold, dry, light and mobile (unpredictable, unstable), we have to add warmth/heat, oily/unctuous, and predictable/stability to our lifestyles and diets. If you master this principle, your transition from one season to the next will be a lot easier!
Keep this principle in mind when you prepare the kids' meals/snacks. Choose grounding foods that are heavy, warm, and sweet like rice, sweet potato, and dairy; avoid raw, cold and dry foods. Download this great vata shopping list.
A great way to cut down/prevent on the colds and sniffles kids get this time of year: dab a Q-tip in warm sesame oil and place in the ears and nostrils daily after their bath. This will not only help to keep the area germ-free, it will also lubricate and nourish the area. If your child is prone to vata-like imbalances (dry cough, change in sleep pattern, constipation), try giving him an oil massage using warm sesame oil; the more often you do this, the better. A few minutes before a bath is best, but you can also do it at bedtime.
Something the whole family can practice during this time of year is savasana, or corpse or dead man's pose. Lie flat on your back, legs and feet apart, palms up at your side. Breathe and surrender for at least 5 minutes. Guaranteed calm! Drink warm milk with a sprinkle of nutmeg, and enjoy a little quiet time before bed. This will help everyone get a good night's sleep.
As for the grownups in the house, it is normal to feel less concentration, insomnia, and chronic fatigue with the increase in vata energy. For them, I recommend a wonderful vata-pacifying therapy called shirodhara. It is designed to directly activate the ajna chakra, thereby affecting the mind in a profound way. It provides mental clarity, decreases heart rate, decreases blood pressure, and an overall sense of calm and rest. Most people fall asleep during the treatment!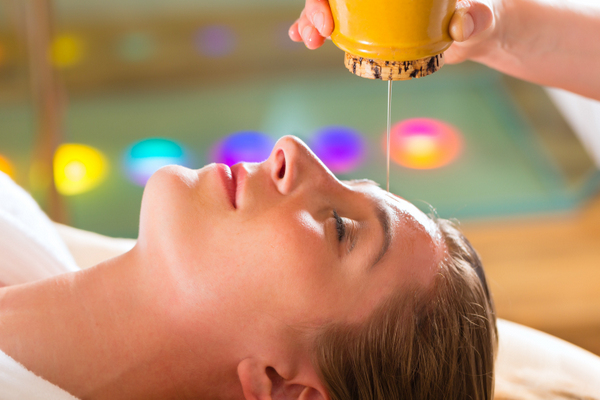 This treatment, as well as other vata-pacifying techniques, is available at Apurva Ayurveda Healing in Vienna, Virginia.
Lastly, don't forget to increase seasonal fruits veggies—nature's way of helping us through this transition. Look to squash and root veggies such as sweet potato. Mmmmm. So grounding and nourishing. Try Monica B.'s recipe from Hey Monica B: A Blooming Resource on Ayurveda for Roasted Root Veggies with Garlic & Rosemary.
Any mix of root vegetables like butternut squash, potatoes, sweet potatoes, carrots, beets
Olive oil
Garlic cloves
Rosemary sprigs
Salt and black pepper to taste
Directions:
Chop the root veggies into bite size chunks and place in a pan.
Drizzle with plenty of olive oil because when cooked it will caramelize and turn extra yummy.
Bake at 350 degrees for 30-40 minutes uncovered
Thanks to Ileana for this guest post!
Updated in October 2017 with Apurva's new location
For more tips on balancing during vata season, check out these articles at Chopra Centered Lifestyle or Yoganonymous.