Here in Metro DC, we have a long growing season. Potatoes can go into the ground in mid-March and can be harvested late into fall. In early November, my children and I pulled up sweet potatoes, carrots and beets. There was chard, kale, beets and lettuce in the garden, and a handful of peas. Dinner that night and breakfast the following morning included just-picked parsley and chives. My son kept saying, "I just can't believe what a great sweet potato harvest that was!"
For now, with this mild weather, lots of greens are still doing well uncovered. However, it will get a little harder to grow without cold frames or a green house, but it's easy to stay busy this winter learning and planting. Check out these gardening and eco-themed activities and resources throughout the year to support super-local eating!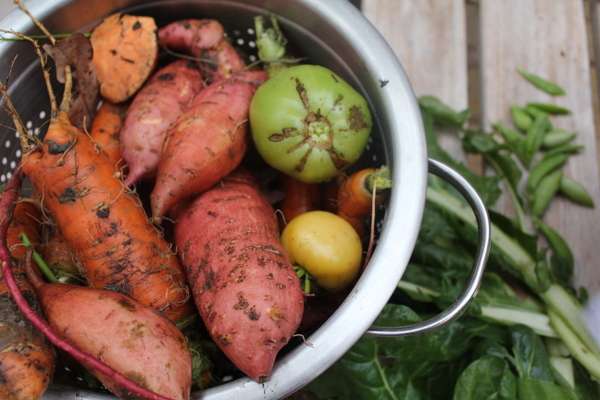 Upcoming events:
On Monday, December 7, there will be the fourth APS School Garden Meetup, this time at Abingdon Elementary, 4:00-5:00 p.m. Arlington Public Schools has begun a series of School Garden Meetups the first Monday of most months from for sharing, networking and touring spaces. Details at http://bit.ly/1NoTGYv 
On Monday, January 11, 2016, the APS School Garden Meetup is going indoors to focus on energy conservation, energy efficiency and renewable energy. Included will be an overview of the brand new Arlington Schools Green Action Awards. RSVP for the January 11 Meetup, 4:00-5:00 p.m. at Langston Brown Community Center, at goo.gl/5JDVYG
There are lots of gardening consulting companies to help you get started gardening or to take your gardening to the next level. Local companies include:
Also consider the Juice Plus Tower Garden as an option for growing.
Other winter-friendly and family-friendly ideas for eco-awareness
Order seed catalogs and plan your garden. Great way to use math!
Talk about how animals find food in winter, as described in this Rooting DC post about DC's Lafayette Elementary School
Visit a nature center
Connect with local farmers and offer organizational help
Connect with local organizations like
Tour a local farm, like Sally Fallon Morell's P.A. Bowen Farmstead
For more support with gardening and all things outdoors, check out:
And for gardening in schools through the DC area and especially in Virginia, see this FAQ document put together for the APS Growing Green Schools event that took place in April 2015. It includes links to several local agencies and organizations that deal with school gardening all around the DC area.


Jessica Claire Haney is the founder, publisher and editor of Mindful Healthy Life. She is a writer and editor and a co-leader for the Arlington/Alexandria chapter of Holistic Moms Network. Her personal blog is Crunchy-Chewy Mama and her writer's site is JessicaClaireHaney.com. See the Contributors page and Jessica's Mindful Healthy Life Q&A for more on Jessica.

Speaking of gardens, check out our December 2015 giveaway of Garden of Life supplements!