More than 30 experts are sharing their expertise on health & motherhood in a free online summit that starts September 10 and runs daily with new content through September 16. The Pregnancy & Motherhood Summit covers a wide variety of issues to promote healthy families and support women's health, through pregnancy and well beyond!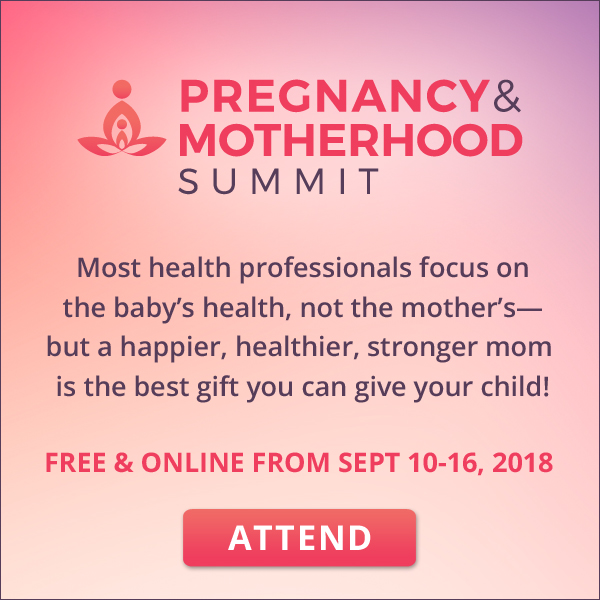 This Motherhood Summit will teach you about:
Properly preparing for all phases of motherhood to minimize health struggles
Learning natural ways to overcome stress, depression and anxiety
Latest advice on exercising (especially strength exercises!)
How to accept and listen to your body at all ages
And much more!
Listening in on this summit is a great gift to yourself and your family.
Did you know?
Many think prolapse only affects elderly women, but it impacts 1 in 3 moms
1 in 7 mothers have postnatal depression
+90% of women don't start prenatal vitamins at least 3 months prior to pregnancy
1 in 10 pregnant women have antenatal depression
3 out of 4 mothers have a birth-related "core" pelvic injury later in life
Sharing this information with your circle of moms will help them feel supported and knowledgeable. We need to help one another!
Here's a quick look at the summit lineup! Be sure to register to have it delivered to you each day!
Monday, September 10: Gut Health
The gut is the center of our immune system. Don't miss hearing from The Paleo Mom Dr. Sarah Ballantyne, Donna Gates of the Body Ecology Diet and so many more.
Tuesday, September 11: Pregnancy Health
Wednesday, September 12: Birth, Babies & Beyond
Thursday, September 13: Environmental Health
Friday, September 14: Fitness
Saturday, September 15: Pelvic Health
Sunday, September 16: Hormone Health & Mental Health
Register to attend this free, online event through the Mindful Healthy Life affiliate link: bit.ly/PregnancyMotherhoodMHL
After you've registered, you'll be given the option purchase the summit contents to enjoy at any time!
If you want to hear all the experts for free, clear your calendar and start listening now!
This post contains affiliate links. Purchases made through the Mindful Healthy Life affiliate link result in a commission. Thank you for your support of this site!

Jessica Claire Haney is the founder, publisher and editor of Mindful Healthy Life and the author of its Guide to Holistic Family Living in Metro DC. Jessica founded the Arlington/Alexandria Chapter of Holistic Moms Network, volunteers on school wellness issues, and is a Beautycounter consultant and a doTERRA Wellness Advocate.  Follow on Facebook at MindfulHealthyLife, on @Twitter @MindfulHealthy and on Instagram at @mindfulhealthy.