The National Press Club hosted an Interdisciplinary Summit on Children and Screen Time November 1 with several pediatric media experts who have been involved in the first-ever special supplement to the journal Pediatrics on the issue of children and screen time. The non-profit organization Children and Screens: Institute of Digital Media and Child Development convened the summit and sponsored the Pediatrics supplement.
Amy Joyce, editor of the The Washington Post's "On Parenting" section, moderated the panel discussion with:
Pam Hurst-Della Pietra, DO, Founder and President, Children and Screens: Institute of Digital Media and Child Development and Clinical Assistant Professor in Health Care Policy and Management, Stony Brook Medicine
Dimitri Christakis, MD, MPH, Director of the Center for Child Health, Behavior and Development, Seattle Children's Hospital Research Institute and Professor of Pediatrics, University of Washington
Kathryn Montgomery, PhD, Founder, Center for Media Education and Director of Communication Studies, American University
Kaveri Subrahmanyam, PhD, Chair, Department of Child & Family Studies at California State University, Los Angeles and
Associate Director of the Children's Digital Media Center, UCLA/Cal State LA
Ellen Wartella, PhD, Professor of Communication, Psychology, Human Development, Social Policy and Medical Social Sciences and Director, Center on Media and Human Development at Northwestern University
Dr. Christakis and Dr. Wartella also serve on Children and Screens' National Scientific Advisory Board.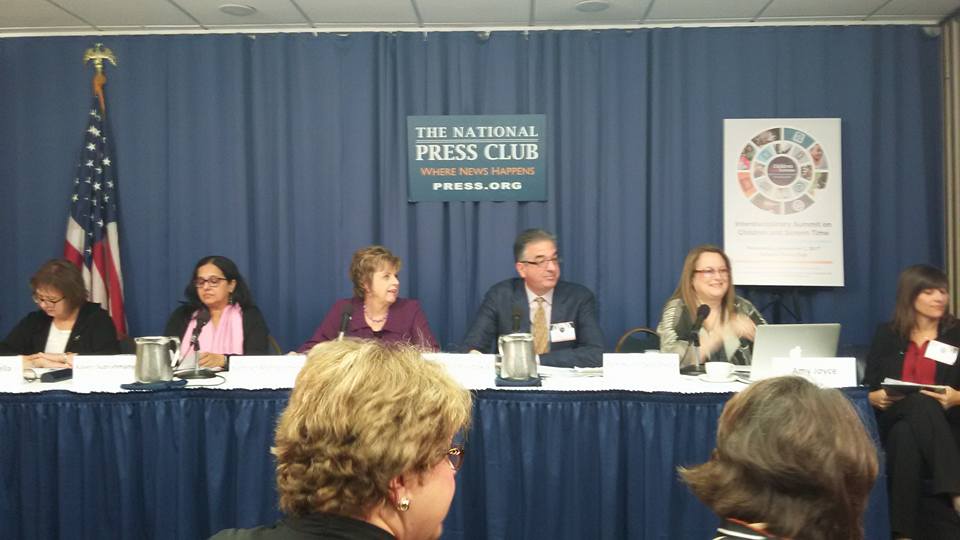 Each participant shared her or his background as a researcher, medical professional and parent and provided key takeaways from the voluminous findings parents and educators can delve into more deeply by reading the special supplement .
Topics covered in the supplement released on November 1 include the following:
Digital Screen Media and Cognitive Development
Media Multitasking and Cognitive, Psychological, Neural, and Learning Differences
Benefits and Costs of Social Media in Adolescence
Digital Life and Youth Well-being, Social Connectedness, Empathy, and Narcissism
Digital Media, Anxiety, and Depression in Children
Internet Gaming Disorder in Children and Adolescents
Virtual Reality in Pediatric Psychology
Digital Media and Sleep in Childhood and Adolescence
Screen Media Exposure and Obesity in Children and Adolescents
Digital Media and Risks for Adolescent Substance Abuse and Problematic Gambling
Small Screen Use and Driving Safety
Parenting and Digital Media
Children's Privacy in the Big Data Era: Research Opportunities
Developing Digital and Media Literacies in Children and Adolescents
Digital Media, Participatory Politics, and Positive Youth Development
Digital Inequality and Developmental Trajectories of Low-income, Immigrant, and Minority Children
Global Perspectives on Children's Digital Opportunities: An Emerging Research and Policy Agenda
Screen Violence and Youth Behavior
Defining Cyberbullying
The Effect of Advertising on Children and Adolescents
Social Group Stories in the Media and Child Development
Sexual Media and Childhood Well-being and Health
It has been 10 years since the debut of the iPhone, four years since the founding of Children and Screens and two years since the organization and the National Academy of Sciences convened a national conference that led to more than 20 working groups with 140 experts on the topic of the effect of screens on children.
The main questions researchers set out to answer were:
1. How is digital media enhancing or impairing children's ability to live happy, healthy, and productive lives?
2. How are years of electronically mediated interactions shaping children's physical, cognitive, emotional, and social development?
3. What should we do about it?
After the introductions at the November 1 summit, Amy Joyce asked the panel several questions. At the conclusion of the hour program, the audience had a chance to ask questions.  The conversation was complex and illuminating. Here are some highlights from a few of the areas covered.
Media as environmental health issue
Let's consider children's exposure to media the way we consider their exposure to toxins like lead or substances that can be helpful at some levels but toxic at higher levels. If we took this approach, we might be further along in the conversation. We consider the health and quality of the air children breathe and the safety of the playgrounds they use. It's important to consider the needs of the most vulnerable and to acknowledge differential susceptibility.
Children are having direct experiences with technology that affect their physical, social and cognitive development. Additionally, screen time is replacing or displacing other kinds of experiences that children have traditionally had. It is important to consider not just what screen time is adding to their lived experience but also what it is taking away.
Research and Public Policy
Children and Screens accepts no funds from any industry groups to ensure that there is no bias in the scientific evidence process. Several concerns were raised about need for additional funding for research. There is no research on children and screens currently being conducted by the National Science Foundation or the National Institutes of Health. Efforts in the early 2000s to get a bill through Congress to fund research were not successful.
It takes a long time to study the effects of anything on any group, but research is especially difficult when technology changes so quickly. It may be 10 years before we know the effects of the kind of multitasking that adults and children engage in so frequently now. So far there are two studies that associate media multitasking with lower academic outcomes. Multitasking, contrary to popular opinion, actually decreases efficiency and makes the learning of new tasks or new content more difficult.
The effectiveness of reading on screens is unclear; research so far does not point to evidence that it is worth what we are investing in it. Some studies show that those who take handwritten notes score better on assessments than those who type notes. The national scientific research agenda needs to include these important areas of investigation.
Comparisons were made to the European Union, where regulations are going into place next year, and to Canada, where there is a greater public awareness of the effect of food marketing to children and more efforts made to curtail it so as to decrease obesity rates. There was a call for more public policy and discussions.
It took 20 or more years after the beginning of widespread television use for regulations on marketing to children to come into play. It would help if companies would become more responsible in developing new technology, such as creating ways for devices to turn off after too long of use.
Reasons for concern
Although every generation has looked on new types of technology – including newspapers, radio and television – with some amount of skepticism, most complaints lessen over time. The difference with the the rise of the use of smart phones is that this technology is disruptive because it is mobile – everywhere all the time, unlike the TV in the living room – and it has multiple uses, including for entertainment, information, communication and interaction.
We know that background television reduces interaction between children and caregivers and impacts how children play with toys. What is the impact of adults interacting with screens on a wide scale and with children interacting with screens instead of toys or peers?
Consider the impact on the development of empathy in an environment when children are having fewer in-person and face-to-face interactions with people and relying more on screen-based interaction, including texting and other forms of messaging. A reference was made to a study from Boston Medical Center that found an increase in negative interactions related to screen use. Consider "Alexa, Are you safe for my kids?" a recent NPR report on the effect on smart devices on children.
It was also noted that it is very difficult for many of us to be fully present with someone in person without distraction and that we need to be vigilant to make changes in our behavior so this does not become the norm. See the 2015 book Reclaiming Conversation: The Power of Talk in a Digital Age by MIT professor Sherry Turkle.
The role of schools
Panelists and audience attendees noted the problem of schools encouraging continuous use of devices through a lack of clear policy on personal phones and/or through promotion of devices such as in 1:1 programs that give all students access to an iPad or laptop. References were made to the 1:1 debacle in Los Angeles in 2013-14 that showed this is not the right approach to take. For coverage of that issue, see reports from Wired and NPR.
Local note: In Arlington Public Schools, there will be a forum on November 15 on Acceptable Use with the 1:1 Technology Initiative.
Some schools and even universities or individual professors have no-tech policies in the classroom, but in other places, cell phone use during class for non-educational use is rampant, as is use during lunch, traditionally an important time for in-person social interaction.
The role of parents
Children learn from their parents, so it's incredibly important for parents to be mindful of their usage of technology and screens of all kinds to model safety and intention and to help their children learn to set appropriate boundaries in their own use.
Panelists noted that the issues parents face today are very different than in years past. Connections now matter more than ever. It is very important for parents to carve out time and space to connect with kids without screens as part of the picture. It is also important for parents to be in conversation and be connected with children regarding their screen use including playing games together and watching and discussing media together. Parents are the ones who create the environment in which children learn how or how not to use technology responsibly.
Apps like "Moment" can track device usage for an individual or a family, which can be helpful. However, while parents can use apps to monitor and even control children's screen use from afar, it's important to be present and engaged and help children develop the capacity to monitor themselves, set their own healthy boundaries and learn how to stick to their limits without relying on an app.
Other resources
In addition to all resources referenced above, readers may want to check out these resources referenced in discussions that followed the presentation:
Final thoughts
Although all panelists acknowledged that technology can bring tremendous benefits, they all emphasized its risks and the need to take action to protect children's health. Make no mistake: this is serious. The headline of the press release for the summit read: "Pediatric media experts raise concerns about growing health crisis: children and screen time."
Technology is not going away, and it is up to us as parents and educators to ensure that it does not harm children or lead them to harm others. Attendees left with a packet of information from Children and Screens and lots of to think about.
The summit was eye-opening and inspiring for me to continue to explore this issue in my own home life and to advocate for mindful practices in public schools.
I encourage parents and educators to follow the work of Children and Screens and to take the time to read through the Pediatrics supplement and discuss their findings, experiences and questions, with partners, with other parents and educators, and in a developmentally appropriate way with children.

Jessica Claire Haney is the founder, publisher and editor of Mindful Healthy Life and the author of its Guide to Holistic Family Living in Metro DC. Jessica volunteers on issues related to wellness in public schools and was the founder of the Arlington/Alexandria Chapter of Holistic Moms Network. A writer working on her first novel, Jessica offers copywriting, editing, writing coaching and holistic business consulting services.  Learn more at JessicaClaireHaney.com and in Jessica's Mindful Healthy Life Q&A. Follow Jessica on Facebook at MindfulHealthyLife, on @Twitter @MindfulHealthy and on Instagram at @mindfulhealthy. Jessica's personal blog is Crunchy-Chewy Mama, on Facebook at CrunchyChewyMama and on Twitter @CrunchyChewy.