With its many fitness studios and holistic-minded businesses and organizations, Alexandria's Del Ray neighborhood is a natural place to host a day of events and activities that support health and wellness. On Saturday, June 24, the Del Ray Business Association will put on Well Ray, a day of free classes, demos, and talks with ample opportunities to meet vendors from the community and learn how to be healthy and well.
Make Well Ray a solo day of self-care or bring your kids to expose them healthy habits and learn together. There is something for everyone, many times over!
The event runs 9 a.m. to 1 p.m. and will go on rain or shine. The rain location is the Mount Vernon Recreation Center at 2701 Commonwealth Avenue.
Who's behind Well Ray?
Well Ray was first conceived of as a Health & Wellness-themed First Thursday event. Mind the Mat was on the committee for that event. Since Del Ray is such a wellness-focused community, the yoga and pilates studio wanted to put on an event to bring many groups together. The goal was to "help make people happy and well," said Megan Brown of Mind the Mat, who added that Del Ray really is "well ray – a healthy, supportive community."
Patterned after Love Your Body Yoga Festival, an annual event organized by Beloved Yoga in Reston, Well Ray was initially privately-run but always intended to be a collaborative event. This year, the planning team has broadened to include members of the Del Ray Business Association, making this a true community collective effort. The event intends to be be the next Art on the Avenue with a wellness focus.
Well Ray partner Running Brooke is a non-profit organization that advocates for children's health, inspiring Alexandria's at-risk youth to learn and sparking their learning for success in school and in life. Founder Brooke Sydnor Curran will be speaking 11:30 on the Speaker Stage about her mission alongside Rob Krupicka, who will be also shedding light on the topic of mental wellness.
Megan noted the importance of being open about the fact that mental illness is a health issue. Mindfulness can be tremendously helpful in treatment of mental illness, and yoga has a signficant mindfulness component.
Local artist Nancy Belmont created the SOAR community art project, an interactive public art project that encourages people to identify and let go of their unseen burdens so they can become more free. They can write their burden on a rock and then let it down and replace that burden with an origami bird, ready to soar.
The SOAR installation began at the June 1 First Thursday will close at the end of Well Ray, at 1:00. Del Ray resisdents felt the importance of the project became even greater after the shooting of the congressional baseball team right in the heart of its community, as referenced in this June 15 Washington Post article.
Learn more about the SOAR project's origins here and go here to donate to the project.
Well Ray is made possible by the Jen Walker Team.
Where is Well Ray?
The day's happenings will occur in two main places:
Near the Well Ray Lot will be these two attractions:
Ascend Cycle Deck at 2413 Mt. Vernon Avenue with 30-minute outdoor cycle classes on the hour
Speaker Alley next to Ascend Cycle at 2413 Mt. Vernon Avenue with speaker talks (no registration)
Another location of activity will be the Del Ray Farmer's Market, a year-round market. The market is a participating member of this year's event with many vendors selling locally made goods and produce.
There will also be cooking demos at the market with Celebrity Chef and Ironman Will Artley, Switch Dr Juice and the Neighborhood Restaurant Group.
Healthy snacks will also be available courtesy of MOM's Organic Market.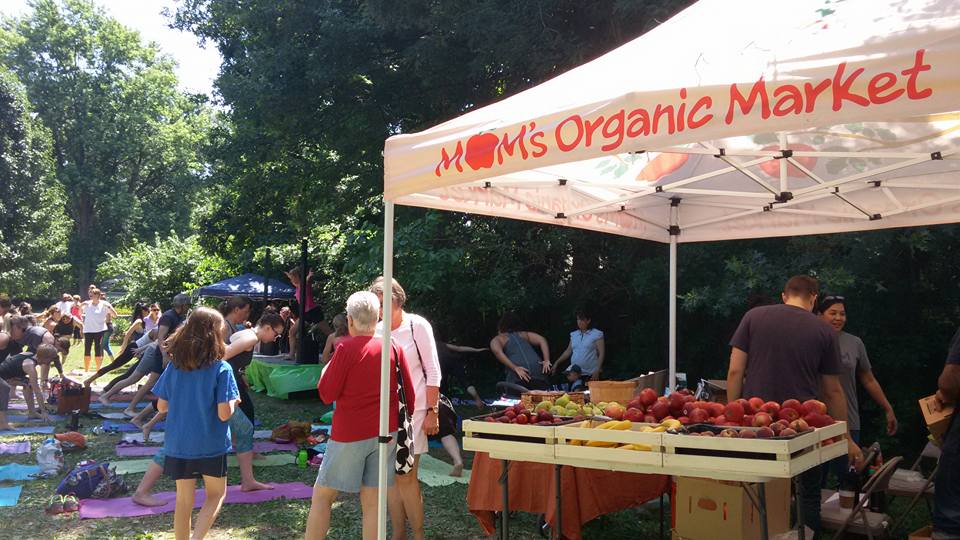 Note that the Alexandria MOM's store will be closed June 20 through July 6 for a renovation and expansion. Enjoy the grand reopening July 7-9.
Over 50 other vendors are participating in the event, some selling items and others offering services. Vendors are listed on the Well Ray website at www.wellraydelray.com under the headings Explore, Heal, Move, Taste and Listen.
For the Kids
In the schedules below, listings in bold & italics are likely to be of particular interest to children and families. A few to note
Be sure to go to the schedules pages to register for classes on Eventbrite.
Also near the Well Ray Lot will be the Board Bus and DC Wheels. Look for skateboarding demos all morning long and emphasis on having fun and making it cool be be safe!
New this year is the Nats van from the Washington Nationals baseball team near the Well Ray Lot.
As noted above, there will be food available at the farmer's market and from the MOM's tent as well as from the South Block Kale Yeah! truck, Momme Meals snacks at Mind the Mat. And there are plenty of restaurants in Del Ray, including several that feature locally-sourced ingredients.
Territory (formerly My Power Supply) is participating in Well Ray this year by feeding all the volunteers!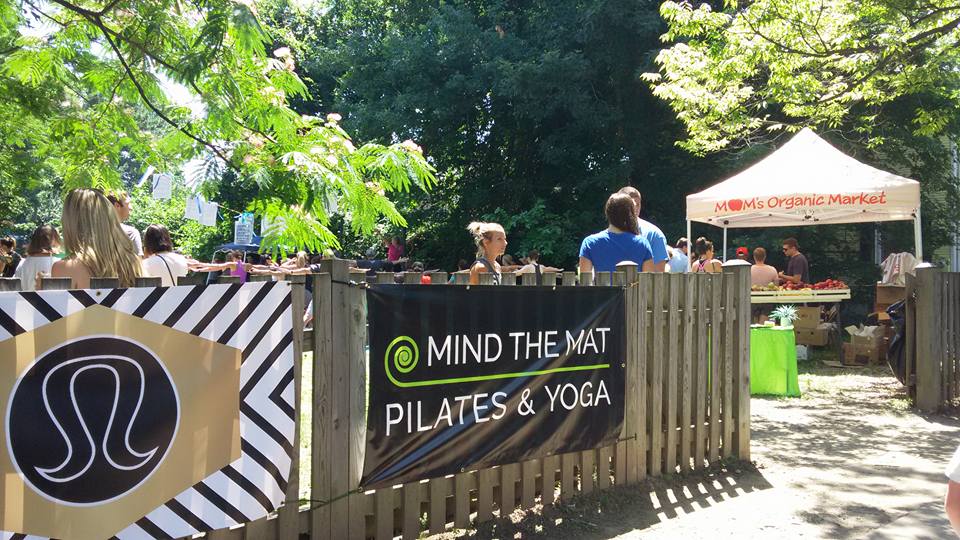 Schedule of Activities
Participants are encouraged to plan their day and sign up for the specific classes they want to take at Eventbrite. Links to each Eventbrite event and to the sponsoring organization or business can be found on each page of the Well Ray Schedule.
Classes last for 30 minutes.
Well Ray Lot
Sign up here to participate in the following classes:
9:00: Ann Kite 5 Rhythms Dance Class
9:30: Tippi Toes Dance Class for Kids
10:00: Potomac Kempo Karate Class for Adults & Kids
10:30: Studio Body Logic Pilates Apparatus Class
11:00: PK Move – Parkour for All
There will also be:
11:30-12:00 Velocity Bicycle Co-Op: Del Ray Celebrity Big Wheel Showdown
12:00-12:30 DC Wheels Skate & Safety Demo
12:45-1:00 Closing Meditation

Bean Creative Field
Sign up here to participate in the following classes:
9:00: Yoga with Yoga in Daily Life
9:30: Mind the Mat Pilates Boot Camp
10:00: Fit4Mom Fitness for moms and kids
10:30: Yoga with Mind the Mat and Ease Yoga & Cafe
11:00: CrossFit MVA
11:30: Foundation Fitness
12:00: Orange Theory Fitness
12:30: Kids Yoga with Downward Dye
The SOAR community art project will also be going on, closing at 1:00
Ascend Cycle Deck
There will be 30-minute classes on the hour – at 9, 10, 11, and 12 – at the Ascend Cycle Deck at 2413 Mt. Vernon Avenue. Sign up here.
Speaker Alley
9:00: Pediatric Associations – "Safe Summer Fun"
9:30: Vessence – "Live Courageously"
10:00: Healing Tree – "Understanding Your Back Pain
10:30: Wise Light Wellness – "Essential Oils for Wellness"
11:00: Solutions PT – "Running Injury-Free"
11:30: Running Brooke & Rob Krupicka on wellness for children and mental health
12:00: Walter Lewis Fitness Studios – "Discovering Your Why for Exercise"
12:30: Vital Body Mind – Feldenkrais Method Demonstration
Vendors available at their permanent locations include Core Wellness & Physcial Therapy and Neighborhood Pharmacy.
Whether you manage to make a class every half-hour or you drop in just to one and meet some vendors, Well Ray is sure to offer lots of opportunity for supporting family wellness.
Disclosure: Mindful Healthy Life is proud to be an in-kind sponsor of Well Ray. This post was written as part of that sponsorship.
All photos except Well Ray logos copyright Mindful Healthy Life.

Jessica Claire Haney is the founder, publisher and editor of Mindful Healthy Life and was the founder and a longtime leader of the Arlington/Alexandria Chapter of Holistic Moms Network. Jessica is a writer who is working on her first novel. She also offers copywriting, editing, writing coaching and holistic business consulting services. Learn more at JessicaClaireHaney.com. Jessica volunteers on issues related to wellness in public schools, as described in her Mindful Healthy Life Q&A. Follow her on Facebook at on Facebook at MindfulHealthyLife, on @Twitter @MindfulHealthy and on Instagram at @mindfulhealthy. Her personal blog is Crunchy-Chewy Mama, on Facebook at CrunchyChewyMama and tweeting @CrunchyChewy.
—