Arlington held its first event commemorating Clean Air Awareness Month and Allergy & Asthma Awareness Month on Monday, May 1 at the Arlington County Central Public Library with more than 80 attendees.
As we explained in our event preview post, the event was organized by volunteers on the Environmental Health & Asthma Subcommittee of the APS School Health Advisory Board with community partners, including Arlingtonians for A Clean Environment, Arlington Transportation Partners & Bike Arlington, American Lung Association, Moms Clean Air Force, SolPlay Adventures and APS Superintendent's Advisory Committee on Sustainability.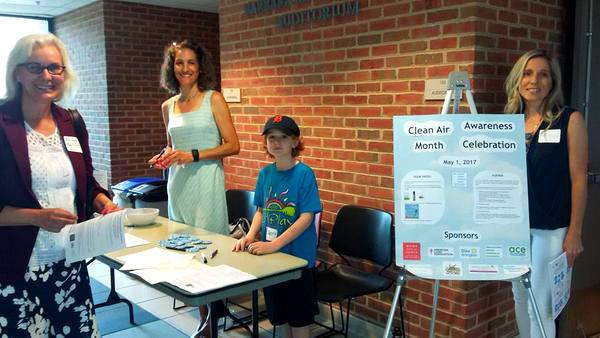 Attendees, who included students, parents, school teachers and administrators and community members, got to enjoy refreshments and enjoy looking over the creative Public Service Announcements promoting clean air.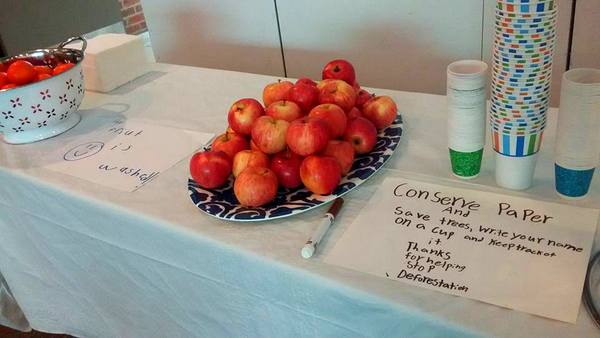 Event speakers described the work of their agencies and groups to address children's health and the environment. At the beginning of the event, I called on the memory of Woodsy the Owl's slogan, "Give a Hoot, Don't Pollute" and encouraged us all to think about what we put out into the air, not just what we reuse, recycle or throw away instead of throwing on the ground.
Dr. Sam Stebbins of School Health was the first speaker. He talked about the rise of asthma in APS, where 9% of students suffer from this illness. He talked about the importance of indoor air quality relating to asthma but focused on outdoor air quality, emphasizing the need to turn off engines and to avoid vigorous activity on orange and red air quality days. He referenced the State of the Air report by event exhibitor the American Lung Association that still gives Arlington an "F" for its air quality because of ground-level ozone, noting, however, that the numbers were slightly improved from prior years.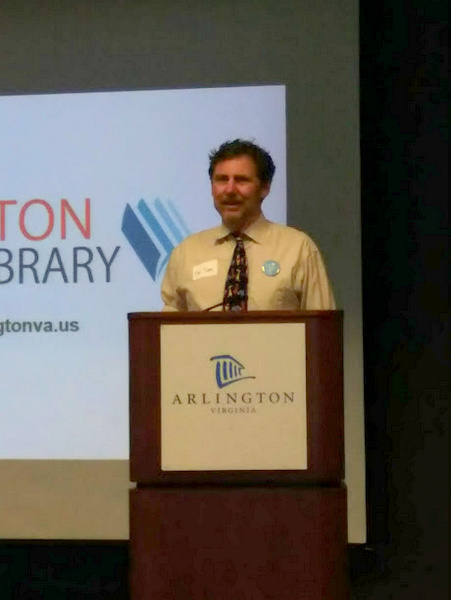 Elizabeth Denton of Arlington Transportation Partners (ATP) talked about efforts to get more APS students and staff to walk, bike or use mass transit to get to school reminding everyone that May 10 is Bike to School Day and May 19 is Bike to Work Day! ATP works with Bike Arlington and Safe Routes to School and honors Green School Champions for their commitment to sustainability.
Elenor Hodges of Arlingtonians for A Clean Environment (ACE) talked about raising awareness about environmental issues in the community and noted that our actions today are in service of the health not just of our children but of our children's children, and beyond.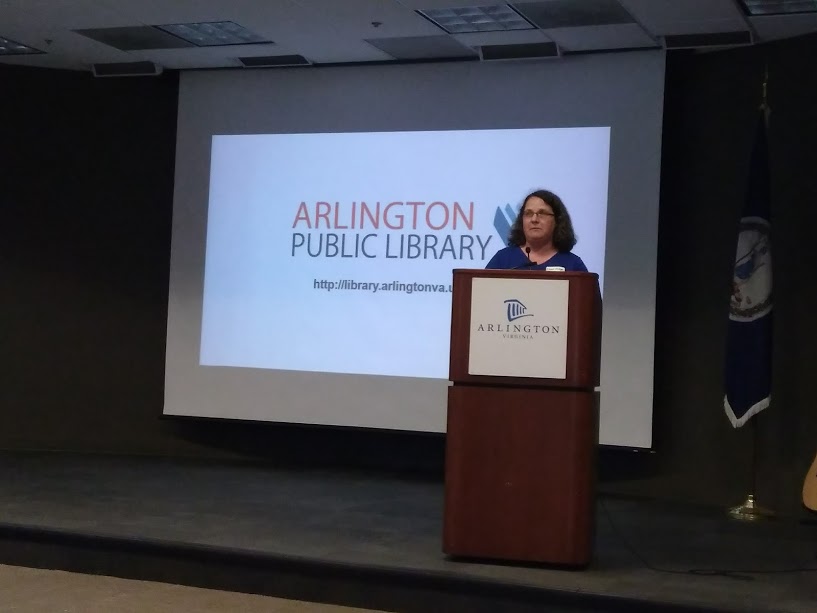 Levi Novey, Vice Chair of the APS Superintendent's Advisory Committee on Sustainability (SACS), described the new Sustainability Liason program in Arlington in which 10 schools were granted a stipend for a teacher or staff member to lead up sustainability-related projects in the school. The group also organized a Green School Action Award program for the second year. A few days later, the committee recognized award winner Campbell Elementary for its Big Bad Basil expedition, which was recently featured on APS Green Scene.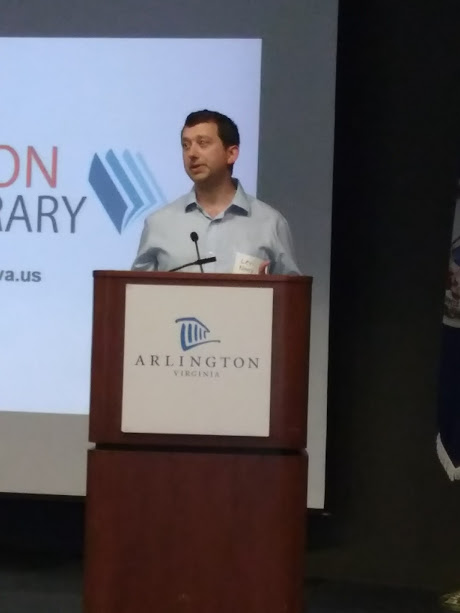 School Board member Dr. Barbara Kanninen talked about the many ways APS students are learning to be environmental stewards through hands-on project-based learning at many schools, including study of the water cycle and field trips to the Outdoor Lab. She noted the EL Education model adopted by Campbell Elementary and the opportunity for all students across APS to take environmental science classes in the high school.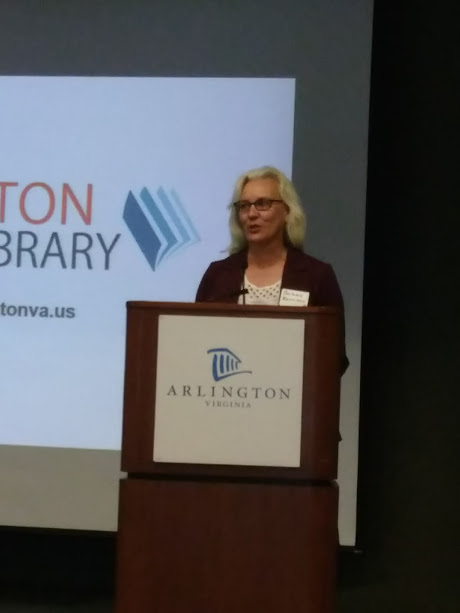 Dr. Kanninen also talked about how Discovery Elementary is not only a net-zero school but is actually producing more energy than it is using and that all new APS schools will have green initiatives in place for construction. A new power purchase agreement to use solar power in APS is in the works. "It takes a village" to create change, she said.
Arlington County Board Vice Chair Katie Cristol had addressed many of these issues the previous Saturday morning at a Climate March pre-rally organized by ACE and the Mount Vernon chapter of the Sierra Club, which donated I (Heart) Clean Air buttons for Monday's event. Cristol talked about the importance of taking measures that make environmental and fiscal sense and the power of each individual parent to make a difference in the school pick-up line by turning off the car's engine.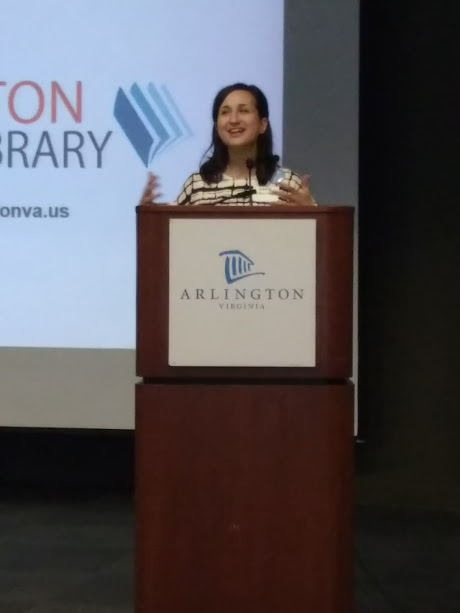 After the speaker portion, everyone enjoyed a movement break led by librarian Mariela Aguilar with storytelling Jennifer Viau.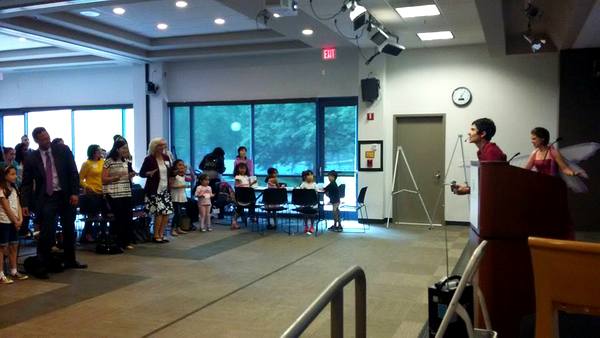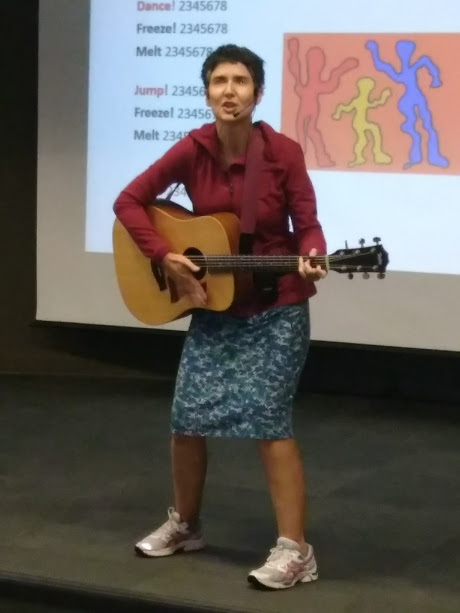 Then Superintendent Dr. Patrick Murphy handed out certificates of recognition to the many students across various APS schools who had participated in the Clean Air Challenge and submitted creative Public Service Announcements promoting clean air. Each student was congratulated by Dr. Murphy, Dr. Kanninen and Katie Cristol.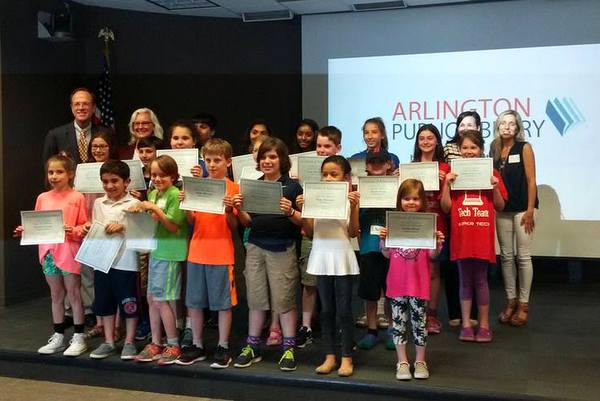 The event closed with a screening of the four videos submitted by students at Ashlawn, Campbell, Claremont and Drew elementary schools. EHAS co-chair and event co-organizer Amy Thomas and I then handed out and door prizes donated by partners and exhibitors, including Amy Thomas Design, Mindful Healthy Life, Moms Clean Air Force and SolPlay Adventures.
Moms Clean Air Force also donated copies of its new book, Every Breath We Take, to the host library and to the libraries at Ashlawn and Claremont, where groups of students produced collaborative videos.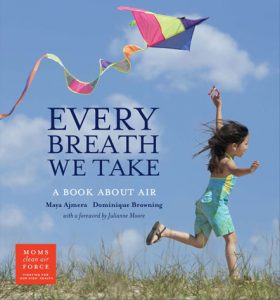 After the conclusion of the formal program, children got to color and craft and enjoy storyteller Jennifer Viau interpreting her original work, The Dragon of Nerudan – Puff Puff Wheeze Spark!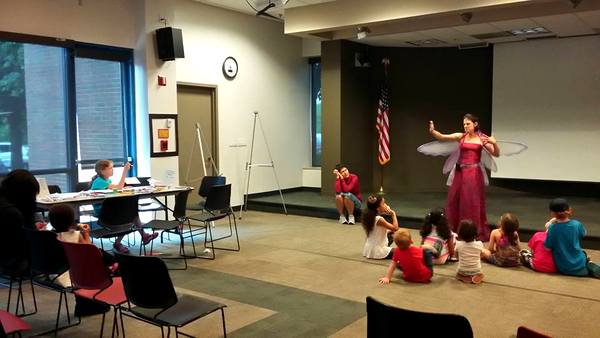 Adults got to connect with one another and with the exhibitors.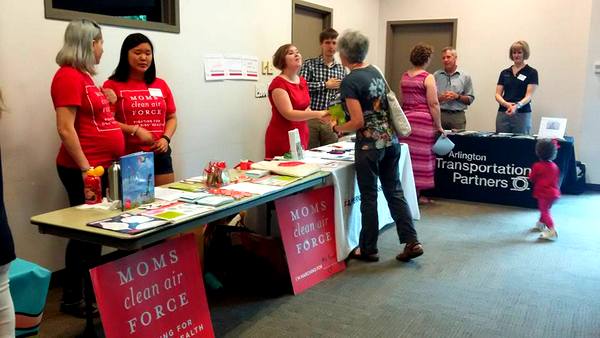 Anyone interested in learning more about health initiatives in Arlington can do the following:
Also check out the following upcoming events:

Jessica Claire Haney is the founder, publisher and editor of Mindful Healthy Life and was the founder and a longtime leader of the Arlington/Alexandria Chapter of Holistic Moms Network. Jessica is a writer and editor who is working on her first novel. Find information about her writing, about the editing and business consulting services she offers, and about her upcoming spring 2017 appearances at local events at JessicaClaireHaney.com. Jessica also volunteers on issues related to wellness in public schools, including as an organizer of this Clean Air Awareness Event. Her personal blog is Crunchy-Chewy Mama, on Facebook at facebook.com/CrunchyChewyMama. For more information, see Jessica's Mindful Healthy Life Q&A.