Indian food is making its way onto the fast-casual scene with Choolaah Indian BBQ, a new eatery that brings authentic flavors and fresh ingredients to diners in Northern Virginia. With a commitment to healthy food that accommodates the needs of every visitor, Choolaah is well worth a family visit.

Choolaah is an innovative new concept that will be a great addition for DC-area families. The Mosaic District restaurant opened in December and a new location is opening in Sterling on Friday, June 2. Pittsburgh and Philadelphia will follow later this year.  I predict there will be many more Choolaah locations before long!
I first learned about Choolaah after the restaurant conducted a cooking class with Fairfax County Public Schools cafeteria managers in conjunction with the non-profit organization Real Food for Kids. Choolaah encourages eating as well as cooking healthy food with the creative use of spices to give a new twist on time-honored traditions. Several "Speaking of Spices" classes have been offered already at the Mosaic location, and one will be offered for food and wellness bloggers on June 7. (See below for details).
Recently, I had the chance to speak to Choolaah Co-CEO Raji Sankar and to try the food at the Mosaic location, where I enjoyed learning about the company's origins and mission as well as its menu.
The owners ─ Raji, her business partner and Co-CEO Rahdhir Sethi and Randhir's wife, Simran Sethi, Choolaah's Director of R&D and Product Development ─ want to provide wholesome meals and make Indian food accessible and affordable for a wide audience but also keep the recipes authentic. The menu is designed to change the way Indian food is perceived in the U.S.
Simran and Randhir returned to India for two years to reconnect with their culinary traditions. They tasted and tested their way throughout India from the most humble dhabas (eateries) to its finest dining establishments.  From family cooks to top chefs to street vendors, the couple gleaned advice, instruction and inspiration for Choolaah's menu.
The Mosaic location is the company's second, and Sterling will be its third. The restaurants are all designed with open kitchens so people can see how their food is made, including naan – Indian flatbread – in 700-degree ovens!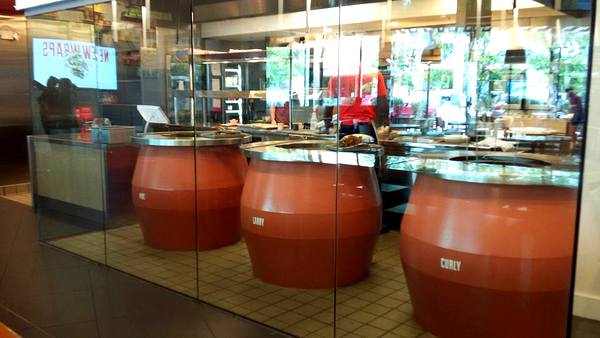 Healthy food, for everyone
Choolaah uses ingredients that are intentionally sourced. These include Bell & Evans chicken, pasture-raised Halal lamb, and Amish-made paneer cheese and organic, non-GMO tofu. Learn more here.
There are lots of vegetarian and vegan items on the menu. The CFO and the creative director's daughter have Celiac Disease or gluten sensitivity, so Choolaah is careful to have plenty of gluten-free options. There is no GF naan yet, but it's something the restaurant would like to perfect in the future.
Those with dairy sensitivity should note, however, that all of the tandoor meats are marinated in yogurt. The lamb is not, but it includes butter in its preparation.
The restaurant also accommodates diners who need to avoid egg, garlic, or onion.
When I arrived at the restaurant for the first time, Managing Partner Thomas McNulty talked with me about my many dietary restrictions. I enjoyed a delicious salad with tandoor roasted vegetables. The ginger-tamarind salad dressing was phenomenal. Speaking of ginger, the lemonade is made from real lemons and prepared daily with fresh mint and ginger. It's grown up and refreshing.
The kids' menu includes naan pizzas, rice and chicken, and rice and paneer. Click here to peruse the full Choolaah menu. Online ordering is available.
A long time in the making
Sanja chulha – the Hindi term for communal ovens – have been around for hundreds of years and serve as gathering places for friends, family and neighbors in Northern India to  cook and share news. Choolaah Indian BBQ calls itself "a fresh take on this timeless experience of sitting, sharing and savoring good company and good food, every day." It combines ancient clay cooking methods with a contemporary health-consciousness.
Living in the Midwest, Raji and Randhir, came up with the idea for Choolaah back in 2003, when fast-casual was emerging as a category. They decided to get operational experience in the restaurant industry before launching their own Indian concept by franchising Five Guys restaurants throughout northeast Ohio and Pittsburgh.
When they decided the time was right to transition to building their dream, Randhir and Simran first spent months creating and trying out recipes and testing equipment. The company's goal was to create the "perfect balance of flavors" for diners new to Indian food as well as to create a "taste of home" for those native to the cuisine.
An aesthetic of beauty and light
The Mosaic District location is light-filled and feels simultaneously sleek and comfortable. I was blown away by the artwork in the restaurant. On the wall next to the company's mission statement is a huge 3D Ganesha elephant made in part from recycled items. Choolaah is working with a group of artists to create unique pieces that complement the fresh, innovative spirit of the company and also nod to the origins of the cuisine. The company also salvaged dozens of books on India that were bound for the landfill and installed them as an art project underneath its long table facing the open kitchen's tandoors.
Combining caring and convenience
Raji told me that the restaurant honors a Sanskrit saying that translates to "A guest is like God." When diners walk in, "guest ambassadors" welcome them into Choolaah, creating a feeling of hospitality.
Most meals are paired with white or brown Basmati rice and are served with tikka, vegetable or chickpea masala and daal (lentils). Offerings include be BBQ meals, wraps, salads or biryanis and run about $10 each. Diners can watch the food being cooked and load up on additions at the condiment bar with five sauces, including mint yogurt, tamarind apple, and spicy mango.
Choolaah also offers chaats (street snacks), like samosas. In addition to the mint-ginger lemonade, there is also a salted or mango lassi (yogurt drinks) and chai, plus soft drinks, beer and wine. For dessert, you can indulge in chocolate truffles and two flavors of homemade kulfi ice cream: mango and cardamom-infused.
The unique "hand jacuzzi" handwashing station is another unique touch.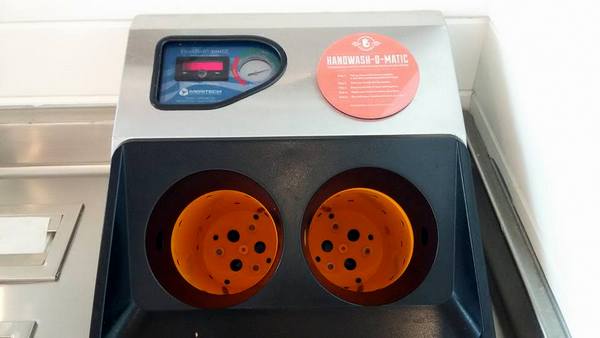 Taste for yourself!
The Mosaic District location is open 11 a.m. to 9 p.m. Sunday through Thursday and 11 a.m. to 10 p.m. on Friday and Saturday. The restaurant sits behind the Angelika movie theater, at 2911 District Avenue, Fairfax, Virginia.
The Sterling location will have the same hours starting with its grand opening on Friday, June 2. From 6 to 9 p.m. that evening, there will be live music, henna, and face painting. Its location is 21426 Epicerie Plaza. Details at https://www.facebook.com/events/1481362685261807/
Follow Choolaah Mosaic (ChoolaahMosaic) on Facebook, Twitter, and Instagram.
Follow Choolaah Sterling (ChoolaahSterlng) on Facebook , Twitter and Instagram.
Follow Choolaah Indian BBQ (ChoolaahYum) on Facebook, Twitter, Pinterest and on Instagram (choolaahindianbbq).

Disclosure:
I was offered a free meal at Choolaah and a gift card to return with my family with no expectation of a review.
This is a sponsored post that was arranged after my visit.
All images copyright Mindful Healthy Life.

Jessica Claire Haney is the founder, publisher and editor of Mindful Healthy Life and was the founder and a longtime leader of the Arlington/Alexandria Chapter of Holistic Moms Network. Jessica is a writer who is working on her first novel. She also offers copywriting, editing, writing coaching and holistic business consulting services. Learn more at JessicaClaireHaney.com. Jessica volunteers on issues related to wellness in public schools, as described in her Mindful Healthy Life Q&A. Follow her on Facebook at on Facebook at MindfulHealthyLife, on @Twitter @MindfulHealthy and on Instagram at @mindfulhealthy. Her personal blog is Crunchy-Chewy Mama, on Facebook at CrunchyChewyMama and tweeting @CrunchyChewy.