There are a number of preschools in the DC area that I call "outdoor-happy preschools" — places where children are expected to bring weather-appropriate clothing and go outside every day. I was heartened to learn about the options when I was doing research for an article on TheDCMoms.com.
I was inspired to do the piece after hearing about the newly formed Eastern Ridge School in Vienna, Virginia, a reimagining of what was previously called Discovery Woods and now a non-profit organization formed by teachers and parents. The program at ERS goes from age two through 10.
Two teachers from ERS came to a networking meeting of an organization of environmental educators called NoVA Outside. (Make sure to check out their "Arts in Nature" 3rd annual Early Childhood Outside conference on Saturday, April 26). It was at that meeting that I met Jessica Culverhouse, author of today's piece and now a parent at ERS, which is having an open house on April 27 for prospective parents for school programs in 2014-15 and for summer camp.
Here is Jessica Culverhouse's "5 Reasons We Love Our Nature Preschool"
Just a couple of months ago, my 2-year-old son, James, started at The Eastern Ridge School, a progressive, nature- and arts-based school in Great Falls. With my background in science and environmental education, I was already familiar with the research on the long-term benefits of unstructured outdoor play and constructivist and project-based learning on students. We knew that in choosing Eastern Ridge, we'd help our son to develop confidence, maturity, critical thinking skills, and a respect for the natural world. What I wasn't prepared for were the amazing short-term benefits of such an environment on my young son.
Here are just 5 of the many reasons we love our nature preschool.
1. He is happy. What else matters, really? James loves school. He isn't quite equipped to tell us this in so many words, but he sure tries! Each day we receive photos and videos of James learning, exploring, and having fun with his teachers and friends. When I drop him off in the morning, it doesn't take long before he is busily engaged with an activity. When my husband arrives to pick him up, he excitedly shows his dad everything he has been working on that day.
2. He eats better. We struggled for the first two years of James' life with low weight – he was just not interested in food. He is now at a healthy weight and happily eats 3 meals and several snacks each day. Whether this is due to the active days at Eastern Ridge or the delicious, healthful food served for lunch and snacks is unclear, but we are happy to see his appetite grow. (As a side note, I must reiterate how amazing the food is at Eastern Ridge. Raw veggies for morning snack, healthful whole grains, proteins, fruits, and vegetables for lunch, and a yogurt parfait for an afternoon treat. We should all eat so well!)
3. He sleeps better. With plenty of fresh air and active outdoor play, James naps well at school and sleeps hard at night. Of course this is very important for his growth and development, but I must say I enjoy the additional rest, myself!
4. He is nurtured. The teachers and staff at Eastern Ridge School are caring, creative, and passionate. James is so well taken care of and the days are paced so naturally that I never worry that he is experiencing stress or needs additional attention.
5. He is dirty. Yes, we have lots of laundry, but I wouldn't have it any other way. Muddy pants, wet socks, and paint-soaked sweatshirts come home with James every day.  In my book there is no better indicator of whether a child had a great day than the (lack of) cleanliness of his clothing.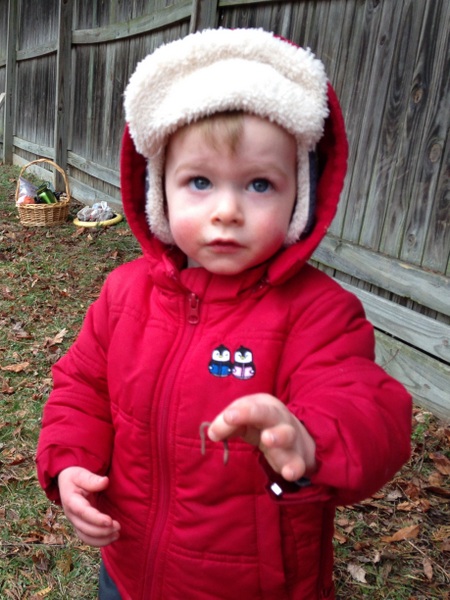 Jessica Culverhouse works in fundraising for an environmental nonprofit. She is mama to James and wife to David, a volunteer Master Naturalist, and a former environmental educator and Biology teacher who loves nothing more than spending time outside with her family.
—
Mindful Healthy Life of Metro DC would like to run more profiles of other special places that have found a way to get children in the shadow of the nation's capital to connect to nature. Share ideas in the comments and check out our Submission Guidelines for more information.