MOM's Organic Market is opening a new store this weekend in Arlington at the intersection of Lee Highway and N. Veitch Street. For the opening weekend, 5% of sales will be donated to Moms Clean Air Force, and the store will be offering lots of special activities.
In addition to having the opportunity to support Moms Clean Air Force, a community of moms and dads united against air pollution and climate change, and meet some of its staff members and volunteers, you'll get to enjoy lots of fun opening weekend activities at the store, located at 1901 N. Veitch Street at Lee Highway, just north of the Courthouse area.
Activities include: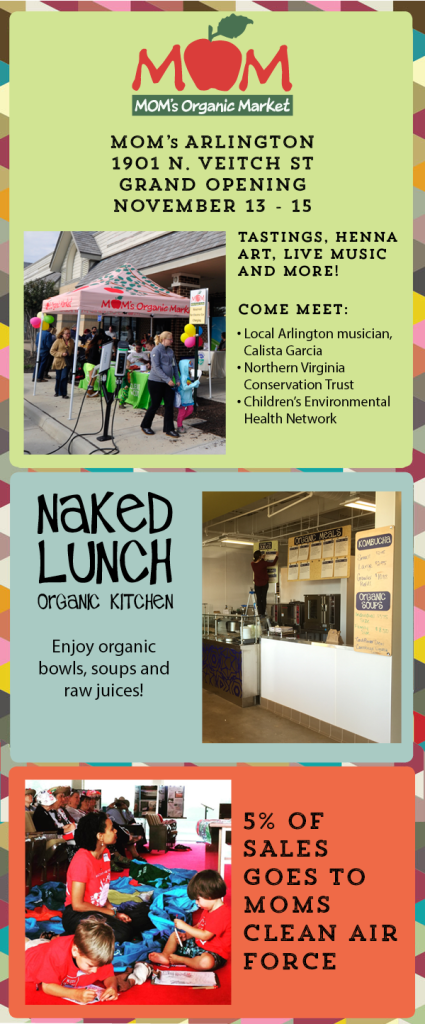 Juice fans and locals looking for a healthy lunch will be excited to hear that the new Arlington store will have a Naked Lunch counter, offering salads and whole-grain bowls as well as fresh organic juices. MOM's sells only organic produce. More details about the new store include:
Only the highest quality, 100% certified organic produce
• Naked Lunch, an all organic vegetarian eatery
• Free car charging stations
• Local beer and organic wine
• Only sustainable seafood (right down to the canned tuna!)
• Bulk oil, vinegar and honey; plus bulk laundry detergent
• A recycling drop-off for wine corks, CFL bulbs, eye glasses, plastic bags, household batteries, and shoes
I recently got to tour the new Woodbridge store with owner Scott Nash at its recent grand opening and learned a lot more about him and about the company and its sustainable practices.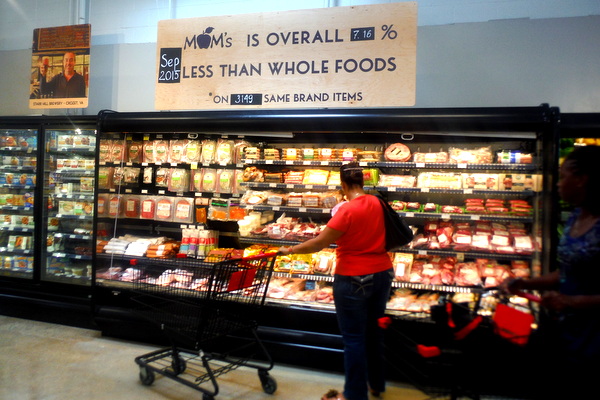 The father of three children aged 15, 13 and 10, Scott started MOM's out of his mother's garage at the age of 22 in 1987 and has now built a successful local grocery store chain with seven stores in Maryland, five in Virginia, a store in DC and a store in Bryn Mawr, PA.
Scott said his business's purpose is to "protect and restore the environment." The company gives $500,000 a year to organizations that share that vision.
MOM's touts the following accomplishments and points of pride on its website in its Walking Our Talk section.
On my Woodbridge tour, I learned:
All lights in the store are LED
The store never markets to children and will not carry items that do. Children are becoming "little consumers way too soon," says Scott.
The store recycles everything it can and lets customers bring in compost.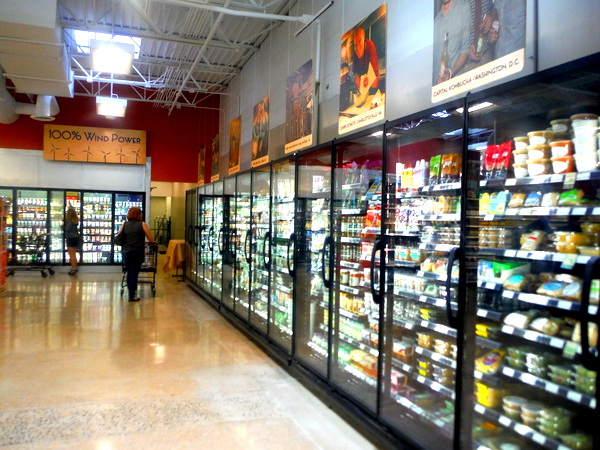 Scott said MOM's never upsells; items are placed on the shelves not because they yield the highest margin but because they are what the customer is looking for. The store only goes to private label if it makes sense, like with coffee and milk. With coffee, Scott is concerned about price, freshness and the quality of the roast and calls his store brand "as good as it gets."
MOM's buys as much local produce as it can and likes to support small companies that are just starting out. However, Scott said, it "takes less energy to grow food where it's supposed to be grown." He doesn't like buying local greenhouse-grown produce because of the large carbon footprint of heating that space. So sometimes he prioritizes the quality – and MOM's produce is always organic – over the local. For example, California strawberries last longer than local ones, Scott said. But MOM's also supports local farmers in other ways; a few of the Northern Virginia MOM's markets are pickup locations for farm-direct deliveries, a service MOM's offers at no profit.
As the tour approached the new display for mattresses that can be ordered directly through MOM's, Scott noted that cotton is one of the heaviest-laden pesticide crops. It is clear he has thought about every aspect of what goes on the shelves, or into products that go onto shelves.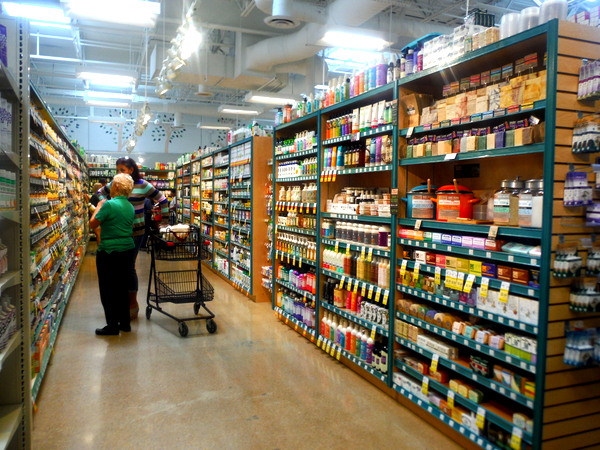 What's in store for the future of the chain? After the recent openings of the DC store and the Woodbridge store, the expansion of the Herndon store, and the opening this weekend of the Arlington store, MOM's will go on a building hiatus, MOM's will open its next stores in the Baltimore and Philadelphia areas. There are plans for a McLean store to go up in 2019, and Scott hopes to renovate the Alexandria store, which was built in 2002. He would like for it to have a Naked Lunch outpost, as the new Arlington store has. Naked Lunch is free to employees, who also receive 30% off in the store. MOM's pays all its employees at least $11/hour and offers several green benefits,  including subsidies toward the purchase of an electric or hybrid car. Sustainability isn't just about product purchases!
Be sure to take the whole family to the new store during opening weekend the special Certifikid voucher for $30 worth of groceries for $15. You can also use this coupon – just click on it and print, or copy and paste and print!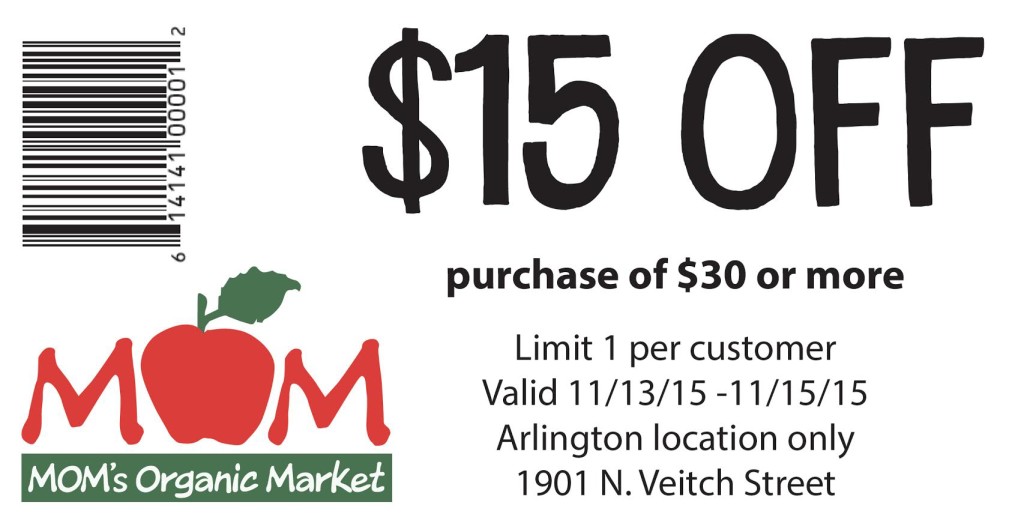 Starting Thursday, November 12, hop over to our $50 gift card giveaway. Giveaway closes 11/19.
To learn more about MOM's Organic Market, visit the company online at www.momsorganicmarket.com and visit MOM's on Facebook.
The top photo is the new Arlington location storefront, courtesy of MOM's Organic Market.
Photos used in this post depict the Woodbridge location and are the copyright of Mindful Healthy Life.