At the Virginia Mama Summit, the first of the 2015 clean air advocacy Mama Summits organized by Moms Clean Air Force around the U.S., red-shirted moms and green-shirted grannies took to the halls of the Virginia General Assembly to tell state legislators why clean air mattered to them.
As mentioned in this earlier post, Mindful Healthy Life was one of over 30 partnering organizations and businesses for the day that included several group advocacy sessions in legislators' offices and an energetic press conference.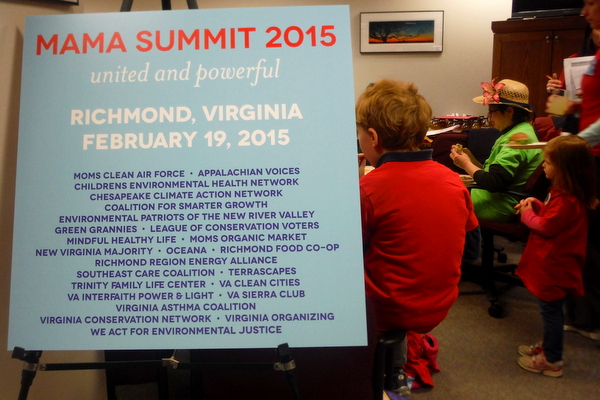 Before the visits to legislators began, volunteers received training, getting briefed by mom of three Gretchen Dahlkepmer, MCAF National Field Director, Sen. Jennifer Wexton (D-Leesburg), Del. Betsy Carr (R-Richmond), and Mike Town of the League of Conservation Voters and others on upcoming and recently defeated legislation. This year's Virginia Assembly Session was a short session, just 35 days during which time legislators must consider 3,000 bills. It ends this week. Next year's session will last 60 days.
The landmark Virginia Coastal Protection Act, which would have addressed rising sea levels and coastal flooding, came within one vote of passing in Senate committee. Despite its failure, MCAF was happy for the momentum on the issue and grateful to Delegate Villanueva (R-Virginia Beach) and Senator McEachin (D-Henrico) for their bipartisan leadership in introducing the bill.
Also defeated in this General Assembly session was a bill that would have raised fines on toxic waste incidents, and SB 1154, introduced by Sen. Wexton, would have shortened time limits and updated procedures for reporting toxic spills. The House subcommittee recommended laying on the table by a voice vote.
Sen. McEachin also introduced SB 771, a bill requiring the generation of an inventory of toxic waste sites in Virginia. The bill was referred to the appropriations committee.
Although the General Assembly passed a bill that was drafted by Dominion Virginia Power and benefits the monopoly, environmentalists won a concession that Dominion would increase its investment in solar energy. Still alive is HB 2267/SB 109 to create the Virginia Solar Energy Development Authority.
Some 60 volunteers circulated to meetings with 20 legislators to thank them for their support of legislation and urge them to consider how other legislation would benefit children's health and the environment. Richmond has been at the top of the list of U.S. cities with high asthma rates for several of the past ten years.
The day was largely organized by MCAF Virginia field director Terra Pascarosa of Virginia Beach with assistance from MCAF DC field organizer Julie Hantman, both moms of toddlers and preschoolers. Event partner Trinity Family Life Center provided childcare during the meetings. Children made their own signs about clean air, colored pages about climate and about the General Assembly, and enjoyed snacks donated by MOM's Organic Market, one of the event partners.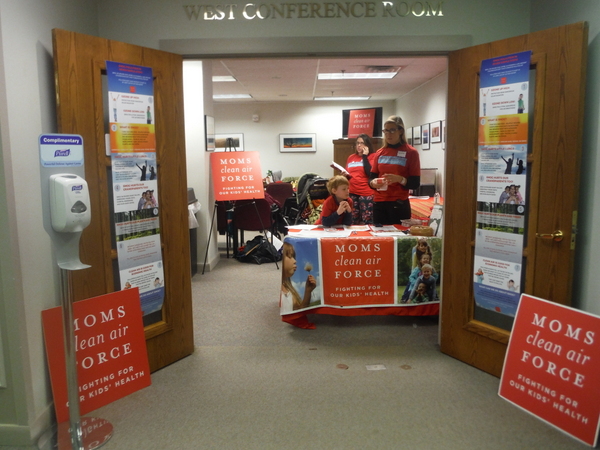 I had happened to recognize our former delegate and now senator, Sen. Adam Ebbin (D-Alexandria), in the elevator and was motivated to bring my son with me to take a packet of information to his assistant since he was not on our list of scheduled meetings. Little did I realize that Sen. Ebbin would invite my son into his office and give us his card! Talk about an impression on a third grader!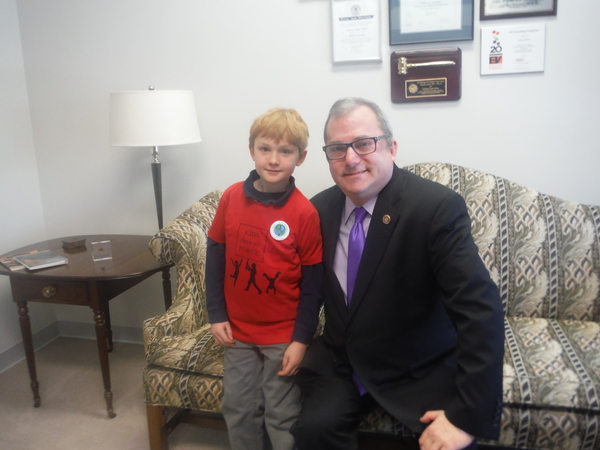 After the meetings and some warm-up singing by The Green Grannies of Charlottesville in the event staging ground in the fourth floor conference room of the General Assembly building, Mama Summit attendees moved downstairs to the press briefing room.
Terra welcomed the crowd at the press conference where the grannies opened the event with "The Earth is Our Mother," and environmental rewrites of Beatles' and other tunes.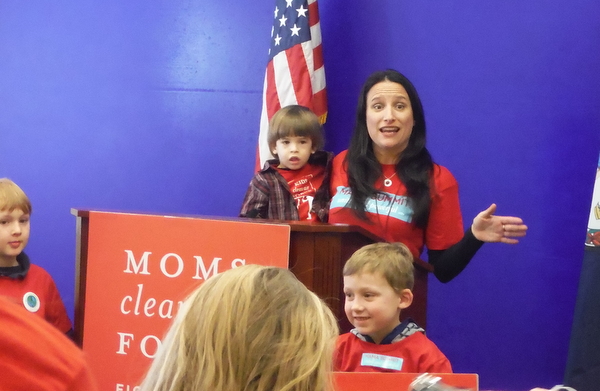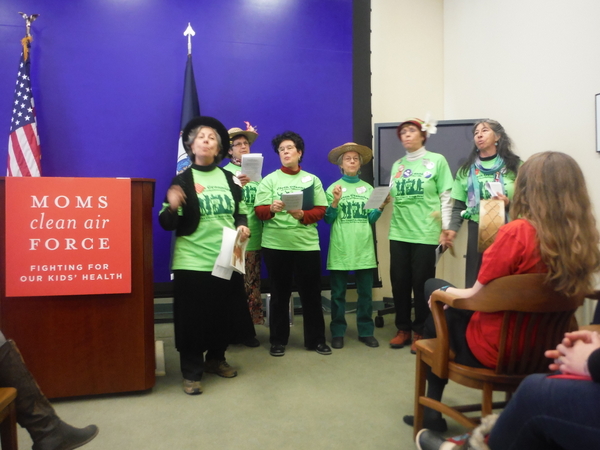 After an invocation from Virginia Interfaith Power and Light, the speaker line-up included longtime nurse Linda Hudgens of the Virginia Asthma Coalition, Jessica Claire Haney (that's me!) of Mindful Healthy Life and Holistic Moms Network Arlington/Alexandria, DC MCAF field organizer Julie Hantman reading a statement from Alexandria Mayor Bill Euille, and Dr. Erica Holloman-Hill of the Southeast CARE Coalition. Another local speaker, Joyce Davis, policy analyst for Richmond Councilman Chris Hilbert, could not attend because she was addressing the problem of a Richmond public school that had recently been closed for poor air quality, highlighting the very issues MCAF is concerned with.
After the press conference, members returned to the meeting room for lunch and sharing of projects. Signs encouraging U.S. Senators Warner and Kaine to "Please protect Virginia's Children from Climate Change" whose delivery had been delayed because of the extreme cold (!) had finally arrived and were signed by all.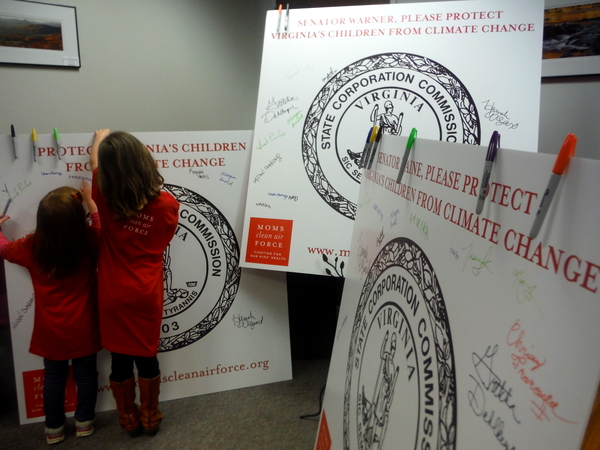 For a complete list of upcoming Mama Summits across the U.S., including the March 19 event in Maryland, visit Moms Clean Air Force.
To read the press conference statement of Jessica Claire Haney, founder of Mindful Healthy Life, visit her personal blog, Crunchy-Chewy Mama.
See also the Flickr stream of photos from the Mama Summit.
Photos by Mindful Healthy Life and also Moms Clean Air Force.