Spring is always full of great events. This May, join me at events where other women and I will be sharing our experiences as mothers, healers and creative individuals.
Listen to Your Mother is a storytelling event that takes place in cities around the country in which local writers share a personal essay that relates in some way to motherhood. Some are funny, some are sad. All are powerful and poignant.
This is the last year for Listen to Your Mother to feature original works read by the authors. I'm happy to be part of this final cast and to share some of my healing and parenting journey with others.
Please join me this Sunday, May 7. The show begins at 2 p.m. and lasts 90 minutes. Proceeds benefit  My Sister's Place, which provides services to empower survivors of domestic violence and is the oldest shelter of its kind in DC. Tickets are available online through Saturday and then at the door.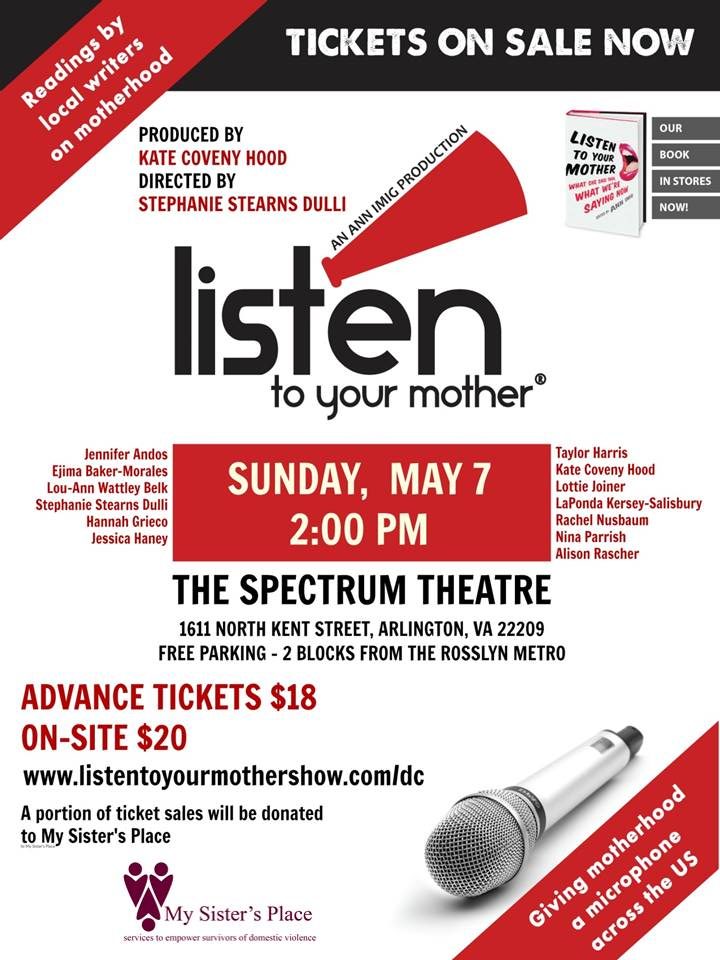 For a sneak peak, see some of the cast members talking about the show on NBC 4 Washington and on Good Morning Washington.
The official site is listentoyourmothershow.com/dc and tickets are available at www.brownpapertickets.com/event/2893127. You can also share the Facebook event.
Next Friday, I'll be telling a different story of motherhood. I've been working for a few years on a novel that follows the lives of three women in Northern Virginia. Unplanned pregnancy comes up in all three of their stories, in different ways. A chapter from the novel-in-progress appears in the Abundant Grace anthology of fiction by DC-area women writers from Paycock Press.
On May 12, I'll be reading about a character who is preparing for her third child and for a homebirth will come sooner than she expects. The event at One More Page Books in Arlington begins at 6:30 p.m. and includes a wine tasting and readings by three other anthology contributors and the editor, Richard Peabody.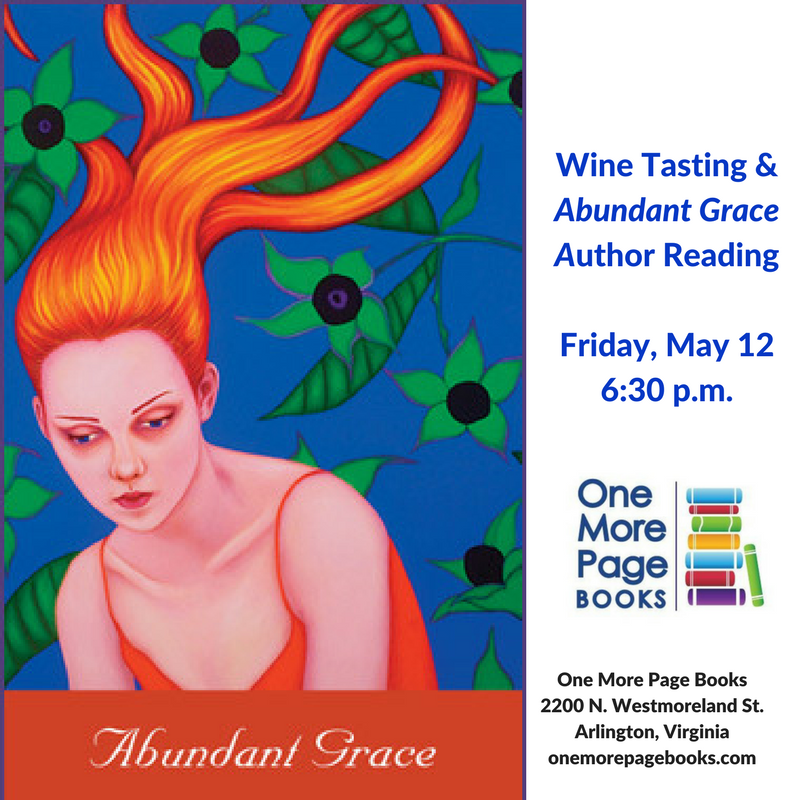 For more information, see the One More Page Books calendar. You can also share the Facebook event.
The following day, Saturday, May 13, is Heroes for Moms Blood Drive and Maternal Health Event. Organized by Hope for Accreta, the event aims to get blood donations and also raise awareness about maternal health and wellness. It runs 10:30-3:00 at Alexandria's Beatley Library and features Table Talks with six different speakers, children's activities and door prizes. I'll be presenting a short talk on "Holistic Parenting 101" at 2:30 just before the giveaways are announced.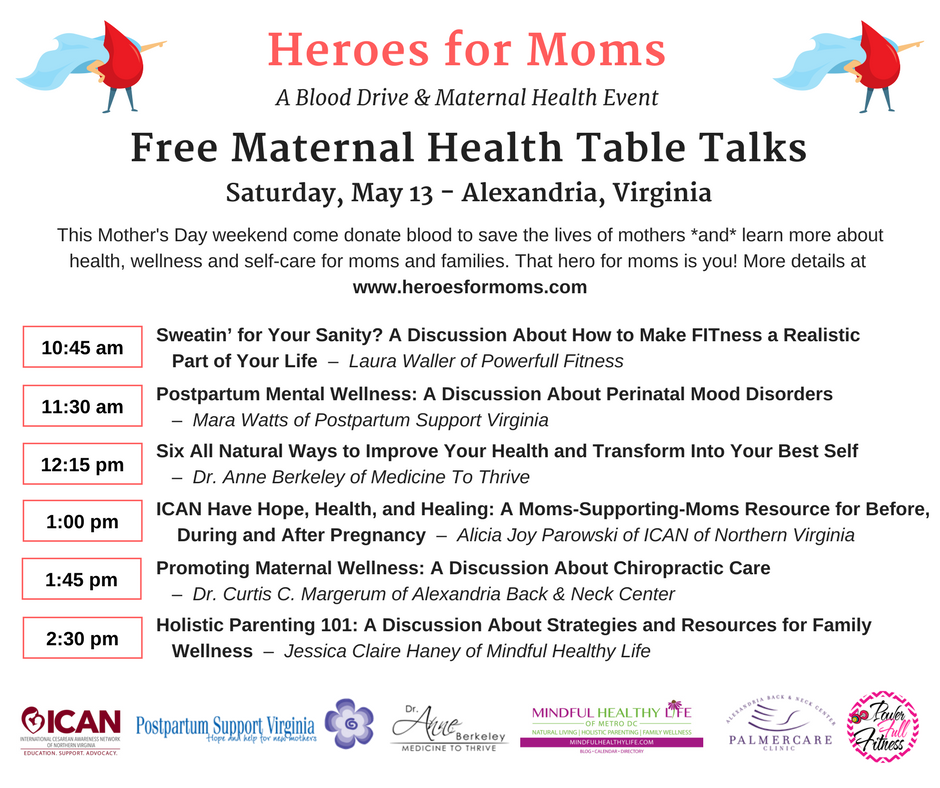 The official site for Heroes for Moms is heroesformoms.com. You can also share the Facebook event.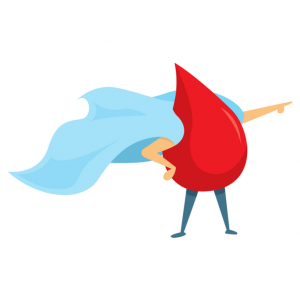 For more personal reflection on these events, see this post on my personal blog.
As I mentioned in my Spring Events post, there are also other mom-centered events over Mother's Day weekend, including Saturday:
MamaBaby Pamper Day at Mamatoto Village for self-care, pampering and support

and Love Your Baby Day at Beloved Yoga in Great Falls for support, yoga and community connection

and Sunday's March for Moms on the National Mall to raise awareness about maternal health issues and implications for social and racial justice.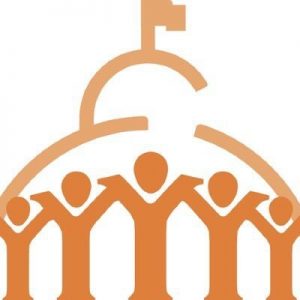 And don't forget, the Green Festival runs through the weekend at the DC Convention Center.
Get in free with an April or May receipt from MOM's Organic Market of $25 or more. Children 16 and under are free and moms get in for 50% off all weekend in celebration of Mother's Day.

Jessica Claire Haney is the founder, publisher and editor of Mindful Healthy Life and was the founder and a longtime leader of the Arlington/Alexandria Chapter of Holistic Moms Network. Jessica is a writer and editor who is working on her first novel. Find information about her writing, about the editing and business consulting services she offers, and about her upcoming spring 2017 appearances at local events at JessicaClaireHaney.com. Jessica also volunteers on issues related to wellness in public schools. Her personal blog is Crunchy-Chewy Mama, on Facebook at facebook.com/CrunchyChewyMama. For more information, see Jessica's Mindful Healthy Life Q&A.