The Alexandria-based non-profit organization YoKid has introduced yoga and mindfulness to more than 7,000 students since its inception in 2006. This spring, YoKid is looking to the community to for support for its programs through a special shopping night tonight, April 19 at the Alexandria Lululemon and an 18-hour Yogathon tomorrow, April 20, at Ease Yoga & Cafe in Del Ray Alexandria. Enjoy practicing yoga while raising funds for under-served youth to have the same privilege.
Tonight, 40% of sales during the hour of 7-8 p.m. will benefit YoKid's programs. Shop for fun spring gear for women & men to support a great cause. YoKid will have light bites at the store to help keep the shopping energy high! Lululemon is located at 700 King Street in Old Town Alexandria.
Wednesday's Yogathon begins at 6:00 a.m. with a class led by YoKid co-founder and Alexandria mom of three Michelle Kelsey Mitchell. Participants can sign up for free classes throughout the day, including a 10:30 class that kids are welcome to join and a 1:15 family yoga class with Cathy Burke of Evolve Beyond the Mat.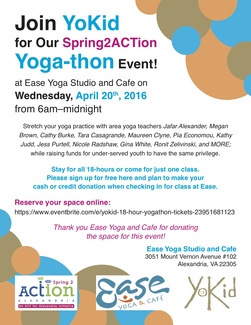 The proceeds from this event are a part of Alexandria's Spring2Action- 24 hours of giving- and will support YoKid's programs. YoKid…Stretch Your Limits is a 501(c)3 therefore all donations are tax-deductible. Freebies and price specials offered by South Block Juice Co. all day in the café at Ease, with a portion of their sales donated to YoKid.
View YoKid's theory of change here. To stay connected, follow YoKid on Facebook.