It's probably no surprise to anyone living here that the air quality in the Washington DC area is poor; it gets a grade of F in ground-level ozone (smog) from the American Lung Association, putting the Metro DC among the top 10 most polluted U.S. cities in the ozone category. This matters to every living being, but especially to small children whose bodies are more acutely affected by inhaled toxins. Organizations like the American Lung Association and others advocating for healthy air quality describe breathing smog-filled air as "getting a sunburn on your lungs."
In Virginia, the Arlington Partnership for Children, Youth and Families just released its 2012-2014 Community Report Card, which found a 69% increase in asthma rates and a 62% increase in chronic conditions in elementary aged children between 2009-2010 and 2013-14. Even if your children don't suffer from asthma or allergies, their health may be compromised by the poor quality of DC Metro-area air.
The non-profit organization Moms Clean Air Force advocates for cleaner air. In January, representatives from MCAF and other advocacy groups testified to encourage the Environmental Protection Agency to enforce stronger air quality standards. Julie Hantman, Field Organizer for Moms Clean Air Force DC urged the EPA to lower its smog standard to 60 parts per billion instead of the 65-70 parts per billion that it recommended in November 2014. Her statement read, "The scientific record demonstrates that this level would provide the strongest public health protections for Americans and most importantly for our children.  It is based on the recommendation of the independent Clean Air Scientific Advisory Panel, which rests on a thorough and expert review of the science."
Hantman noted that the EPA's own analysis of this greater level of protection estimated "7,900 fewer deaths, 1.8 million fewer asthma attacks in children, and 9.2 million fewer restricted activity days or lost school days, each year."
Moms Clean Air Force works for safe environments of all kinds, including indoors. The organization this winter and spring is bringing Mama Summits to state houses of legislature around the country, starting with Richmond, Virginia on February 19. Richmond has the highest rates of asthma in the country, ranking at #1 in 2014, 2012 and 2011.
At the Virginia Mama Summit, the group expects upwards of 50 participants from around the state and has planned more than a dozen meetings with state legislators.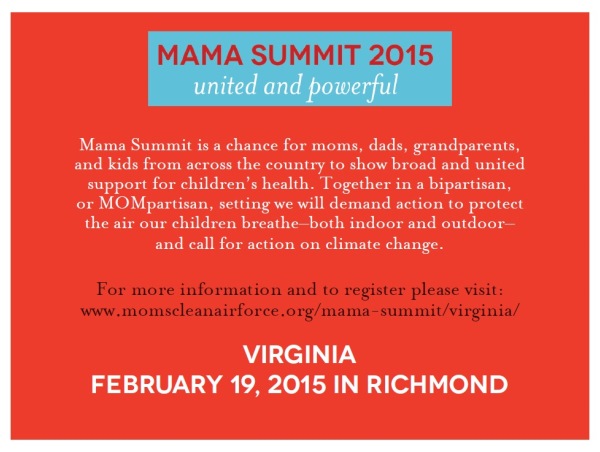 The Virginia Mama Summit on February 19 is open to anyone who cares about clean air, but registration is required. The morning begins in the 4th Floor West Conference Room, 1000 Bank St, Richmond, VA at 9:30 a.m. for training before participants proceed to meetings with legislators around the General Assembly building. Childcare is being provided during the meetings for children over age three.
Following the meetings will be a press conference at 12 noon in the nearby Bell Tower (900 Bank St, Richmond, VA 23219). Press conference speakers include:
Lunch will immediately follow the press conference back in the 4th floor conference room.
To learn more and to register to participate in the summit and to request childcare, visit http://www.momscleanairforce.org/mama-summit/virginia/ . To invite others and share the experience on social media, use @CleanAirMoms_VA and #MamaSummitVA
Mindful Healthy Life is proud to be a partner for the February 19 Moms Clean Air Force Virginia Mama Summit. Additional partners and involved parties include:
For a full list of Mama Summits in cities around the U.S., visit Moms Clean Air Force's Mama Summit Page.