Whether you are looking to enhance your current space to accommodate your family environment more efficiently or you are looking to make some changes as you are looking to sell your home in the near future, home renovation projects can add so much to your home if planned right!
This guest post was written for Mindful Healthy Life by Amy Thomas.
I recently had the opportunity to interview Matt Blashaw, host of HGTV's Yard Crashers, on how to budget and plan for a home renovation whether you plan to stay or to sell. As an eco-conscious designer, I also added in a few tips on how to "green up" your home renovation.
Where do you start when planning for a Home Renovation?
Matt recommends you start with your budget and stick to it since your budget "can get out of control really fast," especially when you are changing things in the middle of a renovation. You can do some 3D modeling with your contractor or designer that can help better understand what the space is going to look like and keep you from making costly changes. Then once you have that budget, Matt says, "work on one space at a time" rather than trying do it all at once. It will keep you on track, focused and on budget.
What is the first mistake people make when renovating their home?
According to Matt, the first mistake is not allowing yourself to be in your home for a little bit to really understand how you need it to function. He recommends cleaning up the space and spending time organizing to really see what you need. "Just paint, get it nice and clean and then live in it for a little bit."
Too often people overbuild and renovate to more than what they need. By not overbuilding you can keep your budget more in line as well as help preserve resources in our environment.
Also, when embarking on a home renovation, make sure you understand your long-term goals for living in the home. If you are planning on moving in less than five years, doing some simple updates like painting the cabinets, adding new hardware and light fixtures can give you an updated look at a fraction of the cost. Homeowners can easily spend $350-400K on renovations, and it may take up to 8-10 years to get that investment back.
Where should you splurge and where should you save?
Matt emphasizes choosing the right cabinets for the right space. Cabinets can be one of the most costly items for a renovation, so splurge for cabinets in spaces that are most important like the kitchen but save in other areas. Save on backsplash by keeping it simple and timeless. To add an eco element, consider using recycled tile from natural resources. Splurge on light fixtures to give you "that wow factor."
From this…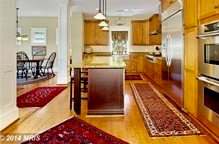 to this!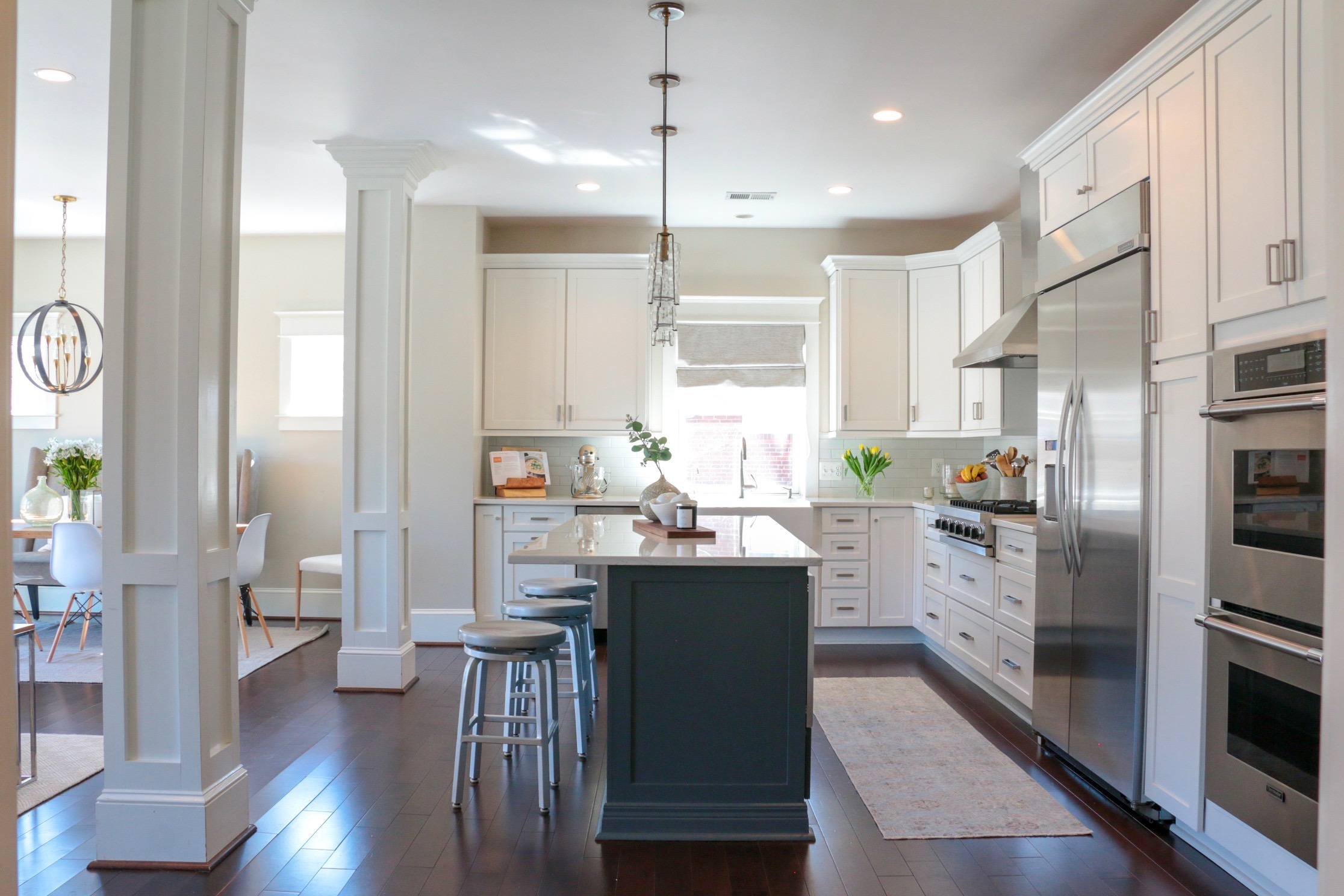 What are some of your best secrets you have as a contractor and real estate agent?
Matt says, "Some of the best secrets I use not only as a contractor but as a real estate agent are to paint the cabinets, put on new countertops, change the light fixtures and change out the hardware which will give your whole space a brand new look. I do this a lot when staging a home for sale." If your cabinets are in good shape, painting them is a great earth friendly choice as well. Go even a step further on the green front and use low-VOC paints and primers as used in the photo above which shows the before and after of a kitchen with a minor renovation using all sustainable product selections.
And of course, do not forget about the backyard!
"The yard is one space in your home that typically gets overlooked but can add amazing appeal." Spruce it up to not only increase the value of your home but to also allow you to spend more time outdoors. People are spending so much more time indoors these days, especially children, so enhancing your outdoor space can go a long way for both appeal and a healthy lifestyle!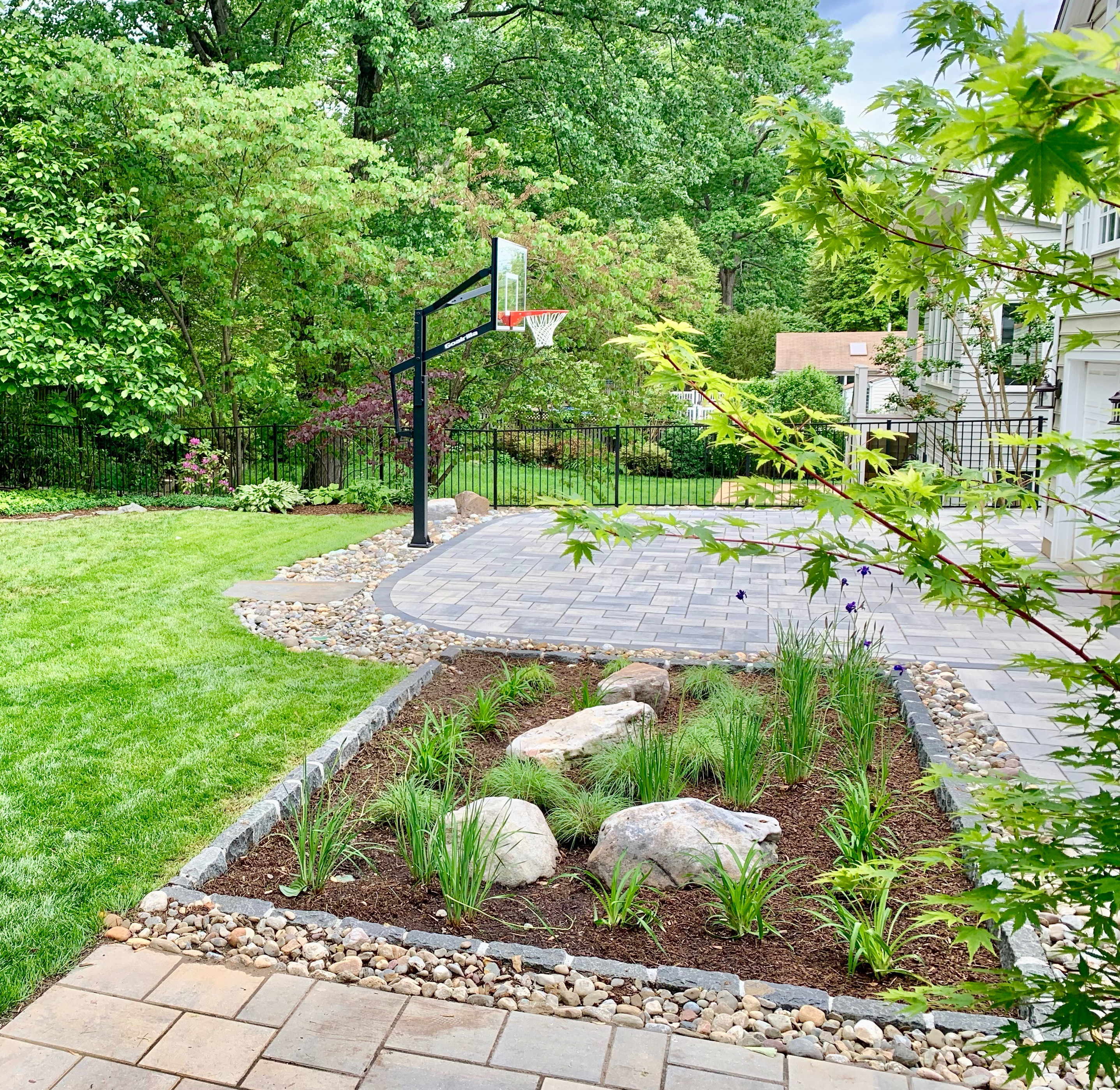 What is the best way to finance a renovation?
Personal loans are a great option, in Matt's opinion. These are especially great for people just moving into a new home since homebuyers have generally spent a lot on the down payment. Personal loans allow you to better control your renovation costs. Matt recommends SoFi Loans which offer personal loans up to $100,000 with low down payments, fixed rates and no late fees. You can also check out SoFi's study on best home improvements to increase your home's value.

This is not a sponsored post.
About Matt Blashaw
Matt Blashaw is a home improvement expert and licensed contractor as well as host of television shows such as Professional Grade, Yard Crashers and Vacation House for Free. He began his career in 2007 as a licensed California realtor and then, by an amazing stroke of luck, fell into 450 episodes of television. He was able to transfer everything he had learned about building homes for the past ten years right into his home improvement television career. For more information, visit mattblashaw.com
Amy Thomas is an Interior Designer and Realtor in the Washington, DC and Northern Virginia area. She focuses on creating a healthy living environment for her clients through the use of eco-friendly and sustainable products without sacrificing quality and style. A mother of two, Amy is also a certified GREEN AP through the Sustainable Furnishings Council (SFC) and holds a health certificate from the Institute for Integrative Nutrition. Amy volunteers for the SFC Education Committee as well as various other eco-conscious organizations in the Washington, DC area. For more information, visit amythomasdesign.com & @amythomasdesign on Instagram.