In 2017, I wrote here about coming to terms with the fact that I had chronic Lyme Disease as well as reactivated Epstein-Barr Virus.
It took a lot of time to work on healing. In the process I came to terms with the fact that I could not make this website a sustainable business.
I'm pleased to say that I've made a lot of progress with my health over the years. I've moved onto other freelance and creative work, which is why you won't see my writing very often on this site.
[I will continue to maintain the site and the guests posts and to occasionally share posts I can't keep myself from writing!]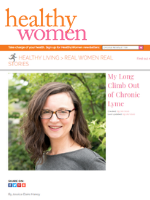 For now, I'm pleased to share a little more about my journey in this recent piece on Healthy Women, "My Long Climb Out of Chronic Lyme."