Last year's inaugural DC Birth & Babies Fair was a huge success and a great opportunity for expectant moms and newly postpartum moms. It was exactly what I wished I'd been able to attend before I became a mom 8 years ago. Having first had a c-section (after planning a birth center birth) and then a homebirth four years later, I felt like the Fair was a wonderful mix of all the resources a Metro DC mom might want to know her options and feel supported.
I took my toddler with me to the fair to staff a table for the Arlington/Alexandria chapter of Holistic Moms Network, and I was beyond impressed with the class offerings and the exhibitors, not to mention the beautiful Hill Center at the Old Naval Hospital (near Eastern Market), where the event will be again this year on Saturday, May 3, 11 a.m. to 4 p.m.

I was honored when event organizer and childbirth educator Lindsay Gonzales asked me to sit on the fair's Advisory Board with a great group of women representing all aspects of prenatal and postpartum care. Earlier this week, I asked Lindsay to share a bit with our readers about the origins of the event and her plans for this year's event.
Q: What made you decide to put on this event in the first place?
Lindsay: The story of where it came from was a mix of my experience as an expecting mom and as a childbirth educator. When I was pregnant in DC and alone without family nearby, I felt there was a lack of resources, that there just wasn't that much out there for me. When I became a childbirth educator, I realized just how many wonderful resources there really are that many families don't know about.
I realized there was a real disconnect. There's a challenge for families to connect with resources, and I wanted to make those connections easier.
Birth Options Alliance (BOA) was one of the first resources I did connect with, and I immediately felt a strong sense of connection to their mission and that they were a great resource for families. When I created the event I wanted to support BOA and their mission. This year, the proceeds from the raffle will go to Birth Options Alliance, which has a Yahoo email group, information about birth options, and local provider lists for every kind of prenatal, birth and postpartum service you might want, including doulas, breastfeeding resources, loss support, and mood and anxiety support, among many other times.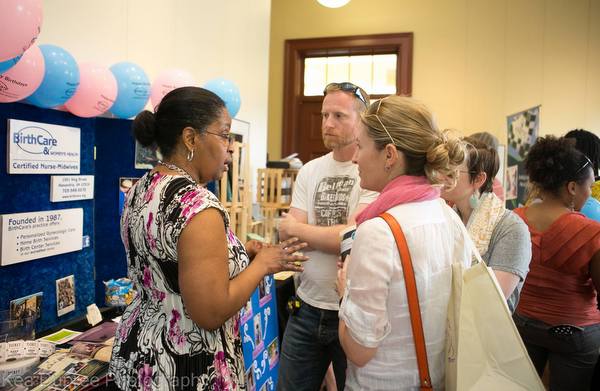 Q: What was the size of last year's event, and what's new at this year's event?
Last year we had around 350 attendees and 100 professionals. With 23 programs — 10 drop-in clinics and 13 classes — and some 40 exhibitors, I think we'll have over 100 professionals on site.
The drop-in clinic is something new we're trying with hands-on sessions. Each hour we'll have chat with one expert and a comfort session. They will be in the same place room so people can come for comfort and listen in on expert advice at the same time!
Q: Who's been helping you?
Lindsay: The composition of the advisory board is very deliberate to be able to have someone representing early parenting and natural living, postpartum doula work, a midwife, birth doula, parent counselor. I wanted to have people bringing in different perspectives from the full range and scope of what we're trying to represent. This is about being our happiest and healthiest in these important times. One of the best things about the Fair is that it touches on people's health across the spectrum of wellness. It's about women and their families feeling their best mentally and physically and even spiritually.
Q: I could not believe it when I heard on April 3 — exactly one month before the event — that you had to have an emergency appendectomy. How has that affected your planning this year?
Lindsay: Fortunately, my surgery was laproscopic, so it could have been worse, and I've turned a corner in recovery in the past few days, which is good.
When something happens, like unexpected surgery, it's so helpful to have everyone come out to wish you well and offer support. It's actually been a really great experience. Not every kind of event would work like this except for this community coming together.
Last year, everything was a big experiment and just a hope, and there was still so much support. We saw this need, and there were so many people willing to volunteer their time and expertise not even knowing if it would work and how many people would come.
Organizing an event in partnership with doulas, midwives and parenting experts is the most supportive thing anyone could ever do! Everyone involved is involved because they want the families of the DC area have the best experiences of pregnancy birth and parenting. We're all united with the same focus.
The website for the DC Birth and Babies Fair is http://www.dcbirthandbabiesfair.com/.
Registration for the event is $10 per individual or $15 per family. Use the promotion code birthandbabies to save $3.
Photos taken by Kea Dupree Photography and used with permission.