Natural-minded parents in Metro DC want resources, opportunities and connections that align with their values. Mindful Healthy Life connects them to what they need. Make sure those parents find you!
For an integrated approach to collaboration across platforms, check out our Partnership Opportunities

. Partners of our site enjoy many perks at once, including blog posts, social media promotion, enhanced directory listings and extra visibility in our eBook.
Working with Mindful Healthy Life — as a partner or with sponsored posts, guest blogs or event promotion as described below — is the best way for practitioners, business and organizations to reach Metro DC parents who are seeking information on health & wellness, mindful parenting, and eco-friendly activities.
And, when you share your events or your content on Mindful Healthy Life, you are contributing to a greater awareness of the many approaches to a healthy lifestyle and the local resources to support it. Together, let's increase the visibility of holistic family living in Metro DC!
Mindful Healthy Life provides unique exposure opportunities for your business, organization or brand
We offer many a la carte services that will help local parents find you and learn what you have to offer!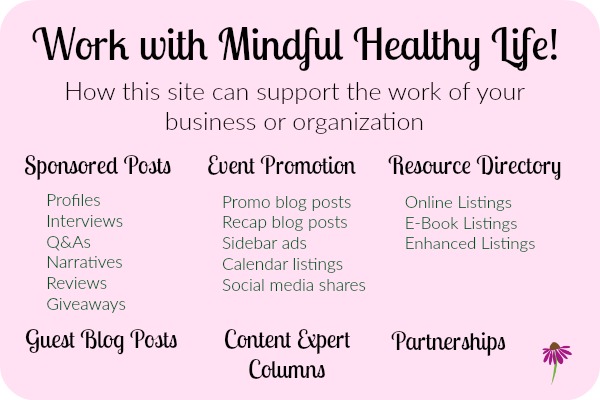 Read on for more details and let us know how we can work together!
Email jessica (at) mindfulhealthylife (dot) com to set up a conversation to discuss our collaboration!
Listings and Sponsored Posts
Event Promotion
How to promote your Metro DC parenting, health, wellness or natural living event on Mindful Healthy Life
Calendar listing: FREE! Click the green button that says "+Post Your Event"
Boosted Mention on our Facebook page: starting at $25
Sidebar ad 300 x 300: $40 per week
Promotional Blog Post to run before an event: starting at $50
Event Recap Blog Post to run after an event: starting at $70
Click here for our FAQ explaining the difference between a promo piece and a recap piece.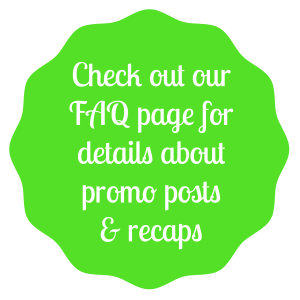 We also consider in-kind arrangements, i.e. goodie bag inserts, exhibit table, event sponsorship, program ads, cross-promotion, etc.
All event blog post packages must include at least one complimentary admission for a Mindful Healthy Life writer and additional admission for events that run longer than five hours.
Blog post fees vary per length of piece, size/scope of event, Facebook Boosting and other factors. Contact us for a quote!


Directory Listings
How to showcase your business or organization in Mindful Healthy Life's directory & eBook
 Resource Directory listing online and listing in our eBook for Metro DC parents: "Guide to Holistic Family Living"
Simple Listing with no images/logos: $25
You can add yourself to our Resource Directory online now. Just click "Submit a Listing," the left-most green button. You will be invoiced for $25 upon creating your new listing. It will remain active on the site as long as your payment is received within 30 days.
Edits/changes to any listing cost $10 each time.
Those wishing to upgrade to an Enhanced Listing or having a partnership with Mindful Healthy Life, please email jessica (at) mindfulhealthylife (dot) com
Enhanced Listing: $50
Please note that all partners of Mindful Healthy Life get an Enhanced Listing as part of their partnership package. Details on partnership opportunities are here.
The benefits of an Enhanced Listing are:
Online: Enhanced Listing is bumped up above the start of the alphabetical listings on the main directory page, and the listing may contain up to three images/logos plus up to 10 live links in the descriptive text section of the listing. These can be social media links, specific web pages for specific services, places of education/training, etc.
Mindful Healthy Life of Metro DC published its first Guide to Holistic Family Living eBook in December 2016. The contents draw from our existing Resource Directory and include lots of other information. It's a unique compendium of the resources natural-minded parents in Metro DC care about most.
This tremendous resource with several hundred listings by category is available for free to all Mindful Healthy Life subscribers, as described in this December email.
Subscribe to our email list to be the first to get our news and follow us on Facebook.
If you work with a business or organization or are planning an event, make sure it's included in this fabulous resource!
See our Partnerships page for additional exposure opportunities in the eBook and on Mindful Healthy Life online including logo listings, ads and more. Deadline for inclusion in the fall edition of the eBook is September 1, 2017.
Sponsored Blog Posts
How to showcase your business or organization on Mindful Healthy Life through sponsored blog posts
Sponsored Blog Posts for a business, practitioner, organization, service or product are intended to promote engagement with a brand. A Sponsored Post might:
explain who you are and/or what you do, especially if you are new to the area or have shifted your practice
describe a modality you have just introduced, a new service you are providing or a renovation you've made to your space
review a new product you've just released
Sponsored post prices vary depending on your needs and the resources necessary to complete the piece.
You write the post and provide images: Starting at $40
You answer questions for a Q&A post and provide images: Starting at $55
We write the post: Starting at $80
In all cases, extra fees apply if we have to furnish or assist with images.
Content Packages for Experts
How to use Mindful Healthy Life to share your knowledge and expertise
Are you looking to share your expertise beyond your own website? Mindful Healthy Life can help you get your message to the people who want to hear it!
Writing posts on our site gives you the chance to show the community what you know and also to show our readers that you are a real person who is accessible and approachable. If you don't love talking about yourself on your own site, or if you don't even want to bother with a blog on your own website, this is a perfect solution!
Even if you already have a blog or articles on your site, anything you publish there is on your own site, which never feels the same to a potential client/customer/patient as when she or he sees you outside your "home."
When you write here on Mindful Healthy Life, you are contributing to a community resource. That looks really good to your clientele! And you can share links to these pieces several times over many months, even years, so they have a much more longer-lasting effect than a single ad.
Guest Blog Posts
Mindful Healthy Life is happy to publish your one-time Guest Blog post

We accept selected guest posts from local DC-area parents. Upon review and being provided with images, we publish for free narratives about parenting, stories of healing journeys, reviews of products or services, or any number of other approaches.
Those who have a business or represent an organization may write guest posts in exchange for certain types of in-kind exposure, as a sponsored post as described above (starting at $40) or included in the benefits of partnership with Mindful Healthy Life (starting at $150).
For more information about guest posts, see our Submission Guidelines

Guest posts must be already edited and formatted with images and links. If you need writing coaching support, contact us for fees or collaboration opportunities. If your completed post needs editing or formatting beyond 25 minutes of our time, editing fees apply.


Content Expert Posts & Columns
Mindful Healthy Life gives Content Experts a wider platform
For content area experts who have several quality posts they want to share with our readers, we offer several packages, depending on the writing support and layout support you need.
Content experts get a two-sentence bio at the end of each post that will link back to our Contributors page where you can have a photo and logo and a longer bio of up to 170 words.
Posts should be 400-1200 words and include several quality links.
Email to request pricing for Content Expert columns: jessica (at) mindfulhealthylife (dot) com
Collaborations and other in-kind exposure opportunities available.
For more information on event promotion and sponsored & guest posts, see our FAQ page
Need more support with writing, event promotion or digital marketing?
Not a blogger or a writer but have a lot to say? Need additional support in crafting your message?
Click here for more information on blog coaching and writing coaching packages and copywriting services services provided by Jessica Claire Haney, Mindful Healthy Life Founder, Publisher and Editor.
These links will take you away from Mindful Healthy Life.
How else can a business or organization work with — and get exposure on — Mindful Healthy Life?
Mindful Healthy Life welcomes the support of businesses and organizations that want to support this site. We are pleased to offer several partnership opportunities that include blog posts, ads, social media shares, Twitter party sponsorship, special thanks listings, and other recognition options online and in our forthcoming eBook.
Become a partner and be known as supporting the work of Mindful Healthy Life and helping achieve our shared aim of increasing the visibility of holistic family living in Metro DC.

For more information, see our Partnership Opportunities page.
For all of the products and packages described above and for partnerships, discounts are available for non-profit organizations, in cases with affiliate/referral programs, when giveaways are involved, for in-kind trades, including exposure opportunities
We look forward to hearing from you!
Questions or ideas? Email jessica (at) mindfulhealthylife (dot) com