pain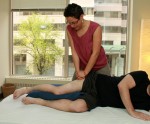 We are a small, holistic physical therapy and wellness practice specializing in Pelvic Floor Therapy and Myofascial Release Therapy. We are located in West End of downtown DC, just a 5-minute walk from the Foggy Bottom metro stop.
Learn more about symptoms and conditions we treat on our website!
If you have any specific questions, please feel free to call or e-mail our office manager, Nicole, for more information. She can be reached at (202) 733-1929 or admin@bodyconnecthw.com
Candice Peggs, LCSW-C, LICSW, is a licensed therapist who works with clients who want to connect with themselves and their community. This work involves finding balance, expanding strengths, and recreating belief in self and our capacity to thrive. With humor and calm and using evidence-based practices, we will actively restore whole self wellness.
Candice works with clients who are managing life transitions, co-occurring medical illnesses, chronic pain and fatigue along with increased depression and anxiety and relationship stress. She also works with families who have children who appear worried, depressed and angry. Candice uses evidence-based practices including cognitive-behavioral therapy, body movement, mindfulness, strengths-based and family system practices. Candice is a meditation and yoga practitioner-teacher, and professional with over 15 years of experience overseas and locally. She brings additional expertise in women's health, HIV/AIDS care, and cross-cultural coping. Individual, family and group therapy offered.