massage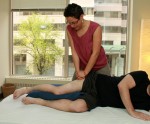 We are a small, holistic physical therapy and wellness practice specializing in Pelvic Floor Therapy and Myofascial Release Therapy. We are located in West End of downtown DC, just a 5-minute walk from the Foggy Bottom metro stop.
Learn more about symptoms and conditions we treat on our website!
If you have any specific questions, please feel free to call or e-mail our office manager, Nicole, for more information. She can be reached at (202) 733-1929 or admin@bodyconnecthw.com

Neck Back & Beyond is an integrated healing center located in Fairfax, VA, devoted to treating all people — from infants to senior citizens — in a warm, compassionate and family-friendly environment. We offer holistic medicine, chiropractic therapy, naturopathic and nutritional consultations, massage therapy, colon hydrotherapy (colonics), reflexology and more.
An intimate holistic wellness center offering reiki, massage, facials and other bodywork. Also offered are small group yoga classes that focus on individual needs and personalized attention.