ayurveda


Are you a stressed-out, busy professional?
I can help you reduce the effects of stress on your body and mind so you can have abundant energy, better sleep, and healthier digestion, using 100% natural methods.
The treatments I offer are designed to combat day-to-day stress and enhance your natural ability to soothe the nervous system, calm the mind, and relax the body. Ultimately these techniques will restore balance, and recover your natural state of health, happiness, and wellbeing.

Ayurveda is a 100% natural healing science designed , to bring us back in sync with ourselves. As an experienced Ayurvedic practitioner, I am devoted to helping the busy woman with demands on her time rediscover optimal health and harmony. The methods are pure, natural, and enjoyable:
– Restorative treatments and relaxation techniques including abhyanga, marma. and shirodhara
– Whole Health consultations and self-care guidance to help you reach wellbeing and balance of mind and body with ayurvedic principles of wholistic living
– The ultimate detox treatment "panchakarma", the ayurvedic cleanse.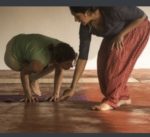 r more than 9 years, Vinaya has been providing yoga instruction, meditation lessons, beginners to advanced yoga practitioners, and working with middle- and high-schoolers through seniors ages. She has experience in teaching at many reputed clubs,studios and Federal Companies. She is currently working with women who have hard time conceiving, couples who want to pursue planned conception