Planning for Presence Workshop
When:
June 7, 2017 @ 12:00 pm
2017-06-07T12:00:00-04:00
2017-06-07T12:15:00-04:00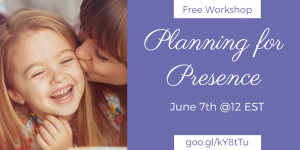 What do busy mothers want more than anything? Quality Time. Learn to Plan for Presence & Boost the Quality of your Time.
Time is Finite. Plan for Presence.
As a busy Mom it is super easy to get carried away into the deep dark stream defined by the demands and needs and requests of others.
Swept away by this stream, we find ourselves at risk of waking up and realizing that time has passed and we haven't done what was most important to us, or spent quality time with those we love most, or simply stopped to stretch and breath and check in with our self.
Making sure we make time for the daily quality connections, the memory-making moments can feel like an impossible challenge…
But I assure you that it is totally do-able.
I've been carried away into that fast moving stream so I know it well.
I also know how to get out of it and how to stay out of it.
Please join me to learn how to do the same. Please join me in taking a few deep breaths and creating a mindful weekly planning ritual that will invite more balance and presence in your life.
The 75-minute Planning for Presence Masterclass teaches mothers how to integrate more quality time into your busy schedule.
You will learn how to set yourself up for days/ weeks/ months where your energy and time is guided by personal values and clear intention.
I will share 5 basic steps that you can personalize, take away and repeat regularly to support yourself and your family forever more.
You will walk away with a schedule that is intentional and aligned with your priorities, that is half-glass full, self-loving and light-feeling.
When you sign up for this Masterclass, you will also receive a step-by-step guide to help you repeat this Planning for Presence Ritual at your own convenience.