Managing Momstress Workshop
When:
April 19, 2017 @ 12:00 pm
2017-04-19T12:00:00-04:00
2017-04-19T12:15:00-04:00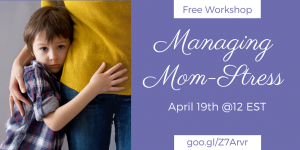 Are You Worried that Your Mom-Stress is Getting in the Way of Your Relationships?
Or, worse, f&*%ing your kids up?
Join the 1-hour long FREE Managing Mom-Stress group coaching call April 19th at 12pm EST!
Us Moms have a lot on our plates right now. But even when there is less to do, I need to be honest with myself: I'm a hot head. If left to my own devices, I get stressed out easily and often.
It can be about something that feels more serious – like my littlest one refusing to wear a seatbelt, or my middle boy punching his sister out.
Or my hot head could be triggered something more harmless – like my daughter asking me for a playdate at the wrong time or her refusing to come swimming with us…
Depending on where I'm at I may freak out. If I do freak out. I then feel horrible….I become the bad Mom.
I hate the guilt. I hate the regret. And worst of all, I hate hating myself.
When my kids held the mirror up to me a few years back – replicating my crazy hot-head reactions, I decided enough was enough. The guilt of yelling was one thing.
But the guilt of raising kids who lacked self-control and emotional intelligence…the worry that I was wrecking my kids, that sat in a whole other league of self-doubt.
So I decided to take action.
I began to dive deep and begin working on a form of hot-head management that went beyond deep breathing (which really didn't cut it for me). What will you get out of the group coaching call? I will teach you…
:: about Momstress, how it manifests in your body and where it comes from
:: 3 of my favourite quick and easy techniques to help you STOP and CALM in that moment
:: A proven quick & easy long-lasting strategy to help you to prevent Hot Head Momstress Explosions BEFORE they happen
You will walk away
:: feeling like you are in control of your hot head
:: able to manage the momstress in-the-moment, in a way that models emotional intelligence to the little people who watch everything you do!
This is a 60 minute group coaching call, where participating Mamas are welcome to ask questions and share their own experiences.