Living in Harmony with Nutrition
When:
2017-07-10T00:00:00-04:00
2017-07-11T00:00:00-04:00
Where:
ABC Chiropratic
2654 Valley Ave
Winchester, VA 22601
USA

Contact:
Cordelia Gaffar
3042682803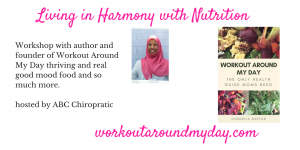 Would you like more peace and harmony in your life?
Have you reflected on your choices? How are you caring for yourself?
Do you eat nourishing food often?
Come and start exploring how to make choices that reflect more peace and harmony in the way you spend your time, foods you eat and the things you say to yourself.
Cordelia Gaffar is the founder of Workout Around My Day, a total system of self-nurturing to nourish with wholesome food, energize with movement and sweet talk yourself to quiet the negative inner chatter. In this introductory free workshop, we will start you on the right path to harmony.
She will be offering the workshop as a continuous series. Details will be discussed afterward.