Empowerment Self-Defense Intensive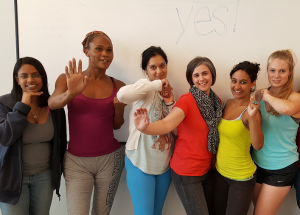 Do you know what you'd do if someone rubbed up against you on the Metro? How about if a co-worker kept touching you, or if harassers yelled at you on the street? We cover these and many, many more situations in this 10-week class.
Join us to learn how to stop harassment, abuse, and assault. You'll gain techniques to stop an uncomfortable or threatening situation with words and physical strikes to use against attacks.
Who: Women, teen girls, trans* and gender-nonconforming people age 16+. Open to all abilities, sizes, and fitness levels: You don't have to be a martial artist or an athlete to help yourself be safer!
When: Tuesdays, Jan. 17 to March 28 (skipping Valentine's Day), 6:30-8:30 pm.
Where: Calvary Baptist Church, Gallery Place, Red-Green-Yellow metro lines. Wheelchair accessible.
How: $365.