Breathing Techniques for Self-Regulation: A Spirit Camp Sampler
When:
January 7, 2018 @ 9:30 am – 12:30 pm
2018-01-07T09:30:00-05:00
2018-01-07T12:30:00-05:00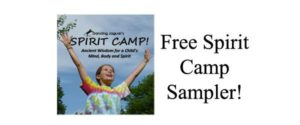 This class is designed to help children build a "toolbox" of useful breathing techniques they can utilize when they are dealing with challenging situations. Each child will create their own breathing book of 10 methods which they will take home with them.  Some breathing techniques have a calming effect while others help increase energy for when they are tired or feeling sad.  Children will identify the breathing methods they will use in various situations, empowering them with the knowledge they need to help them self-nurture in the future.
Eva Goulette, a former Director of Religious Education from the Unitarian Universalist Church in Waterville, Maine will be the guest instructor and will share this excerpt from
Spirit Camp
, a summer program she founded 5 years ago that introduces children to the teachings from ancient wisdom practices. Hundreds of children have participated in Spirit Camp and have integrated the teachings into their lives nurturing their mind, body, and spirit. Parents are encouraged to attend this class with their child!
UUCA services start at 
9:15 and 11:15
. The Sampler will be offered during both sessions. Come to either one.
Children begin in the sanctuary with parents who are encouraged to accompany their children to this Religious Education special program after the Story for All Ages portion of the service. RE classes conclude at 
10:30 and 12:30 
after a short snack time. Parents whose children have food sensitivities may wish to bring their own snack. Eva will be available to answer questions and share some of her resources during snack time and after the conclusion of the program.
For more about Spirit Camp, see our recap post at bit.ly/SpiritCampRecap