"A Better You" Wellness & Health Events
When:
June 17, 2017 @ 10:30 am
2017-06-17T10:30:00-04:00
2017-06-17T10:45:00-04:00
Where:
The Lincoln Theatre
1215 U St NW
Washington, DC 20009
USA

Contact:
UnitedHealthcare
1-888-385-1995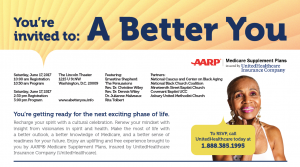 UnitedHealthcare will host "A Better You," a series of health and wellness educational events, in Washington D.C. to help African-American seniors and other beneficiaries learn more about Medicare and their health care coverage options.
The events will feature renowned keynote speakers and musical performances to engage and motivate participants in a celebration of health:
– For the third consecutive year, 80-year-old record-breaking bodybuilder Ernestine Shepherd joins the initiative to encourage people to seek optimal physical and mental health at all ages by sharing her story.
– Attendees will also hear from spiritual advisers Pastors Drs. Dennis and Christine Wiley of the Covenant Baptist Church, and enjoy the live music and high-energy performance of legendary vocal group The Persuasions.
Attendees will learn about the basics of Medicare – including the different parts of the program, eligibility requirements and enrollment windows – to help them make confident health care coverage decisions.
Events will be held at the Lincoln Theater, 1215 U St NW, Washington, DC 20009, on:
• Saturday, June 17, at 10 a.m.
• Saturday, June 17, at 2:30 p.m.
According to UnitedHealthcare's Medicare Made Clear Index survey, more than 1 in 5 older adults describes Medicare as confusing, and two-thirds of beneficiaries have never shopped around for Medicare coverage or haven't shopped in more than three years.