Ayurveda Immersion (12 hr)
When:
February 3, 2018 @ 12:00 pm – February 4, 2018 @ 6:00 pm
2018-02-03T12:00:00-05:00
2018-02-04T18:00:00-05:00
Contact:
Ileana Gonzales of Apurva Ayurvedic Healing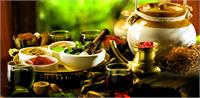 This course offers an exploration of the basic principles of Ayurveda, one of the world's oldest wholistic healing systems.
Ayurveda Immersion will empower participants to promote wellbeing, and optimize their own self-care through ancient Ayurvedic practices that heal and restore the mind and body using a unique and natural approach.
The course introduces Ayurveda's unique system of describing and classifying the various divisions of the body's innate intelligence, called the 3 Doshas–Vata, Pitta and Kapha. The course outlines the important principles of this ancient approach, and allows the individualization of diet, herbs, food, and other natural lifestyle recommendations of Ayurveda.
This high-level overview is ideal for RYTs , and YTTs to enhance and complement their training and teaching with the wisdom and healing power Ayurveda offers.
12 Hour PACE – Professional Ayurvedic Continuing Education, National Ayurvedic Medical Association
Taught by Ileana Gonzalez of Apurva Ayurvedic Healing
Register at http://easydayyoga.com/workshop.bc